Potato Pear Soup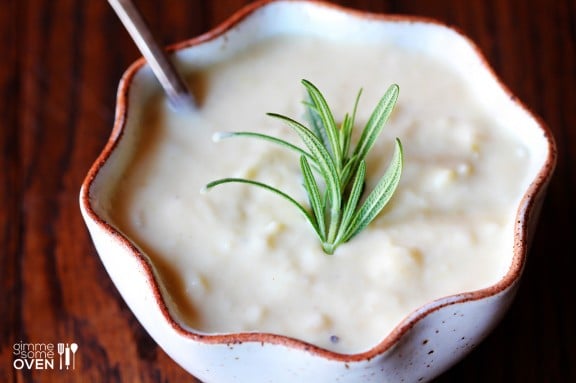 Oh how I love soup season.
As I've mentioned before, I am not a huge fan of cold weather.  I'm all for living in a place with the four seasons, and love the beauty of a freshly fallen snow.  But when it comes to any form of shivering or a red nose, I would trade that for the sweltering summer heat anyday.  I just do not like being cold!  But alas, since I have chosen to make my home in the Midwest, I have learned to get through my winters.  And one of the things I most look forward to is a warm bowl of homemade potato soup.
To me, potato soup is one of the ultimate comfort foods.  It is hearty, creamy, simple, and above all…warm.  :)  But since my typical potato soups tend towards the super-savory side, I decided to mix in some fresh pears this week to try out a sweeter option.  And lo and behold, it actually turned out really well!  The pears were still fairly subtle, but I loved the contrast with the fresh earthy rosemary and the salty potato soup.  And I added in some heavy cream at the end, but honestly, I felt like it tasted great without it too.  So this could be vegetarian and vegan friendly if you would like.
What are some of your favorite soups to warm you up in the winter?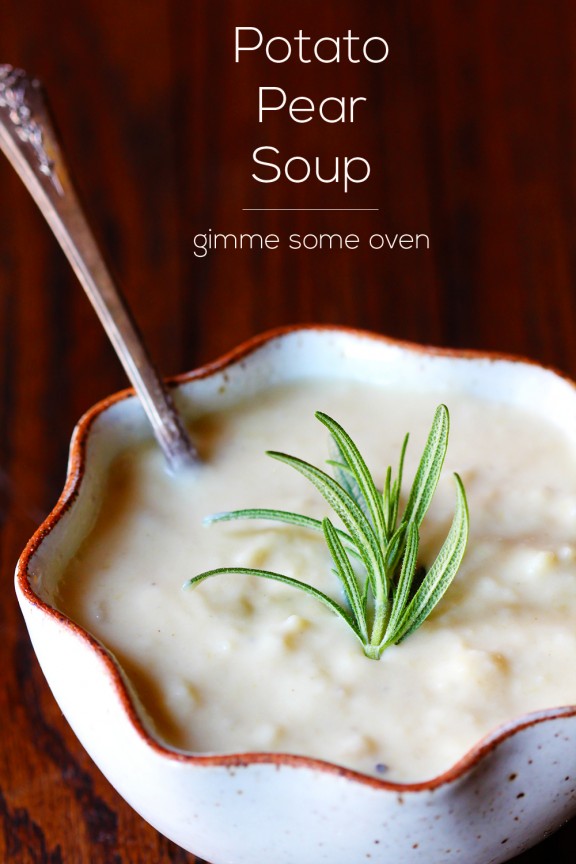 Potato Pear Soup
Potatoes and pears together make this sweet and savory soup!
Ingredients:
1 Tbsp. butter or olive oil
1 large leek, white and light-green parts thinly sliced (dark green parts discarded)
3 cloves garlic, minced
2 lbs. Russet potatoes, peeled and roughly diced
2 pears, cored and diced
4 cups chicken or vegetable broth
1 Tbsp. finely chopped fresh rosemary
1/2 cup heavy cream
Salt and black pepper, to taste
Directions:
Heat butter in a medium saucepan over medium-high heat. Add the white and light-green parts of the leek, and saute for 5 minutes until tender, stirring occasionally. Add garlic, potatoes and pears and saute for an additional 2 minutes. Add broth and chopped fresh rosemary and bring to a boil. Reduce heat to medium-low and simmer for 15-20 minutes, or until the potatoes are fork tender.
Use an immersion blender to puree the soup. Or transfer to a blender in small batches and pulse until pureed.
Return to saucepan and stir in heavy cream. Season generously with salt and freshly-cracked black pepper. Serve immediately.
All images and text ©
If you make this recipe, be sure to snap a photo and hashtag it #gimmesomeoven. I'd love to see what you cook!