Prosciutto, Pineapple & Pesto Paninis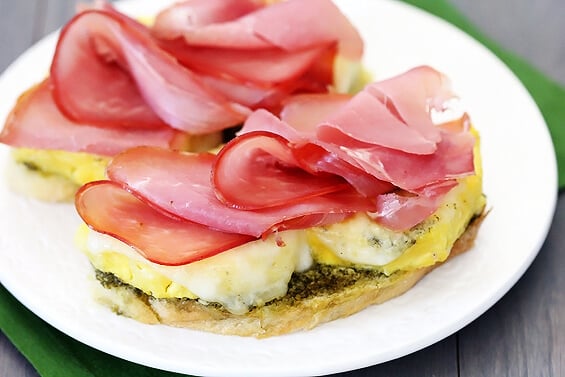 Ok, so these sandwiches may fall a little closer into the "melts" category, but I couldn't pass up the alliteration.  :)
Regardless of what you call them, these Prosciutto, Pineapple & Pesto Paninis were crazy delicious!  They were basically an experiment combining favorite ingredients that I've been enjoying from our neighborhood market this summer — tasty prosciutto and fresh mozzarella from our Italian market, homemade pesto made with fresh local basil, my favorite sourdough bread, and of course, lots of juicy sweet pineapple.  They kind of reminded me of a Hawaiian pizza, with the ham and pineapple vibe, but oh-so-much better with the prosciutto and homemade pesto.
De-LISH.
The best part is that this is a 10-minute meal that calls for just 5 ingredients.  5 ingredients!!!  Feel free to make them on the grill or grill pan, or just pop them under the broiler in the oven for extra melty-cheese goodness.  Either way, I'm pretty sure you're going to love this simple sandwich.  I certainly did!!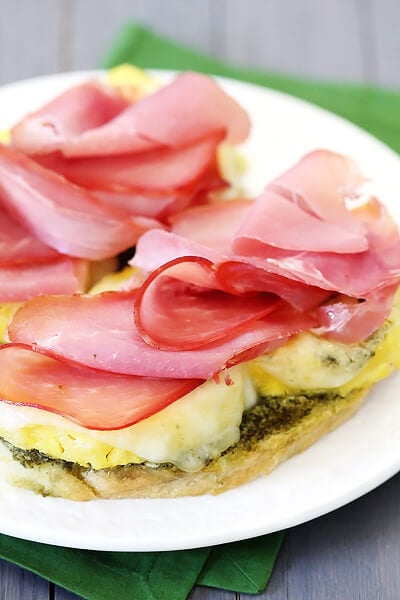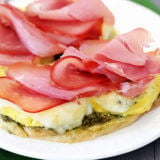 Prosciutto, Pineapple & Pesto Paninis
A quick, easy, and delicious meal that's also fun to say — "Prosciutto, Pesto & Pineapple Paninis"!
Ingredients:
favorite sliced bread (I used sourdough)
pesto, homemade or storebought
fresh pineapple, cored and sliced into thick half-rings
fresh mozzarella
sliced prosciutto
Directions:
Spread a tablespoon or two of pesto on a slice of bread. Then layer on the pineapple, arranging to fit as needed. Then add a layer of mozzarella cheese, and then the sliced prosciutto. Repeat with additional paninis.
To make on a grill pan, heat the grill pan over medium-high heat. Add the paninis and cook until the bread is toasted. Remove and serve immediately.
To make in the oven, preheat the broiler to high. Add in the paninis and cook until the cheese is melted and the bread is toasted, about 2-4 minutes. (Keep a very close eye on these so that they do not burn!) Remove and serve immediately.
Ali's Tip: These would be extra delicious with some fresh baby arugula added in as well.  That just didn't go with the "P" theme… :)
All images and text ©
If you make this recipe, be sure to snap a photo and hashtag it #gimmesomeoven. I'd love to see what you cook!