Pumpkin Cheesecake With Gingersnap Crust
Had a lovely time celebrating Thanksgiving with family this year, spending the day sharing stories, lots of laughs, and of course…lots of delicious food!
One of my three contributions ended up being this fabulous pumpkin cheesecake — the perfect finale to our meal!  I was stoked.  The crust came out beautifully.  The cheesecake somehow miraculously had z-e-r-o cracks in it (wahoo!).  And the rich, delicious flavor of the pumpkin combined with the spicy gingersnaps could not have been better.  But alas, one small detail just had to pose a problem:  the dallop.
Yes, it's true.  After much expert "advice" (aka….expert guesses!), many attempts at dallop-ing (a sight to see!), and much sweet delight eating the "flops" in the process (someone had to! :-)), we eventually discovered that our family is….dallop-challenged.  Ha!!  I know, I know…a pastry bag probably could have solved our problems.  But we had a nice time playing with our food in the process.
Anyway, everyone thoroughly enjoyed this cake and already requested it again for next Thanksgiving.  We'll see if we can really wait an entire 365 days….  :)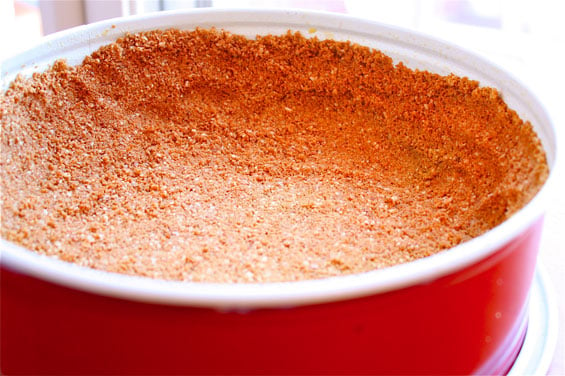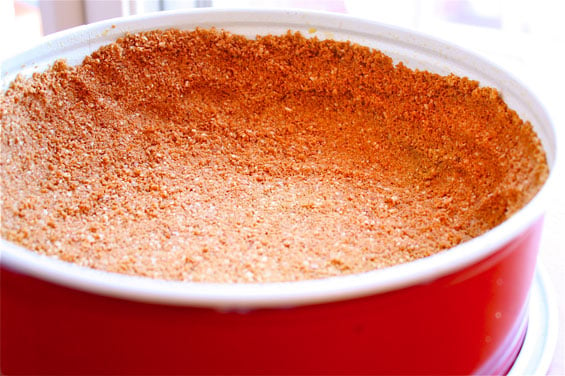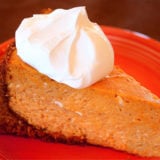 Pumpkin Cheesecake with Gingersnap Crust
You will love this Pumpkin Cheesecake With Gingersnap Crust Recipe! It's delicious, fun and seasonal.
Ingredients:
Crust Ingredients:
2 cups gingersnap cookie crumbs, finely crushed/chopped
 cup pecans, crushed
1/4 cup (packed) golden brown sugar
1/4 cup (1/2 stick) unsalted butter, melted
Filling Ingredients:
1 1/2 cups solid pack pumpkin
3 large eggs
1 1/2 teaspoons cinnamon
1/2 tsp. each — nutmeg, ground ginger, salt
1/2 cup firmly packed light brown sugar
3 (8-ounce) packages cream cheese, softened
1/2 cup granulated sugar
2 tablespoons heavy cream
1 tablespoon cornstarch
1 teaspoon vanilla
1 tablespoon bourbon (optional)
Directions:
To Make Crust:
Grease a 9-inch springform pan. Combine the gingersnap crumbs, pecans and sugar in a bowl. Stir in melted butter until well combined. (OR — let a food processor do all of the work! Use it to ground up the gingersnaps and pecans, then add in the sugar and melted butter and pulse until combined.)
Press mixture into the bottom and about 2″ inch up the sides of springform pan. Bake for 10 minutes at 350 degrees, then remove.
To Make Filling:
Using electric mixer, beat cream cheese and sugar in large bowl until light and fluffy, about 2 minutes. Beat in pumpkin. Add eggs 1 at a time, beating on low speed to incorporate each addition. Add spices, salt, cream, cornstarch, and vanilla (and optional – bourbon); beat just enough to blend. Transfer filling to cooled crust.
Bake at 350 degrees until filling is just set in center and edges begin to crack (filling will move slightly when pan is gently shaken), about 50-55 minutes. Then turn off oven and leave cheesecake in there for another 5-10 minutes. Let cool on the counter for another 10-15 minutes, then transfer to a refrigerator for at least an hour. Remove, and run knife around sides of pan to release crust. Slice and serve!
Ali's Tip:
Besides whipped cream, other fun toppings might be a caramel sauce drizzled over the top, or a layer of sour cream or marshmallow spread!
***To avoid having the cheesecake crack, I'm a big fan of water baths! Just place a large pan or dish (I used a 9×13 dish) in the oven on the shelf beneath the cheesecake, and fill it about halfway with water. Then leave it in there while the cheesecake bakes, and carefully remove it after it has cooled once the cheesecake has been removed from the oven.***
If you make this recipe, be sure to snap a photo and hashtag it #gimmesomeoven. I'd love to see what you cook!