Pumpkin Cupcakes With Cinnamon Cream Cheese Frosting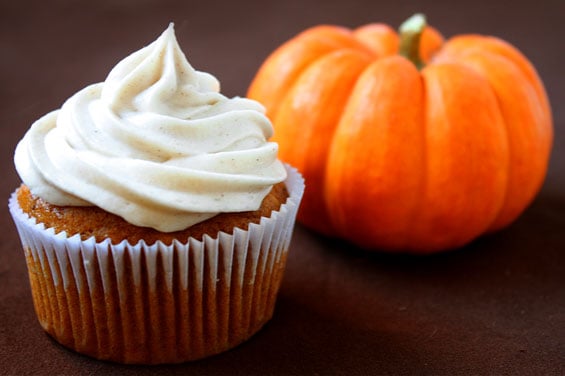 Behold…my third batch of cupcakes in one week.  :)
I would offer some sort of excuse about how I had parties to bake for, or had ingredients to use up.  But really…it was just that kind of a week.  A fabulous, sweet, classy, cupcake-filled-week.  Y-U-M.
Ended up baking these guys for an impromptu happy hour my roommate and I threw with friends to celebrate my new deck!!!  (Yay…my first big investment as a homeowner!)  Ha…unfortunately the sun suddenly decided to defy the forecast and duck behind the clouds all day.  And then the wind speeds picked up like c-r-a-z-y.  (Case in point: When my roommate arrived home from work, she offered to quickly rake up the zillion new leaves in our front yard…that I had just raked and mowed 2 hours ago!!) So suffice it to say, chilly weather turned the night into what fondly became known as our "non-deck party".  But we had a delightful, cozy time indoors with a fantastic spread of yummy apps and desserts.
And once more, was reminded of just how much the world loves cupcakes!  Combine that with how much everyone loves pumpkin bread…and it's no surprise that these were a hit.  The recipe is quite simple, but yielded some wonderfully flavorful and moist little cupcakes.  They are a little more dense than your average cupcake – almost closer to pumpkin bread – but absolutely fantastic.  Although I must admit, my favorite part may have been the cinnamon cream cheese frosting – delish!!  Definitely a classic fall favorite.  If you make them, just be ready for them to disappear in a flash!  :)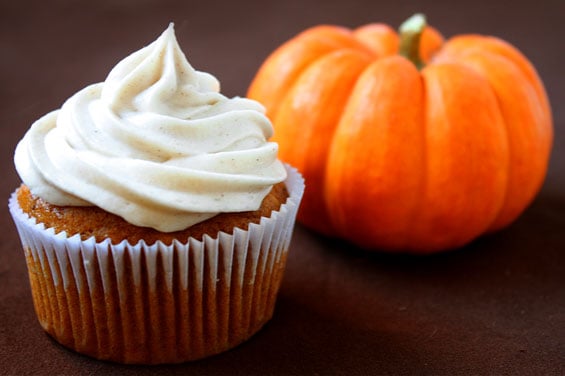 Pumpkin Cupcakes With Cinnamon Cream Cheese Frosting
This Pumpkin Cupcakes With Cinnamon Cream Cheese Frosting Recipe yields a delicious autumn treat!
Ingredients:
Cupcake Ingredients:
2 cups canned pumpkin
2/3 cup oil
2 cups granulated sugar
1/2 cup milk (or soy milk)
2 tsp. vanilla extract
2 1/2 cups all-purpose flour
1 tsp. baking powder
1 tsp. baking soda
1 1/2 tsp. ground cinnamon
1/4 tsp. each – ground cloves, nutmeg, and ginger
1/2 tsp. salt
Frosting Ingredients:
8 ounces cream cheese, at room temperature
4 Tbsp. butter, at room temperature
4 cups powdered sugar
1 tsp. vanilla extract
1 tsp. cinnamon
Directions:
To Make Cupcakes:
Preheat oven to 350 F degrees. Line muffin pan with 24 cupcake liners.
In a medium bowl, stir together pumpkin, oil, sugar, milk, and vanilla. Sift in the flour, baking soda, baking powder, salt, and spices. Gently whisk by hand until just combined, don't use an electric mixer or over-mix the batter as it may become too gummy.
Fill liners with 1/4 cup batter (cups should be approximately 2/3 full). Bake for 22 to 24 minutes, or until toothpick inserted into the center comes out clean.Let the cupcakes cool in the pan on a wire rack for 5 minutes. Transfer the cupcakes to the wire rack and let cool completely before frosting.
To Make Frosting:
In a medium bowl, mix together cream cheese, butter, and vanilla. Gradually add powdered sugar and cinnamon, mixing well until it's all incorporated. Use immediately or refrigerate. The frosting will harden in the fridge, so plan on bring it back to room temperature if you must refrigerate it before frosting the cupcakes.
Ali's Tip:
Other popular add-ins to pumpkin cupcakes might be chopped nuts (pecans, walnuts, etc.), dried fruit (raisins, cranberries, etc.), and/or chocolate chips (bittersweet, white, dark, etc.).
If you make this recipe, be sure to snap a photo and hashtag it #gimmesomeoven. I'd love to see what you cook!