Quinoa "Stuffing" (Quinoa with Butternut Squash, Cranberries & Pistachios)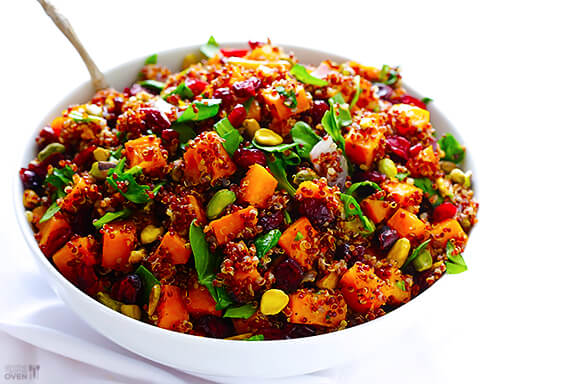 Happy almost-Thanksgiving everyone!
I'm sure that most of you are way more organized than me and already have your meals planned down to the last detail.  But just in case you're running a little behind (like me!), or for those of you who may be looking for a healthier stuffing recipe (like me!), or, ahem, might not even be a huge fan of traditional stuffing (like me!), I have a last-minute winner of a recipe for you — Butternut Quinoa Stuffing.
Actually, there's no "stuffing" involved with this tasty dish, as it is cooked 100% outside of the bird.  It's technically more of a "dressing", if anything.  But whatever you call it, this healthy and fabulously delicious quinoa is filled with so many of my favorite stuffing ingredients — roasted butternut squash, pistachios, cranberries, spinach, red onions, and more.  And it can be ready to go in about 45 minutes, with only 15 minutes of prep time.  And it's gluten free.  And vegetarian.  And vegan.  So basically just about anyone at your Thanksgiving meal can happily dive in.
Did I convince you yet??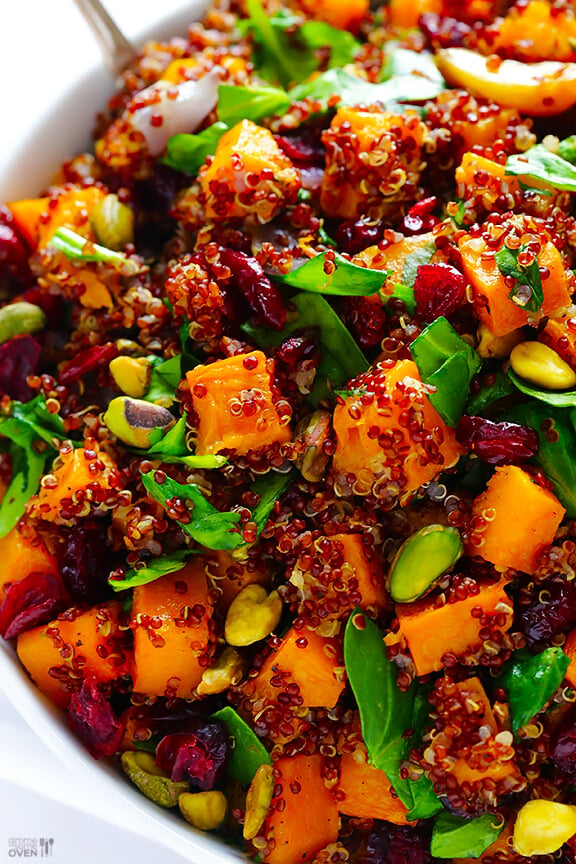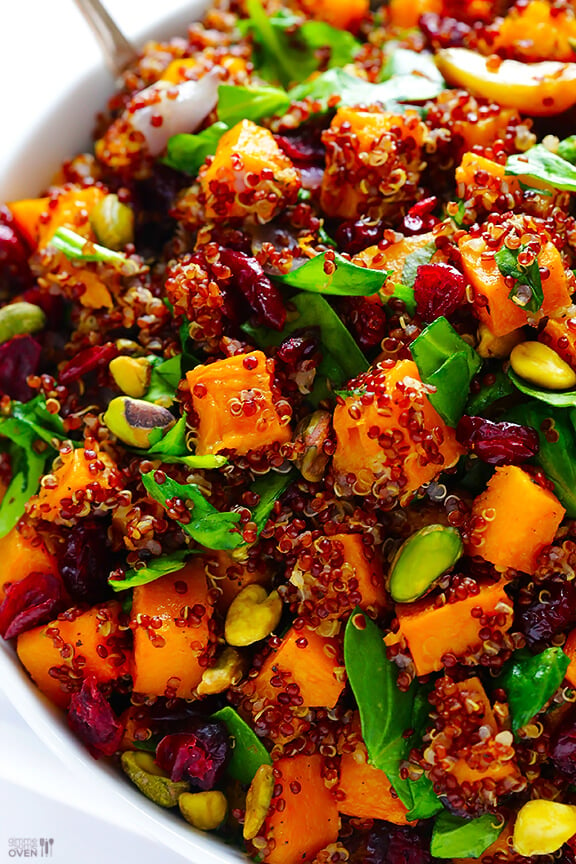 Ok, let's talk about how easy it is to prepare.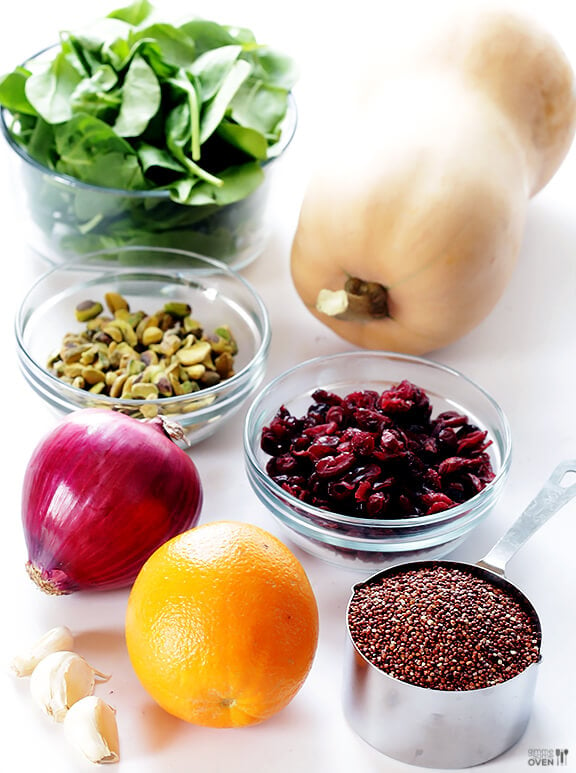 Here are all of the ingredients you need.  Fresh, very healthy, and scrumptious.
(Although if you like to cook your quinoa in veggie or chicken broth — as I recommend in my tutorial on how to cook quinoa — be sure to add those in too.  Or you can just cook quinoa in water.)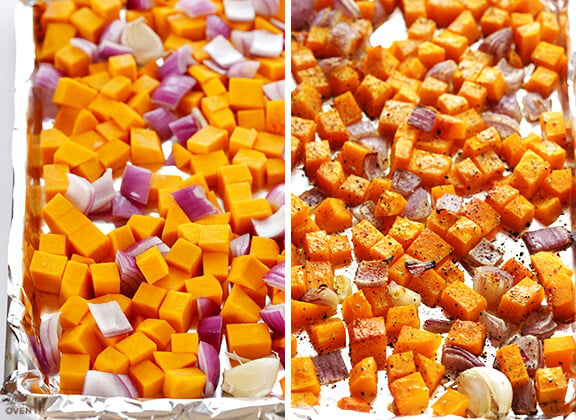 Simply chop up a butternut squash and a red onion.  Toss them with some cloves of garlic in olive oil, season with salt and pepper, and roast them until they are nice and cooked.  Your home is going to smell a-mazing.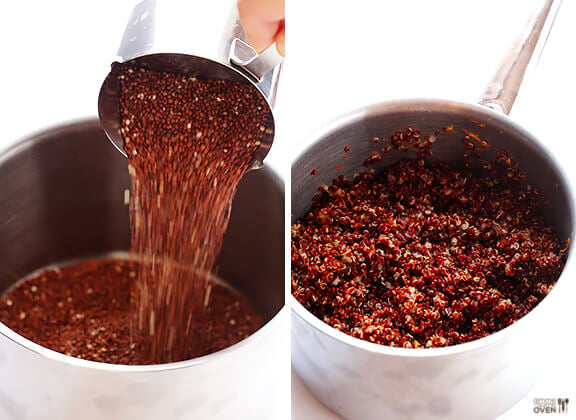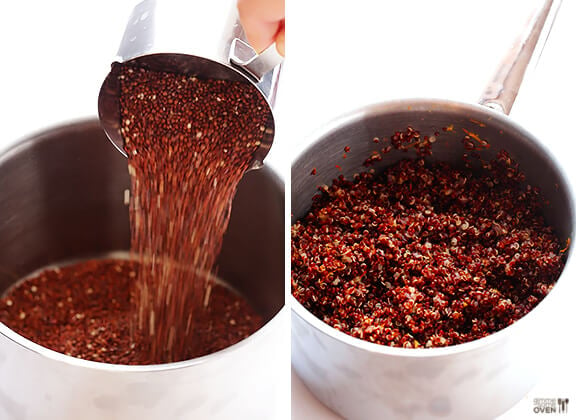 Meanwhile, cook a batch of quinoa, seasoned with orange zest.  You can use any color of quinoa — white, red, black, or multicolored.  I went with red for this recipe since it seemed Thanksgivingish.  (Yes, that's a word.)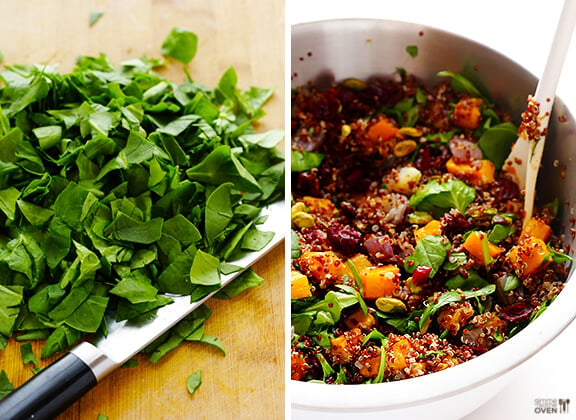 Then chop up a bunch of fresh spinach (or any greens — kale, arugula, etc.), and toss it with the roasted veggies, cooked quinoa, pistachios and cranberries.  Then season with extra salt and pepper if need be.
And people — that's it!  I told you it was easy!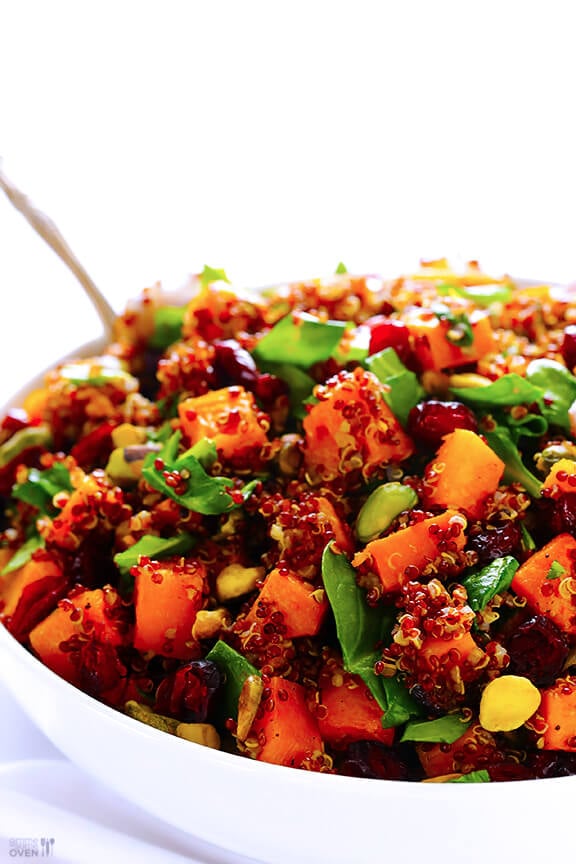 And holy moly, is it tasty.
And healthy!
Quinoa is naturally packed with protein.  But add in all of those pistachios, fresh spinach, squash, and even the dried cranberries, and lemme assure you — you won't need to feel guilty going back for seconds of this fresh stuffing.  So, so, so much healthier than its traditional counterpart.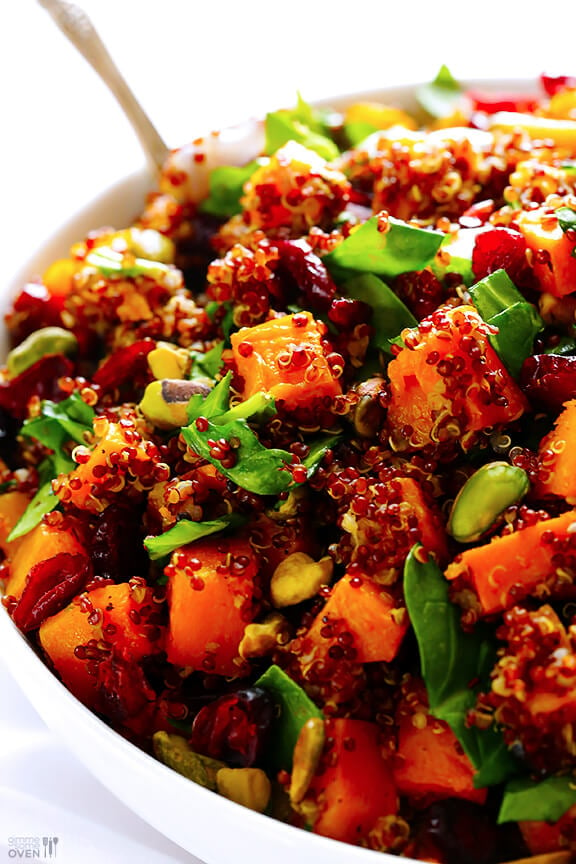 Perfect for Thanksgiving, or any other day of the year you are looking for a delicious and healthy meal.   Enjoy!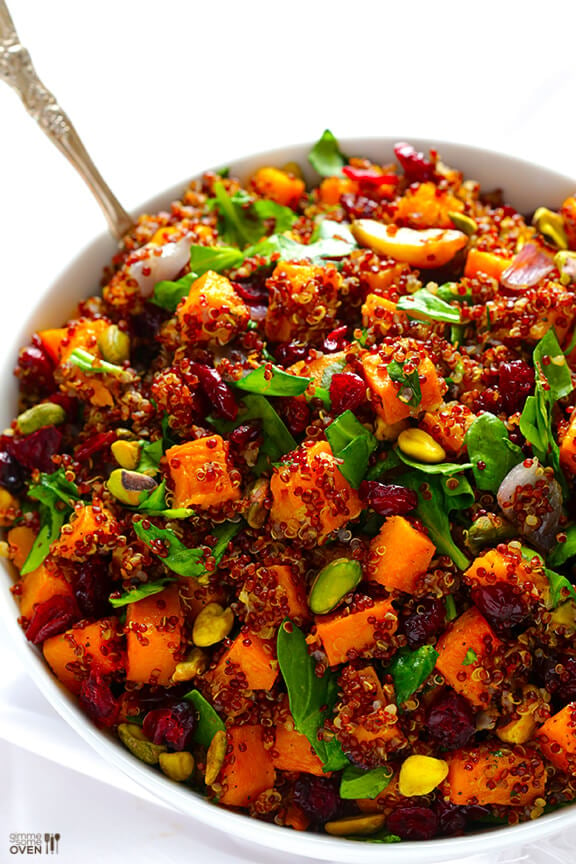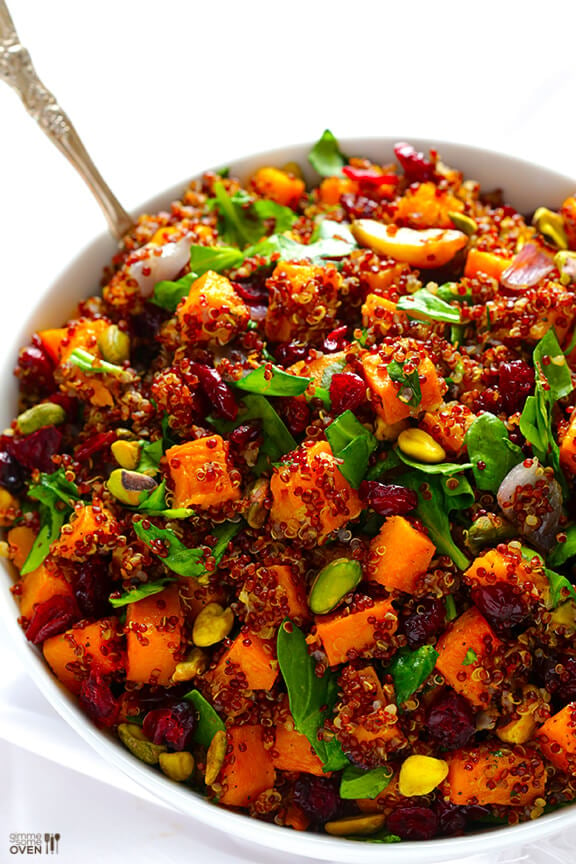 Quinoa with Butternut Squash, Cranberries & Pistachios (Quinoa "Stuffing")
Ingredients:
Directions:
If you make this recipe, be sure to snap a photo and hashtag it #gimmesomeoven. I'd love to see what you cook!