Rainbow Hawaiian Chicken Kabobs
This Rainbow Hawaiian Chicken Kabobs recipe is made with a citrus teriyaki sauce, and grilled up with a delicious rainbow of veggies that everyone will love!
Breaking news from my loft building — our community grill has finally been fixed!!
Finally.  ?
We've been begging our building manager to repair or replace it for months.  And even though it took him until July — yeah, halfway through the summer —  I'm happy to say that there's finally a functioning grill out back for all of us again.  Summer just doesn't feel quite the same without one, right?
So my neighbors and I have wasted no time this week putting it back to good use.  I've been grilling up tons of roasted veggies (my favorite), charring up Romaine for salads (yum), caramelizing pineapple for this dessert (a summer tradition), and experimenting with a handful of new burger recipes (hopefully coming to the blog soon!).  But hands down, one of my favorite dinners this week ended up being a grilled version of one of my beloved teriyaki chicken recipe, skewered up with lots of colorful veggies and pineapple to make these gorgeous kabobs.
Because what food isn't more fun on a stick?  ?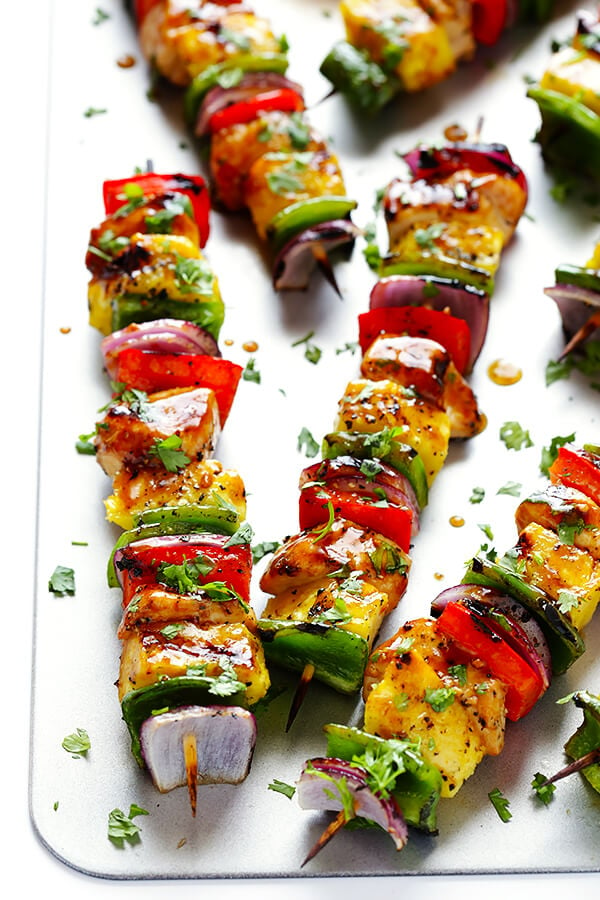 Alright, before we get to the recipe, though, I want to chat for a few seconds about olive oils and grilling.
Because I've heard for years that you're not supposed to use extra virgin olive oil when cooking over high heat (i.e. grilling, roasting, etc.) because EVOO has such a low smoke point.  So I've tried experimenting with a handful of other oils over the years, but…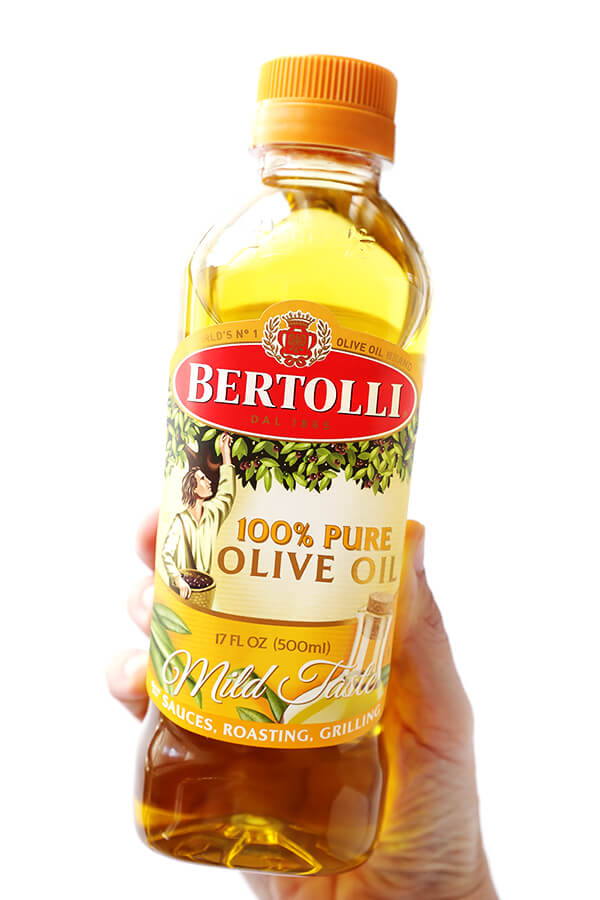 …recently, after doing some digging in and doing a little research, I learned that refined pure olive oil — like this Bertolli® 100% Pure Olive Oil — actually has a smoke point of 460°F (higher than extra virgin olive oil, which has a smoke point of 406°F).  So it's actually an olive oil that's safe for roasting and grilling within that temperature range!  You don't get quite the same bold flavors with it as with EVOO, but those good monosaturated fats and the mild flavor of olive oil remain.  I'm calling it a win-win.  :)
So when Bertolli® reached out and asked if I'd like to be a part of their "Spin The Bottle" summer recipe remix project, featuring their 100% Pure Olive Oil — right around the time that our grill was finally back in business — it felt like a match made in grilling heaven.   I had been craving my favorite teriyaki chicken recipe lately.  So I decided to transform it into some colorful Hawaiian kabobs.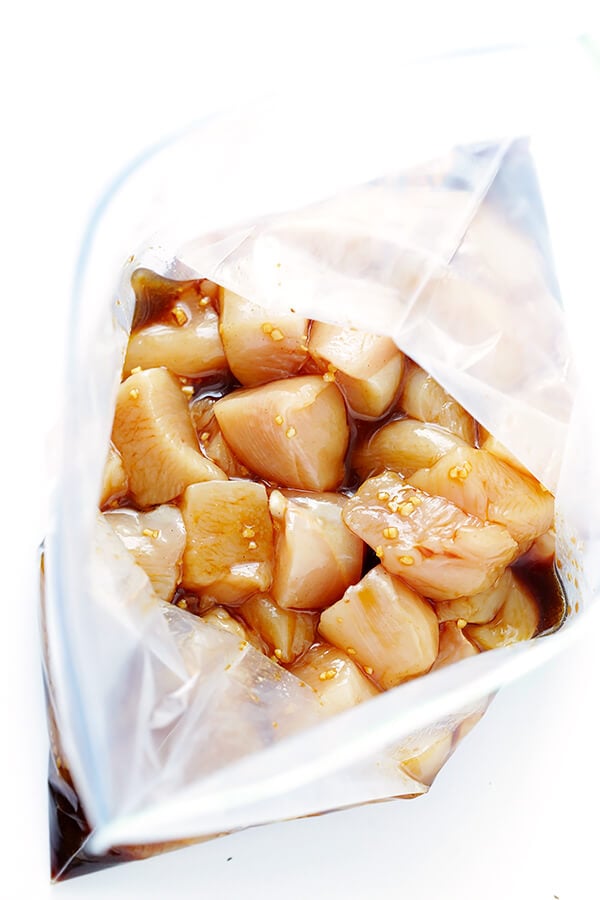 To make them, just marinate the chicken in a simple teriyaki sauce.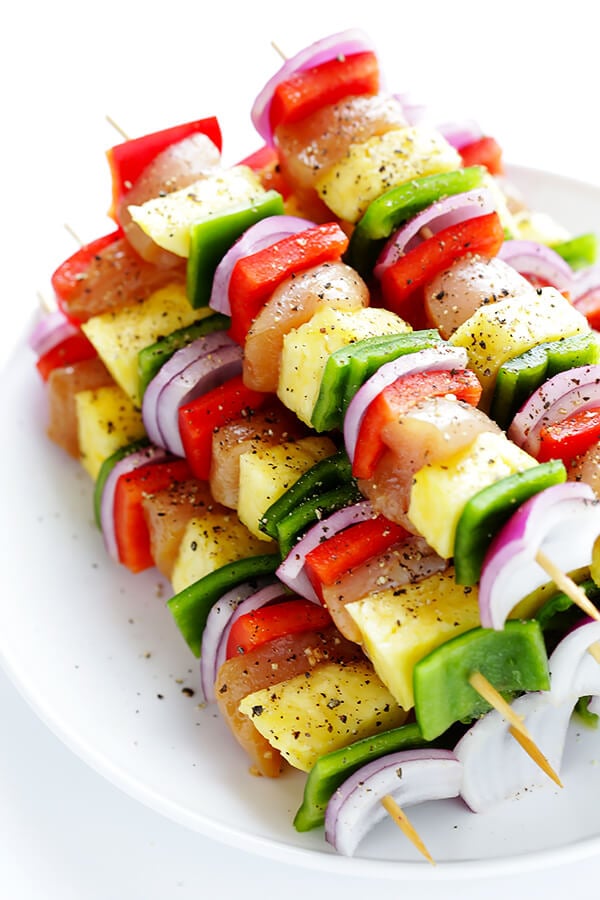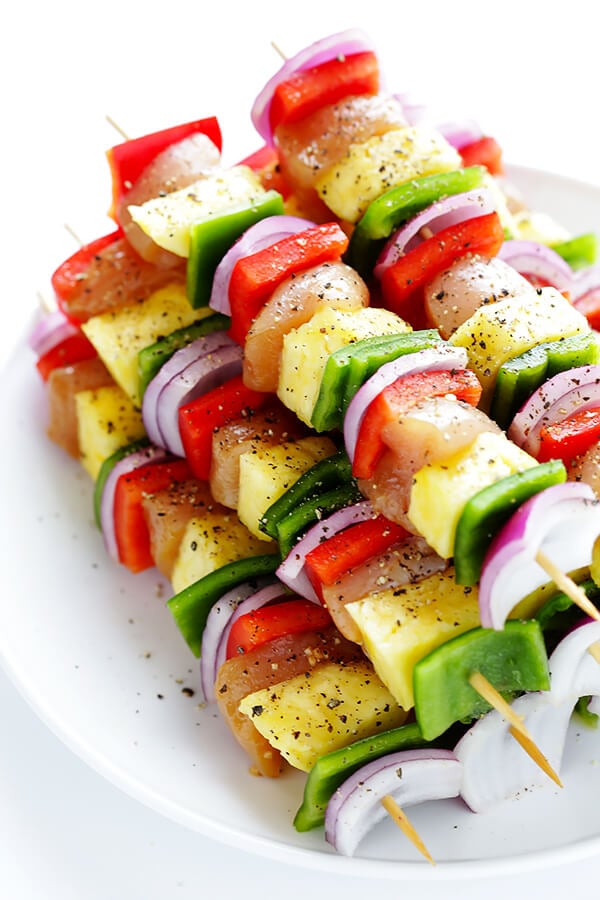 Then thread the chicken onto some skewers along with your favorite rainbow veggies and pineapple.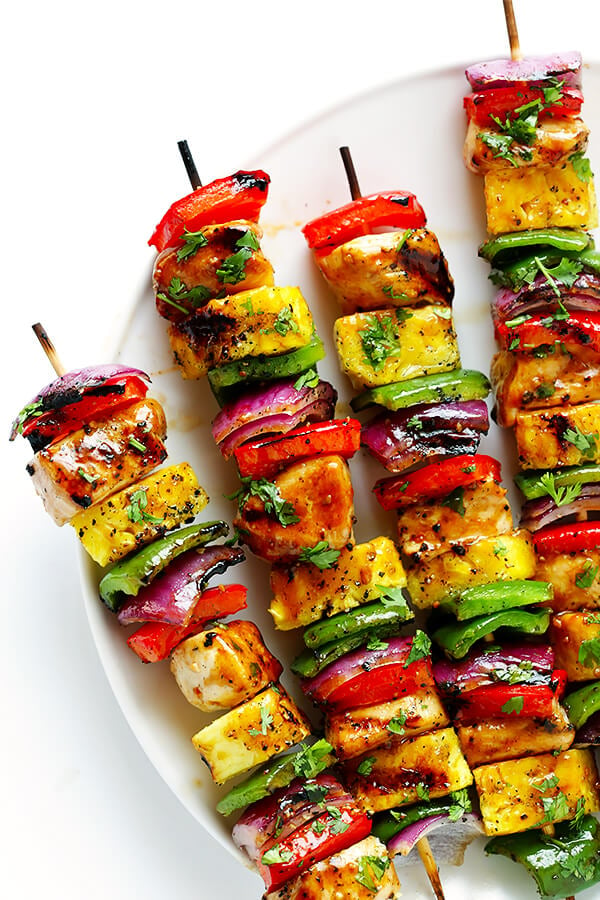 Pop them on the grill until they're cooked to delicious rainbow perfection, basting them with some extra marinade (that I set aside before adding half of it to the chicken) during and after grilling.  And then these gorgeous kabobs will be yours to enjoy.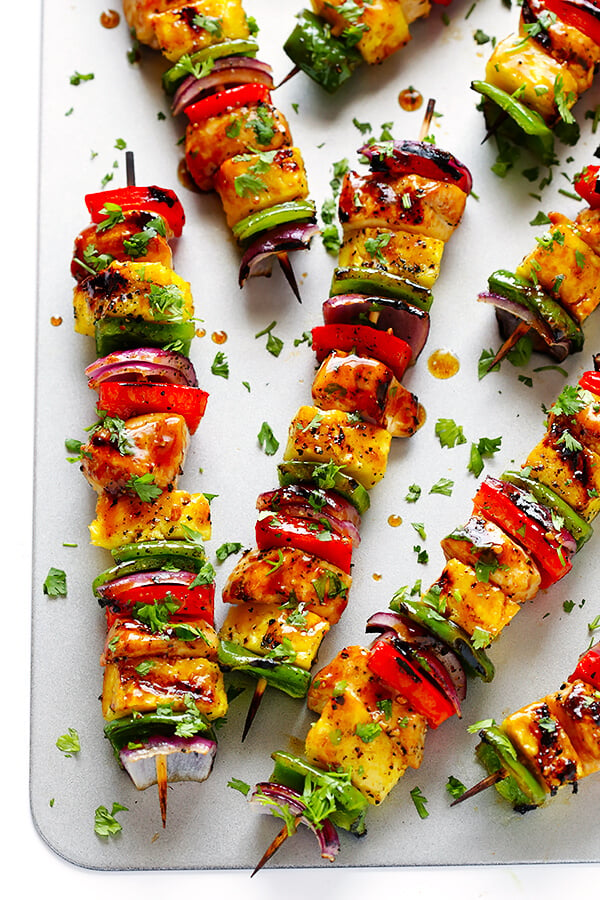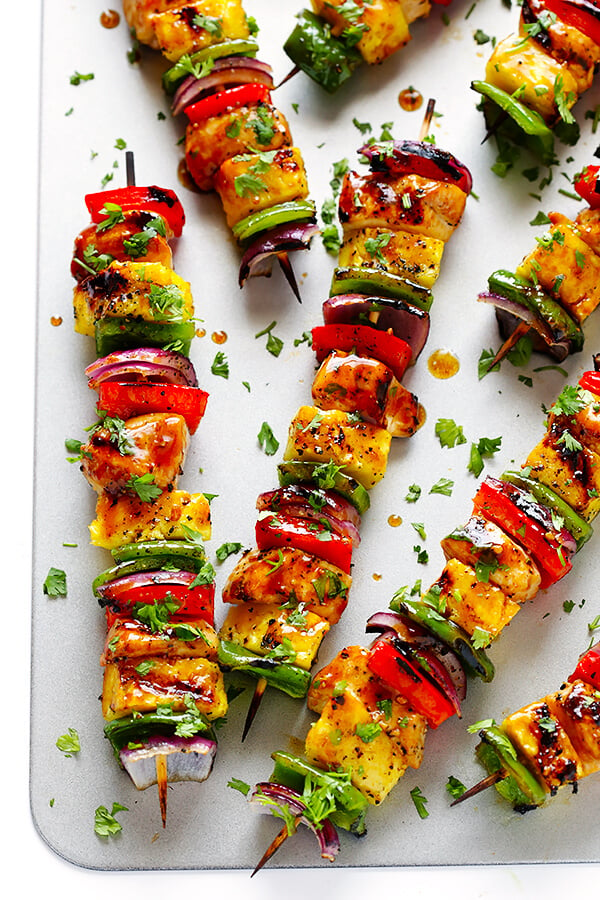 So colorful, so fun, and SO delicious.
I love serving them over some simple rice or quinoa or sesame noodles, and pairing them with a fresh citrusy green salad.   But go with whatever sounds good to you.  (Oh, and if you happen to be in the same no-grill-available predicament, you can also roast these in the oven until the chicken is cooked through.  Delish.)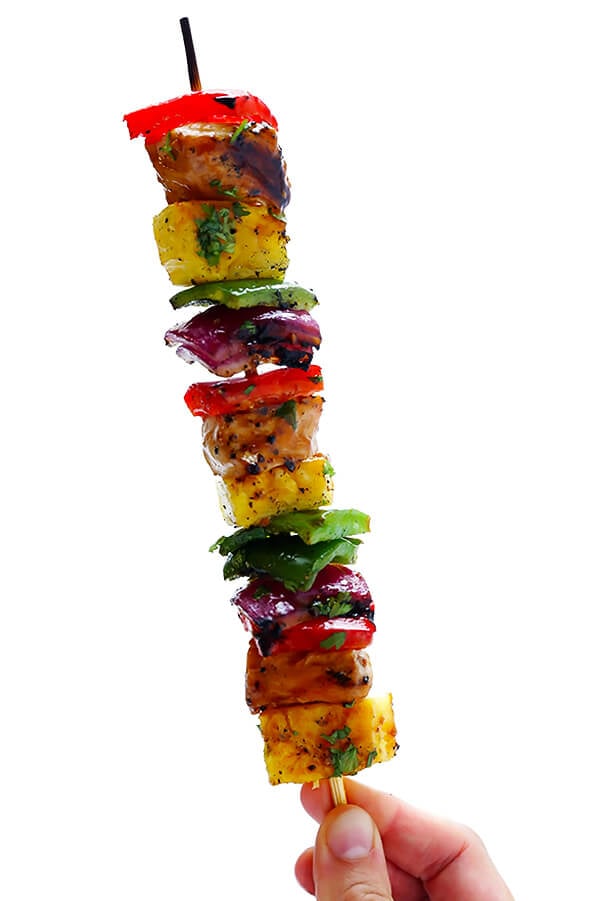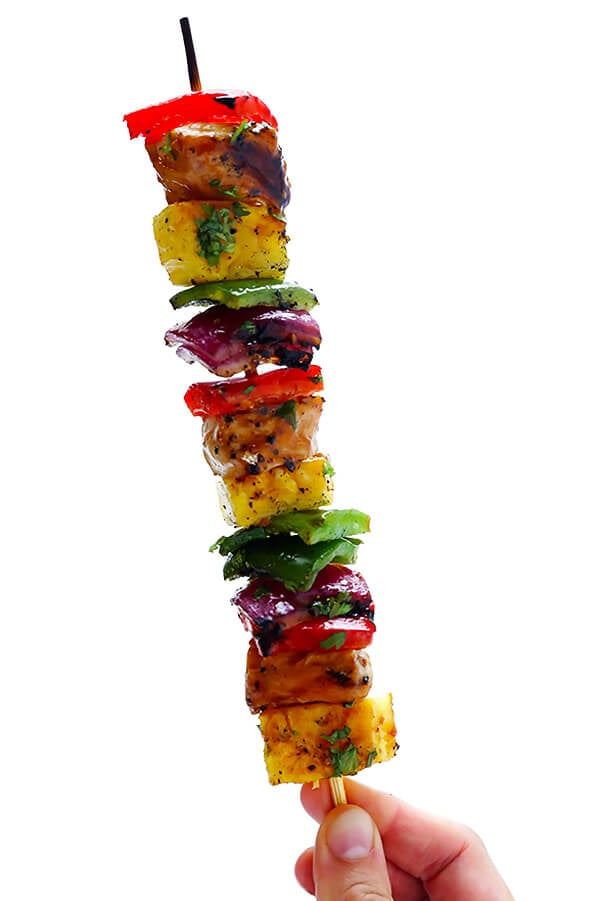 So if you plan to be hanging around the grill more this summer, be sure to stock your pantry with olive oils that are safe for high heat cooking, and then get to grilling!
Enjoy!
Rainbow Hawaiian Chicken Kabobs
These Rainbow Hawaiian Chicken Kabobs are marinated and basted in a tasty teriyaki sauce, then grilled to perfection and sprinkled with cilantro. So delicious!
Ingredients:
Rainbow Hawaiian Chicken Kabobs Ingredients:
wooden or metal skewers
1.5 pounds boneless skinless chicken breasts, cut into bite-sized pieces
1 batch Hawaiian Teriyaki Sauce, divided (see below)
2 large green bell peppers, cored and cut into bite-sized pieces
2 large red bell peppers, cored and cut into bite-sized pieces
1 large pineapple, cored and cut into bite-sized pieces
1 large red onion, peeled and cut into bite-sized pieces
2 tablespoons Bertolli® 100% Pure Olive Oil, plus extra for brushing the grill
salt and pepper
(optional: 1/4 teaspoon toasted sesame oil)
1/4 cup finely-chopped fresh cilantro leaves
Hawaiian Teriyaki Sauce Ingredients:
2 cloves garlic, peeled and minced
1/3 cup soy sauce
1/4 cup orange or pineapple juice
3 tablespoons honey
3 tablespoons Bertolli® 100% Pure Olive Oil
3 tablespoons rice wine vinegar
1/2 teaspoon ground ginger
Directions:
To Make The Rainbow Hawaiian Chicken Kabobs:
If using wooden skewers, soak them in a large pan of water for at least 30 minutes before cooking.
Combine the chicken and half of the Hawaiian teriyaki sauce in a large ziplock bag or bowl, and toss until the chicken is evenly coated.  Seal or cover, and refrigerate for at least 20 minutes.
Meanwhile, chop up the veggies and pineapple, and add them to a large bowl.  Toss with the olive oil until evenly coated.
Then when the veggies, pineapple and chicken are all ready, thread them onto the skewers.  (I went in "rainbow" order — red peppers, chicken, pineapple, green peppers, red onion, repeat.)  Season each skewer with salt and pepper.
Heat the grill to 400°F, and brush the grates with extra olive oil.
Place the skewers on the grill, and cook for 4-5 minutes per side, or until the chicken is cooked through and no longer pink inside.  Remove the skewers from the grill.
In a small bowl, whisk together the the reserved (unused) teriyaki sauce with the sesame oil, then brush the sauce onto on both sides of the skewers.  Sprinkle with cilantro, and serve immediately.
To Make The Hawaiian Teriyaki Sauce:
Whisk all ingredients together until combined.
All images and text ©
If you make this recipe, be sure to snap a photo and hashtag it #gimmesomeoven. I'd love to see what you cook!
This is a sponsored conversation written by me on behalf of Bertolli®. The opinions and text are all mine.  To find more classic summer recipes made better with Bertolli® olive oils, take a moment to look around here.  And thanks for continuing to support brands like these who help make this site possible!