Rainbow Spaghetti & Rainbow Waffles
This post may contain affiliate links. Please read my disclosure policy.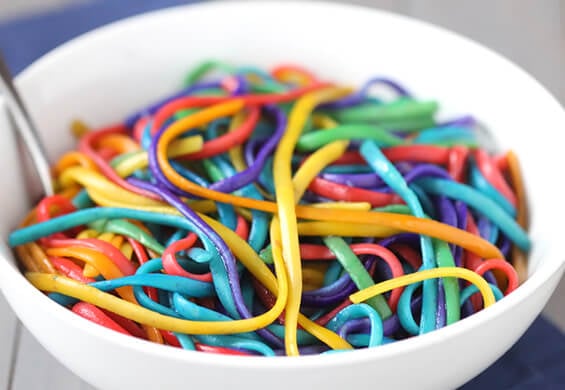 So for any of you who follow along with Tablespoon (where I am a contributor), you might have noticed that their readers are obsessed with rainbow recipes! Like…obsessed.
So they asked me this month to come up with some rainbow recipes of my own for spaghetti and waffles. Not quite the foods that normally come to mind when I think "colorful". But after playing around with a bit of food coloring, pretty sure these dishes were bursting with bright reds, oranges, yellows, greens, blues and purples! So bright and fun!!!
Feel free to experiment with traditional food colorings or natural alternatives. Either way, this will definitely jazz up your breakfasts and dinners. And I'm pretty sure you could hide all sorts of veggies in that pasta too with all of that color happening! ;)