Fyodor Dostoevsky
This post may contain affiliate links. Please read my disclosure policy.
Today in 1821, Fyodor Dostoevsky was born in Moscow. One of the great Russian writers, his first novel, Poor Folk, was published in 1846 when he was just 25.
Shortly after, in 1849, he was arrested for supposed conspiracy against the government, he and his fellow "conspirators" were sentenced to death, but received a stay of execution at the very last moment from the tsar. He was instead sentenced to exile and hard labour in Siberia until his release in 1854. Classified as especially "dangerous," Dostoevsky's hands and feet were shackled the entire time of his imprisonment.
Dostoevsky's most famous novels were written after his Siberian exile:
A man who truly experienced the heights and depths of life, it's not surprising that his writing carries a weight and a keen insight into the human mind and heart. At just 18-years-old, Dostoevsky wrote this to his brother:
Man is a mystery: if you spend your entire life trying to puzzle it out, then do not say that you have wasted your time. I occupy myself with this mystery, because I want to be a man.
Dostoevsky died the year after his greatest work was published. I teared up when I found out that not only was he buried near his favourite poets, Karamsin and Zhukovsky, in the Tikhvin Cemetery at the Alexander Nevsky Convent; but also, his tombstone is inscribed with the biblical lines that begin Dostoevsky's Preface to The Brothers Karamazov:
Verily, verily, I say unto you,
Except a corn of wheat fall into the ground and die, it abideth alone:
but if it die, it bringeth forth much fruit.
— Jesus, from John 12:24
Though The Brothers Karamazov is by far his longest novel, and is by no means a quick read, it is so worth the time to read it. Certainly an amazing final piece of writing to offer the world before you die.
A few Dostoevsky quotes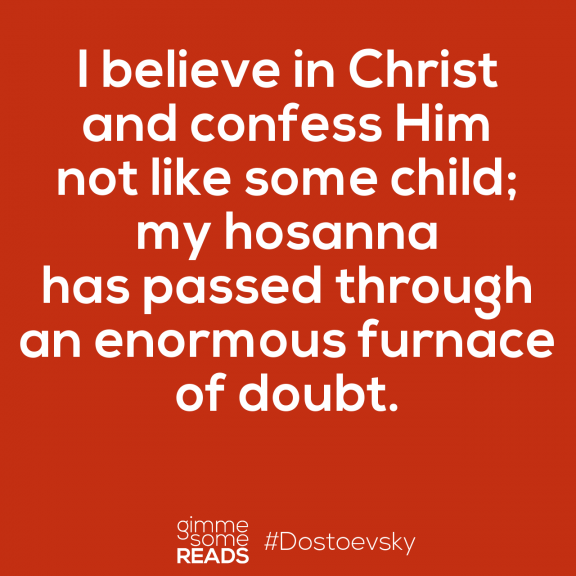 from Crime and Punishment: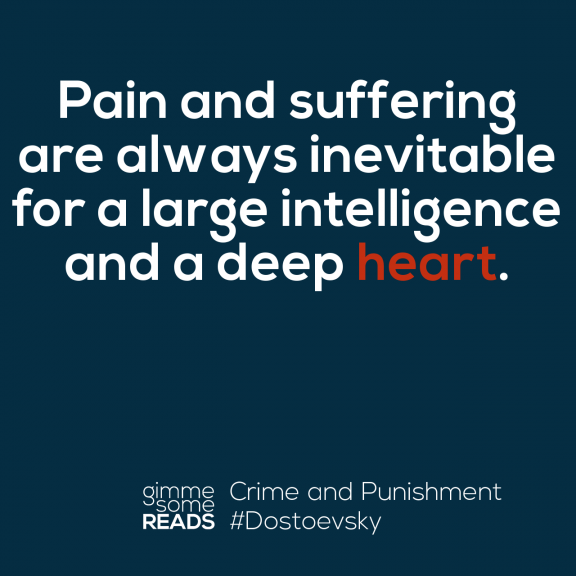 from The Brothers Karamazov: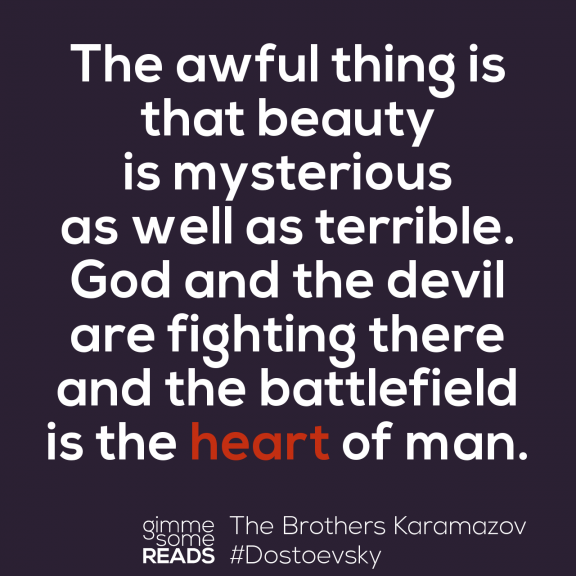 Everyone of us is answerable for everyone else and for everything. I don't know how to explain it to you, but I feel it so strongly that it hurts.
Learning to love is hard and we pay dearly for it. It takes hard work and a long apprenticeship, for it is not just for a moment that we learn to love, but forever.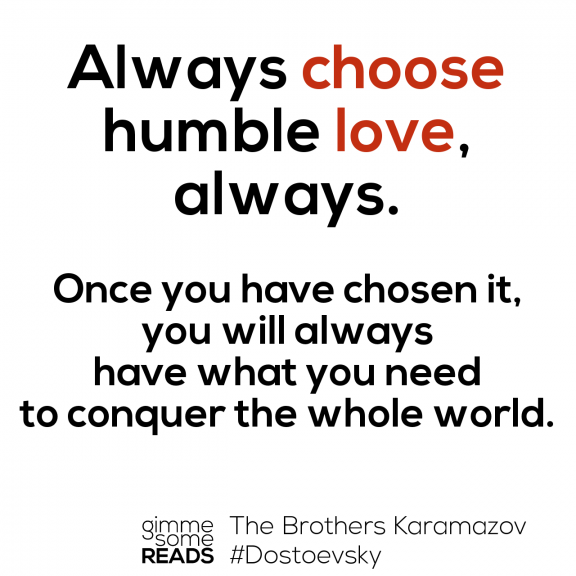 Always choose humble love, always. Once you have chosen it, you will always have what you need to conquer the whole world. Loving humility is a powerful force, the most powerful, and there is nothing in the world to approach it.
Love all God's creation, the whole and every grain of sand in it. Love every leaf, every ray of God's light. Love the animals, love the plants, love everything. If you love everything, you will perceive the divine mystery in things. Once you perceive it, you will begin to comprehend it better every day. And you will come at last to love the whole world with an all-embracing love.
from The Dream of a Ridiculous Man:
I have seen the truth; I have seen and I know that people can be beautiful and happy without losing the power of living on earth. I will not and cannot believe that evil is the normal condition of mankind. And it is just this faith of mine that they laugh at. But how can I help believing it? I have seen the truth — it is not as though I had invented it with my mind, I have seen it, seen it, and the living image of it has filled my soul for ever. I have seen it in such full perfection that I cannot believe that it is impossible for people to have it.
What are your favourite Dostoevsky quotes?
» Enjoy a novel cup of tea: enter to win the Literary Tea Giveaway.
This post contains affiliate links.