Great Gatsby Giveaway
This post may contain affiliate links. Please read my disclosure policy.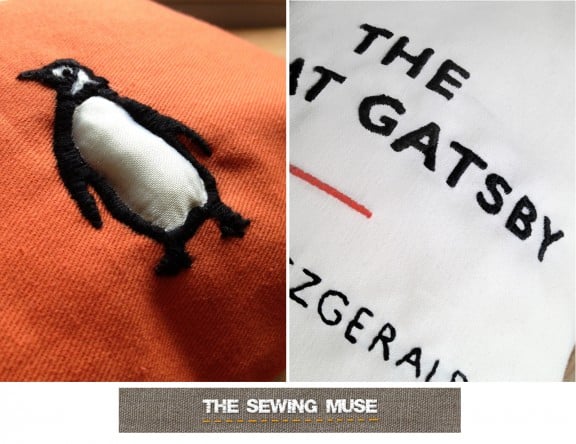 Snuggle up with a classic novel — literally.
As I mentioned before, I've got a crush on vintage Penguin books. Imagine my delight when I found The Sewing Muse, who embroiders cushions to look just like them. And now one of you lucky readers gets to win a Penguin cushion in honour of the upcoming film release of The Great Gatsby!
What is Included in the Giveaway:
One participant will win one Great Gatsby Penguin Books Cushion created by Laura Muse.
How to Enter the Great Gatsby Giveaway:
You must leave at least one comment on this post in order to win. Giveaway runs from May 6th – 24th.
The Cushion
Get cozy with this handmade cushion based on the classic Penguin book cover of F. Scott Fitzgerald's The Great Gatsby, complete with all the pertinent details embroidered on the front, right down to the delightful satin-bellied penguin.
Measurements: 40cm x 25cm (approximately 15″ x 10″)
Cushion Padding: Duck Feather
Backside: Simple envelope style in a natural fabric with concealed zip
The perfect addition to your library or living room. Your Penguin collection doesn't have to end with paperbacks, now you can start gathering Penguin pillows of your favourite books!
The Artist
Laura Muse hails from London where she works as a copywriter at an ad agency (she told me — think Peggy from Mad Men). Muse started her Etsy shop, The Sewing Muse, to share both her vintage finds and her own unique creations.
Her first Penguin cushion (Virginia Woolf's A Room of One's Own) was an inspired Christmas gift for a friend who already had a large Penguin books collection. It takes Muse around 20 hours to finish one and surprisingly, the bit that takes the longest is the border around "Penguin Books" at the top of the cushion.
The Sewing Muse offers custom orders so you can choose between the traditional orange or dark green colour bands and also pick your own book title. (Browse the first 1000 vintage Penguin paperbacks for some inspiration.)
Muse is currently sewing new cushion designs from vintage silks her boyfriend's Grandma gave her, so be sure to check out her shop soon to see these beauties, as well.
» Follow The Sewing Muse on Etsy; you will be alerted when she's added new items.
Gimme Some Gatsby
Disclaimer: This post contains affiliate links. This giveaway has been sponsored by The Sewing Muse. I was in no way compensated to host this giveaway, and all opinions are my own as always.