Literary Tea Giveaway
This post may contain affiliate links. Please read my disclosure policy.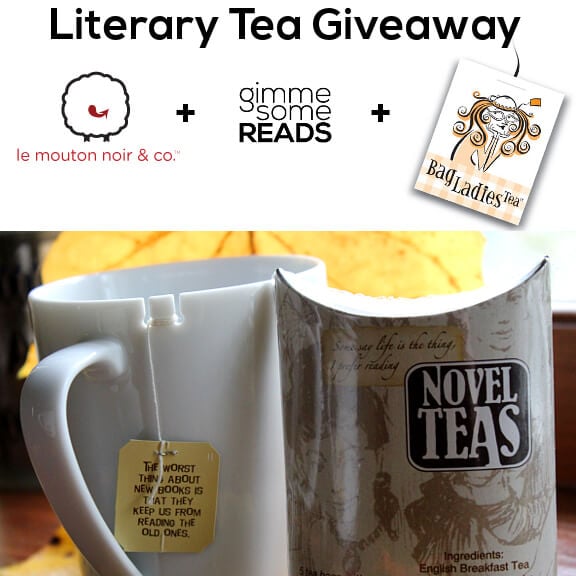 I don't know about you, but nothing says cozy quite so well as a warm cup of tea and a good book. And plenty of authors throughout history have said as much, too. One of my favourite literary tea quotes is from C.S. Lewis:
You can't get a cup of tea big enough or a book long enough to suit me.
So, with the days growing colder, I thought this was the perfect time to offer you readers a Literary Tea Giveaway.
Thanks to the clever and classy creations by Bag Ladies Tea and le mouton noir & co., you can enjoy a novel cup of tea.
What is Included in the Giveaway?
One lucky winner will receive:
1 Large Novel Tea Box (25 bags) from Bag Ladies Tea
6-pk of Novel Tea Gift Pouches (5 bags per pouch) from Bag Ladies Tea
1 Left-handed Tie Tea Mug from le mouton noir & co.
1 Right-handed Tie Tea Mug from le mouton noir & co.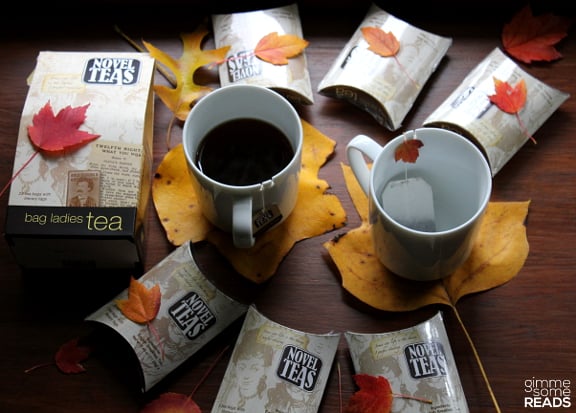 How to Enter the Literary Tea Giveaway:
Note: The giveaway will be going on through November 18th.
Novel Teas » Bag Ladies Tea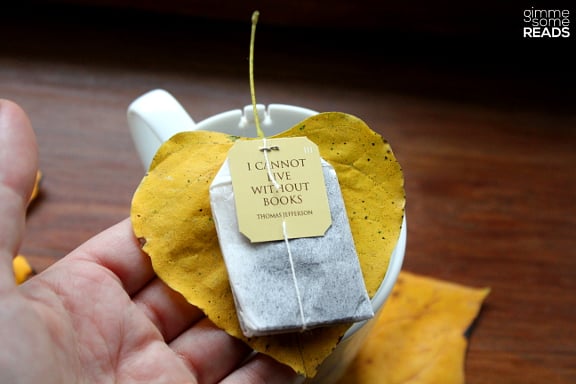 I love both tea and quotes — so when I came across Novel Teas, I got pretty excited. After just a few emails with the "woman behind the tea," I knew I'd found a fine bookish product, indeed.
Inspired by her family full of educators and literacy advocates, Bag Ladies Tea founder Tricia McIntyre decided to add Novel Teas to her already creative line of teas. The tea itself is an excellent English Breakfast (certainly one of the most literary of teas), and each bag has its own tag with the Novel Teas logo on one side and a literary quote on the other, including authors such as C.S. Lewis and Louisa May Alcott.
A brilliant gift for book lovers, book club members, teachers, and librarians, Novel Teas is available in a single box of 25 tea bags or a gift pouch of 5 tea bags.
And, if good tea and good quotes aren't enough — why not add a good cause to the mix? 5% percent of every purchase of Novel Teas is donated to the Bag Ladies Tea Book Project.
What is the Bag Ladies Tea Book Project?
Tricia McIntyre has lived her whole life in Boston, and now, with the Bag Ladies Tea Book Project, she's found a way to give back to the artistic city that has helped shape her and pay-it-forward to the new generation of Boston youths by distributing books to Boston Public School students.
More than just offering free take-home books for each student, McIntyre believes in the importance of personal interaction. So, she also invites volunteers to visit classrooms with her to read aloud to the students; then, following story time, each student receives two books, which they can take home and share with their families.
» Bag Ladies Tea: website
Tie Tea Mugs » le mouton noir & co.
I couldn't have imagined a better mug to pair with Novel Teas than le mouton noir & co.'s Tie Tea Mug.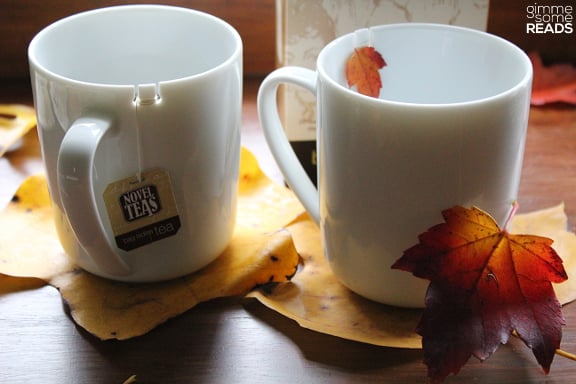 When you make tea, what do you do with that pesky tea bag string? Wrap it around the handle? Leave it hanging perilously over the edge, and just hope it doesn't fall in your tea?
Designer George Lee offers an artistic solution to the tea tie dilemma:
Inspired by the horn cleats used to tether boats to the dock, the Tie Tea Mug has its own tiny horn cleat to tether your tea bag to the mug — leaving the handle free for just your fingers.
George Lee's company is the "black sheep" of design, choosing to focus on a small array of everyday products — fun, quirky, and clever creations that will make your ordinary moments a little easier and lot happier.
I appreciate how each product shows the thought and attention that went into its creation, as well as the classy simplicity of their designs. Take the Tie Tea Mug, for example; they could have created a brightly coloured or an intricately patterned mug, but by letting it be simply white, you pay attention to the beauty of its clever functionality. And yes, they even went so far as to create a left-handed mug, as well as a right-handed one — so you can drink with your tea tie hanging away from you, no matter which hand is dominant.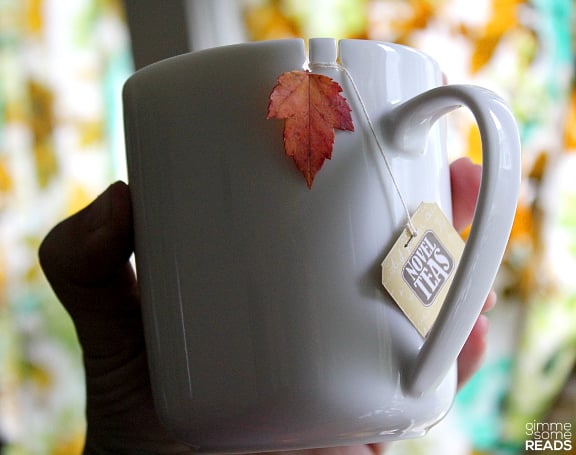 I look forward to seeing what le mouton noir & co. comes up with next.
» le mouton noir & co.: website
» Connect with le mouton noir & co. on social media: Facebook
Disclaimer: This post contains affiliate links. This giveaway is sponsored by Bag Ladies Tea and le mouton noir & co. They provided me with complimentary products, but neither company otherwise compensated me to host this giveaway. All opinions are 100% my own as always.