Reading List for 2013
This post may contain affiliate links. Please read my disclosure policy.
I'm not a big fan of New Year's resolutions, but this year, I thought it might be good to take a more active approach to reading. I don't think I've ever made an 'official' reading plan before. Unless you count the summer before my senior year in high school, when I tried to read ahead for my A.P. English class based on what my brothers had read for the same teacher in previous years (can you say nerd?).
So, besides waiting tables in a little Mediterranean café, I spent the summer of 1996 reading Catcher in the Rye, Lord of the Flies, The Great Gatsby, and The Invisible Man (Ralph Ellison's, not H. G. Wells').
Thankfully Mrs. Hudson still taught the first two books in my class, and I was able to use Gatsby for another assignment, but my labour through Ellison's book was definitely in vain. Yeesh. Maybe I'd feel different if I read it now, but at 17 it was merely painful. Sorry, Ralph.
my library
When you walk in my house the first thing you see are shelves and shelves, full of books. I've probably read at least half of the books many times over — but there are still [too] many that I have packed and moved over the years, without ever having opened them.
reading plan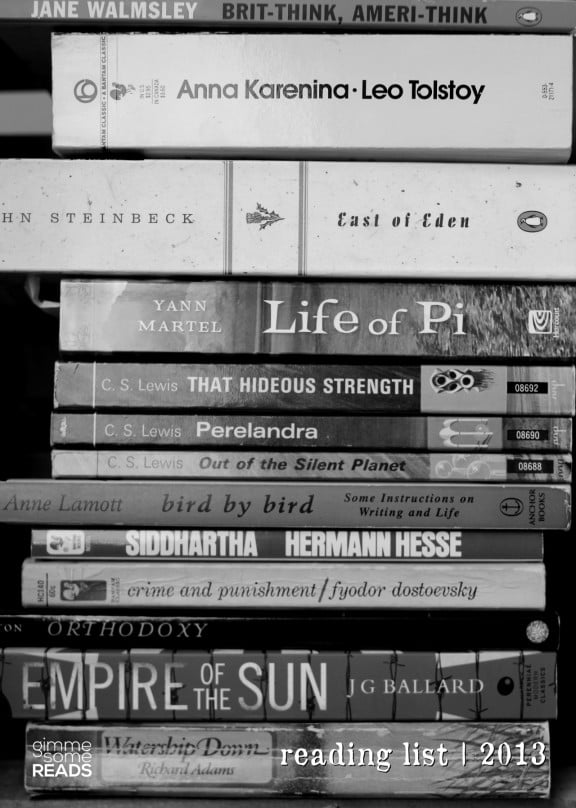 Here is my reading list for 2013 (in alpha author order):
Added on January 15:
what's on your reading list this year?
anyone want to set me straight on Ellison's Invisible Man? 
 This post contains affiliate links.