Wearable Literary Gifts
This post may contain affiliate links. Please read my disclosure policy.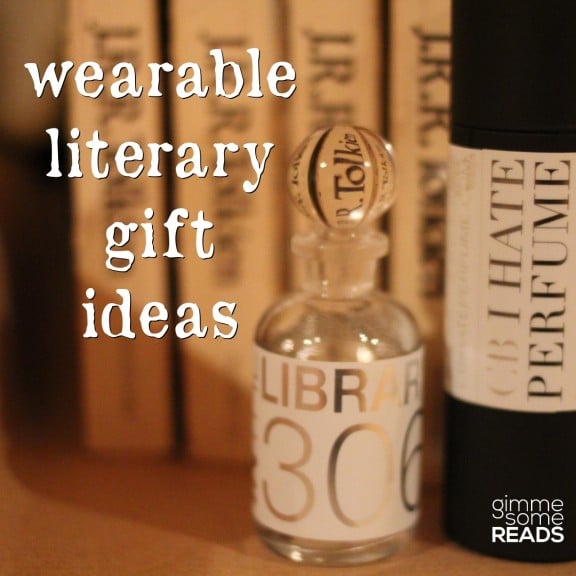 Sometimes buying a gift for a bookworm can be daunting. Bookworms tend to like subtlety and it can be difficult to keep up with their very particular likes and dislikes. Don't be discouraged — approach the case like a good mystery and you're on the hunt for clues that can lead you to the perfect literary gift. A little research on my end + a little research on your end just might = a great bookish gift for a reader you love. May this gift guide give you a good head start.
Sherlock suggested I begin with a list of wearable literary gifts. (I think it's because he's become something of a fashion icon these days, as you will soon see…)
perfume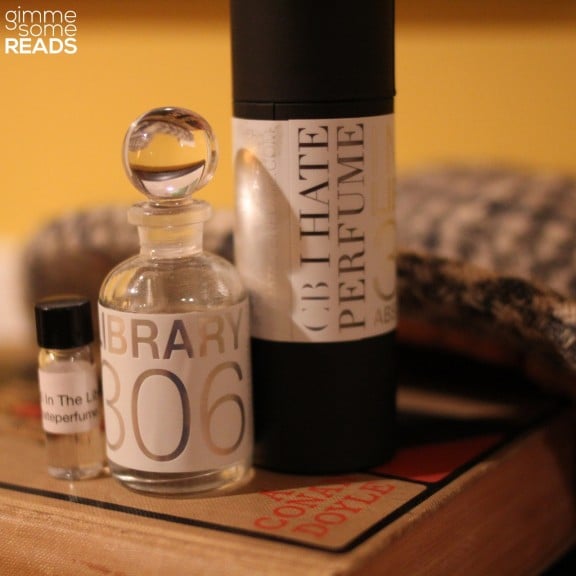 Let's start with the possibly crazy idea first. Literary perfume? Indeed. A few years ago, Sarah introduced me to the In the Library scent made by CB I Hate Perfume. I fell in love. It smells exactly like a delightful room filled with old well-loved books — a little musty, but the good kind, not the moldy kind. It is the magic of a beautiful hardback book in scent-form. Christopher Brosius (the creator) describes the scent as "a warm blend of English Novel, Russian & Moroccan Leather Bindings, Worn Cloth and a hint of Wood Polish". Each of his perfumes is inspired by a story and reading those stories is almost as fun as smelling how perfectly he captured exactly what he describes. This scent can work for men and women both. If you're not quite sure how you feel about plunking down money for a perfume someone may or may not like — you can always get the trial size as a stocking stuffer.
jewelry

If you don't know about Etsy, set aside an hour (or two) and start perusing. It is a treasure trove of unique gifts like these: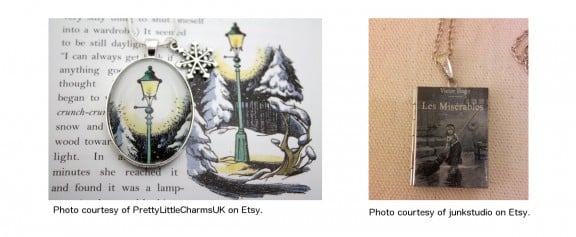 clothing
Sometimes it really is as simple as the right t-shirt. Even someone who doesn't normally wear printed tees in public might secretly love wearing one to bed. Out of Print has a whole line of shirts and sweatshirts printed with the vintage covers of famous books available for men, women and children.
know of any great bookish gifts?
This post contains affiliate links.