Red, White and Blue(berry) Margaritas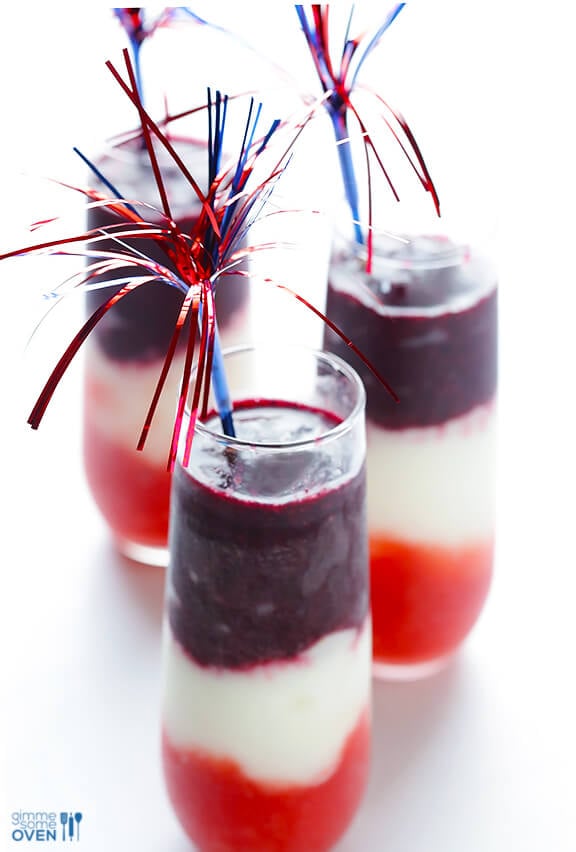 Some days are just meant for spontaneity.
For me, yesterday was one of them.
After a morning of meetings and an early afternoon spent cranking out a freelancing project, I had a little epiphany and realized the reason why half of my friends were going to be out of town for the weekend — Memorial Day!!  Yes, ever since leaving behind the world of water coolers and working from home, I seem to always space off Monday holidays.  But I suddenly realized that we are long overdue on the blog for a good ol' red white and blue recipe.  So I decided to use up the fresh berries I just purchased for smoothies and make my other favorite frozen drink — margaritas.  Mmmm.
They turned out to be firecracker-rific.  But the recipe made about 6 servings worth.  So I decided to see if I could round up some neighbors for a quick early happy hour.
But before I could text them, one of my other friends texted and said that she had some last-minute tickets available for an early screening of a movie I had been super excited to see — The Fault In Our Stars.  Eeeee!  I don't know about you, but I loved the book and had been regularly stalking the filming and trailers online waiting for this to come out.  And the theater is just about 10 blocks away from my loft.
So left my door unlocked, texted my neighbors that there were a bunch of fresh margs for the taking when they came home from work, sprinted to the theater, and then (happily) bawled my eyes out while my neighbors enjoyed these red white and blue margaritas.
Happiness all around.  :)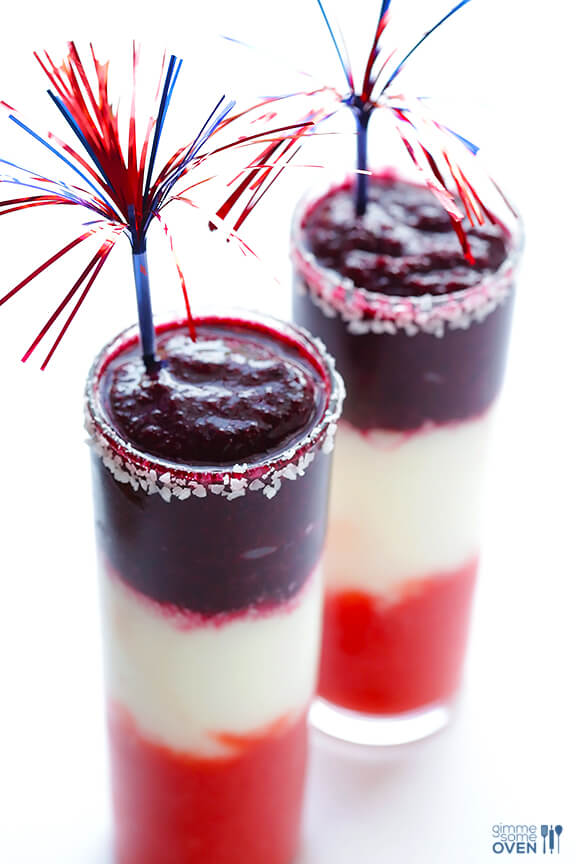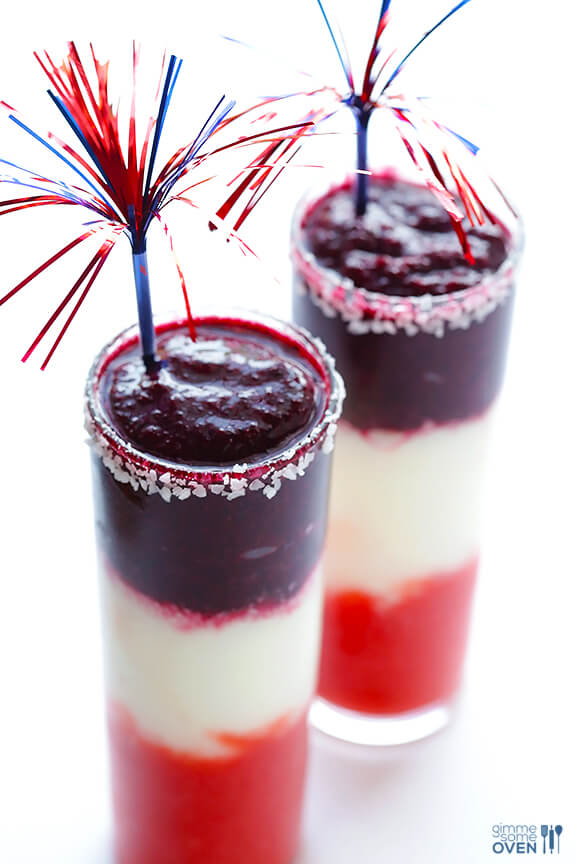 Ok, first a word about the movie.  It was definitely one of those books I loved so much that I walked into the movie more than a little worried that it would not live up to expectations.  But you guys — it was amazing!
Don't worry, I won't give any spoilers.  Except to bring your Kleenex (of course).  And rest easy knowing that the screenwriting, casting, laughs, tears — everything — totally honor the book.  And if you're a teenager, get ready to majorly crush on a cute boy named Ansel.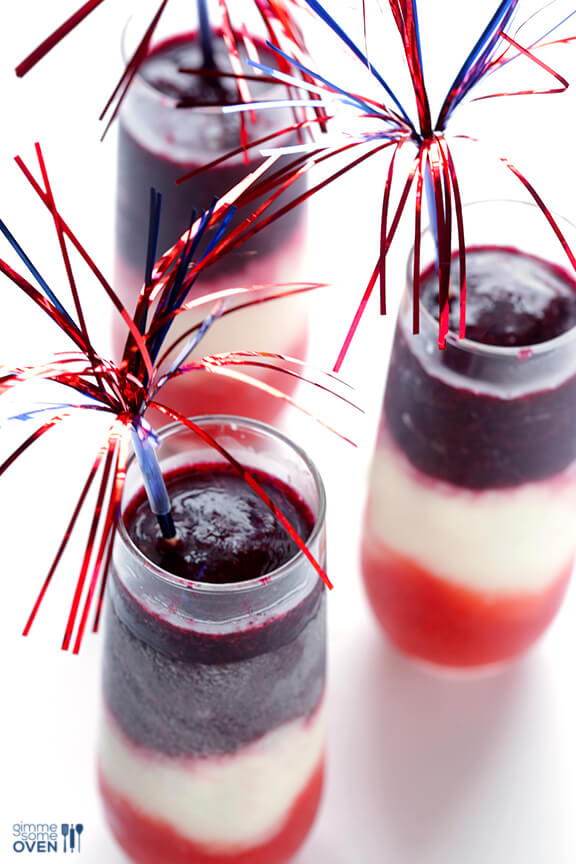 As for the margaritas, well, I have to admit that they actually turned out way better than I expected!
I was more than a little worried that they would be a color-bleeding frozen mess.  But once I got each of the layers thick enough, they stacked quite nicely.  And even once they did start to melt, I thought the layers all tasted delicious together!
As far as margaritas go, they also could hardly be easier.  I just used the same base frozen margarita recipe for each one, and then added in…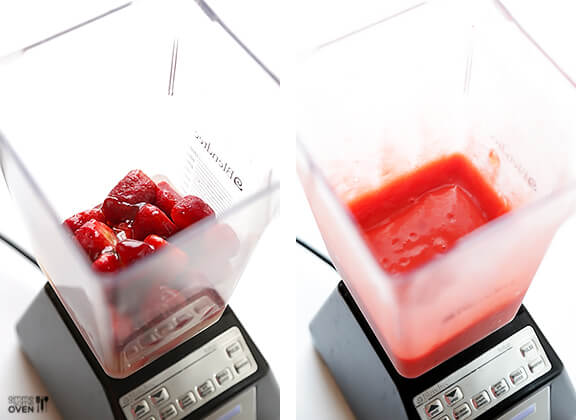 …frozen strawberries for the "red"…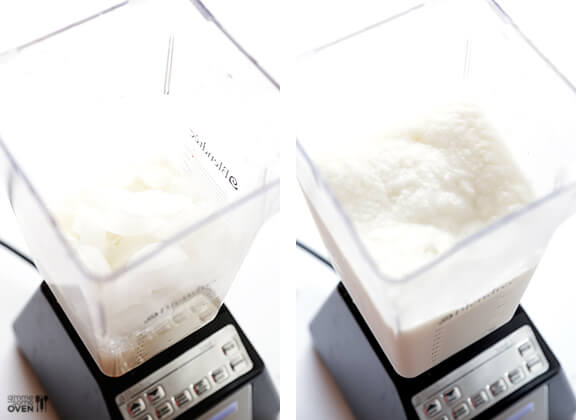 …coconut milk for the "white" (although you could just do classic lime margs if you're anti coconut)…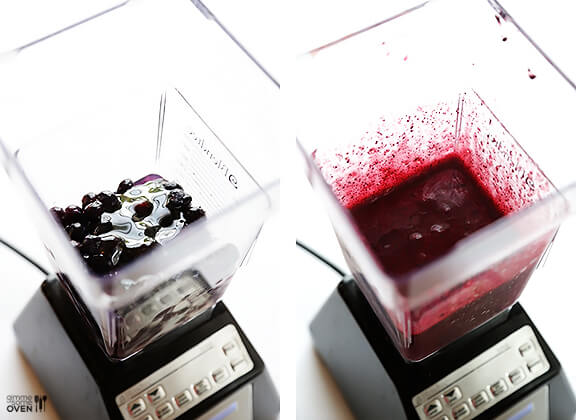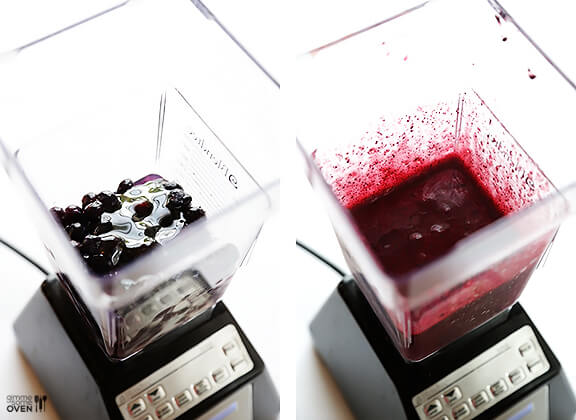 …and frozen blueberries for the "blue".  (Yes, they're more on the purple side, but I wanted to avoid blue liqueurs and food coloring.)
Blend them all up, layer them in some glasses, stick a little foil firecracker in the top if you'd like, and get ready for a very colorful patriotic toast!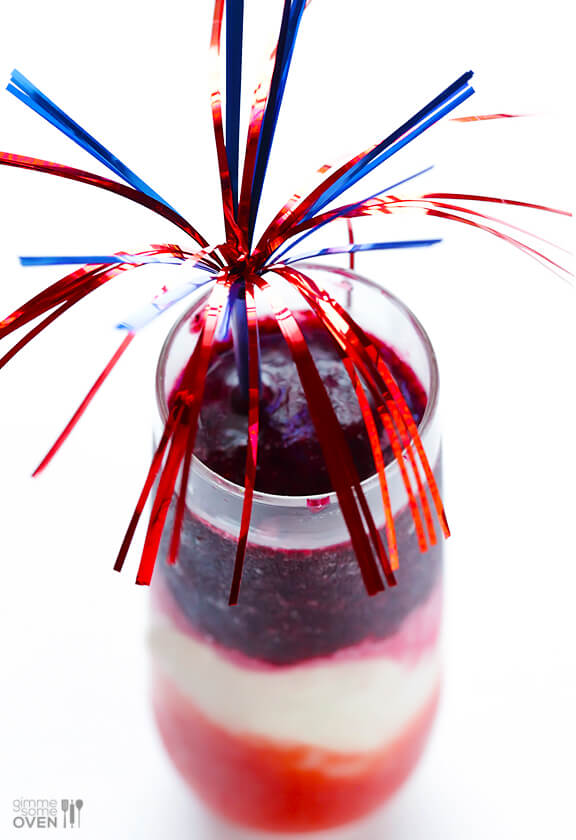 Speaking of which, I couldn't decide what to name these guys.  So I consulted our wonderfully creative crew on Facebook for a better name, and they came up with a fabulous list.  Some of my favorites were:
Firecracker-ritas
Grown-Up Bomb Pops
Sparklaritas
'merica Margaritas
Freedom-ritas
…and my favorite, Red White & Buzzed  :)
Whatever you call them, I'm pretty sure they will be the hit of your Memorial Day, or 4th of July, or any day you feel like toasting to all things red white and blue.
Big cheers to all of the amazing men and women who have served and are continuing to serve our country so courageously over the years.  And I wish you all a safe — and even spontaneous — Memorial Day.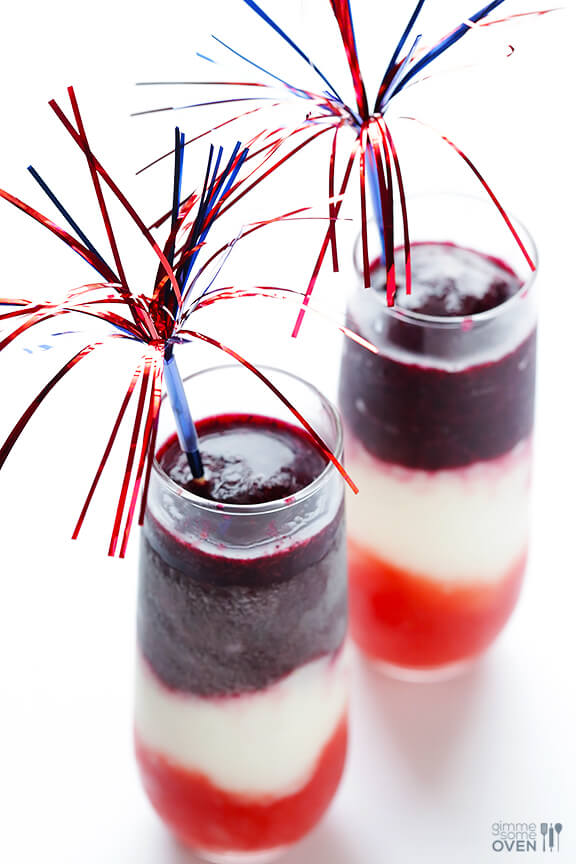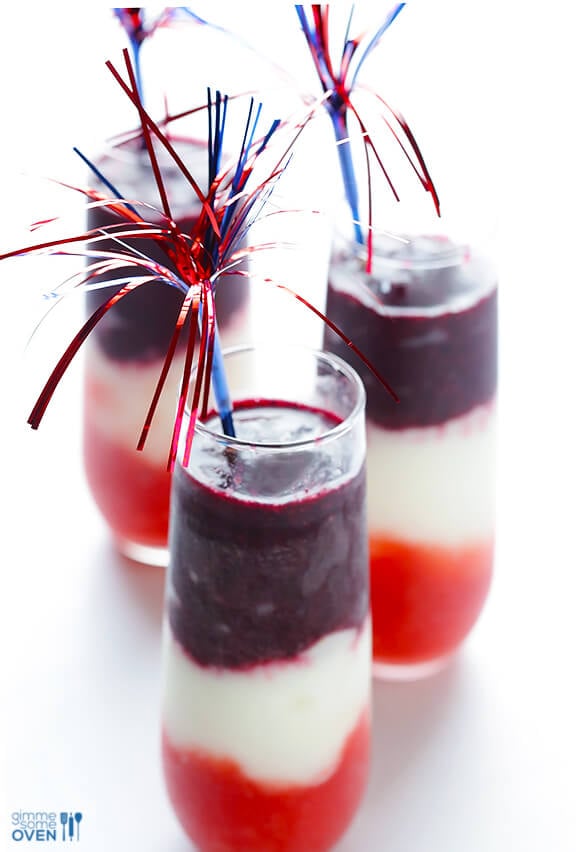 Red, White & Blue(berry) Margaritas
These Red, White & Blue Margaritas (Firecracker Margaritas) are truly easy to make, and perfect for any patriotic holidays!
Ingredients:
Frozen Strawberry Margarita Ingredients:
2 cups (12 ounces) frozen strawberries
1/2 cup tequila
1/4 cup fresh lime juice
1/4 cup agave nectar (or honey)
extra ice, if needed
Frozen Blueberry Margarita Ingredients:
1 cup (12 ounces) frozen blueberries
1/2 cup tequila
1/4 cup fresh lime juice
1/4 cup agave nectar (or honey)
extra ice, if needed
Frozen Coconut Margarita Ingredients:
1/2 cup coconut milk (I recommend full-fat)
1/2 cup silver tequila
1/4 cup fresh lime juice
1/4 cup agave nectar (or honey)
extra ice, if needed
Optional: a fresh lime wedge and margarita salt or sugar, to rim the glasses
Directions:
For each of the margarita recipes, add the five ingredients to a blender and pulse until completely smooth. If the mixture is too thin, add extra ice until it is the consistency of a thick slushy. Pour into a container, and store in the freezer while you rinse the blender to make the next batch.
If you would like to rim your glasses with salt or sugar, make a small slit in a fresh lime wedge and run it around the tops of your glasses to wet the edges. Then invert the glasses, and dip them in a bowl of salt or sugar to coat the rims.
Use a spoon to scoop your desired first flavor of margaritas into the bottom of your serving glasses until they are 1/3 full. Add your second flavor, and then your final flavor. Serve immediately.
*For those of you who would like to have somewhat straight lines between layers, I have a little tip. Once your first layer is in, do not add a huge spoonful of the next color on top. Rather, add just a few small spoonfuls of the next color in small piles around the edges of the first layer until you have made a circle border. Then fill in the center, and THEN you can start adding in larger spoonfuls on top of that. (Repeat with the third layer.) If you add a huge glop of a new color, it will make the layer underneath get super uneven and start to bleed color everywhere.
But hey, after about 5-10 minutes, the colors will start to seep and combine anyway. So however yours turn out, no worries — they will be delicious!
*If you do not like coconut margaritas, you can make classic margaritas for the middle layer.  Just omit the coconut milk and add in a generous splash of orange liqueur like Triple Sec.
All images and text ©
If you make this recipe, be sure to snap a photo and hashtag it #gimmesomeoven. I'd love to see what you cook!
I looked around online last night and saw that a few other bloggers have also created yummy red white and blue margaritas.  So be sure to check out their recipes as well on Babble, BlenderKing, Girls Gone Sporty, and Travel It Girl.