Roasted Beet, Arugula, Goat Cheese & Honey Crostini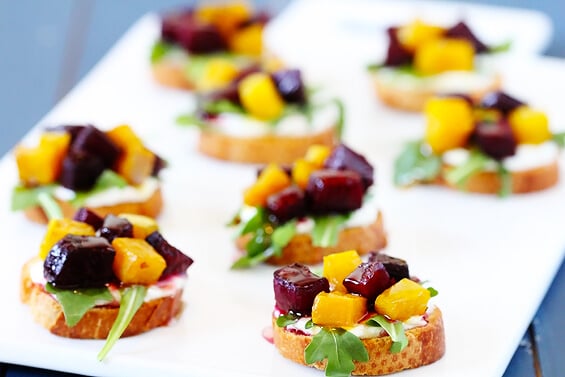 Pretty sure I am having the time of my life loft-sitting for some friends this summer nextdoor to my favorite farmers' market in KC — the City Market!!  Oh my goodness.  For seven years, I made the drive all the way downtown every Saturday morning to walk the bustling aisles of fresh deliciousness, say hi to my favorite vendors, and see some of my foodie friends.  But now I literally walk out the door (and beat the crowds at 7am!) and voila — my favorite market is literally at my doorstep.  I'm still pinching myself.  Love it!!!
These past two weekends, many of the farmers have had beets in abundance.  And while I think they are quite lovely — I mean, what's not to love about a food that can turn an entire meal fuchsia?!? — I admit that I have never been a big fan of their taste.  I usually pick them off salads.  Ok, I always pick them off salads.
But I have learned to like many a vegetable over the years by roasting them.  So I decided to give these purple and gold beauties one more shot by roasting them up and then serving them on crostini topped with arugula, honey and a yummy goat cheese spread.  And…while I'm pretty sure that beets will never make my top ten veggies list, I have to admit these little crostini were pretty good!  Success!!!  And, probably the real test was that my friends who actually love beets also gave them rave reviews.  We all loved the ingredient pairing, they looked super cute and colorful, and the prep behind the scenes was a breeze.  Definitely a fun farmer's market meal!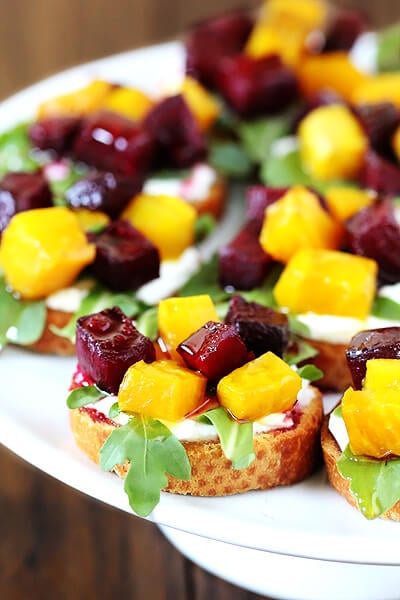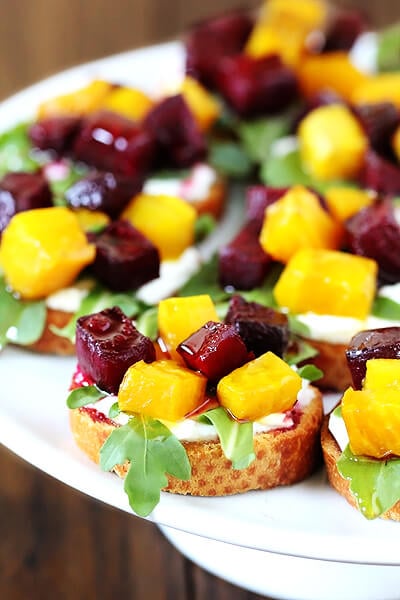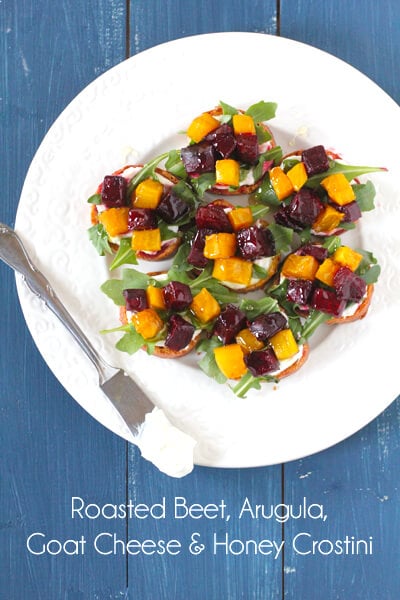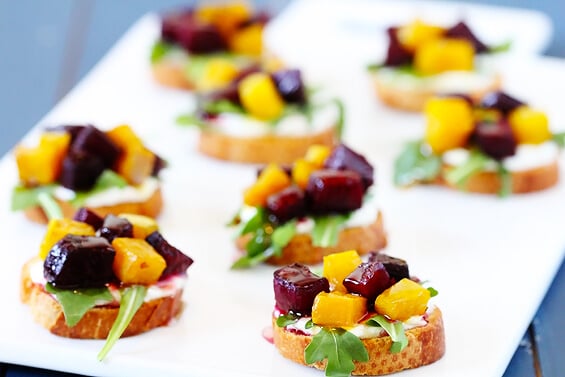 Roasted Beet, Arugula, Goat Cheese & Honey Crostini
You will love this Roasted Beet, Arugula, Goat Cheese & Honey Crostini recipe. It's bright, healthy, and packed full of vitamins!
Ingredients:
1 baguette or loaf of bread, sliced thin
4 medium-sized beets, peeled and diced (I used half red, half golden beets)
2 Tbsp. olive oil
4 oz. goat cheese (plain or herbed)
3 Tbsp. milk or cream
2 cups baby arugula
honey, for drizzling
Directions:
Preheat oven to 425 degrees. Line a baking sheet with aluminum foil.
In separate mixing bowls (so that the colors do not bleed), toss each color of the diced beets with 1 Tbsp. olive oil. Spread each color of beets in an even layer on half of the baking sheet. Roast in the oven for 25-30 minutes, until tender when pierced with a fork. Remove and set aside.
Lower oven heat to 350. Then spread out bread slices in a single layer on a baking sheet, and bake for 10-15 minutes or until toasted. Remove and let cool.
Meanwhile, whisk together the goat cheese and milk in a small bowl until well-blended. Add more milk if you would like a thinner consistency for spreading.
Assemble the crostini by spreading a dollop of the goat cheese mixture on a piece of toasted bread, and then top with arugula and diced roasted beets. Drizzle with honey and serve.
Ali's Tip:
To save time, I also tried putting the slices of bread in the oven while the beets were cooking, which was great.  Just be sure to keep an eye on them as they will cook much more quickly at the higher temperature!
All images and text ©
If you make this recipe, be sure to snap a photo and hashtag it #gimmesomeoven. I'd love to see what you cook!