Sausage & Zucchini Pasta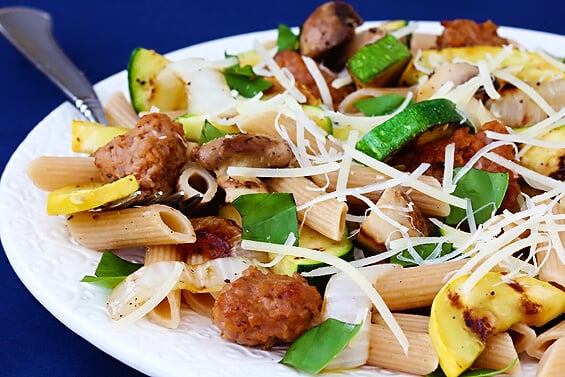 It's "Zucchini Week" at Gimme Some Oven!
That's right.  Since it's the end of the summer, and our gardens and farmers markets seem to be overflowing with zucchini, thought it would be apropos to devote a week of recipes to this green goodness.
So for the first recipe, I whipped up this delicious and healthy pasta tonight.  It's a simple vegetable medley (zucchini, squash, mushrooms and  onions) combined with spicy sausage (I used turkey), with a light garlicky olive oil sauce.  Top it with some fresh basil and Parmesan, and it was positively divine!
Or at least, my friends raved about it.  To be honest, "Zucchini Week" decided to coincide with a massive allergy attach for Yours Truly. After sniffling for two days, my senses of smell and taste decided to abandon me literally while I was making the pasta.  Argh!  Has that happened to anyone else this allergy season!? I'm convinced that is the most annoying part of allergies for a foodie.
Anyway, this does happen to be one of my standard improvised pasta recipes, so trust me (and take my friends' word for it!) that it's a stellar one.  Definitely a delicious beginning to "Zucchini Week".  (I can't wait for the leftovers!)  Check back each day for more scrumptious recipes to come!!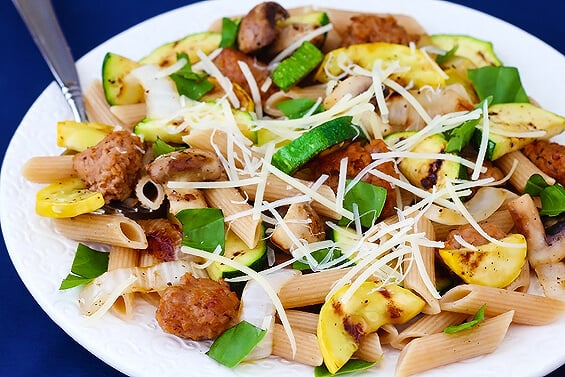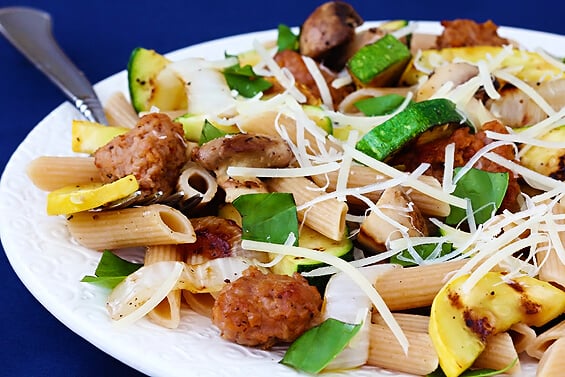 Sausage & Zucchini Pasta
You will love this Sausage & Zucchini Pasta recipe. It's completely delicious and ready-to-go in 20 minutes or less!
Ingredients:
3 Tbsp. olive oil, divided
1 zucchini, ends trimmed, sliced into 1/4″ thick rounds (or half-rounds)
1 yellow squash, ends trimmed, sliced into 1/4″ thick rounds (or half-rounds)
half a large yellow onion, thinly sliced
1 carton (8 oz.) baby mushrooms, quartered
5 cloves garlic, minced
1/2 cup dry white wine
4 links spicy hot turkey sausage (or sweet, if you prefer)
salt and freshly ground black pepper
12 oz. whole wheat penne pasta
1/4 cup fresh basil, chopped
grated Parmesan cheese
optional additions: cherry or grape tomatoes, sun-dried tomatoes, quartered artichokes, roasted red peppers, toasted pine nuts
Directions:
Bring a large pot of generously-salted water to a boil. Cook pasta according to package instructions.
Meanwhile, place a large skillet or grill pan over medium high heat. Add 1 tablespoon olive oil, then add sausage and cook for about 3 to 4 minutes (breaking it up as you go) until browned. Remove sausage with a slotted spoon and place aside in a bowl, then return the skillet to the stove. Add an extra tablespoon of oil, then add the onion and cook for 2 minutes. Then add in zucchini, squash, mushrooms and garlic. Continue cooking for 4-5 minutes, stirring occasionally, until vegetables are cooked. Add in white wine and stir the bottom of the pan to deglaze. Stir the sausage back in, cooking and stirring for 2 more minutes.
Reserve 1/4 cup pasta water, and then drain pasta and add it to skillet along with the fresh basil and a final tablespoon of olive oil. Stir and cook for about a minute before serving, adding in the extra pasta water if needed for moisture. Top with grated Parmesan cheese and serve.
All images and text ©
If you make this recipe, be sure to snap a photo and hashtag it #gimmesomeoven. I'd love to see what you cook!
Ali's Tip:
Feel free to substitute in your favorite type and flavoring of sausage.  Or this would also be delicious with seasoned chicken or shrimp.