Shrimp, Avocado and Roasted Corn Baked Taquitos
Ok, I have officially updated my list of food that is hard to photograph: quesadillas, popsicles, soups with clear broths, and taquitos!!!

Gah.  For some reason, I could not seem to take a remotely satisfying photo of these yesterday.  The lighting was all wonky, the shrimp looked weird, and I could not seem to find the right angle to save my life.  So finally after way too many failed photo attempts, I did what any good food blogger should do…and just ate them.  :)
And then life suddenly seemed so much better.
These Shrimp, Avocado and Roasted Corn Taquitos are actually a spin-off of one of my favorite salads.  And once again, the ingredient combination proved a big winner.  And when pan-roasting the corn on the stove, they ended up falling into the "quick and simple" category and were ready to go in less than 30 minutes.  Definitely a fantastic appetizer to serve for Cinco de Mayo or game day, or even just to serve for a quick and delicious dinner.
And trust me…they look and taste much better in person.  Enjoy!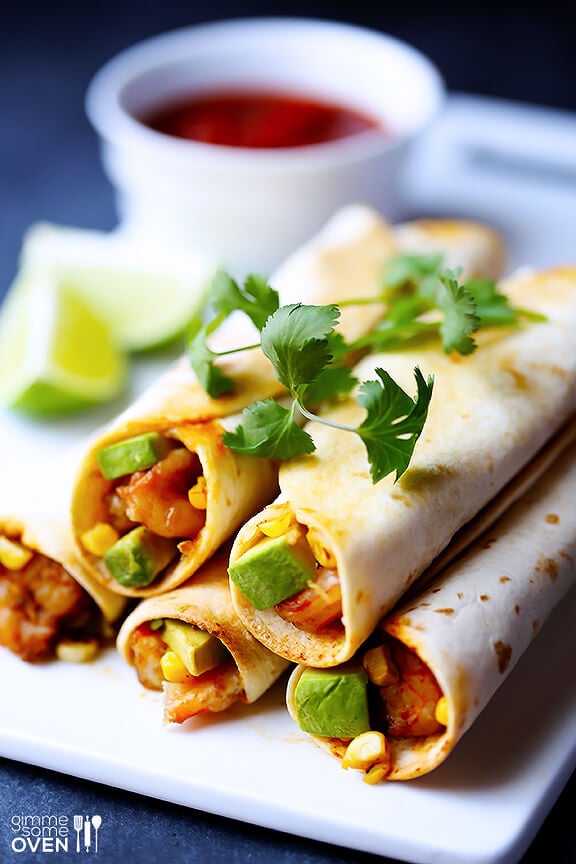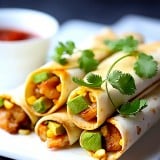 Shrimp, Avocado and Roasted Corn Baked Taquitos
A healthier and delicious take on shrimp taquitos!
Ingredients:
2 ears of sweet corn, shaved off the cob
1 Tbsp. olive oil
half a white onion, diced
1 lb. raw shrimp (any size), peeled and deveined
2 tsp. chili powder
1/2 tsp. ground cumin
salt and pepper
1 (4 oz.) can chopped green chiles
1/3 cup chopped fresh cilantro
12 small (6-inch) flour tortillas
1 avocado, peeled, pitted and diced
2 cups grated Monterrey Jack or Pepperjack cheese
optional sides/toppings: fresh lime wedges, sour cream, salsa
Directions:
Preheat oven to 425 degrees.
Heat a skillet over high heat. Add the corn kernels and let them dry-roast for about 6-8 minutes, stirring occasionally, until their edges begin to brown and caramelize. Transfer the corn to a plate to set aside.
Reduce heat to medium-high, and (carefully) add the oil until heated. Add onion and saute for 5 minutes or until cooked and translucent. Add the shrimp, chili powder, cumin, and a pinch of salt and pepper, and stir to combine. Cook for 3-5 minutes, or until the shrimp are cooked and no longer translucent. Stir in the chopped green chiles and cilantro and cook for an additional minute, then remove from heat.
To assemble the taquitos, place a large spoonful of the shrimp mixture down the center of a tortilla. Then top with some diced avocado and a generous sprinkle of cheese. Roll up the tortilla and place seam-side down on a greased baking sheet.
Bake for about 15-20 minutes, or until the cheese is melted and the tortillas are crispy. Remove and serve immediately with optional toppings and salsa for dipping.
All images and text ©
If you make this recipe, be sure to snap a photo and hashtag it #gimmesomeoven. I'd love to see what you cook!