Shrimp Fra Diavolo Pasta
Confession time.
We all know the basics of how to measure ingredients.  For example, how you're never supposed to crack your eggs directly into your batter (in case there's a bad one)?  Or how you should always pour vanilla into your measuring spoons away from (instead of above) your mixing bowl?  Or how you should never, ever, ever measure out a teaspoon of crushed red pepper flakes just inches above a simmering sauce?!?
Yep.  Pretty sure I took a shortcut.  And pretty sure that, thanks to a faulty lid, pretty much the entire jar of crushed red pepper poured out like an avalanche in my diavolo sauce. ("The Devil's Shrimp" indeed…)  I was so shocked I just stood and stared at it for a minute.  But then reality kicked in and I sprang into action, and by some miracle was actually able to remove most of the extraneous crushed red peppers and salvage the sauce.
Surprisingly, it ended up being super delicious!  But just to doublecheck ingredient amounts, I happily made it again a week later.  And once again, absolutely loved it.  For anyone who has never had "shrimp fra diavolo", it is a shrimp dish with a simple garlicky tomato sauce, accented by a little extra crushed red pepper.  I wouldn't say it's really "spicy", but it does pack a little bit of subtle heat near the end of each bite.  I served mine over pasta, with some extra Parmesan, basil, and parsley for garnish.  Definitely an easy, crowd-pleasing dish .
I would just highly recommend measuring your crushed red pepper away from the sauce… :)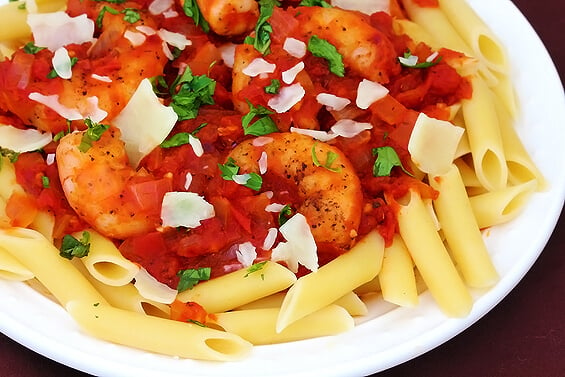 Shrimp Fra Diavolo Pasta
You will love this yummy, authentic Italian flavor of this Shrimp Fra Diavolo Pasta recipe. It's decadent, delicious, healthy, and quick and easy to prepare!
Ingredients:
1 lb. pasta (I used mostaccioli)
1 lb. large uncooked shrimp, peeled and deveined
4 Tbsp. olive oil
5 cloves garlic, minced
1 medium onion, finely chopped
1 cup dry white wine
1 (28 oz.) can crushed tomatoes
1 tsp. crushed red pepper flakes
1/4 tsp. dried oregano
1/4 cup fresh flat-leaf parsley, chopped
1/4 cup fresh basil, chopped
grated Parmesan cheese
Directions:
Heat 3 Tbsp. oil in a large skillet over medium-high heat. Season shrimp with salt and pepper, then add to the skillet. Saute for one minute, then flip shrimp and saute until the shrimp is cooked and no longer translucent. Transfer shrimp to a separate plate.
Add the onions and an additional 1 Tbsp. oil to the skillet and saute for another 5 minutes, or until translucent. Add garlic and saute for one minute. Add wine, and deglaze pan for one minute. Then add tomatoes, crushed red pepper, and oregano. Reduce heat to medium-low, and let sauce simmer and reduce for 10-15 minutes until it is your desired thickness. Then return shrimp to the sauce, and stir to coat.
Meanwhile, bring a large pot of generously-salted water to boil, and cook pasta according to package instructions. Drain the pasta, then toss with the sauce and shrimp. Garnish with chopped parsley, basil and/or Parmesan cheese.
All images and text ©
If you make this recipe, be sure to snap a photo and hashtag it #gimmesomeoven. I'd love to see what you cook!
Ali's Tip:
This classic dish is also often made with lobster.  But if you wanted to break the mold, I'm sure it would also be great with grilled chicken.  :)