Skinny Caramel Frappe
This post is sponsored by International Delight.
Do you remember the first time you set foot in a Starbucks?
I do!
Believe it or not, the infamous coffee chain didn't come to Kansas until I was a freshman in college.  But when the first tiny coffee shop arrived in Wichita, my friends and I of course had to go!  So we piled in my VW bug and took a late night road trip so that we could wait in a super-long line to proudly place an 8-word order for coffee.
I was a new coffee drinker back then, so my drink of choice was the deathly-sweet caramel frappuccino.  It was rich, it was pretty, and it was loaded with a zillion calories.  But in college that was "NBD", so the caramel frap instantly became my go-to drink as Starbucks began to move in on every corner.
Today, my coffee tastes and preferences have changed significantly.  I go for black pour-over iced coffee at home and at my neighborhood coffee shop, and there's not a Starbucks anywhere nearby.  I drink coffee pretty much daily, and rarely hot or frozen.  However, on occasion, I still get a craving for my nostalgic old college drink in the summertime.  So I've learned to make my own healthier "skinny" caramel frappe at home with some homemade caramel syrup.  Or even quicker, with the help of some a handy store-bought caramel creamer, like this one.
It's definitely not the uber-sugary drink I loved in college, but the skinner, homemade, and coffee-centered version is much more my speed today anyhow.  Here it is!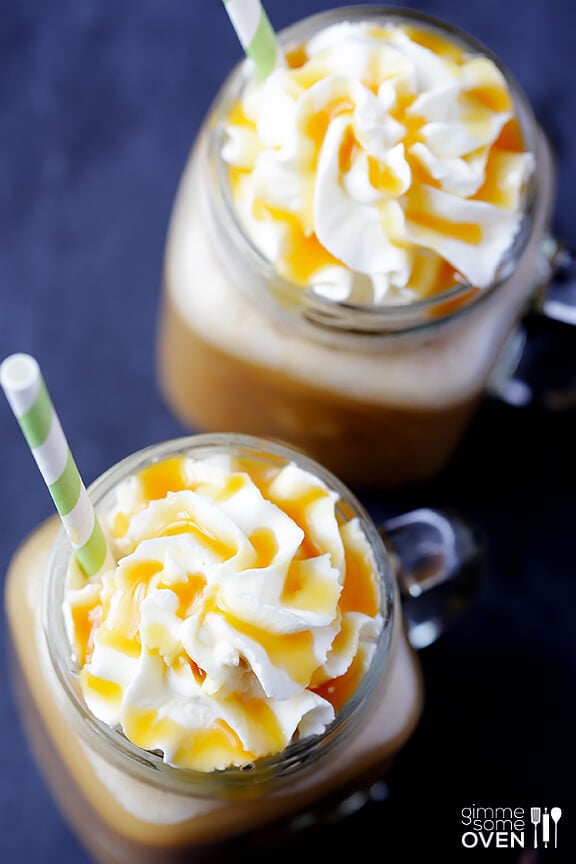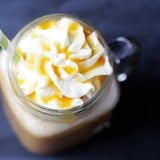 Skinny Caramel Frappe
A "skinny" version of a frozen caramel frappe.
Ingredients:
1 cup coffee, chilled
1/4 cup International Delight Caramel Macchiato creamer
2 cups coffee ice cubes (coffee frozen in ice cube trays), or regular ice cubes
optional toppings: whipped cream, caramel sauce, chocolate sauce, sprinkles
Directions:
Combine coffee, creamer and ice cubes together in a blender, and pulse until blended.
Serve cold topped with desired toppings.
All images and text ©
If you make this recipe, be sure to snap a photo and hashtag it #gimmesomeoven. I'd love to see what you cook!
What's Your ID? International Delight is looking for their most passionate flavor fans. Put your ID on the map to enter to win a Magical Trip, play games and discover more unexpected delight. Share your ID flavor at http://whatsyourid.com.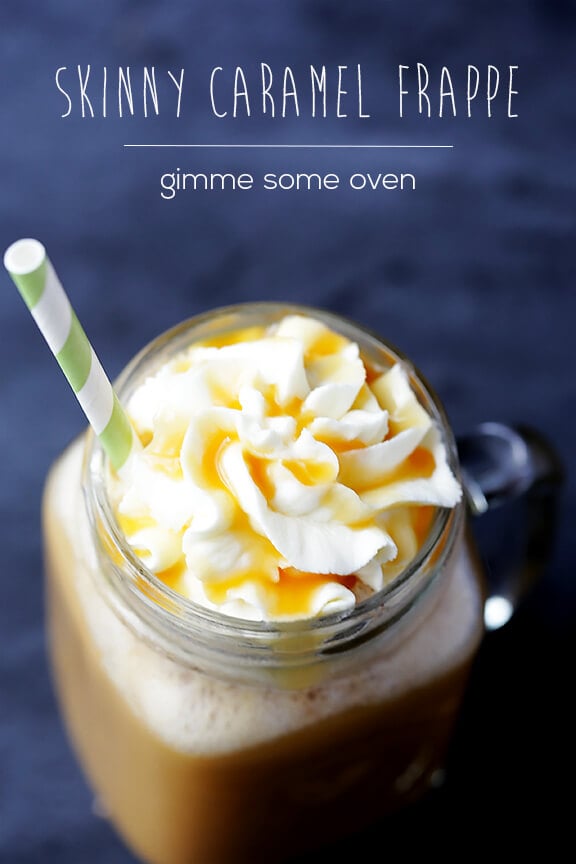 Disclaimer: This post is sponsored by International Delight.  All opinions are 100% mine, as always.