Skinny Taco Salad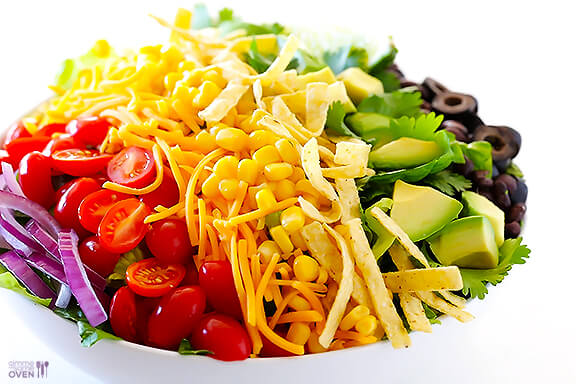 Apparently I've had tacos on the brain lately.
After making a batch of this Skinny Slow Cooker Taco Soup last weekend, I decided to use the leftover ingredients to make this Skinny Taco Salad.  Then on Monday, I had tacos for lunch from my favorite neighborhood burrito bar and made taco popcorn for a neighbor girls' night at my place.  Then yesterday, I couldn't resist and made round two of this salad just because it was that awesome.
I think it's safe to say I like tacos.  And really colorful food.  So this salad is right up my alley!
It's also topped with my favorite Skinny Cilantro Lime Vinaigrette, which is full of great flavor and light on fat.  I also made mine meatless because the fresh ingredients were so flavorful and filling in and of themselves, but feel free to add in some grilled chicken or lean ground meat if you want your taco salad "con carne".  Either way, this version is much lighter than traditional restaurant taco salads, so read on below as we continue with our healthy eating month here on the blog!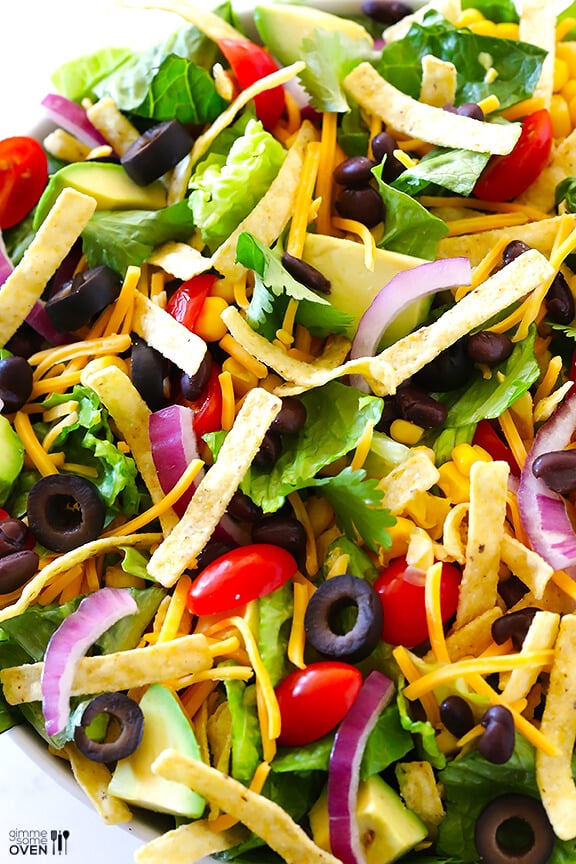 Ok, first, allow me to show you a little photo of the salad actually tossed together.
Last night, I asked our Gimme Some Oven Facebook fans to vote between the rainbow photo or the tossed photo, and it was neck and neck!!!  Lots of opinions about tossed versus rainbow — who knew?  However you serve it, I promise it's a good one.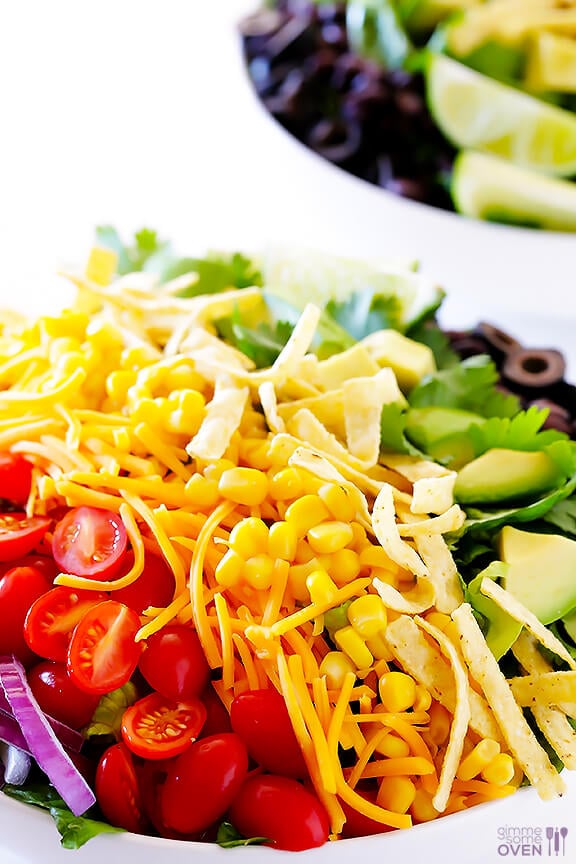 Ok, back to Rainbow Bright, just because the color nut in me thinks it's fun.  :)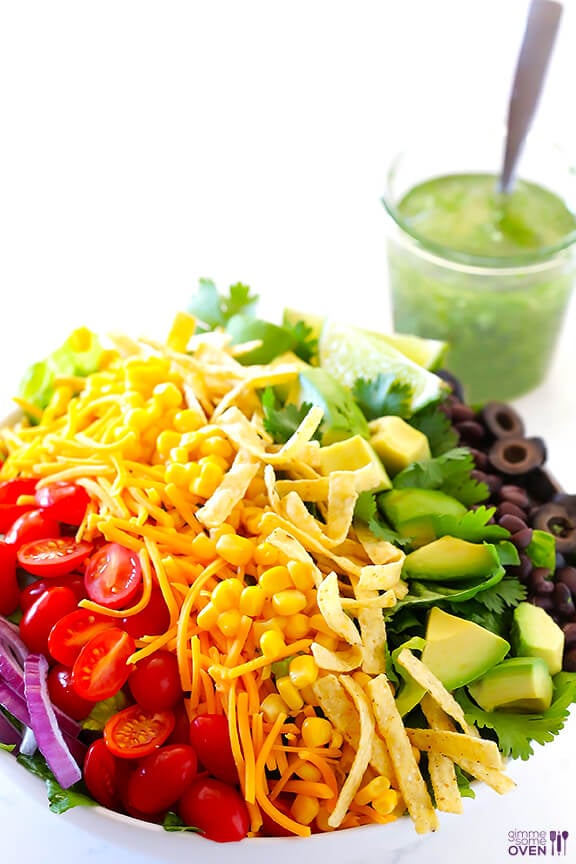 As I mentioned above, one of the things that makes this salad "skinny" is the super tasty Skinny Cilantro Lime Vinaigrette that goes with it.  It's full of the tasty honey-lime flavor combo that we all love, but most of the oil is replaced with a bit of orange juice (sounds weird, but it's one of my favorite substitutions for citrus dressings).  So it's low-fat, but still full of great flavor.
Also lighter?  The portions of cheese (and I went with 2% skim cheese), chips (no taco shell or mountains of chips here!), or loads of sour cream on top (although feel free to use light sour cream if you'd like).  I did include avocado, since it's my favorite salad topping and packs all sorts of good-for-you fats.  But otherwise, the fresh and healthy ingredients steal the show in this salad, and it will leave you filled and satisfy that Mexican (or taco) craving any day!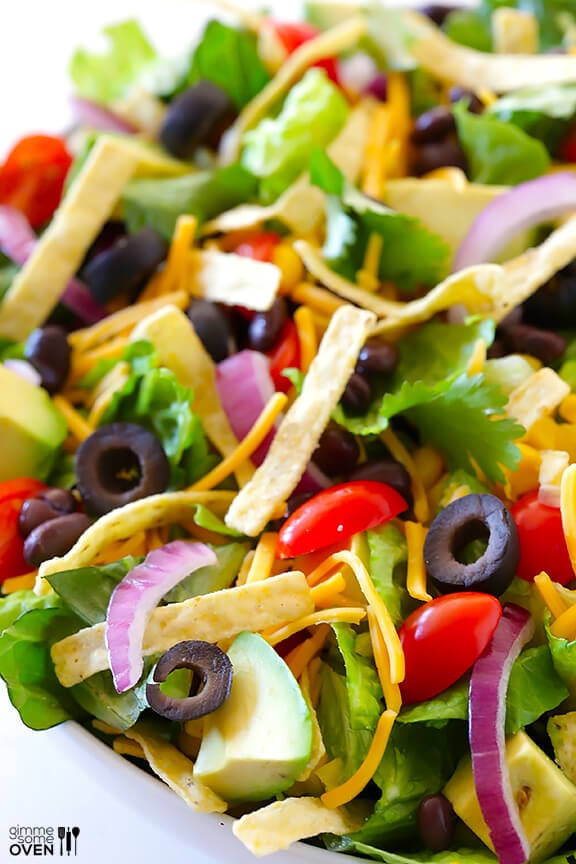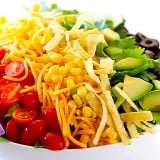 Skinny Taco Salad
This Skinny Taco Salad recipe is full of great color and flavor, and tossed with a Skinny Cilantro Lime Vinaigrette.
Ingredients:
Skinny Taco Salad Ingredients:
1 head Romaine lettuce, washed and roughly chopped
1 avocado, peeled, pitted and diced
2 cups cherry or grape tomatoes, halved (if desired)
2 cups fresh cilantro leaves, loosely packed
1 cup shredded sharp cheddar cheese (I used the 2% lowfat cheese)
1 cup tortilla strips
1 can black beans, rinsed and drained
1 can whole kernel corn, drained
1 can black olives, drained
half of a small red onion, halved and thinly sliced
skinny cilantro lime dressing (see below)
Skinny Cilantro Lime Dressing Ingredients:
1 cup fresh cilantro, loosely packed
1/4 cup orange juice
3 Tbsp. lime juice
1 Tbsp. honey (optional sweetener)
1/4 tsp. ground cumin
1/8 tsp. salt
1/8 tsp. freshly-ground black pepper
2 Tbsp. olive oil
Directions:
To Make The Salad:
Toss all salad ingredients together until combined, or serve "rainbow-style" lined up on top of the lettuce. Drizzle and toss with honey lime vinaigrette and serve.
To Make The Dressing:
Add cilantro, orange juice, lime juice, honey, cumin, salt and pepper to a food processor or blender and pulse until combined. Gradually stream in the olive oil while pulsing until combined.
All images and text ©
If you make this recipe, be sure to snap a photo and hashtag it #gimmesomeoven. I'd love to see what you cook!