Slow Cooker Chicken Enchilada Soup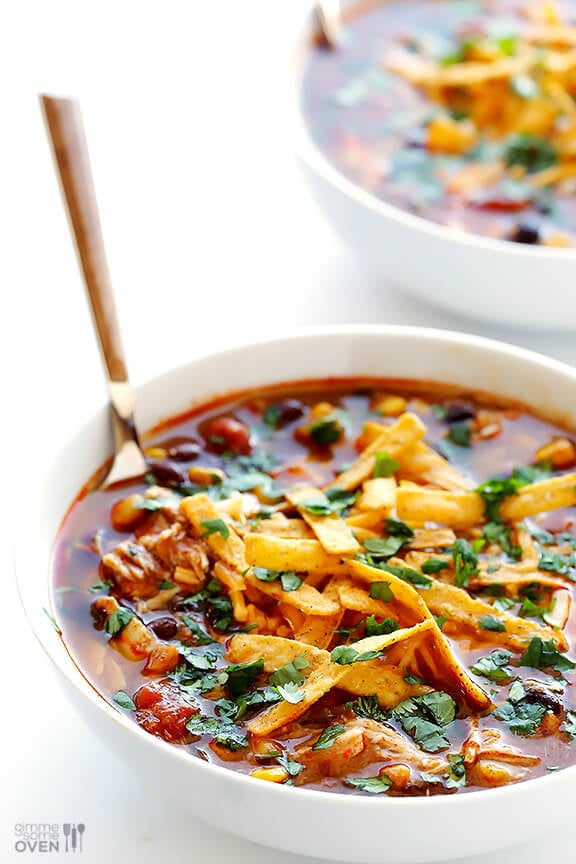 Can I tell you one thing that makes me unreasonably happy on a day-to-day basis?
Strangers smiling at me.
Even better?
Strangers waving, or nodding, or offering a pleasant hello, or even (my favorite) the ol' one-finger-raise-on-the-steering wheel.
For whatever reason, I always notice those little things and they make me so happy for a moment or two.  Actually, I think the best way to say it is that my heart genuinely feels warmed.  And I'm reminded how much I just really like people.  And how cool it is that two complete and utter strangers can make an encouraging connection in this big world, however fleeting.  And how a moment so brief can have the power to make your day just a little brighter…just like that!

Crazy.  And very cool.  And call me cheesy, but it makes me want to return the favor to the world and smile or wave or say hi to strangers more often.  Yes.  That is exactly what I want to do.
What does that have to do with this soup?  Nada.  But it's wonderful and also makes me smile, and it will keep you feeling warm and happy all winter long.  Here's how to make it…
Actually when I had the craving to make a batch of chicken enchilada soup, I took to Facebook to ask all of you if you would prefer a slow cooker or a 20-minute version.  Both are quick and easy, but I couldn't decide…and apparently, neither could you!  It looks like the responses were pretty much split down the middle.
So because I aim to please and make you smile, and because there's no such thing as too much chicken enchilada soup in my world, I went ahead and developed both recipes!  Thus, today you get the slow cooker version.  And if you tune back in on Wednesday, it'll be a stovetop 20-minute cheesy version that a slightly different flavor variation too.  (Actually it's a copycat take on my old-time favorite chicken enchilada soup from Chili's — you'll have to check it out!)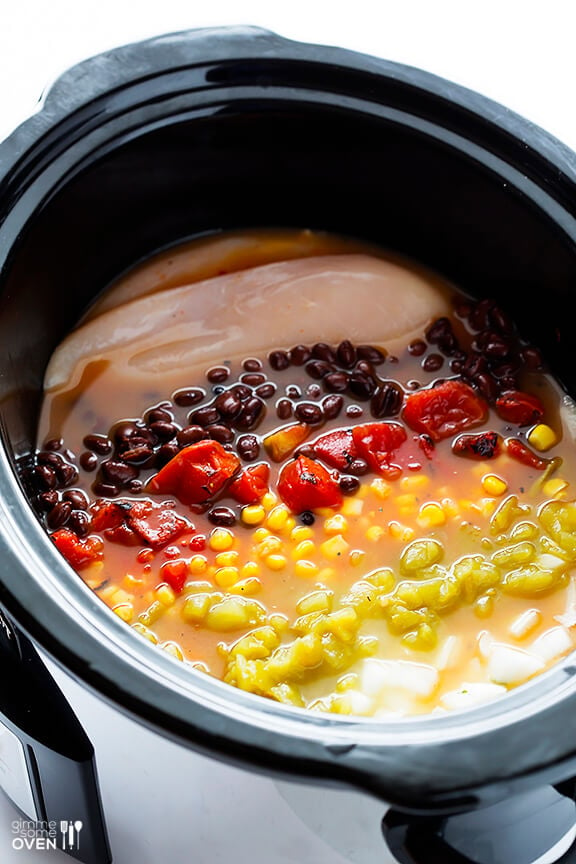 Today, though, it's all about the slow cooker.  And I think this may be a winner for one of the easiest slow cooker recipes I've ever published on this site.  You basically just toss everything in the slow cooker.  (Or if you love color as much as I do, you can line the ingredients all up to look extra pretty…which is also pretty much 100% useless but…pretty!)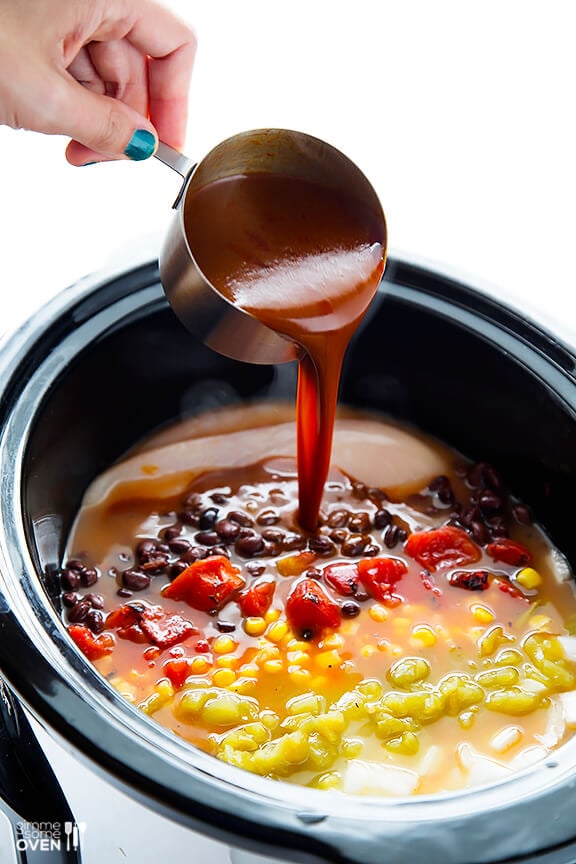 Then add in the key ingredient — enchilada sauce.
Since it is the key ingredient and will basically serve as the seasoning for the soup, I can't recommend enough that you use a really good enchilada sauce for this recipe.  And — ahem — I happen to have a homemade red enchilada sauce recipe on here that is my all-time-forever-and-ever-favorite.  So if you are so inclined, I highly suggest you make a batch of that.  But any enchilada sauce will work.
Then just let it cook on high for 3-4 hours or low for 6-8 hours — whatever fits your schedule.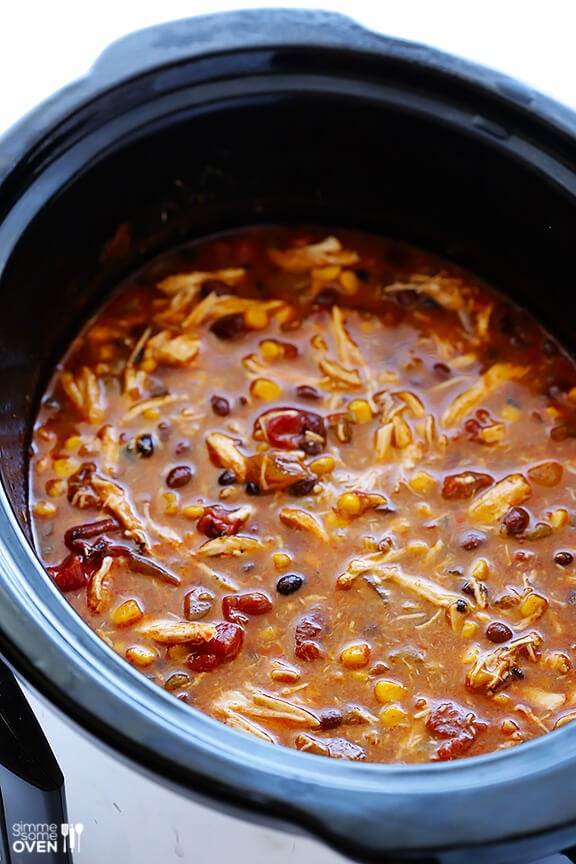 And once it's done, shred the chicken and you're ready to go!
Seriously, just look at that!  I can hardly believe it only took about 10 minutes of prep time.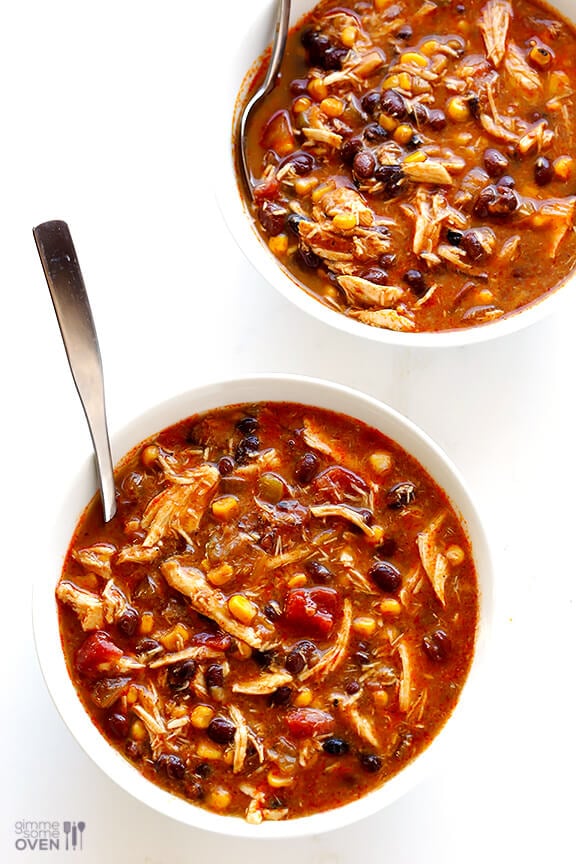 SO good, so much flavor, and it's actually pretty light and good for you too.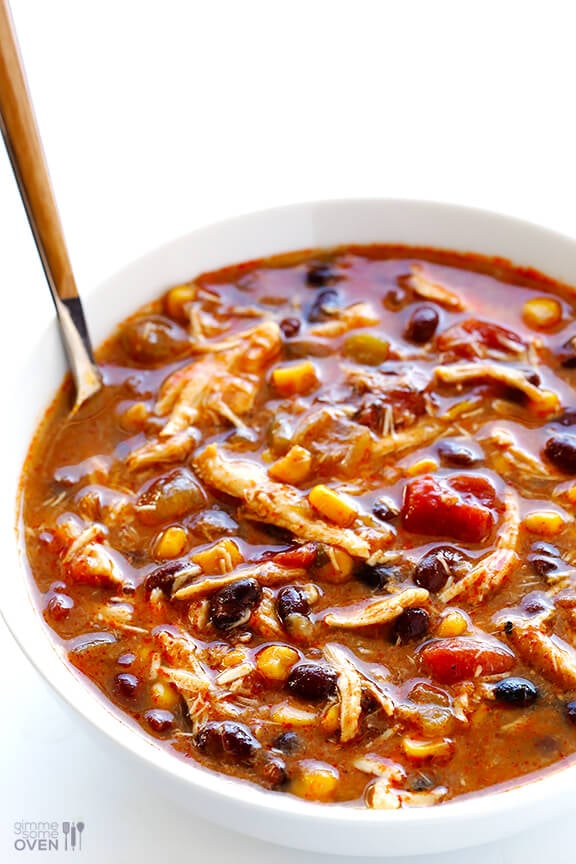 You can either serve it just plain…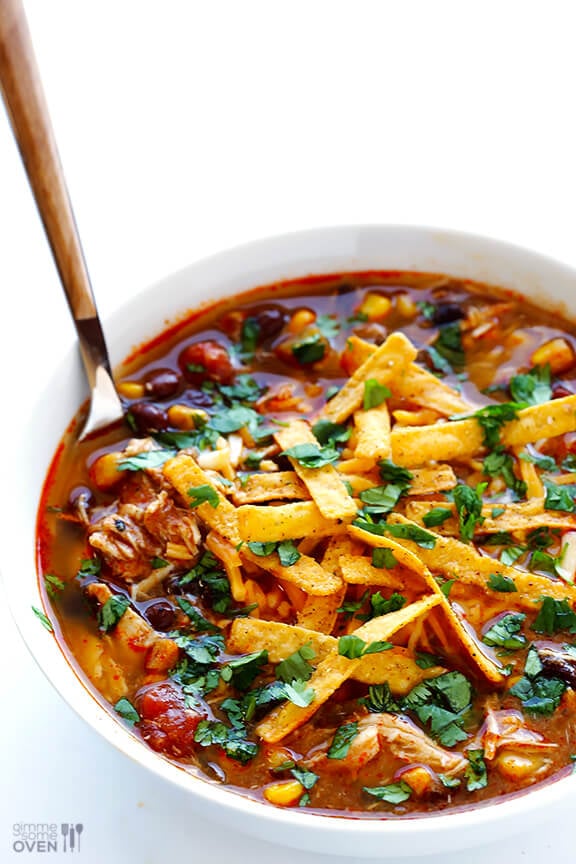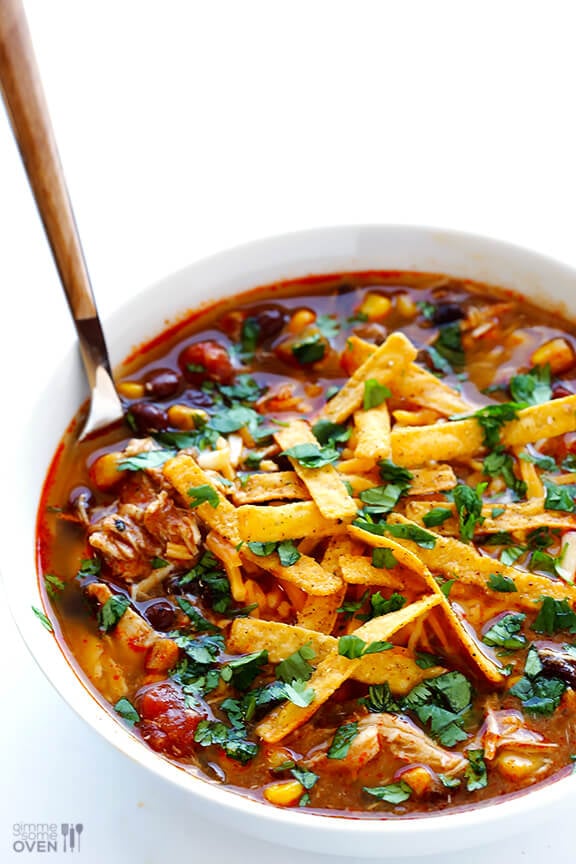 …or garnish it up with whatever toppings sound good.  (I've included a mega list of suggestions below if you like to go topping-crazy.)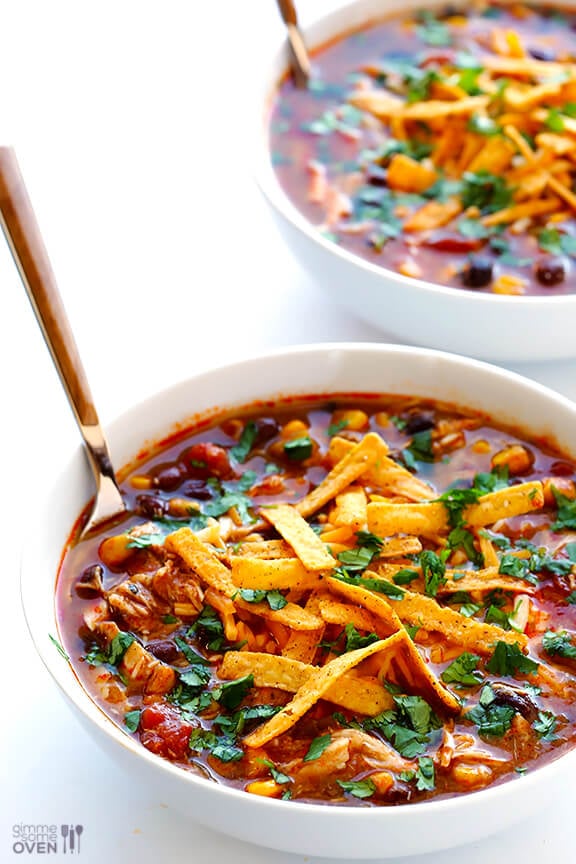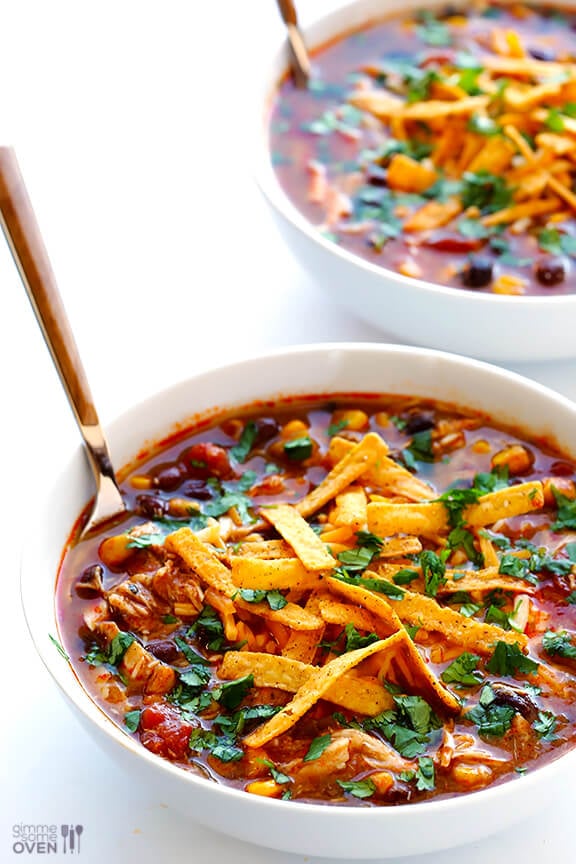 However you serve it, I'm pretty sure that this one will make you and your friends and family smile.  And then we can all go on with our days and pass on the smiles to some other people.
Deal?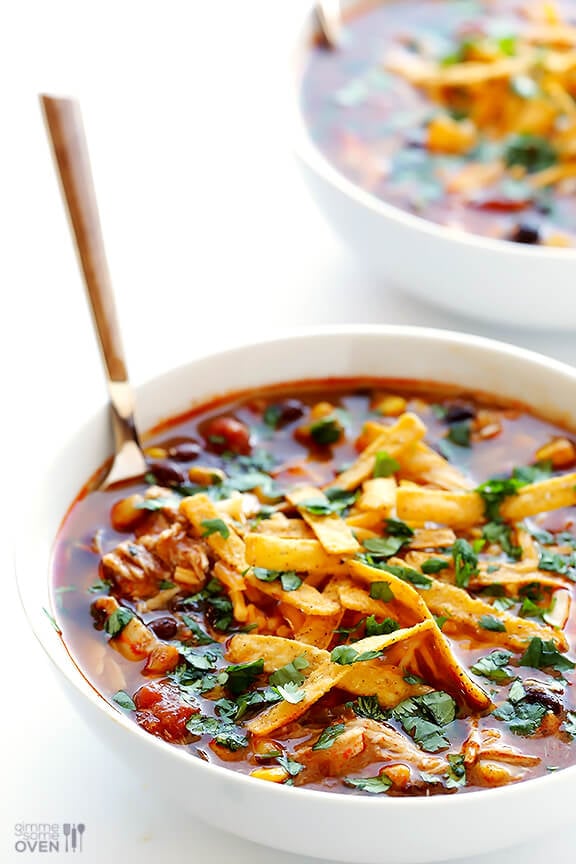 Slow Cooker Chicken Enchilada Soup
This slow cooker chicken enchilada soup recipe only takes about 10 minutes of prep time, and it is oh-so-delicious and comforting.
Ingredients:
2 boneless skinless chicken breasts (about 1 pound)
2 cups good-quality chicken stock
1 1/4 cup (or 1 10-ounce can) red enchilada sauce*, homemade or store-bought
2 (14-ounce) cans black beans, rinsed and drained
1 (14-ounce) can fire-roasted diced tomatoes, with juice
1 (15-ounce) can whole-kernel corn**, drained
1 (4-ounce) can diced green chiles
2 cloves garlic, minced
1 white onion, peeled and diced
1 teaspoon ground cumin
1 teaspoon salt, or more/less to taste
optional garnishes: chopped fresh cilantro, diced avocado, diced red onion, shredded cheese, sour cream, tortilla strips/chips
Directions:
Add all ingredients to a large slow cooker, and stir to combine. Cook for 3-4 hours on high heat or 6-8 hours on low heat, until the chicken is cooked through and shreds easily. Use two forks to shred the chicken.
Serve warm, with optional garnishes.
You can also refrigerate in a sealed container for up to 5 days. Or freeze it for up to 3 months.
*If you are making this soup gluten-free, be sure to use gluten-free enchilada sauce.
**If you don't like that much corn, just use half a can, drained
All images and text ©
If you make this recipe, be sure to snap a photo and hashtag it #gimmesomeoven. I'd love to see what you cook!
This post contains affiliate links.