Slow Cooker Corned Beef and Cabbage Soup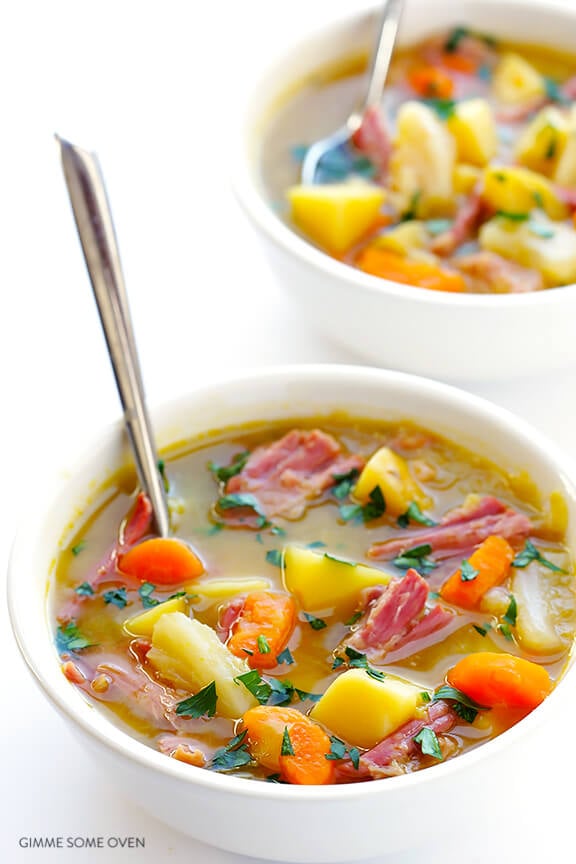 I've decided that one of my favorite things to do in life is work alongside friends.  Like literally, do my day-to-day work while sitting next to other friends who are doing their day-to-day work.  You know, co-working!  Together!
I feel incredibly lucky that this is something that happens naturally at my neighborhood coffee shop, where a handful of entrepreneur friends and I all groggily show up first thing in the mornings, order all of our "usuals", make the rounds to say hi and catch up, and then set up camp with our laptops and knock out the first few hours of work for the day.  Some mornings are more chatty than others.  Some mornings are definitely more productive than others.  But every day, I come away happy that items are checked off on my to-do list, and even happier that I got to see my friends.
Lately, though, I have become an even bigger fan of "working dates" with friends…at home.
Last weekend, for example, my neighbor Cate and I were overdue for some serious catch-up time after my month in Austin.  But our schedules were busy, and we both had long lists of things we had to do for work.  So on Saturday afternoon, Cate brought her dog and her work supplies over to my place and set up "shop" on my dining room table while I finished up testing two recipes and shooting the photos for this Slow Cooker Corned Beef & Cabbage Soup.  We lucked out in that both of our tasks that day happened to be more physical than mental.  So we worked with our hands, talked for hours and hours all the while, and then enjoyed some soup in the end.  All in our yoga clothes, of course.  With our pups napping nearby on the floor.  At home.  And it was awesome.
I seriously can't believe this is what I get to call "work".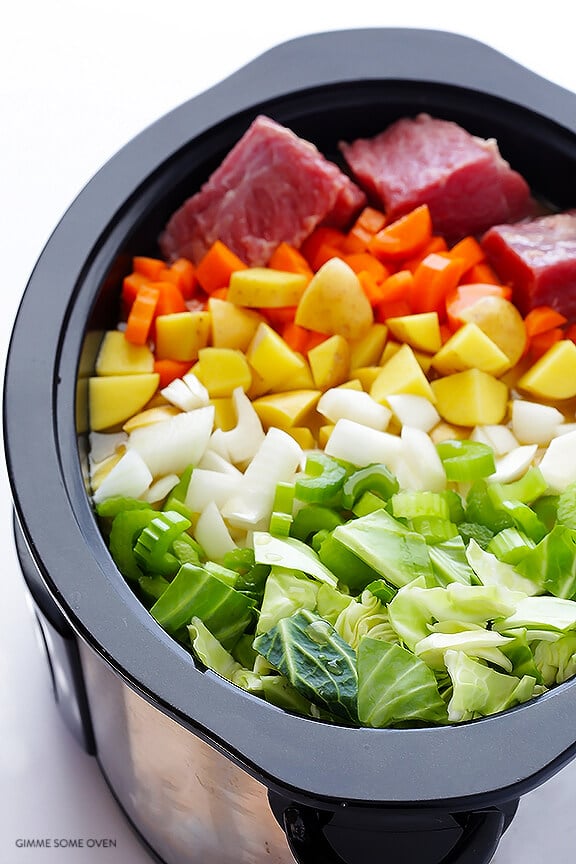 Of course, as someone who spent the 7 years prior to this working in a cubicle in a window-less basement office, I'm well aware that this cool working-from-home situation I have now is a complete and utter gift.  As are the amazing entrepreneurial friends with whom I get to have "working dates", like Cate.  I'm well-aware that life and work can change in a heartbeat, and that this season of getting to work from home may not last forever, so I don't take a second of it for granted.
Quite the opposite, really.  Any time that I get to sit at my computer — or in that day's case, balance high on my step stool photographing a steaming bowl of soup — and do my work in the company of friends, I'm fully aware of how special it is.  Because in the time it took me to finish cooking, dish up and photograph this soup, Cate also got a ton done and crafted an entire new series of props for her photo bus business.  And on top of that, we also chatted for hours about everything from dating to pizza to therapists to new business ideas to camera lenses to some of our biggest hopes and fears (no less) and more.
You know, all in a day's work.  :)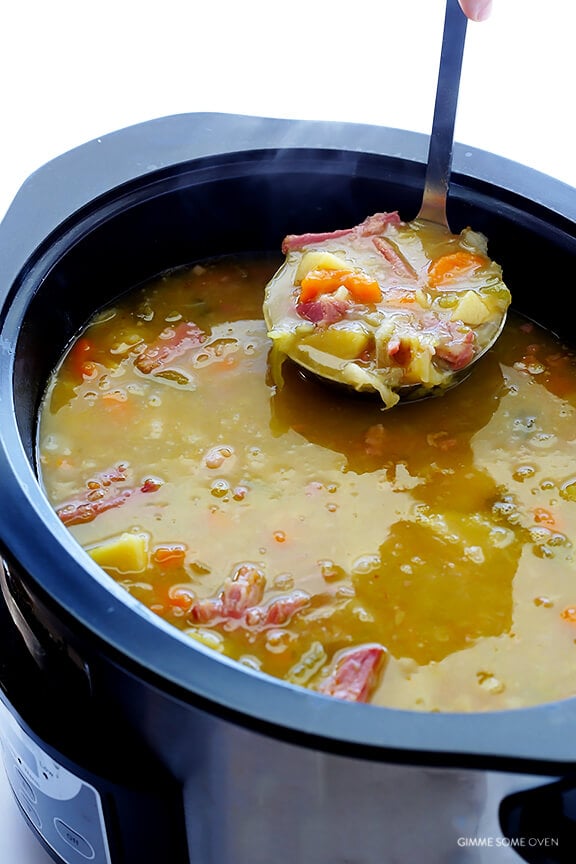 So good.  :)
As is…this soup!  (How's that for a transition?)
I realized a few weeks ago that I didn't have any St. Patrick's Day recipes on the docket for this year, which is highly unacceptable in this corned beef and cabbage lover's book.  So a few days before I left town for SXSW, I decided to throw a literal rainbow of ingredients in the slow cooker to make a batch of traditional Corned Beef and Cabbage Soup.  It seemed like a good idea in theory.  But in reality, it turned out to be a culinary a pot o' gold.
I. LOVED. THIS. SOUP.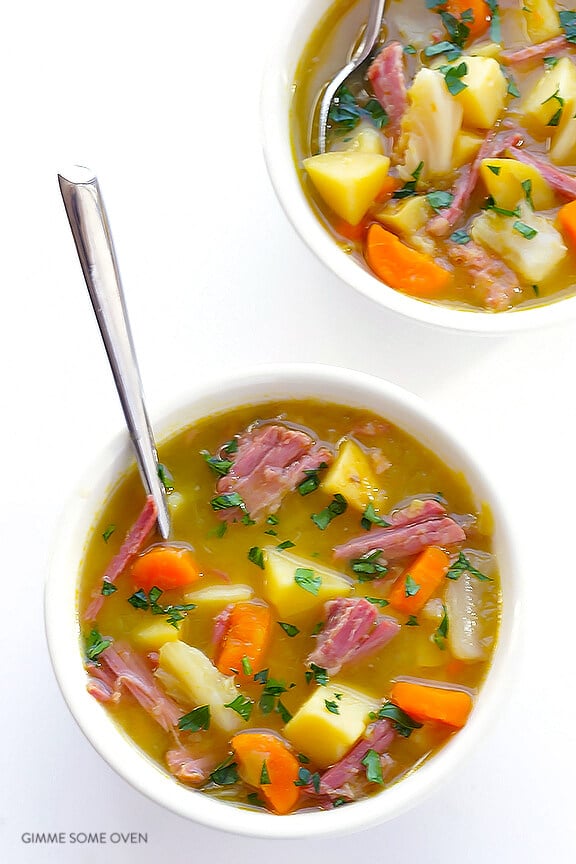 I mean, I don't know how you can go wrong with anything corned beef and cabbage.  But if I'm honest, I might have even loved this soup better than the real deal.  Because after simmering in the crockpot all day, the beef was unbelievably tender, the cabbage softened to the point that it nearly dissolved into the flavorful chicken broth, the carrots and potatoes and celery thickened the soup into a nice chunky stew, and oh man — the entire thing was just a treat.
Total comfort food.  Totally easy.  And totally, magically delicious.
Perfect for work.  Perfect for dates.  Perfect for work dates.
You know, just perfect.  :)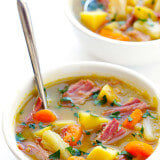 Slow Cooker Corned Beef and Cabbage Soup
This Slow Cooker Corned Beef and Cabbage Soup is everything you love about this Irish comfort food, made all the more delicious and comforting when simmered together into a stew.
Ingredients:
4 cups chicken stock
1 (12-ounce) bottle of beer (I used a pale ale)
1.5 pounds corned beef, cut into large chunks
1.5 pounds Yukon gold potatoes, diced into bite-sized pieces
2 carrots, peeled and diced
2 stalks celery, diced
1 medium white onion, peeled and diced
1 small head green cabbage, quartered, cored and shredded
1 bay leaf
generous pinch of salt and freshly-ground black pepper
for serving: chopped fresh parsley
Directions:
Add all ingredients to a large slow cooker bowl, and toss to combine.  Cover and cook on low for 7-8 hours or on high for 3-4 hours, or until the beef is tender and shreds easily.
Transfer the beef chunks from the stew to a separate plate, and use two forks to shred it into bite-sized pieces.  Return the beef to the stew, and stir to combine.  Taste and season with additional salt and pepper if need be, then remove the bay leaf.
Serve warm, garnished with fresh parsley if desired.
All images and text ©
If you make this recipe, be sure to snap a photo and hashtag it #gimmesomeoven. I'd love to see what you cook!