Slow Cooker Tacos Al Pastor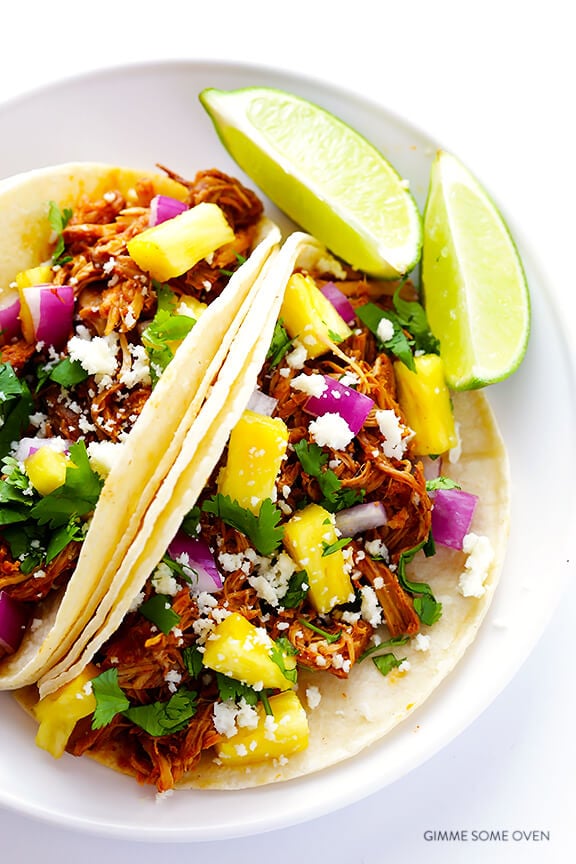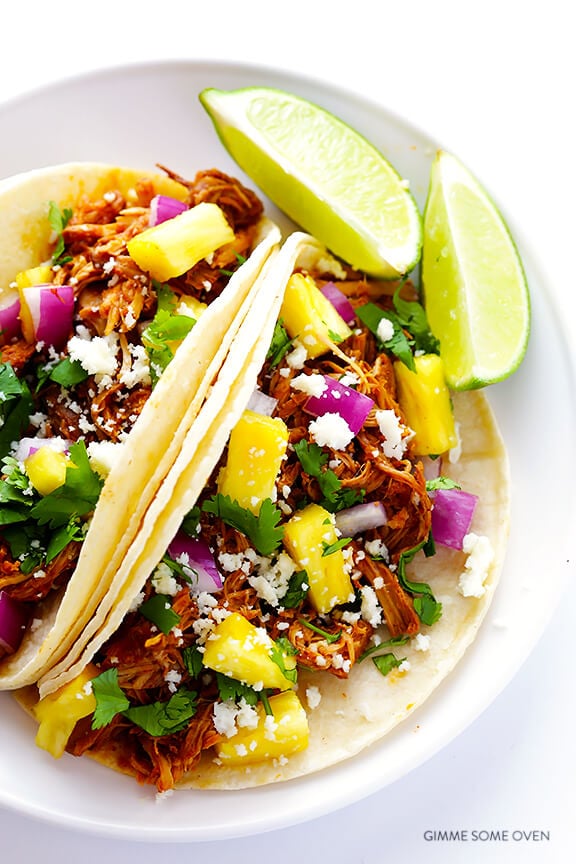 During our stay in Austin this past month, Kathryne and I lived for a month with our version of a very "minimalist" kitchen.
The house that we rented definitely had some of the basic pots and pans.  But in order to do our jobs and cook for a month, we got all Google-spreadsheet-y beforehand and coordinated a few "essential" items to bring along, like my favorite Le Creuset Dutch oven (which we both loved so much we had to schedule times to use it), her favorite food processor (that she can't live without), and a good-quality lime juicer (for regular margarita nights at home, a must).  We kept culling back our list to keep things as simple as possible, nixing things like our stand mixers and extra baking dishes that would take up space we didn't have.  And at the last second, I decided to also leave my beloved slow cooker back at home in KC.
Never again.
Over the course of the month, I decided unequivocally that having a slow cooker is not an option in my kitchen.  It's a must!!  I kept having idea after idea while we were down there for various slow cooker recipes that I wanted to make, and with us buzzing all over town during the days in evenings, there was no way I was going to babysit some recipes while they slow cooked on the stove.  Patience is not a virtue of mine.  So instead, I fired up my crock pot the second I got home and have been slow cooking my way through a delicious list of recipes ever since.
First up?  Slow cooker tacos al pastor.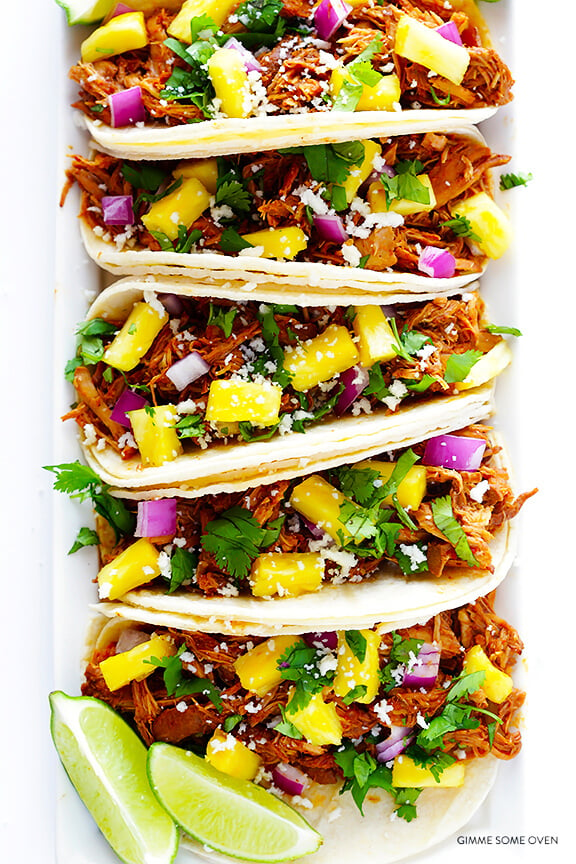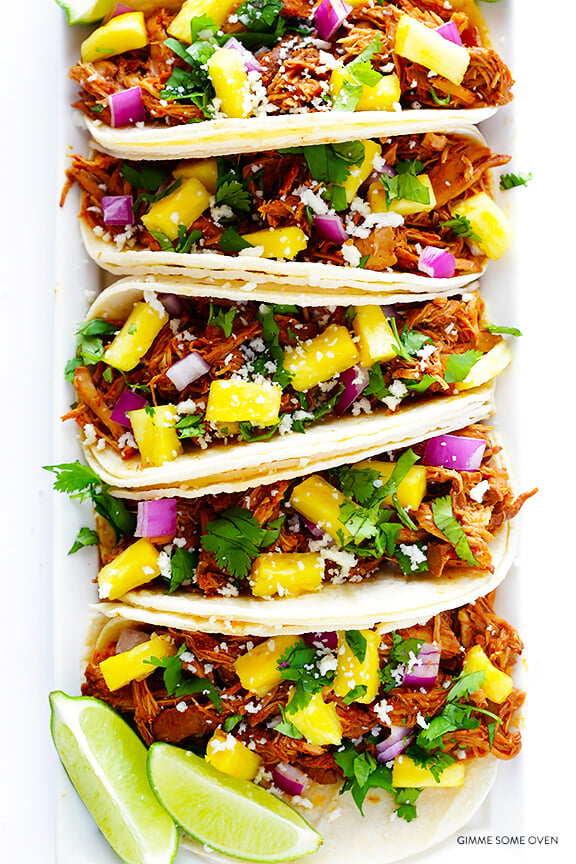 I realized — around the time I ate my 500th taco in Austin — that I had actually never tried making tacos al pastor homemade before.  Which is something I immediately needed to address, because I'm a mega fan.  I mean, tender pork marinated with fresh pineapple and chiles and lime juice?  What's not to love??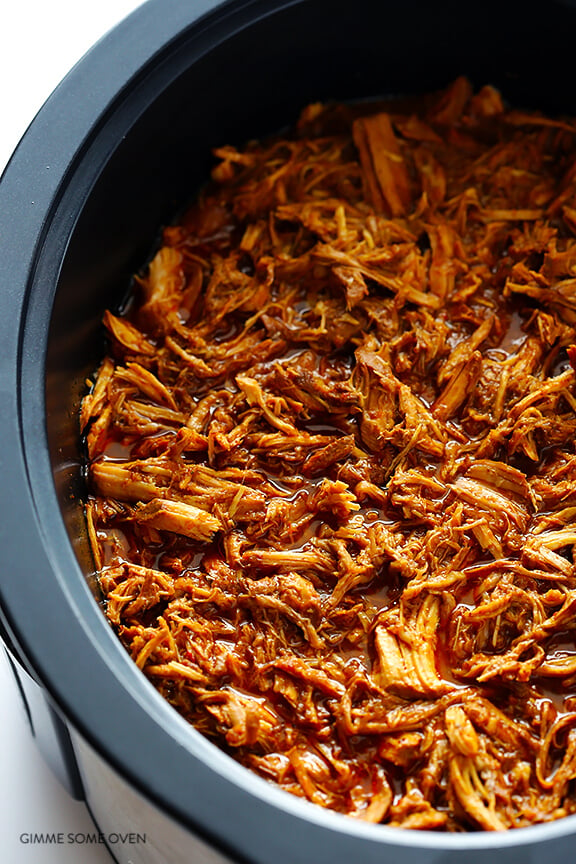 Well, let's just say that this classic combination is even more lovable when the slow cooker does all the work for you.  No need to babysit a pot on the stove all day.  Just puree up the marinade, toss it in the slow cooker with your pork, and let the slow cooker work its magic.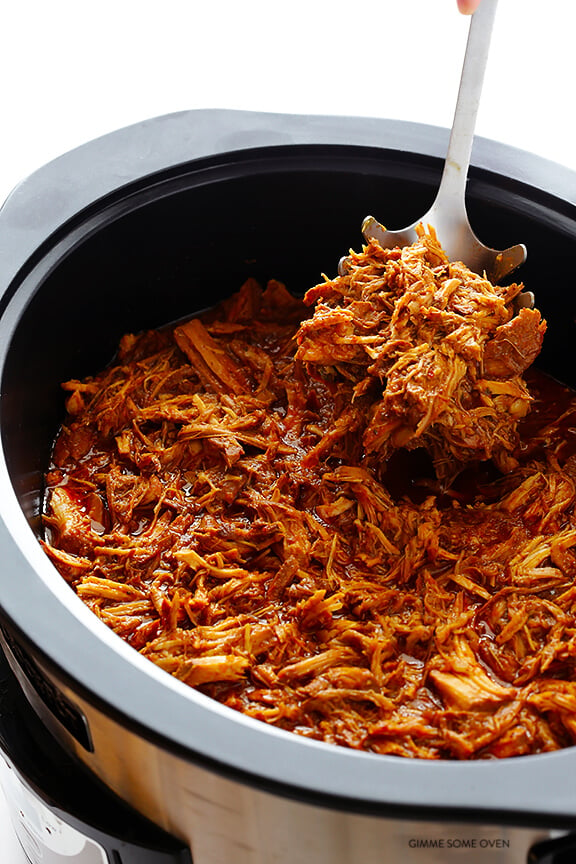 Then a big pot of tender, juicy, flavorful, perfect pork will be yours to enjoy.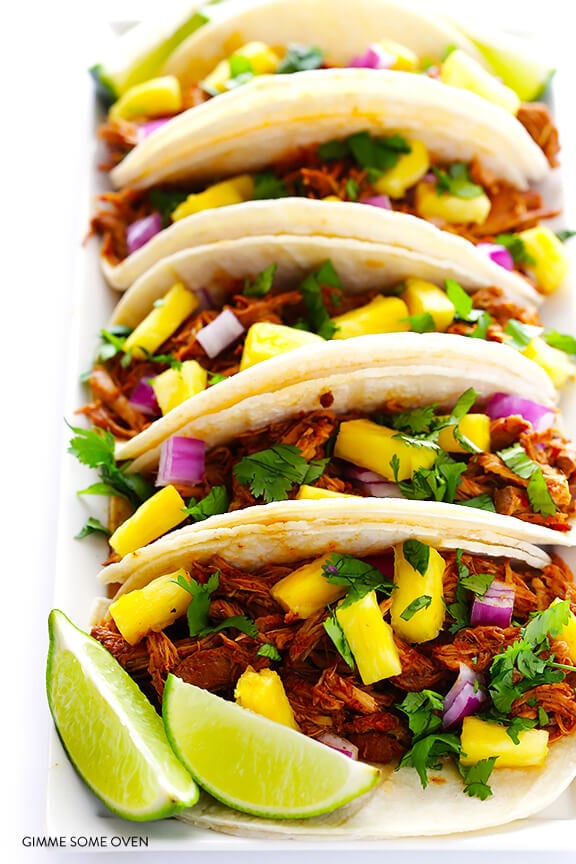 I served mine up street-taco-style, with fresh chopped cilantro, onions, and a few lime wedges.  And since I had some pineapple leftover, I also tossed in a few tidbits.  (Fresh, mind you.  Resist any temptation to use canned pineapple in this recipe.  Resist!)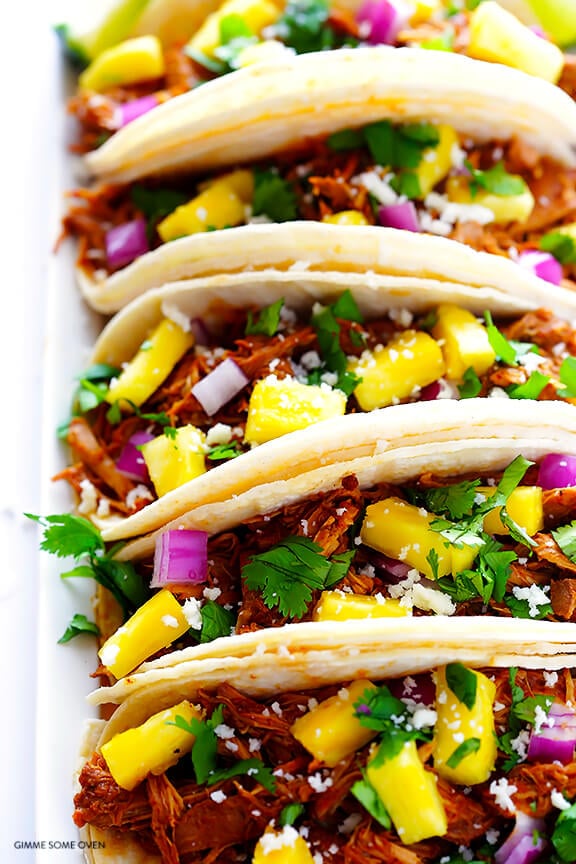 If you want, you can also add some crumbly Mexican cheese on top, like cotija or queso fresco.  But otherwise, the slow cooked pork is the rockstar of the recipe, so there's not much else you need.
Ah, feels so good to write those words again.  Slow cooker, I missed you.  :)
Slow Cooker Tacos Al Pastor
This slow cooker tacos al pastor recipe is quick and easy to prepare, full of amazing flavor, and your slow cooker does all the work for you!
Ingredients:
1 (5-pound) boneless pork shoulder roast (Boston butt), extra fat trimmed off
1 (12-oz.) bottle of beer (I used Modelo Negra, or use chicken stock if making this gluten-free)
2 chipotles in adobo sauce
1 fresh pineapple, peeled and cored, then roughly chopped
1/2 cup chopped red onion
3 tablespoons chili powder (not cayenne)
2 tablespoons fresh lime juice
2 tablespoons white vinegar
2 teaspoons kosher salt
1 teaspoon ground cumin
1/2 teaspoon black pepper
corn tortillas, for serving
optional toppings: crumbled goat cheese, (extra) diced fresh pineapple, chopped fresh cilantro leaves, chopped red onions, diced avocado, thinly-sliced radishes
Directions:
Cut the pork shoulder into 2-inch cubes.  Add the pork to the bowl of the slow cooker.
Add the chipotles in adobo, pineapple, red onion, chili powder, lime juice, white vinegar, salt, cumin and black pepper to a blender or food processor.  Puree until the mixture is completely smooth, about 30-60 seconds.  Stir in the beer until it is evenly combined.  Then pour the mixture on top of the pork, and toss until the pork is evenly coated.
Cook on low for 8-10 hours, or on high for 4-5 hours, until the pork is completely tender and shreds easily with a fork.  Use two forks to shred the pork, then toss it in the remaining juices.
Serve warm on tortillas, garnished with optional toppings.
All images and text ©
If you make this recipe, be sure to snap a photo and hashtag it #gimmesomeoven. I'd love to see what you cook!