Snickers Cheesecake
For the last week, there has been a bag of mini-Snickers bars sitting in my cabinet calling my name.  Yes, I love Snickers.  And yes, I have absolutely zero self-control when they're on Easter clearance for $1.  But yes, I knew it would probably not be the wisest thing for me to make them disappear on my own.
So for one of my 28th birthday celebrations (whoo!), decided to turn them into these unbelievable Snickers cheesecakes for dessert!  I had recently picked up some tiny 4.5″ springform pans.  (Which — tangent — are the new favorite items in my kitchen!  Why oh why didn't I buy these sooner?!?)  So since there were just four of us having dinner that night, decided to make a half batch of cheesecake (which equals 3 of the smaller pans) for us to enjoy.
And oh my heavens.  Pretty sure these disappeared in less than 10 minutes.  They were absolutely amazing. The cheesecake was a perfect, simple vanilla, complemented by a graham cracker crust.  But when topped with the caramel sauce, salty peanuts, and oh-so-heavenly layer of Snickers — it was the absolute perfect birthday cake.  Which I will be soon making again before my next birthday.  :)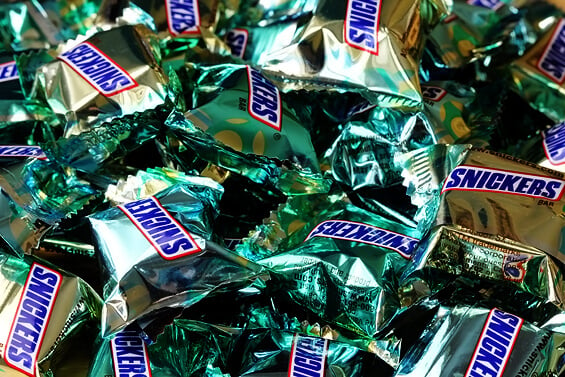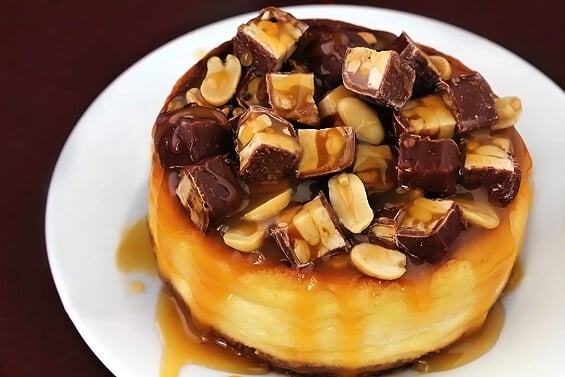 Snickers Cheesecake
You will quickly fall in love with this chocolate-y and completely irresistible Snickers cheesecake recipe! Easy to prepare. Try it today!
Ingredients:
Crust:
2 cups graham cracker (or chocolate cookie) crumbs
1/2 cup (1 stick) unsalted butter; melted
3 Tbsp. sugar
½ tsp. salt
Cheesecake:
4 bars of cream cheese (8 oz each), room temperature
1 ¼ cup granulated sugar
4 large eggs, room temperature
3/4 cup heavy cream
1 Tbsp. pure vanilla extract, store-bought or homemade
Topping:
20 Mini Snickers; cut into fourths
1/3 cup roasted peanuts; halved or chopped
1/2 cup caramel syrup
Directions:
Preheat oven to 350 degrees F. Prepare either a 9-inch springform pan (or I used six 4.5-inch springform pans) by greasing them liberally with cooking spray or butter.
In a separate bowl, stir together the crust ingredients until evenly mixed. Then press into the bottom of your pan(s), either just on the bottom or also about 1″ up onto the sides. Bake for 7 minutes and cool completely on a wire rack.
Begin to boil a large kettle or pot of water for the water bath.
In the bowl of your stand mixer fitted with a paddle attachment, combine the sugar and cream cheese and cream together until smooth. Add eggs, one at a time, fully incorporating each before adding the next. Make sure to scrape down the bowl in between each egg. Add heavy cream and vanilla and mix until smooth. Do not overmix. Pour batter into prepared crust(s).
Once your kettle or pot of water is boiling, carefully place a large baking dish on the lower rack of your oven and pull the rack out a few inches towards you, and then pour the water into it. (Or use your best judgment on how to do this without burning yourself. I just heat the water in a kettle, which is very easy to pour into the pan.) This will create a water bath that will give off lots of steam while the cheesecake bakes.
Then place the cheesecake pan(s) in the oven, and bake unti
l the edges will appear to be set, but the center will still have a slight jiggle to it. This will be about 45-55 minutes for the 9-inch pan, and about 30-35 minutes for the 4.5-inch pans. At this point, close the oven door, turn the heat off, and let rest in the cooling oven for one hour. After one hour has passed, carefully remove the cheesecake and place on a cooling rack to cool completely. Once the cake is completely cooled, place it into the refrigerator for at least 5 hours.
Serve topped with caramel, Snickers, and peanuts.
(Slightly adapted from My Baking Addiction)
All images and text ©
If you make this recipe, be sure to snap a photo and hashtag it #gimmesomeoven. I'd love to see what you cook!
Ali's Tip:
This would also be marvelous with Twix, Butterfingers, or Kit Kats!