Southwestern Breakfast Quesadillas
This post is sponsored by Old El Paso.
Today may be Wednesday, but it feels like a Friday in my book because I'm heading to Portland tomorrow!  Which, after Memorial Day this past weekend, officially makes this a 2-day work week for me.
No complaints here.
Actually, I'm heading to Portland on a work trip, but it's the fun kind.  I'm going to be speaking on a panel at the Indulge Conference about one of my favorite subjects — food photography!  Actually, I'm going to be sharing about the post-processing side of food photography, which is basically everything that happens after you snap the shots.  I'm certainly no pro, but I've actually come to really enjoy working in Photoshop over the years, and love geeking out with other bloggers over the little tips and tricks I've learned over the years.  As soon as I find some spare time this month, I'm hoping to add some of the material I'm covering to my Photography Resources page here on the blog, so stay tuned.
Before I leave town, though, I have a tasty new breakfast recipe to share with you.  It's yet another excuse for me to eat Mexican food for breakfast, it's easy to make, and — bonus! — it's also freezable.
Why, it's breakfast quesadillas, of course!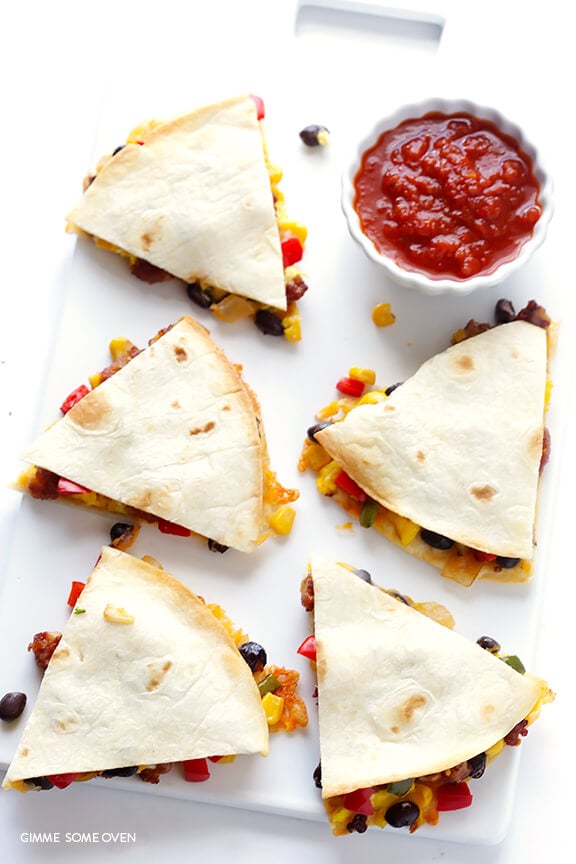 Speaking of food photography, I must admit.  There are far more quesadillas here on the blog than I actually make in my house because they're annoyingly hard to photograph.  Triangles + flat surfaces with the filling inside + super white on top does not equal an easy subject to photograph.
(Who knew?  I definitely didn't until I became a food blogger.)
That said, quesadillas are hands-down one of my favorite quick and easy meals that I make regularly, usually to use up leftover ingredients as fillings.  But for something different this week, I decided to try a breakfast twist and fill them with some of my favorite Southwestern and breakfast-y ingredients.
Feel free to use whatever sounds good to you.  But for mine, I went with shredded cheese, scrambled eggs, breakfast sausage, a Southwestern blend (red peppers, corn, black beans, onion, jalapeno), and Old El Paso flour tortillas.  Unfortunately, I had an overripe avocado fail which didn't make it in, but next time mine will have avocado too.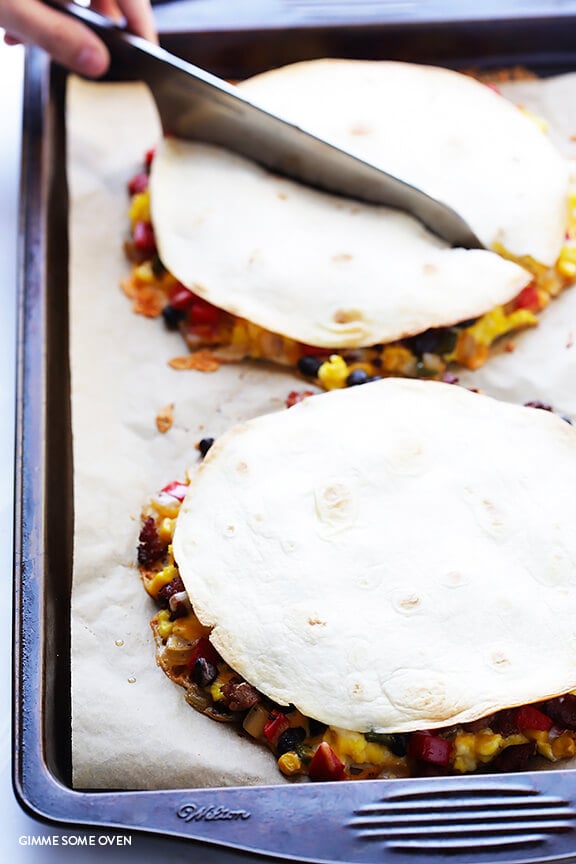 Bake them up in the oven (or saute them on the stove) until the cheese is nice and melty and binds all of those ingredients together.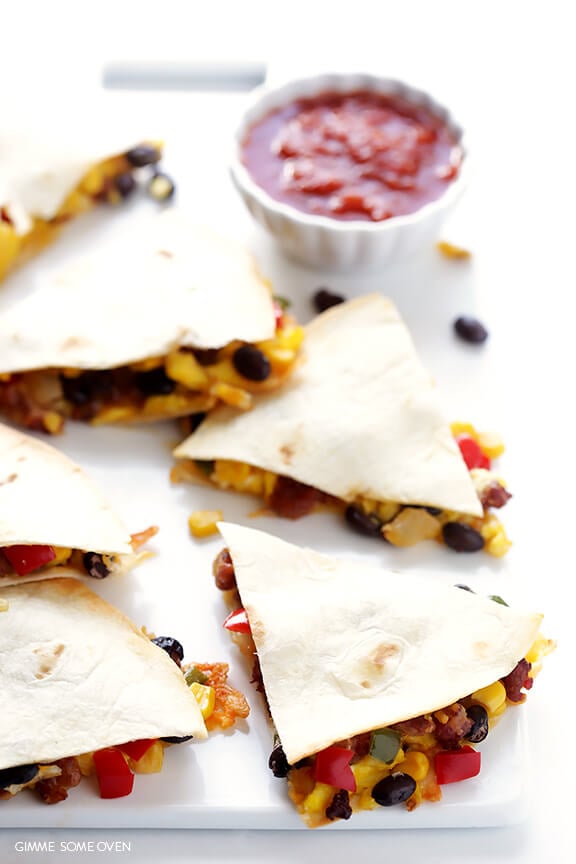 Then serve them up with some salsa for dipping!  They're super colorful, flavorful, and full of protein to help get you through the day.  And again, you can also pop them in the freezer to save for a quick and easy future breakfast, if you'd like.
I'll definitely be re-heating one of these en route to Portland on Thursday morning.  Can't.  Wait.  (For Portland…and the quesadillas!)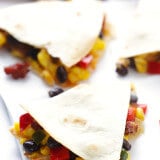 Southwestern Breakfast Quesadillas
This Southwestern Breakfast Quesadillas recipe is simple to make, full of great flavor, and it also freezes and reheats well!
Ingredients:
1 pound ground breakfast sausage (I recommend spicy!)
1 small red bell pepper, cored and diced
1 small white onion, peeled and diced
1 jalapeno, seeded and finely diced
6 eggs, whisked
4 Old El Paso large flour tortillas (burrito-sized)
2 cups shredded Mexican-blend cheese (or your favorite kind of cheese)
1/2 cup rinsed black beans
1/2 cup whole kernel corn
optional: serve with salsa and/or sour cream
Directions:
Preheat oven to 400 degrees F.
Brown the breakfast sausage in a large saute pan according to package instructions, crumbling it with a spoon as it cooks so that it is ground into small pieces. Transfer the cooked sausage to a separate plate with a slotted spoon, and set aside. Reserve 1 tablespoon of grease, then discard the rest.
Add the tablespoon of grease back to the saute pan, along with the diced bell pepper, onion, and jalapeno. Saute over medium-high heat for about 5 minutes, or until the onion is soft and cooked through. Transfer mixture to a separate plate, and set aside.
Return saute pan to the stove and add the whisked eggs. Reduce heat to medium and cook for 4-5 minutes, stirring frequently, until the eggs are scrambled and cooked. Remove from heat and set aside.
Lay two tortillas out on a parchment-covered baking sheet so that they are not touching. Sprinkle ½ cup of shredded cheese evenly on top of each tortilla. Then portion the scrambled eggs evenly between the two tortillas, spreading them out evenly on top of the cheese. Continue likewise with the bell pepper mixture, cooked sausage, black beans, corn, and the remainder of the shredded cheese (in that order). Top with the remaining 2 tortillas.
Bake for 8-10 minutes, or until the cheese is melted all the way through the quesadillas, and the tortillas begin to crisp slightly around the edges. Remove from the oven, then cut into sixths with a knife. Serve immediately with salsa and/or sour cream on the side for dipping.
All images and text ©
If you make this recipe, be sure to snap a photo and hashtag it #gimmesomeoven. I'd love to see what you cook!
This is a sponsored post in partnership with Old El Paso.  I am partnering with them to create some fresh new Mexican recipes this year, and all opinions are 100% my own as always.  Thanks for continuing to support the brands who help make this site possible.