Spaghetti Aglio, Olio e Peperoncino (Spaghetti With Garlic, Olive Oil & Chili Peppers)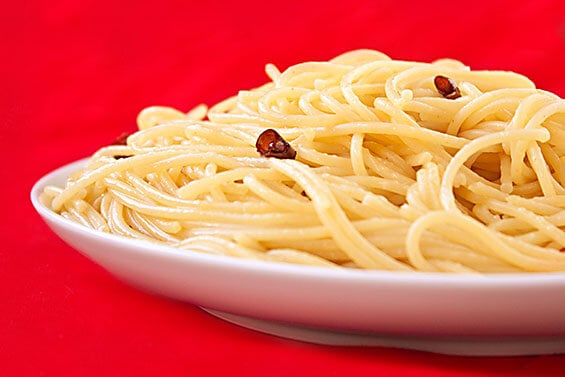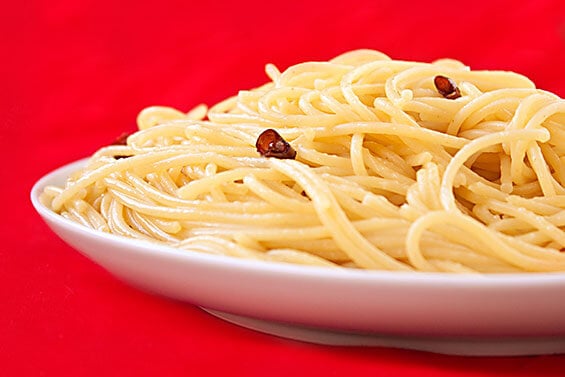 Growing up, I remember eating pasta…a lot.  But while the rest of the family would always enjoy the amazing array of sauces my mom made, my request was always "plain, please!"  On rare occasions, I might branch out and sprinkle a bit of Parmesan on top, but otherwise, sans anything sauce-related.
It's true.  I was that child.  :S
Thankfully, I think that stage came to an end once I hit high school.  But my love of simple pasta dishes has undoubtedly continued to this day!  One of my absolute favorites to make — especially when short on time (or budget!) — is this classic Italian spaghetti.  As the name states, it's famous across Italy for being made with just four simple ingredients (well, six if you include the salt and water).  I know you're skeptical, but it really is full of perfectly-balanced, classic flavors!
Since there are just four ingredients, my advice would be to use good quality everything — good olive oil, real garlic cloves (not the minced stuff from the jar), good peppers (either dried or fresh), and of course…good pasta.  :)  It's traditional to eat the pasta as is, but if you want, you can also garnish with some Parmesan and/or chopped parsley.
There is a reason why classics are classics!!  Love this one!!!!  :)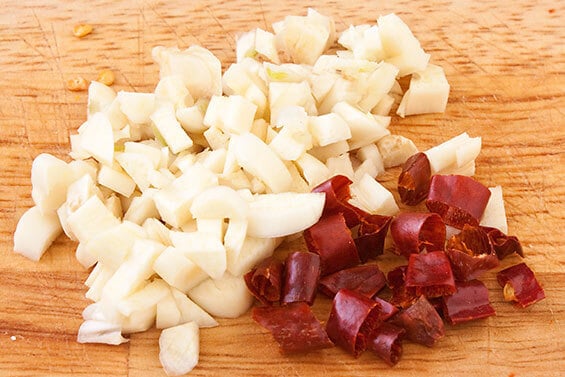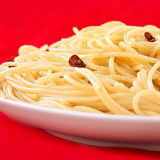 Spaghetti Aglio, Olio E Peperoncino (Spaghetti With Garlic, Olive Oil & Chili Peppers)
You'll love this Spaghetti Aglio, Olio e Peperoncino recipe! So yummy, a little spicy, and quick and easy to prepare. Try it today!
Ingredients:
1 lb. dried spaghetti (regular, whole wheat, brown rice, etc….you pick!)
5 Tbsp. good quality extra-virgin olive oil
5-6 cloves of garlic, cut in half or finely minced
1 dried small red chili pepper – seeded and minced (or 1 tsp. dried chili pepper flakes)
salt
(optional toppings: grated parmesan or chopped fresh parsley)
Directions:
Bring a large pot of generously-salted water to a boil. Add the spaghetti to the boiling water and cook according to package instructions. Meanwhile, in a pan large enough to easily hold a pound of pasta, heat the olive oil over medium-high heat.
The next step is very simple but it must be done well: as soon as the oil gets hot, add the garlic, wait a few seconds, and then as soon as the garlic becomes blonde – that is, just before it becomes brown – add the chili. It has to sizzle. Add about 3-4 Tbsp. of the boiling water from the pasta pot to the pan and set aside until the pasta is ready. If you used large cloves of garlic, remove them at this point.
Cook your pasta very al dente and drain well. Immediately add the drained pasta to the hot sauce pan and toss for 2 minute to coat well.
Note: The secret of this recipe is to avoid browning the garlic and being careful not to overcook the spaghetti. Be generous with the chili…if you can take it. Normally no grated cheese is needed.
If you make this recipe, be sure to snap a photo and hashtag it #gimmesomeoven. I'd love to see what you cook!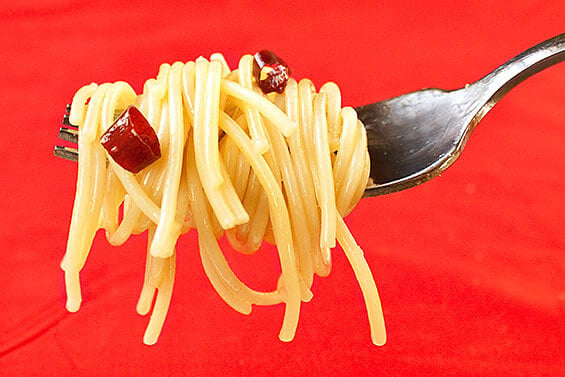 Ali's Tip:
I love a little heat in my pasta, so actually used two chilis.  You can also experiment with leaving some of the seeds in if you like a little kick in your pasta!  :)