Sparkling Lavender Lemonade

This past week when I went to Wichita for the 4th of July, I went on a little farm tour…with my family!
That's right.  No press trips across the country with food bloggers this time.  Just a spontaneous farm tour the old-fashioned way, heading out to pick some fresh lavender at a local farm with my mom, dad and little sister.  It turned out to be completely fun and educational.  And relaxing — holy smokes!  I knew that lavender was one of the most popular aromatherapy scents, but it usually comes in small doses.  An entire field was downright intoxicating!
Still, we had such a fun time.  And being that my mom and sister and I all love to cook, we couldn't wait to try whipping something up with our sweet hand-picked lavender.  Our first experiment was a lavender cheesecake, inspired by a recipe from one of my book clubbing friends (coming soon to the blog).  But the much more simple recipe that we all loved was this Sparkling Lavender Lemonade, which I am happy to be sharing with you today.
But before we get to the lemonade, I wanted to share a few pictures and stories from our little lavender field trip.  (Ha, get it — a "field" trip?!)  ;)
The adventure began when our old family friend, Julie, invited us to come for a visit.  She and my mom were sorority sisters back in the day, and she coincidentally now lives in Winfield — the town where I attended college.  It had been years since I had returned to my alma mater.  So when Julie mentioned that a nearby lavender field was in bloom, it seemed like the perfect occasion to day trip it and spend the day in Winfield.
So we loaded up the car just like when we were young ("kids" in the backseat!), and drove an hour southeast of town until we reached the familiar tree-lined main street of Winfield to meet Julie.  She then drove us about 15 minutes outside of town until we were seemingly lost in the hills.  But then all of a sudden we rounded a corner and saw this endless stretch of purple — rows upon rows upon rows of lavender bushes.  It was breathtaking.  And in the midst of it all was the cutest little farmer harvesting away — Dolly.
I'm pretty sure that anyone who meets Dolly instantly adores her.  She is warm.  She is bright.  She is hilarious.  And like most farmers I know, she had a remarkable gift for telling stories.  I'm sure I won't do it justice, but the story about how she came to start growing lavender was no exception.
After years of working hard on the farm and raising kids, she and a group of girlfriends decided that they wanted to celebrate and go to France.  But they didn't just want to go to France, they wanted to experience every ounce of the joie de vivre the magical country had to offer.  So they all saved up and then went all out with a month-long trip of a lifetime to France!
While there, it sounds like they had the time of their lives.  But of all the many famous sights they visited, the moment that stole Dolly's heart was a day out in the French countryside when they stumbled upon a beautiful field of lavender.  As she said, it looks and smelled just like heaven, and she wondered why on earth these gorgeous fields were missing at home!
So when Dolly arrived back in Kansas, she immediately told her husband that they had plant some lavender on their farm.  Her husband said he had never heard of lavender, but Dolly had her mind made up.  So they planted a ("mere") 300 bushes, and with a little trial and error they learned that lavender can indeed thrive in Kansas.  And they also learned that harvesting such an ambitious crop is no small task.  Dolly told us that she absolutely loves harvesting each batch by hand, but when she reaches her limit, her husband is happy to swoop in and put his power tools to use.  ;)
Nearly a decade later, they now have what looked like a zillion lavender bushes, with all sorts of varieties and shades of purple painting the landscape.  Dolly and her husband have since retired and passed down the land to their son, but they still faithfully return each day to work on the fields.
They also do the processing themselves.  After harvesting, each bundle of lavender is hung out to dry, and then either sold in bunches or sifted out to grab the buds, which Dolly sells at their local farmers market.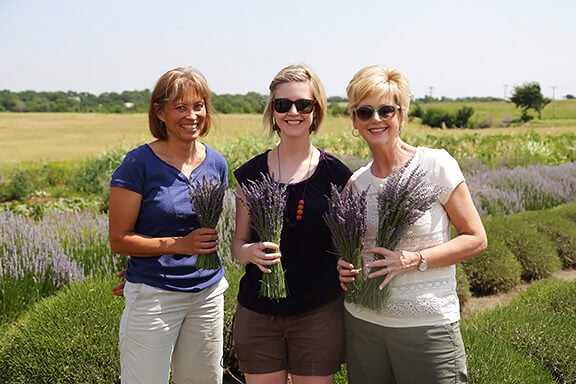 As you can see in the background, the green bushes were those that Dolly had just harvested.  Then the purple (that went on for days) was the lavender that was still waiting to be picked.  They have quite the crop this year!  We were happy to take home some of the freshly-picked lavender to help out.  ;)
More than anything, it was just a total pleasure for all of us to get to meet Dolly and hear her story.  She completely made my day, and I think we all left wanting to dream a little bigger, chase our passions a little harder, and kick back, laugh and celebrate life all the more.
Dolly, it was a pleasure.  :)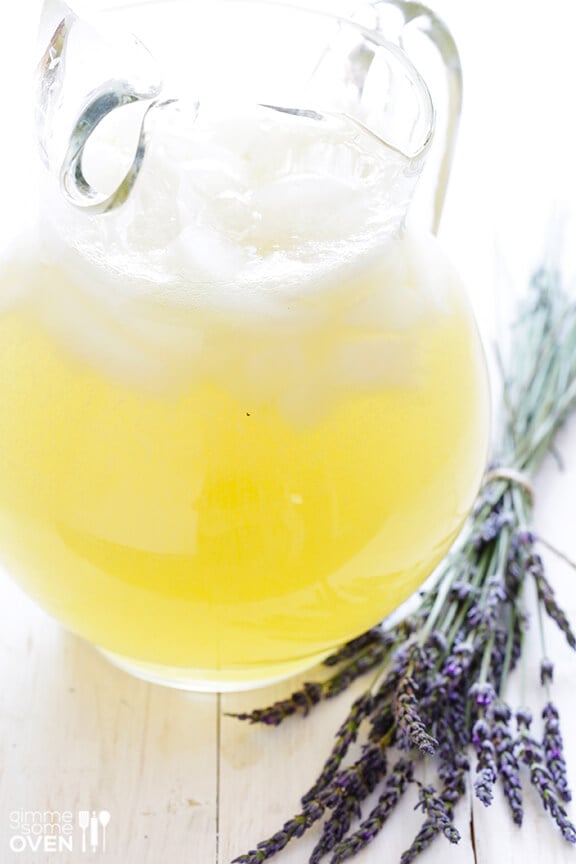 Ok, so about this sparkling lavender lemonade…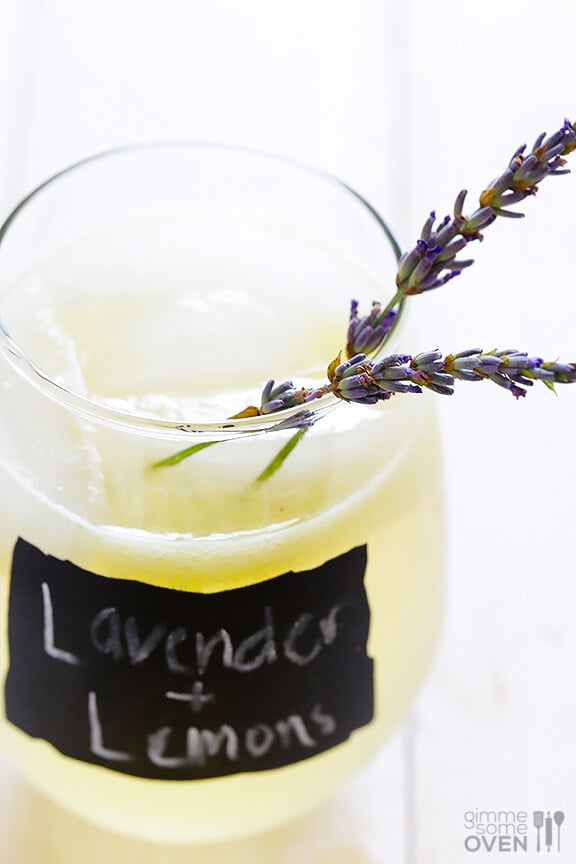 I had really wanted to give it a try after one of my neighbors brought lavender lemonade to a recent grill night.  So my sister whipped up some lavender simple syrup, and I squeezed about a zillion fresh lemons to make juice, and we were ready to give it a try.  In honor of the "sparkling" Fourth of July fireworks, though, we decided to add in some club soda instead of water.  (Although for an extra sparkling twist, adding in champagne would be great!)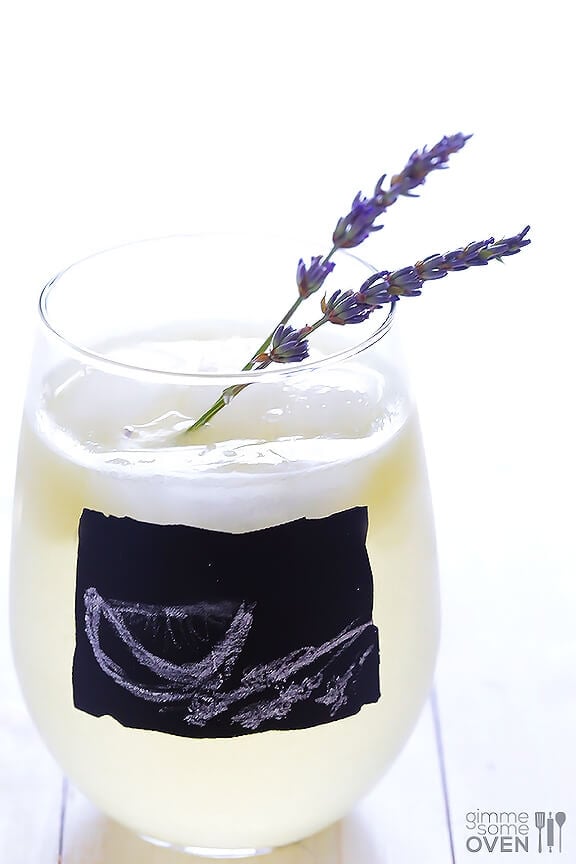 Thankfully, it turned out to be quite delightful!  The lavender was definitely present, but not overpowering.  And as annoying as it may be to squeeze a zillion fresh lemons, you could definitely taste the difference.  Such a great fresh and delicious summer drink!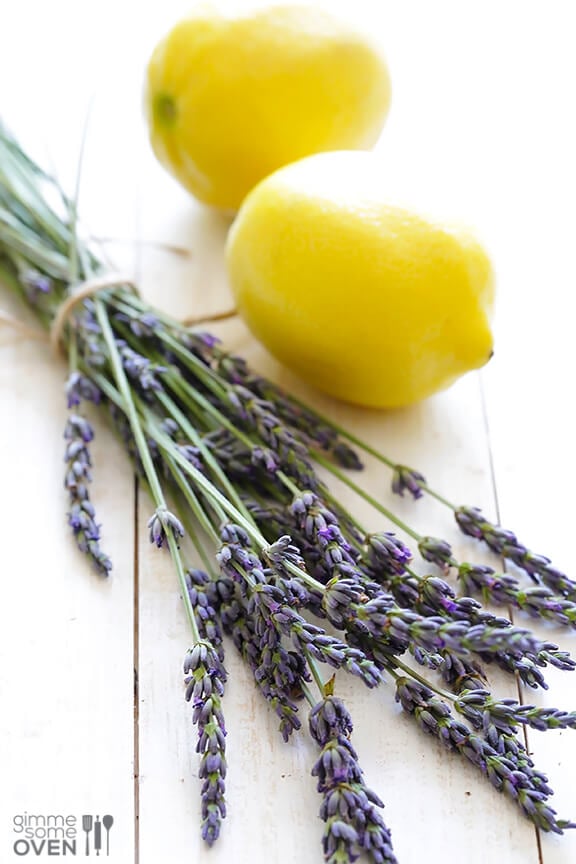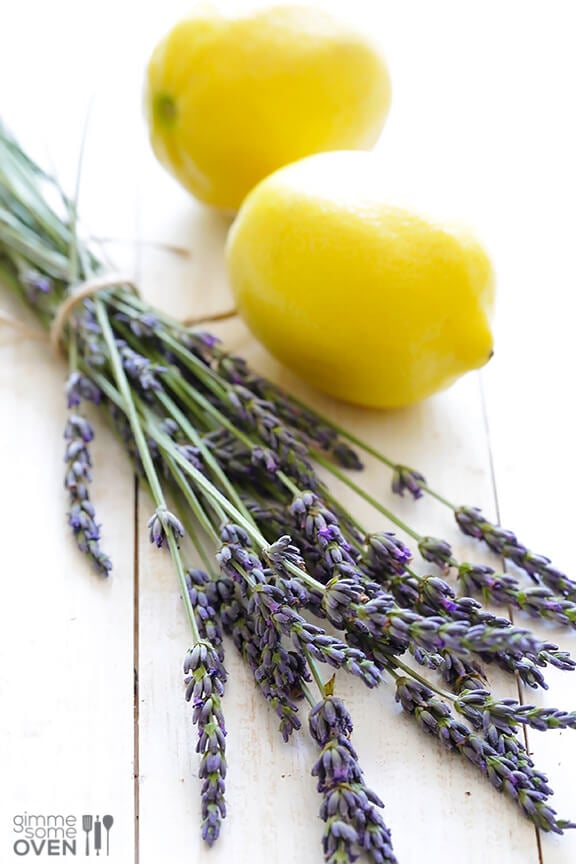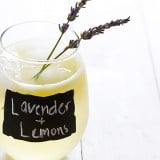 Sparkling Lavender Lemonade
Fresh lavender gives a delicious twist to this sparkling lemonade.
Ingredients:
Lavender Lemonade Ingredients:
1 cup freshly-squeezed lemon juice
1 cup lavender simple syrup (recipe below)
1 cup sparkling water or champagne
Lavender Simply Syrup Ingredients:
1 cup sugar
1/2 cup water
1 Tbsp. fresh lavender buds
Directions:
To Make The Lemonade:
Stir all ingredients together until combined. Serve over ice.
To Make The Simple Syrup:
Stir all ingredients together in a medium saucepan, and bring to a boil over medium-high heat. Stir until the sugar is dissolved. Remove from heat and refrigerate.
All images and text ©
If you make this recipe, be sure to snap a photo and hashtag it #gimmesomeoven. I'd love to see what you cook!