Sparkling Red, White and Blue Sangria
This Sparkling Red, White and Blue Sangria is super easy to make, full of fresh and delicious flavors, and it's the perfect drink to celebrate the 4th of July or Memorial Day!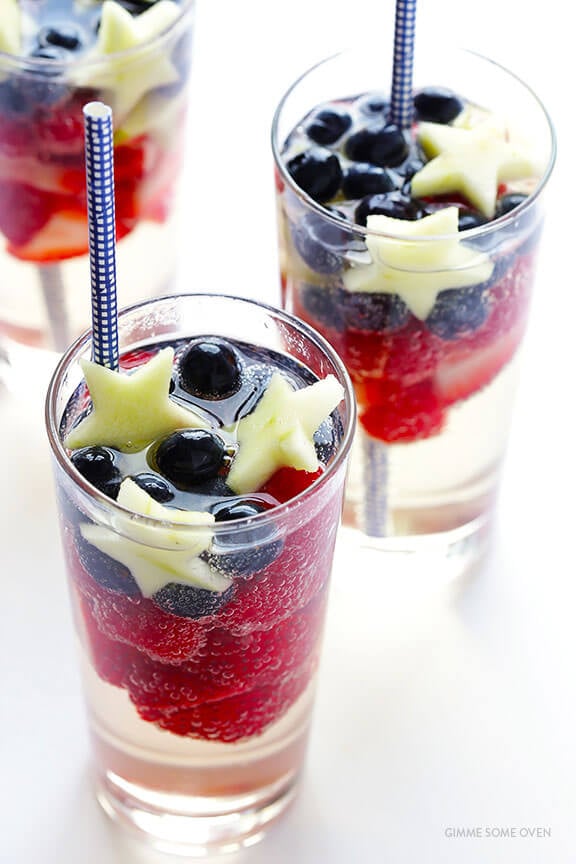 Growing up in my family, a "sparkling" fireworks display on the 4th of July was not something you watched.
Hell, no.  Fireworks were what we did.
From the days when I was a toddler and could ooh and ahhh over holding my first sparkler, to the epic days in college when we would light up hundreds of dollars of the craziest behind-the-counter fireworks we could get our hands on (and then once those ran out, naturally, blow up just about anything else we could find), the 4th of July in our family was a participatory celebration of all things patriotic and pyromania.  Everyone got involved.  Everyone lit or blew at least one thing up.  And everyone always had an epically good time.
In fact, I remember being completely perplexed the first summer that I had moved to Kansas City and piled in the car with some friends to "go out" for fireworks that evening…and they drove us to a big park to watch them being shot off a mile away into the sky.  I couldn't believe it!!  I mean, what was the fun in that?!?
Well, as all of my cousins have grown up into their 20s and 30s and have now mostly moved out of state or out of the country, unfortunately our family's pyro parties now rarely happen.  And living in a city where fireworks are outlawed, I have finally learned to appreciate a good rooftop party with good friends watching everything sparkle and boom from afar.  But this year, I'm actually going to be back home again on the 4th of July taking care of my mom after her surgery.  And it just so happens that I spied a fireworks stand just down the road from them when I was in town last weekend.  So I think it only seems reasonable that I blow up light up a little something sparkly.  You know, just for old time's sake, right?  Right??  :)
Well, whether you're the type of person who spends your 4th of July lighting up bottle rockets or kicking it back with a bottle of beer, I have a new recipe today that's sure to also help make your holiday a little extra sparkling.  It's super easy to make.  It's fresh and sweet and delicious.  And I'm pretty sure it's guaranteed to be the hit of your patriotic party.
Let's make some sangria!
I realized this week that I had nothing on the docket with the blog for the 4th of July.  And since you all know that I can't seem to resist tapping into my inner 10-year-old when it comes to making colorful (or color-coordinated) food, I thought it would be fun to try making another red white and blue cocktail.
Some of you might remember that last year, I made some Red, White & Blue(berry) Margaritas, which were crazy good.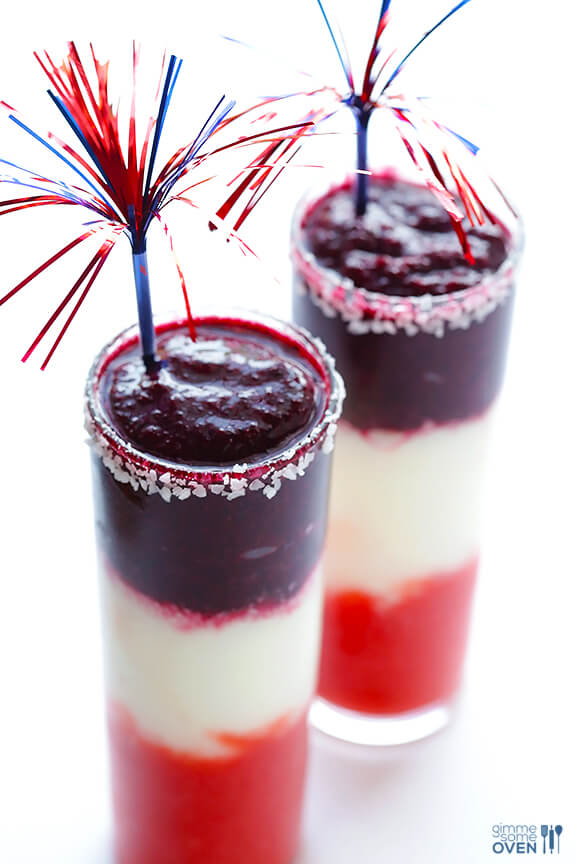 But this year, I decided to test out a patriotic spin on my favorite quick and easier drink — sangria.
Sangria has long been my go-to cocktail for entertaining crowds, partly because it's basically the quickest and easiest drink to prepare for a large group, you can make it in advance, it's fabulous when made with cheap wine, and all of that floating fruit always makes for a lovely presentation.  But mostly I love making it because friends just seem to love drinking it.
What can I say — the world loves sangria!
And when it comes to raising a glass to our country, it's way more fun when your drink is deliciously red, white and blue.
Of course, the red and the blue are easy to figure out when it comes to sangria.  Just grab any fresh berries you like (that also conveniently happen to be in season).
The "white", on the other hand, was a little trickier to figure out.  But when I saw some Granny Smith apples on sale at the store, a lightbulb went off.  I brought them home, sliced them into thin rounds, pulled out a tiny cookie cutter I had on hand…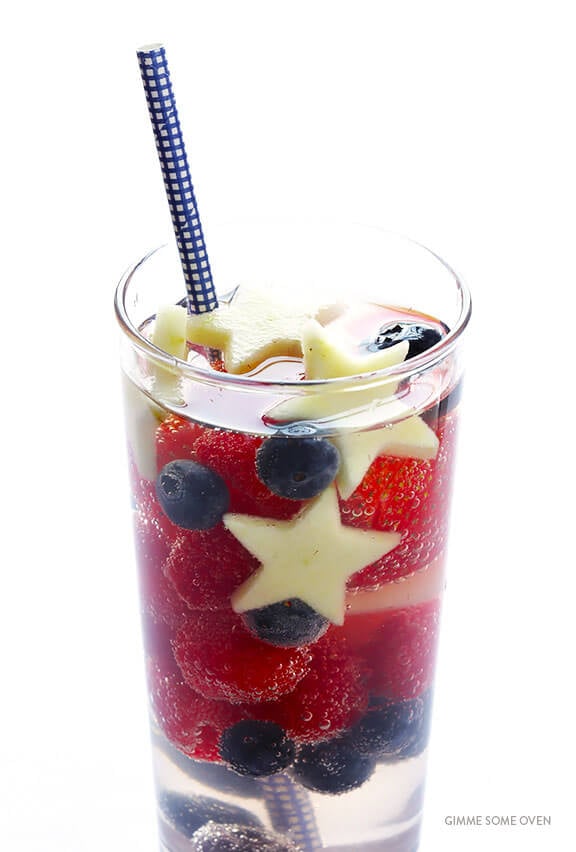 …and voila.  Quite possibly the cutest sangria I've ever made, that also happens to be "sparkling"!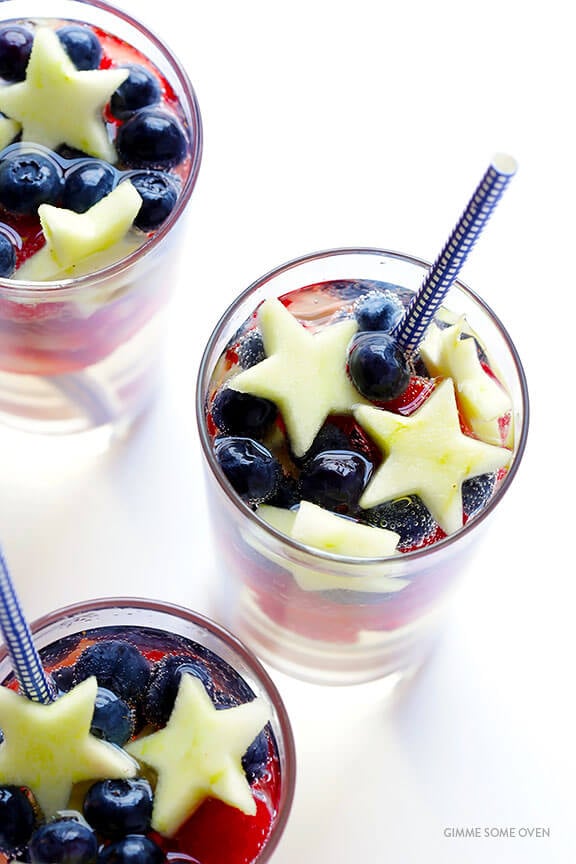 As it turns out, when I was typing up this recipe and looked around at other patriotic sangria recipes on Pinterest, apparently lots of other bloggers have had the same idea.  Some used pineapple for the stars, others used jicama, others used starfruit, and others just counted the wine as their "white" in the recipe.  I happen to be partial to my little apple stars — which tasted great and also didn't turn brown in the sangria — but go with whatever works for you.
So have fun with this recipe!  And I wish all of you a sparkling (and for my fellow pyros, also a safe) 4th of July!  :)
Sparkling Red, White and Blue Sangria
This Sparkling Red, White and Blue Sangria recipe is fun, delicious, easy to make, and guaranteed to be the hit of your patriotic party!
Ingredients:
1 bottle dry white wine
2 cups fresh blueberries
1 cup fresh raspberries
1 cup apple juice or white grape juice
1 pound fresh strawberries, hulled and sliced
1 bottle champagne (or any variety of sparkling white wine)
3-4 Granny Smith apples (*or see alternatives below)
ice
Directions:
Stir together white wine, blueberries, raspberries, strawberries and apple juice together in a large pitcher.  Cover and refrigerate for 1-4 hours, so that the flavors can meld.  (Heads up that the longer the mixture sits, the more red it will become.)
When you're ready to serve the sangria, gradually stir in the champagne and apples and ice.  Serve immediately.
*Other options for the "white" fruit could include fresh pears, jicama, pineapple or starfruit.
**If you would like the tiered red, white and blue presentation in individual glasses that I used, just add extra red berries to the bottom of empty serving glasses, followed by a layer of blueberries, then strain out the sangria wine, and add some apple stars on top.
*If you'd like to give your sangria an extra kick, I love stirring in an extra 3/4 cup St. Germaine.  Or you can use any other favorite liqueurs too.
All images and text ©
If you make this recipe, be sure to snap a photo and hashtag it #gimmesomeoven. I'd love to see what you cook!