Spiced Butternut Squash Cupcakes w/ Maple Cream Cheese Frosting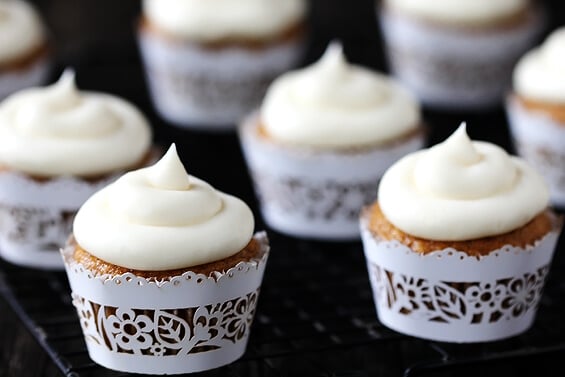 What to do with leftover butternut squash?
Why, make cupcakes of course!
(Of course!)
And I'm pretty sure it doesn't get any better than this recipe for Spiced Butternut Squash Cupcakes, topped with a heav-en-ly maple cream cheese frosting.  Really, I was blown away by how these little desserts turned out (as was evidenced by my Instagram photo below of a little snacking "recipe development" while photographing).  The butternut squash puree functions almost identically to your typical pumpkin puree, giving tons of delicious sweet flavor and also making these cupcakes perfectly light and moist.
And then there's the frosting.  Oh, the frosting.  You all know how much I adore a good cream cheese frosting, and when accented with some maple syrup, this one was a melt-in-your-mouth total winner.  Rich, creamy, and wonderfully sweet.  Definitely a perfect "icing on the cake" with this recipe.
My friends all agreed that these need to be made again, and very soon.  Believe me, I am all for that.  Hope you enjoy them too!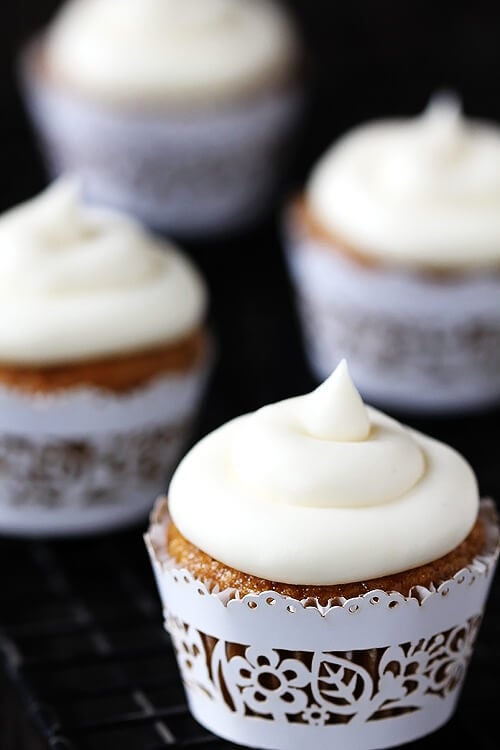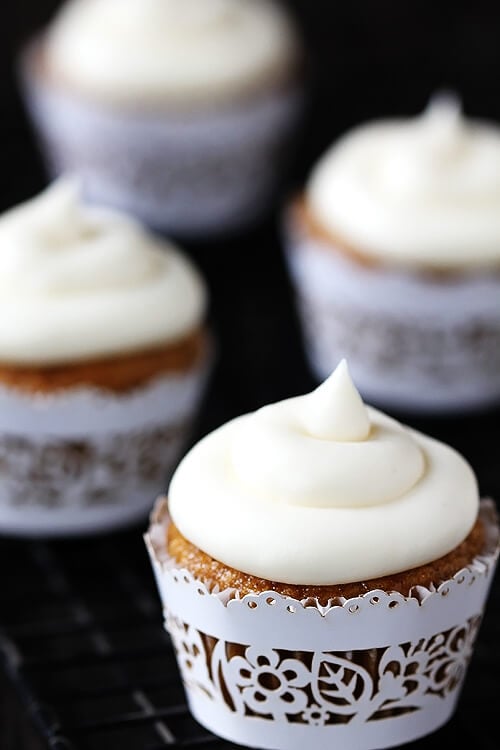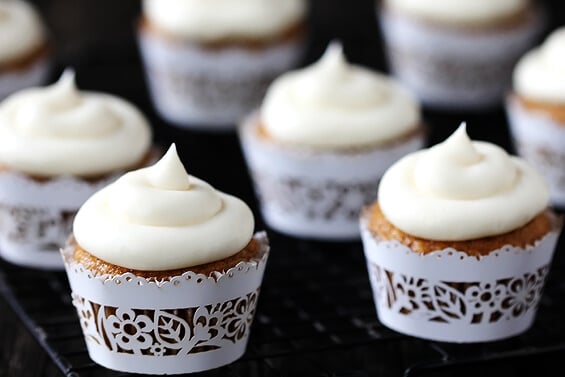 Spiced Butternut Squash Cupcakes with Maple Cream Cheese Frosting
Butternut squash has never tasted so good as in these delicious cupcakes, topped with a sweet maple cream cheese frosting!
Ingredients:
Cupcake Ingredients:
1 cup butternut squash puree (**see note below for instructions – so easy!**)
1/3 cup vegetable or canola oil
1/2 cup granulated sugar
1/2 cup brown sugar
1/4 cup milk (or soymilk)
1 tsp. vanilla extract
1 1/4 cups all-purpose flour
1/2 tsp. baking powder
1/2 tsp. baking soda
1 tsp. ground cinnamon
1/4 tsp. ground ginger
1/4 tsp. ground nutmeg
1/4 tsp. salt
Frosting Ingredients:
1 block (8 oz.) cream cheese, room temperature
1 stick (1/2 cup) butter, room temperature
2 Tbsp. real maple syrup
1 lb. powdered sugar (or more/less to achieve desired consistency)
Directions:
To Make The Cupcakes:
Preheat oven to 350F degrees. Line baking pan with 12 cupcake liners.
In a medium bowl, stir together butternut squash puree, oil, sugars, milk, and vanilla. Sift in the flour, baking soda, baking powder, salt, and spices. Gently whisk by hand until just combined, being careful not to overmix.
Fill liners with 1/4 cup batter (cups should be approximately 2/3 full). Bake for 22-24 minutes, or until a toothpick inserted into the center comes out clean. Let the cupcakes cool in the pan on a wire rack for 5 minutes. Transfer the cupcakes to the wire rack and let cool completely before frosting.
To Make Frosting:
Using an electric mixer, cream together cream cheese, butter, and maple syrup until smooth and well-combined. Gradually add in the powdered sugar, mixing well until it's all incorporated. Use a pastry bag to pipe the frosting onto the cupcakes, or spread it on with a knife. Serve immediately or cover and refrigerate.
To make butternut squash puree, roughly chop up some butternut squash.  Then cook it in the microwave (covered with plastic wrap to keep in the moisture) for about 5-6 minutes until soft.  Transfer to a food processor and puree until smooth.  (Or you can mash it with a fork.)
All images and text ©
If you make this recipe, be sure to snap a photo and hashtag it #gimmesomeoven. I'd love to see what you cook!