Spinach & Lemon Soup With Orzo
So did you raise an eyebrow at the name of this soup?  I did!!  :)
One of my friends actually posted the recipe on Facebook this month.  And since she's a fantastic cook and recommended it, I decided it was worth a try.  Figured the combination sounded good for a pasta… so why not a soup?
Happy to report I was more than pleasantly surprised!  I ended up making a half batch, and it was remarkably simple and speedy to pull together.  And the flavors worked well together (no worries – not too lemon-y or spinach-y).  But my new discovery with this recipe was the use of egg as a thickener!  Apparently this technique of mixing beaten eggs and lemon juice (avgolemono) is well-known and used by our friends in Greece, but this was my first time trying it.  Remarkable!!  When added to the broth, it instantly thickened the soup, and gave it this beautiful creamy texture.  Very fun – will definitely be trying it again soon.
So if you're looking for something new to try in the new year, broaden your horizons and give this soup a try!  Tres delicious.  :)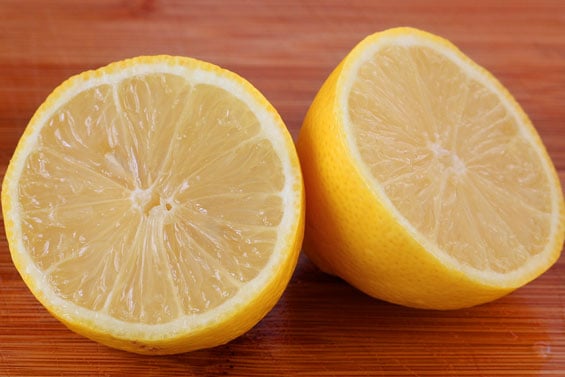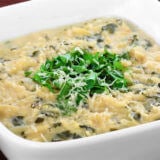 Spinach & Lemon Soup with Orzo
You will love this Spinach & Lemon Soup With Orzo Recipe! A delicious lemon-y comfort food that is quick and easy to prepare.
Ingredients:
2 tablespoons olive oil
4 garlic cloves, smashed or minced
1 large onion
1 tsp. red pepper flakes (or more, depending on your taste)
1 tsp. dried thyme
1 (10 oz.) package frozen spinach, thawed and drained of excess water
1 1/2 cups orzo
8 cups chicken or vegetable broth
4 eggs
Juice of 3 lemons (feel free to add this gradually to taste)
fresh flat-leaf parsley, chopped (to serve)
freshly-grated Parmesan (to serve)
Directions:
Heat the olive oil in a large heavy pot or Dutch oven. Cook the garlic and onion over medium heat until fragrant and slightly translucent. Turn the heat to medium high and add the red pepper flakes, spinach, and orzo. Cook for about a minute, then add the broth.
Bring to a light simmer, then turn the heat down and simmer for about 15 minutes, or until the orzo is just barely tender. Take the soup off the heat and let it cool down for a moment or two.
Whisk eggs vigorously in a largish bowl, then whisk in the lemon juice. Whisk for a couple minutes; the mixture should be thick, pale yellow, and creamy. Add a small ladleful of the soup broth to the eggs and whisk vigorously. (If you want to be really sure not to curdle the eggs, take a ladle of soup and cool it a bit before tempering the eggs.) Whisk in two more ladles of soup broth, whisking each well and letting them cool.
Add the egg mixture to the soup pot, whisking very well. Return to very low heat, stirring the whole time. Cook carefully over low heat until the soup has thickened slightly. Serve immediately, garnished with parsley and Parmesan if desired.
If you make this recipe, be sure to snap a photo and hashtag it #gimmesomeoven. I'd love to see what you cook!
Ali's Tip:
As my friend suggested, feel free to use fresh spinach in this as well.  In place of the 10 oz frozen package, just use about 2 cups of chopped, packed fresh spinach.