Spinach Salad with Apples and Artichokes
Dear Spring,
I am seriously ready for you to get here.  After a few 60-degree days this weekend in Kansas City, I awoke today to the rude surprise of a frosty ground and a freezing loft, after the batteries in my thermostat decided to randomly go out.  Oof.
I even woke up an hour early for Daylight Savings this weekend so that we could savor some sunlight on warm spring nights.  And I have the cutest pair of new sandals that I can't wait to wear.  And spring salad recipes to make.  And iced coffees galore that will be calling my name.
But alas, you are taking your sweet time.
In the meantime, I have enjoyed at least pretending that it's salad season with this delicious Spinach Salad with Apples and Artichokes.  I made the salad for the first time this winter on a clean-out-the-fridge day, when I also happened to be feeling very alliterative.  :)  But the salad ended up being so awesome that I have loved making it again and again!  I admit I had no idea that apples and artichokes paired so well together.  But when combined with some fresh spinach, gorgonzola, toasted pecans, and a light apple cider vinaigrette, it turns out they make quite the tasty salad.  And the nice thing is that even when it maybe isn't officially spring, these ingredients are all available year-round and are quick and easy to throw together.
Still, Spring, I would be most grateful if you would put a spring in your step and show up soon.  That would be grand.
Yours always,
~Ali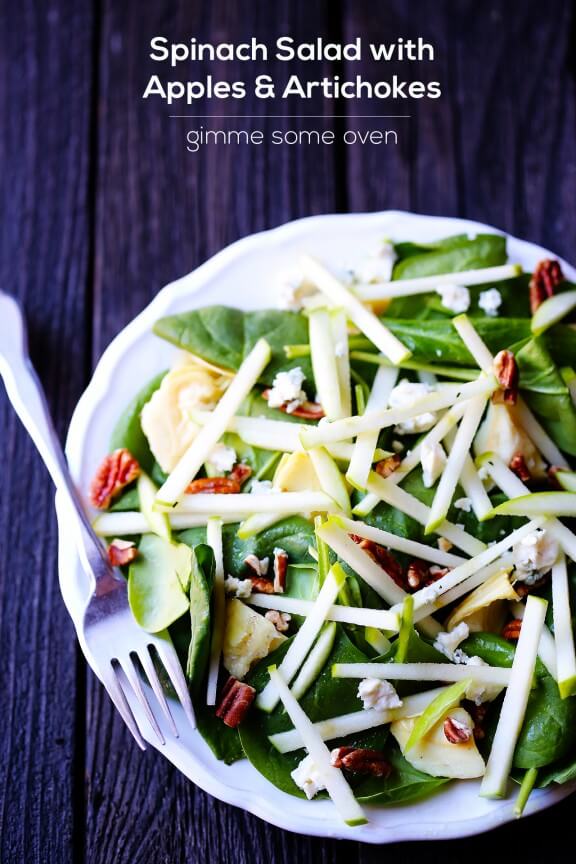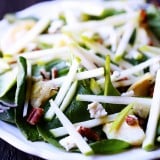 Spinach Salad with Apples and Artichokes
This simple fruity salad is great year-round!
Ingredients:
Salad Ingredients:
6 cups fresh baby spinach
2 apples, cored and julienned
1 (14 oz.) can artichoke hearts, chopped
1 cup toasted or candied pecans
1/2 cup gorgonzola or blue cheese
apple cider vinaigrette http://www.gimmesomeoven.com/apple-cider-vinaigrette/ (or any light and fruity vinaigrette)
Directions:
Toss ingredients together until combined.  Serve immediately.
All images and text ©
If you make this recipe, be sure to snap a photo and hashtag it #gimmesomeoven. I'd love to see what you cook!