Steak, Poblano and Mushroom Tacos
It's Taco Tuesday!  It's Taco Tuesday!
Actually, if it were up to me, every day of the week would be an excuse to eat Mexican food galore.
I mean, I'm basically halfway there already.  My family grew up religiously observing Fiesta Fridays.  My friends dig happy hours on Margarita Mondays.  I like to eat a big meal and then take a nice nap on Siesta Saturdays.  So hmmm, that leaves Sopapilla Sundays.  And maybe Tostada Thursdays and Watermelon Margarita Wednesdays?  Hmmm, gotta work on that "w"…
Wwwwell for anyone looking for a stellar taco recipe for Taco Tuesdays or any day of the week, I've got a great one for you today.  I had every intent of going vegetarian and letting the mushrooms take center stage with these tacos.  But then I was reminded that I am so not a vegan when I walked by the meat department and spied a gorgeous flank steak, and walked out of the store with it 10 minutes later.  I eat meatless most days of the week nowadays.  But somedays just call for nice, juicy, carne asada steak tacos.  And oh man, were these ones terrifically taco tasty.
As perhaps evidenced by my cloudy photos, this recipe came about on a particularly dark and rainy Taco Tuesday.  But nothing was going to rain on my Taco Tuesday parade.  These tacos were full of amazing flavor, nice and fresh without being too heavy, and gloriously easy to make.
If you happen to be a grill master, I'm sure they'd be even better when fired up on a charcoal grill.  But since loft life makes outdoor grilling a little difficult, I just threw open my windows (well, not too far, because rain) and smoked up my kitchen making these guys on the stovetop indoors.  Either way will be delicious.
Begin by marinating your steak in a nice carne asada marinade.  The longer this can sit (up to a day), the better.  But if you're in a hurry, 15 minutes will still be better than nothing.
Once you're ready to cook the steak, fire up your grill or grill pan.  Then season the steak on both sides with extra salt and freshly-ground black pepper, and grill it to your desired level of doneness.  Remove the steak from the grill and let it rest for about 10 minutes, then slice it in thin strips on the diagonal.  Set aside.
While your steak is resting, throw your sliced onions and poblano peppers in the same (or different) pan along with some olive oil.  And saute over medium-high heat until they are cooked.  Add the mushrooms and saute a few more minutes until they are cooked.  Then add your garlic and saute until fragrant.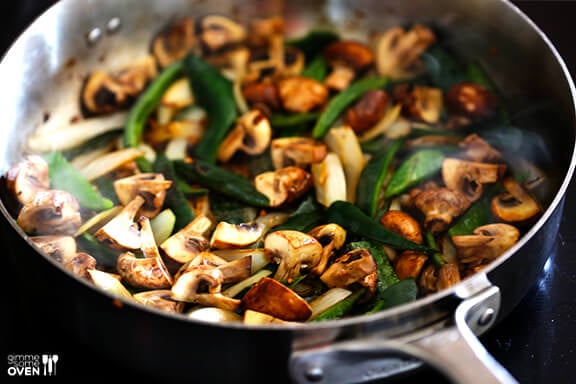 Remove pan from the heat, and then start assembling your tacos!
9 times out of 10, I love to serve my tacos with just chopped fresh cilantro, onions and lime ("street taco" style).  But since I wanted the onions to caramelize a bit with the poblanos, no fresh onions were needed in this topping.  Instead, I just added some extra queso fresco.  And then served these with some salsa verde and fresh avocados.
Green + green + green + green.
Perfection.
If you happen to like a bit of heat in your tacos, I'd also recommend adding in a finely-diced jalapeno (or two) to the mixture.  Poblanos on their own are pretty mild in this recipe.  And some long strips of full-size portobello mushrooms would also go well with the long strips of steak and poblanos.  My grocery store didn't have good looking mushrooms the day I made this, but the baby bellas (or you could also sub in button mushrooms) tasted delish.
However you make these, I'm pretty sure they're going to be a hit.  I mean, just look at that taco!  What on earth else could one possibly want to eat on a Tuesday?  ;)
Cheers, friends!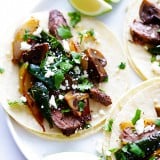 Steak, Poblano and Mushroom Tacos
These steak, mushroom and poblano tacos are simple to make, and full of the best taco flavor!
Ingredients:
Steak Marinade Ingredients:
1/4 cup olive oil
4 cloves garlic, minced
3 Tablespoons lime juice
1 teaspoon cumin
1 teaspoon salt
1/2 teaspoon coarsely-ground black pepper
Steak, Mushroom & Poblano Tacos Ingredients:
2 Tablespoons olive oil
1.5 pounds flank steak
2 large poblano peppers, stemmed, cored and cut into thin 2-inch strips
1 medium white or yellow onion, thinly sliced
8 ounces baby portobello mushrooms, sliced or quartered
3 cloves garlic
1/2 teaspoon salt
1/4 teaspoon cumin
1/4 teaspoon black pepper
for serving: corn tortillas, chopped fresh cilantro, avocado slices, lime wedges, salsa verde, crumbled cotija cheese or queso fresco
Directions:
To Marinate The Steak:
Combine all marinade ingredients in a large ziplock bag or in a baking dish. Add the flank steak, and toss with the marinade until it is completely coated. Seal (or cover with plastic wrap or foil, if using the dish) and refrigerate for 15 minutes or up to 1 day.
To Make The Tacos:
When you're ready to make the tacos, remove the steak from the refrigerator and let it rest for at least 20 minutes to come to room temperature.
Heat your saute pan (or grill pan) over medium-high heat. Remove the flank steak from the marinade (discard the marinade) and add the steak to the pan. Cook on each side for 4-5 minutes, turning once with tongs, until it reaches your desired level of doneness. Transfer the steak to a separate plate, and let it rest for at least 10 minutes. Then slice it into thin strips on the diagonal.
While your steak is resting, add the oil to the saute pan and reduce heat to medium-high. Add the onions and poblano peppers, and saute for 5 minutes until the onions are soft. Add the mushrooms and continue sauteing until they are cooked, about 2 minutes. Add the garlic, salt, cumin and black pepper and saute 1-2 more minutes until the garlic is fragrant. Season with additional salt and pepper, if needed. Pour the veggie mixture onto a serving platter and set aside.
Return pan to heat and add the corn tortillas, warming for about 10 seconds per side to soften. Remove pan from heat.
Assemble tacos by layering the sliced steak, veggies, cilantro on top of the warmed tortillas. Serve with avocado, lime wedges, salsa verde and optional additional toppings.
*If making this gluten-free, be sure to double-check all ingredient labels to be certain that they are certified gluten-free.
**If making this recipe on the grill, just grill your steak over medium-high heat as described. And cook the veggies in a grill pan or on top of a folded-over sheet of aluminum foil.
All images and text ©
If you make this recipe, be sure to snap a photo and hashtag it #gimmesomeoven. I'd love to see what you cook!