Strawberry Kale Salad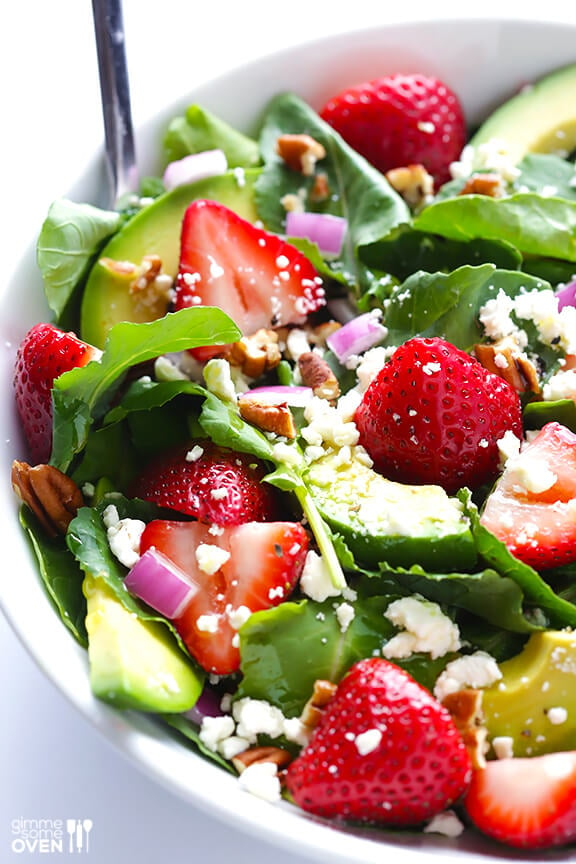 This weekend, I spent the most lovely morning in the garden.
But not just any garden.
I actually joined a bunch of my fellow CSA members to pay a visit to the enormous urban garden where my summer produce is being grown.  And it was pretty much the coolest thing ever.   As is the CSA (community supported agriculture) program that I'm a part of — New Roots For Refugees.   And of course, as is the super-cool Burmese refugee friend I met through ESL tutoring who is a first-year farmer with the program, Si Si Cho.
I have been hearing about her garden for months and months, as we have been working on vegetable and herb vocabulary and talking about all of the various seeds she has been planing in the greenhouse.  She was finally able to actually plant the garden outside in the past month or so, and sent me a few proud texts of her rows upon rows of starters.  And by now, the middle of May, it has turned into a huge, green, vibrant garden!!
I was so excited to finally see it with my own eyes, but I was even more excited to see the pride and joy in Si Si's eyes as she took me on a tour up and down the rows identifying every single plant.  She was absolutely in her element, and I may have teared up just a tiny bit realizing the love and care she pours into this plot of land each day that will help feed people like me this summer.  So. Completely. Cool.
Even more cool?  Having her walk me all over the vast acreage of the training farm and tell me the names of other refugee farmers in the program and where they have come from.  Most are from Asia and Africa, while many spent time in refugee camps in other countries before coming to the United States.  Si Si Cho always points out, for example, "You are American.  I am three — Burmese Thai American."  So many big moves already in her 30-year-old life.
Anyway, get ready for more stories about New Roots For Refugees this summer, because time with Si Si and that organization is turning into one of the best parts of my week.  And their crops are definitely a big part of my summer produce, including the first little surprise that Si Si sent home with me this weekend — fresh kale.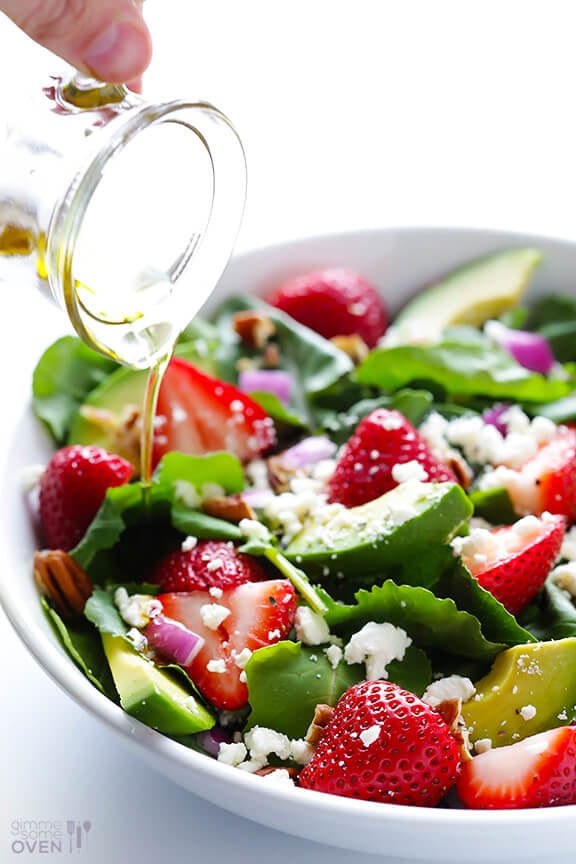 I had actually made this salad a few weeks ago for the blog with some baby kale from the store.  (I'm in a rare season of being "ahead" with recipes, which probably won't last long.)  But once Si Si sent me home with a fresh batch, I instantly hit up my carton of strawberries in the fridge to make another batch.
Because this salad is crazy good.
It's actually just a slight riff on my Avocado Strawberry Spinach Salad that has been so popular on the blog for a few years.  But I have enjoyed replacing the spinach with kale recently (especially baby kale, which I highly recommend).  And I also swapped out blue cheese for goat cheese (although you can use any kind of soft cheese, or leave it out or sprinkle on some nutritional yeast if you're vegan) and toasted pecans for almonds.
Instead of the typical poppyseed dressing, I made a white balsamic vinaigrette made with one of my new favorite ingredients — white balsamic vinegar!  I only just discovered the stuff this past year, and am obsessed with it on salads.  It has all of the great balsamic flavor I love, but it doesn't turn your whole salad brown.  That said, though, the brown (traditional) balsamic vinegar totally works too.  ;)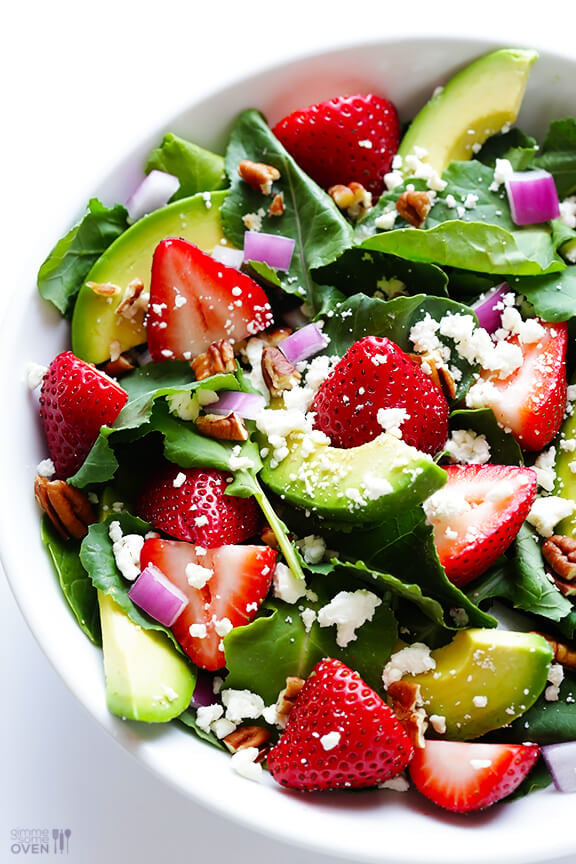 But I had to include the avocado again.  Sorry — it's just a "must" nowadays with salads whenever strawberries are involved.  I'm crazy about the combination, and it happens to be lovely and colorful as well.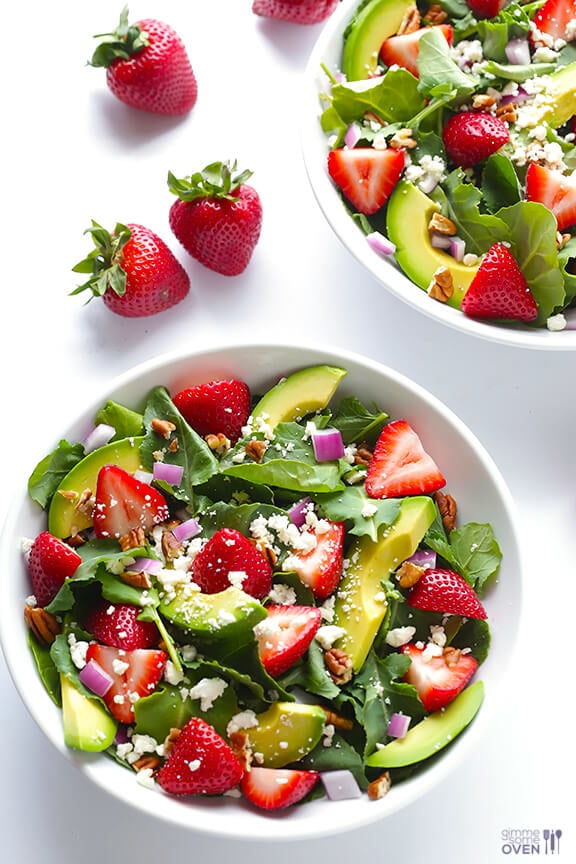 Anyway, it's a lovely and fresh salad that just sings of summer.  And when made with kale grown by my friend?  Well, I don't know if it gets any better than that.  :)
I hope you all enjoy it!  And by the way, if you're interested in getting involved with a CSA program that works with refugees in your area, my friend Meredith recommended checking out local listings on this website.
Cheers!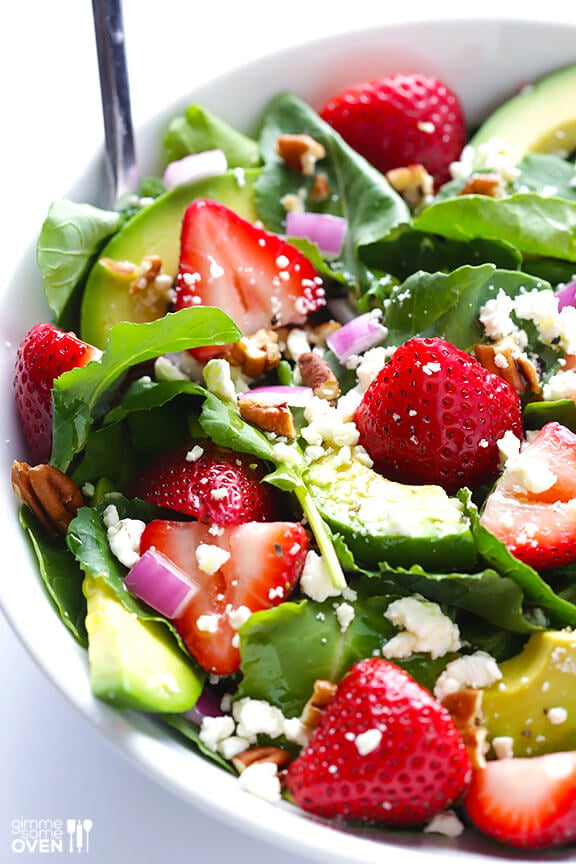 Strawberry Kale Salad
This strawberry kale salad is fresh and delicious and made with a simple white balsamic vinaigrette.
Ingredients:
Salad Ingredients:
6 cups fresh baby kale (*or see note below for using other kinds of kale)
1 pint strawberries, hulled and sliced
1-2 avocados, peeled, pitted and diced
4 ounces crumbled goat cheese (or other soft cheese)
1/4 cup chopped pecans, toasted
half a small red onion, thinly sliced
white balsamic vinaigrette (recipe below)
White Balsamic Vinaigrette Ingredients:
1/2 cup extra virgin olive oil
1/4 cup white balsamic vinegar
3-4 tablespoons honey
1/2 teaspoon sea salt
1/4 teaspoon freshly-cracked black pepper
Directions:
To Make The Salad:
Toss all ingredients together with your desired amount of dressing until combined. Serve immediately.
To Make The Vinaigrette:
Whisk all ingredients together until combined.
*If you choose to use traditional kale, pour an extra few teaspoons of oil onto the greens first and massage it into them with your hands for 1 minute to soften.
All images and text ©
If you make this recipe, be sure to snap a photo and hashtag it #gimmesomeoven. I'd love to see what you cook!