Strawberry Shortcake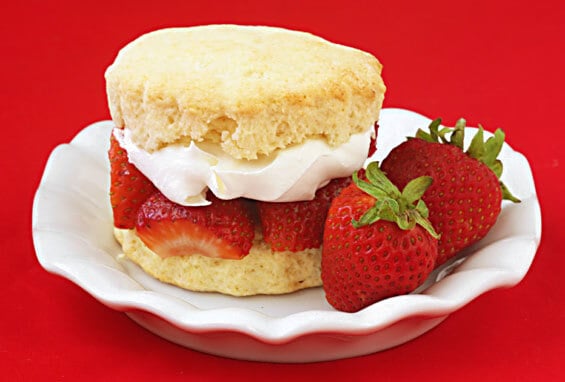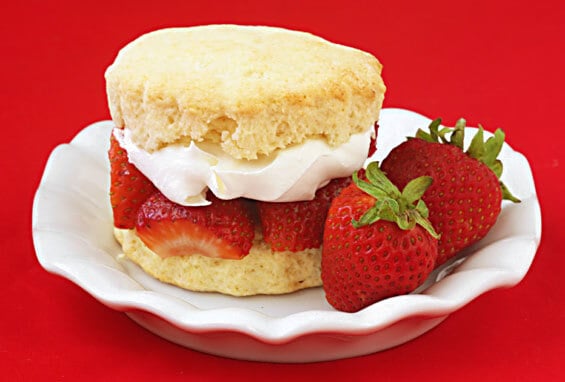 Raindrops on roses and whiskers on kittens…fresh, red strawberries and thick sweet whipped cream…warm shortcake biscuits with almond-y "zing"…these are a few of my favorite things….

Mmmmm….
There's definitely a reason why strawberry shortcake has remained such a favorite through the ages.  I confess — for years I made it with Bisquick biscuits, and storebought whipped cream, which was also quite delightful.  But when you take a little extra time to make the real deal with homemade biscuits, whipped cream, and macerated strawberries, it's so worth it!!
For the classic dessert, this recipe from Cooks Illustrated is definitely my favorite.  It's perfectly dense, flavorful, and pretty simple to make!  I like adding in just a little almond extract to give it that yummy depth of flavor.  But you can be a purist and go with vanilla.  And of course, you can also sub in whatever other fresh berries or fruits you would like.
However you spin it, this recipe is absolutely delicious.  And perfect for summer.  So gather some fresh berries and enjoy!!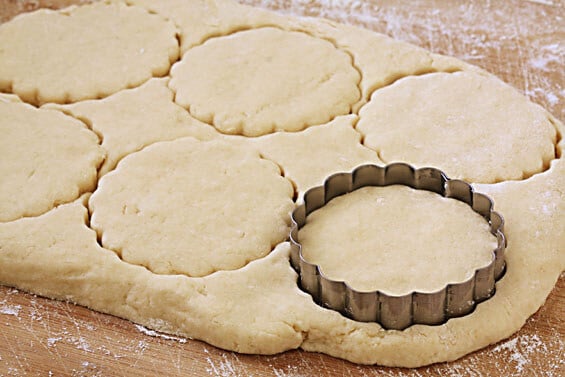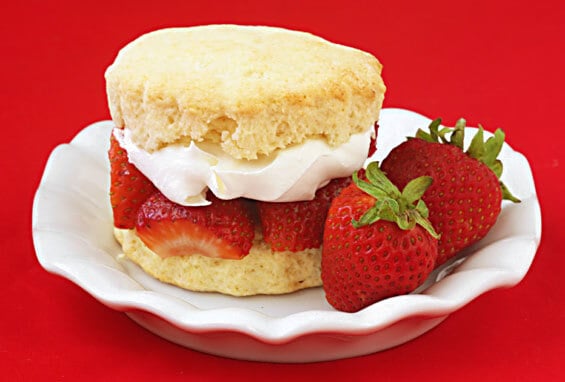 Strawberry Shortcake
You will love this quick, easy, and totally delicious strawberry shortcake recipe!
Ingredients:
8 cups (about 2.5 lbs.) strawberries, hulled
6 Tbsp. sugar
2 cups all-purpose flour (plus more for dusting the work surface and biscuit cutter)
5 Tbsp. sugar
1 Tbsp. baking powder
1/2 tsp. salt
1 stick (8 Tbsp.) cold unsalted butter, cut into 1/2-inch cubes
1 large egg, lightly beaten
1/2 cup plus 2 tsp. half-and-half (or whole milk)
1/2 tsp. almond extract (or vanilla extract, store-bought or homemade)
1 large egg white, lightly beaten
2 cups whipped cream (homemade or store-bought)
Directions:
For the fruit:
Place 3 cups of the hulled strawberries in a large bowl and crush with a potato masher. Slice the remaining 5 cups berries and stir into the crushed berries along with the sugar. Set the fruit aside to macerate for at least 30 minutes or up to 2 hours.
For the shortcakes:
Adjust an oven rack to the lower-middle position and heat the oven to 425 degrees. In a food processor, pulse the flour, 3 Tbsp. of the sugar, the baking powder, and salt to combine. Scatter the butter pieces over and process until the mixture resembles coarse meal, about fifteen 1-second pulses. Transfer to a medium bowl.

Mix the beaten egg with the half-and-half (or whole milk) and almond extract in a measuring cup. Pour the egg mixture into the bowl with the flour mixture. Combine with a rubber spatula until large clumps form. Turn the mixture onto a floured work surface and lightly knead until it comes together.

Use your fingertips to pat the dough into a 9 x 6-inch rectangle about ¾-inch thick, being careful not to overwork the dough. Flour a 2 ¾-inch biscuit cutter and cut out 6 dough rounds. Place the rounds 1 inch apart on a small baking sheet, brush the tops with the beaten egg white, and sprinkle with the remaining 2 Tbsp. sugar. (Dough rounds can be covered and refrigerated for up to 2 hours before baking.)

Bake until the shortcakes are golden brown, 12-14 minutes. Place the baking sheet on a wire rack and cool the cakes until warm, about 10 minutes.
To assemble:
When the shortcakes have cooled slightly, split them in half. (Just look for the natural crack around the circumference of each cake, and go with that!) Then place each cake bottom on an individual serving plate, and spoon a portion of the fruit and then a dollop of whipped cream over each cake bottom. Cap with the cake top and serve immediately.

If you make this recipe, be sure to snap a photo and hashtag it #gimmesomeoven. I'd love to see what you cook!
Ali's Tip:
If you don't have a biscuit cutter, you can also use a (washed out) can, from canned vegetables or whatnot.