Stuffed Caprese Bites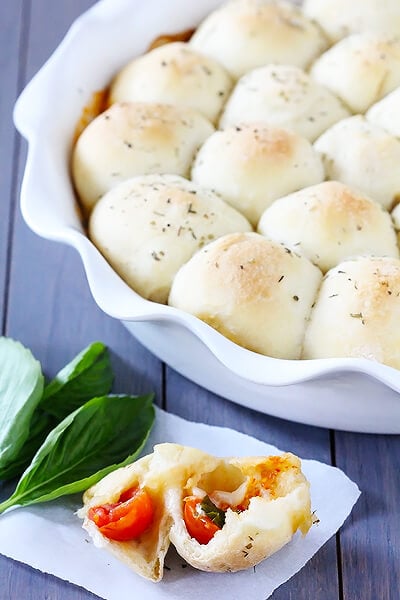 Hooray!  After months of planning, I'm SO excited that the first week of our Tomato Love Recipe Exchange is finally here!!!  For those of you who missed the introductory post, I will be co-hosting weekly tomato recipe exchanges over the next eight weeks in partnership with Cassie (Bake Your Day), IJM (and their program, "Recipe for Change"), and a host of some AMAZING sponsors.  I seriously can't stop smiling writing this — so excited to share in the tomato love with everyone!
Cassie and I are both so excited that our first sponsor is the amazing KitchenAid, who will be giving away a beautiful new 7-Quart Stand Mixer.  I have a new silver one, and absolutely LOVE it.  Or as Molly might say on SNL, "I-love-it-I-love-it-I-love-it!!!!"  :)  In addition to being such a beautiful appliance in my kitchen, it is absolutely a pro at whipping up all sorts of goodness for baking.  AND, I am happy to say that it has been my partner on my new year's resolution — to conquer my fear of baking with yeast!  Yep.  For the second time this year (I know, I've been a bit of a procrastinator), I mustered up my courage and decided to try making my own homemade pizza dough for the first time.
By some miracle — thanks in part to that brilliant KitchenAid dough hook and a tasty recipe — I am pleased to announce SUCCESS!!!  Not only did I make a completely successful and tasty batch of pizza dough, I used it to create these crazy-delicious little caprese bites, which were scrumptuous!!  These little bites are similar to the pepperoni pizza bites I made a few years ago, but this time they are filled simply with a slice of mozzarella and a fresh basil leaf sandwiched inside of a cherry tomato.  Super cute.  And completely caprese-y delicious.  A perfect little appetizer to serve to a crowd!
So now it's time for you to share YOUR favorite tomato appetizers, and also enter to win a KitchenAid 7-Quart stand mixer of your own!  Again, you do not need to have a blog to participate, although we are super-excited to have some of you bloggers link up as well.  Scroll below to enter, and also take a moment to pop over to the Recipe For Change site to learn more about what you can do to support our tomato farmers in America.  Look forward to a great summer full of #TomatoLove!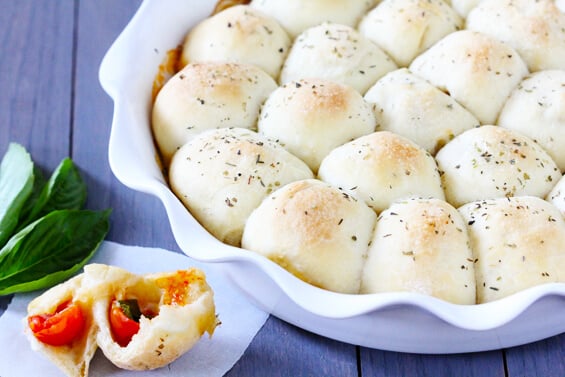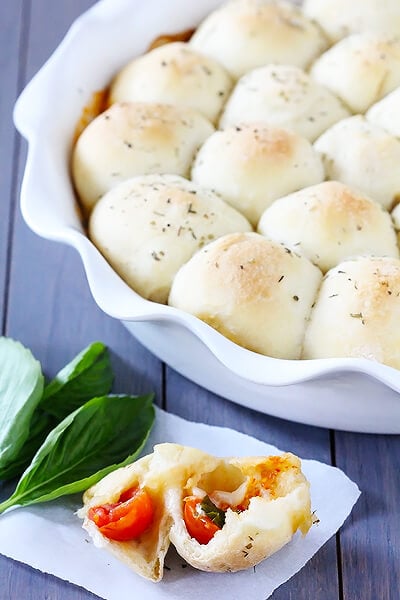 Stuffed Caprese Bites
These Stuffed Caprese Bites are quick and easy to make, and full of fresh tomatoes, basil, and mozzarella cheese.
Ingredients:
Caprese Bites Ingredients:
1 recipe pizza dough, listed below (or you can substitute 1 store-bought large unbaked pizza dough)
20-24 cherry or grape tomatoes
4 ounces mozzarella, shredded or cut into small squares as wide as your tomatoes
1/2 cup loosely packed fresh basil leaves, torn into bite-sized pieces
2 tablespoons butter, melted
1 tablespoons dried oregano
optional: marinara sauce, for dipping
Pizza Dough Ingredients:
2/3 cup warm water
half a packet of yeast (1.5 tsp. or 1/8th oz.)
1 3/4 cups all-purpose flour
1 tsp. Italian seasonings or dried oregano
1 tsp. sea salt
2 Tbsp. olive oil
Directions:
To Make The Caprese Bites:
Preheat oven to 400°F. Grease a pie plate with cooking spray.
If using canned pizza dough, use a pizza slicer to cut dough into 24 equal squares. If using homemade pizza dough, break off dough into about 24 walnut-sized pieces and then stretch each to become a 3-inch or so circle.
Make each of the bites by slicing a tomato in two lengthwise, and then sandwiching a piece of cheese and a torn piece of basil between the tomato halves. Then gently place the little tomato sandwich in the center of the pizza dough, and wrap the dough around it to make a ball. Pinch the ends together so that they are secure, then place each ball seam-side-down in the greased pie pan. Repeat with remaining ingredients until the pan is full. Brush the tops of the little dough balls with melted butter, then sprinkle with the dried oregano.
Bake for about 20 minutes, or until the tops are slightly golden. Remove and serve immediately.
To Make The Pizza Dough:
In a mixing bowl, stir together the warm water and yeast.
Stir in the flour, salt and Italian seasonings and mix on medium high speed on your KitchenAid stand mixer for 5 minutes. While the mixer is going, drizzle in the olive oil.
When the dough is soft and elastic, take out of the bowl, rub with olive oil and then place back in the bowl, cover with a dish towel and let rise for one hour.
After the dough has doubled in size, remove the dough and either use it in a recipe or freeze it.
*Recipe prep time does not include the time to prepare the dough.
All images and text ©
If you make this recipe, be sure to snap a photo and hashtag it #gimmesomeoven. I'd love to see what you cook!