Suja Juice Cleanse Giveaway
This post may contain affiliate links. Please read my disclosure policy.
Hey everyone! I'm starting another 3-Day Suja juice cleanse today, and you get the chance to join me this time because we are hosting a Suja juice giveaway here on the blog!
Yep. I am stoked.
For those who are unfamiliar with the brand, Suja makes a line of amazing cold-pressed, organic, fruit-and-veggie-packed juices that are sold online and in retail stores (such as Whole Foods). But while you can buy each of the 10 flavors individually, Suja is probably most known for their epic Suja juice cleanses.
I tried my first Suja 3-Day juice cleanse last spring, and blogged all about it here. So if you have any questions, I'd definitely encourage you to read all about my experience or visit the Suja website to learn more. But the best way to learn more is to try one for yourself! So I am thrilled that Suja is sponsoring a giveaway for one lucky reader to have a 3-day juice cleanse shipped right to your doorstep so that you can enjoy these delicious juices yourself.
Scroll down below to enter and learn more!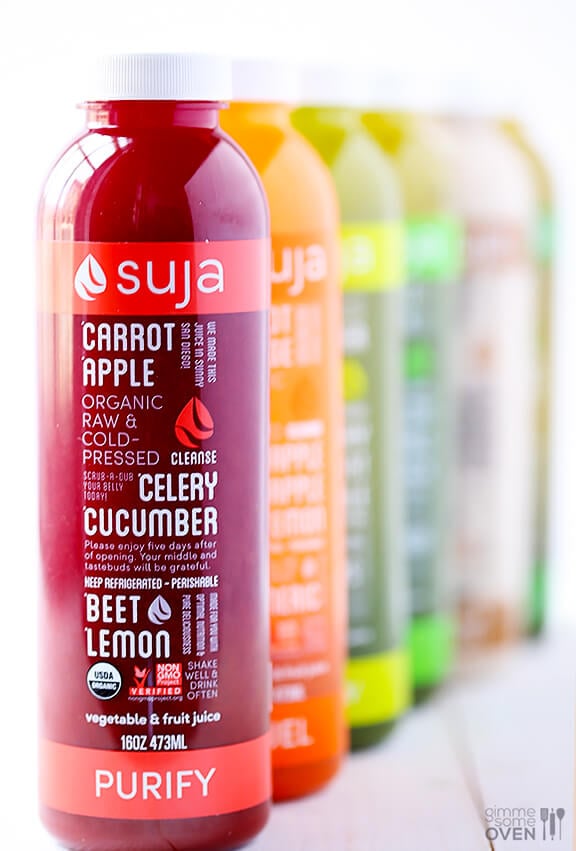 I have now tried all ten of the Suja juice flavors, and love the great mix of fruits, veggies, herbs and spices that are in each bottle. But the cleanses come with a pre-determined set of 6 juices that you drink throughout the day, including:
Again, you can read more about my experience trying the 3-day cleanse to hear more details about my thoughts on the juices and the experience. I also touch on many of the questions that I and those around me had about doing a juice cleanse — everything from how I felt, if I liked the juices, if they were actually filling, etc.
But the main question my friends and readers asked was whether I would do a Suja juice cleanse again, and my answer was always an instant YES! I  finished my cleanse feeling refreshed and energized, and absolutely loved the fact that Suja does all of the thinking and juicing, leaving me to not have to think about what to eat for three days. So after a summer this year full of food conferences, food press trips, and just generally lots and lots of food, I have been looking forward to doing another cleanse as we begin to move into a new season.
So if you have ever considered trying a juice cleanse, I hope you will join me! You can order Suja juices online or pick them up at a local retailer (and then you must come back here and tell me how it went!). And you can also find them on Facebook, Twitter, Instagram, Google+ and Pinterest.
But also be sure to enter the giveaway below for a chance to try out a Suja juice cleanse for free!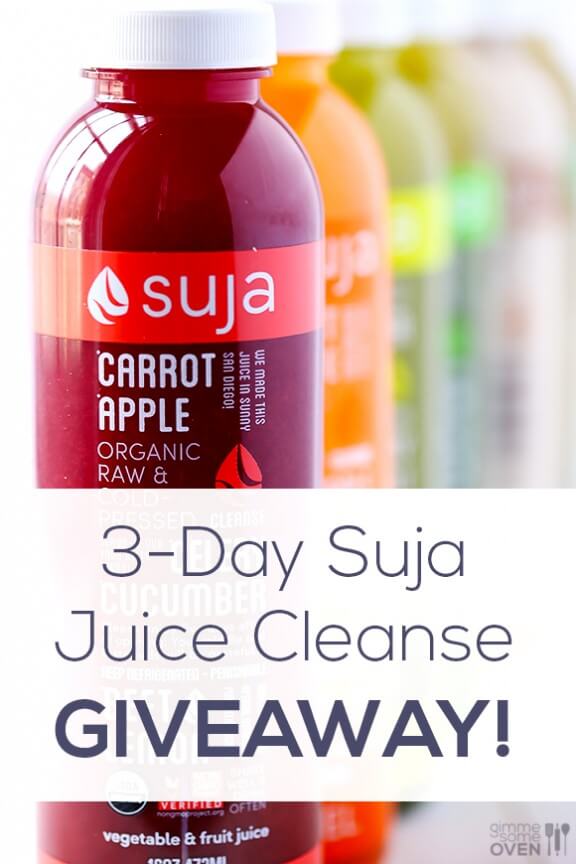 Disclaimer: This giveaway is sponsored by Suja Juice. They have provided me with a complimentary juice cleanse to review and are sponsoring a giveaway. I adore this company, and all opinions are 100% my own as always.