Caprese Pasta Salad
This Caprese Pasta Salad recipe is super quick and easy to make ahead of time, and it's always a crowd favorite!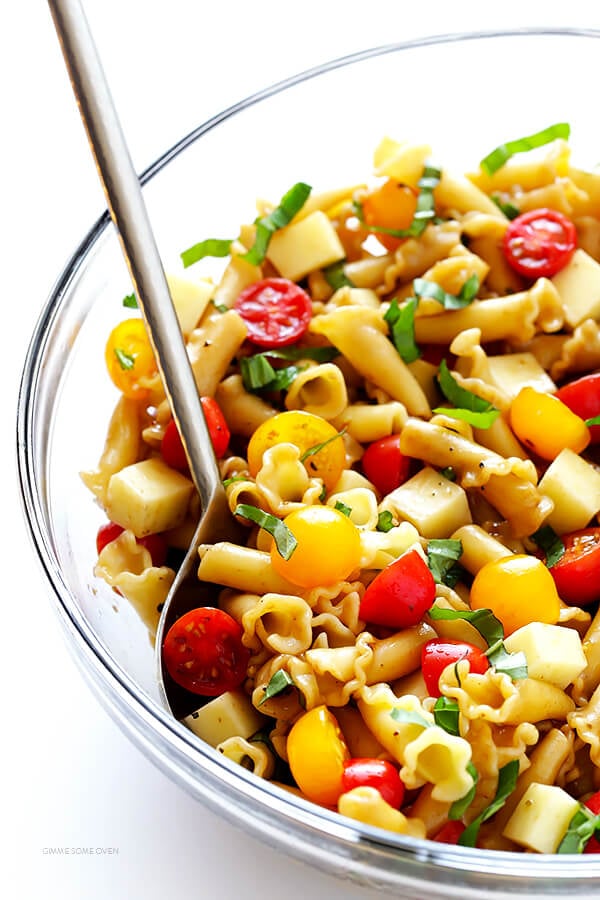 This weekend, my small group from church decided to head outta town for an impromptu little Memorial Day campout.
Although, I should probably say that "campout" was a generous term.  ;)
As it turned out, my friend's parents' house where we were staying actually had enough bedrooms and couches for the dozen of us who preferred to sleep indoors, so I didn't have to snuggle up with the insect kingdom.  We also nixed cooking by campfire and instead made use of their amazing big kitchen, cooking up a big dinner spread together complete with burgers and hot dogs and grilled veggies and (this!) pasta salad and old-school potato chips and dips and local craft beers galore.  Which was followed, the next morning, by a fabulously long and lazy homemade breakfast together the next morning, where we sat around the dining table in the morning sunlight chatting about everything from theology to the best oysters in KC to the Enneagram to The Bachelorette.
Granted, we did build a big campfire that we sat around late at night.  And we did spend plenty of time outside paddle-boating around the lake, riding four-wheelers around, and star-gazing with this amazing app.  So maybe it could still count as campout-ish.  But hey, whatever you call it, it was just one of those deeply good, restorative weekends all around.  So thankful to have had the chance to get outta town, and soak up some wide open spaces (and wide-open free time) with good friends.  Good for my little soul.
Also good?  This yummy little impromptu caprese pasta salad that I whipped up to bring with me.  My friends gave it two thumbs up, so I thought I'd share it with you guys today as well.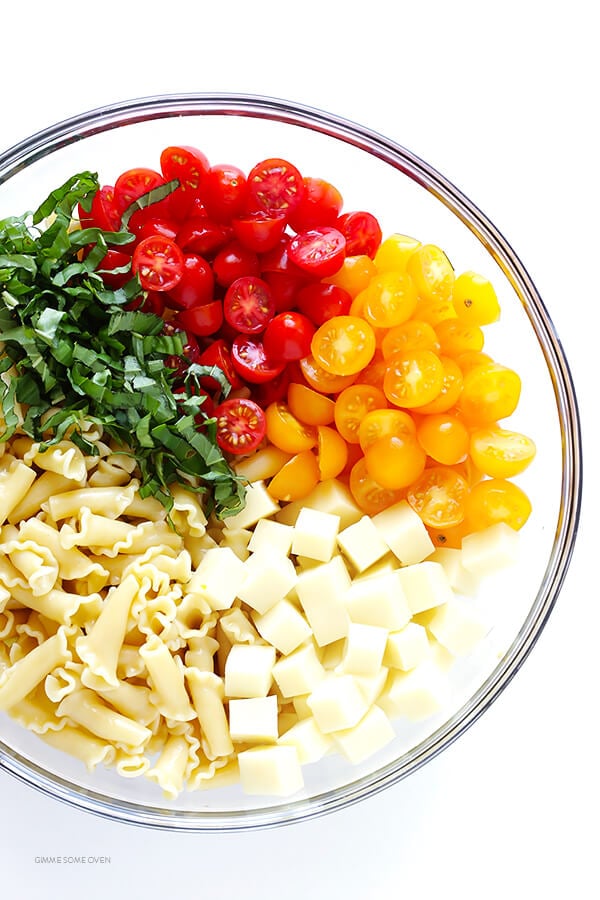 I've been cooking all things caprese lately, thanks to all of the fresh basil that seems to be abounding this time of year.  So this salad made use of some leftover ingredients that I needed to use up, and ended up being so easy to make and tasty.
All you need is some pasta, tomatoes, mozzarella, basil…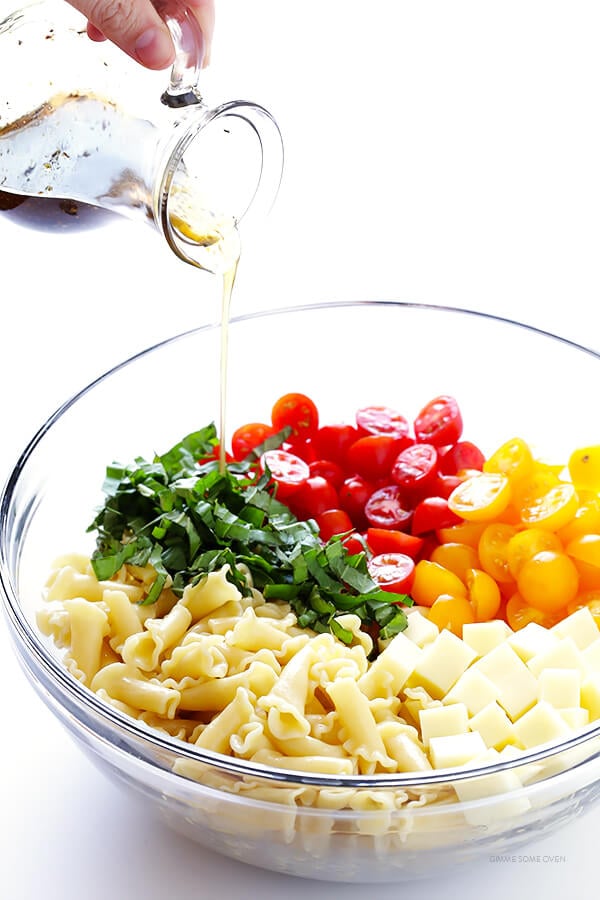 …and a simple vinaigrette that just takes a minute to whip up.  Just drizzle it on the pasta salad ingredients…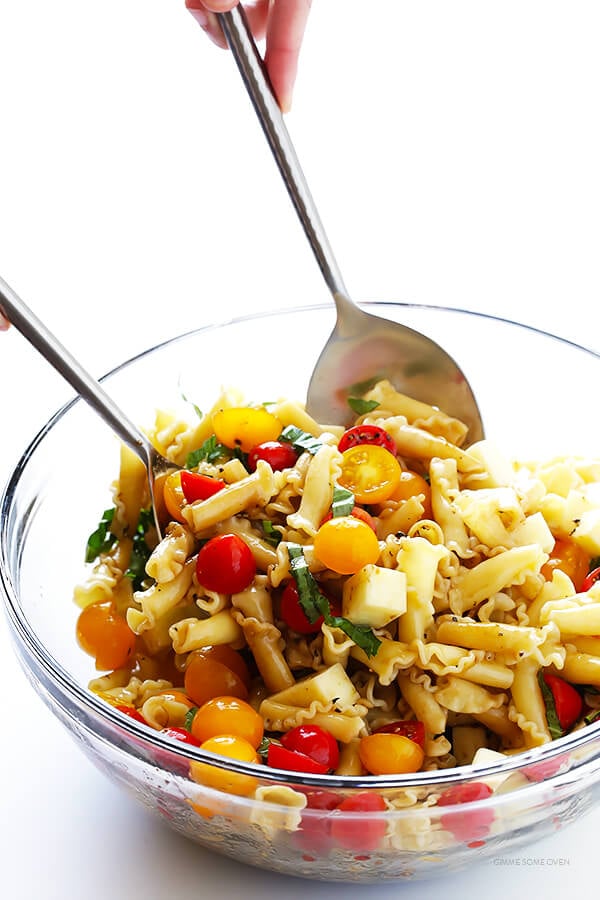 …and toss everything together…
…and within no time, this beautiful and colorful pasta salad will be ready to serve.  Super easy, and super good, so I hope that you all (super) enjoy it as much as we did.  :)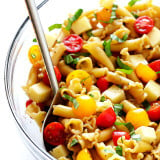 Caprese Pasta Salad
This Caprese Pasta Salad is quick and easy to make, it's tossed with a homemade balsamic vinaigrette, and it's perfect for picnics, potlucks, or just any normal weeknight meal.
Ingredients:
Caprese Pasta Salad Ingredients:
1 pound dry pasta (any shape will do)
1 pint cherry or grape tomatoes (I used a combination of red/yellow cherry tomatoes)
1 (8 oz) ball of fresh mozzarella, diced (or you can use the brick of cheese)
1/3 cup julienned or shredded fresh basil leaves
1 batch balsamic vinaigrette (see below)
Balsamic Vinaigrette Ingredients:
1/3 cup extra virgin olive oil
3 tablespoons balsamic vinegar
1 tablespoon honey
1/4 teaspoon sea salt
1/4 teaspoon freshly-cracked black pepper
pinch of Italian seasonings (store-bought or homemade)
Directions:
To Make The Caprese Pasta Salad:
Cook the pasta in a large stockpot of generously-salted water al dente according to package directions.  Drain pasta and rinse under cold water for about 20-30 seconds until no longer hot.
In a large serving bowl, toss pasta with the remaining ingredients until combined.
Serve immediately, or refrigerate in a sealed container for up to 3 days.
To Make The Balsamic Vinaigrette:
Whisk all ingredients together until combined.
All images and text ©
If you make this recipe, be sure to snap a photo and hashtag it #gimmesomeoven. I'd love to see what you cook!