Super-Easy Cranberry Baked Brie Bites
This post is sponsored by Bota Box.
Here's the thing about neighbors — they're sure good at keeping life real.
Know what I mean?
Whether it's bumping into each other on the front lawn as we're taking our dogs out in the morning (pre-makeup, pre-coffee, and thus pre-having-the-ability-to-form-a-coherent-sentence), or popping by to borrow the proverbial emergency cup of sugar (always, of course, on the days when the house is a complete disaster), or crossing paths in the laundry room with baskets overflowing with your "unmentionables" (which more often than not seem to be the pieces that accidentally drop on the floor and require mentioning) — there's something about seeing each another at literally all hours of the day that cuts any possibility for pretense and keeps s**t real.
And I love it.  I think we all love it.
I think that's why we all love our little #neighbornights so much as well.  There's no pretending that we have these perfectly organized lives, where we all show up perfectly on time each week, with our perfect little outfits, with our perfectly prepared dishes, in our perfectly good moods.  Ha, we all know each other too well for that.  We prefer to keep things real, and simple, and casual, and honest, and fun…even on Thanksgiving.
Or as we like to call it, Neighborsgiving.  :)
Basically, we've decided that we want Neighborsgiving to be everything we all love about Thanksgiving (namely, great people and great food)…without any of the stress.
People show up whenever they want, stay for however long they want, show up wearing whatever they want, and bring whatever food or drinks they want to share.  And it is wonderfully, chaotically, awesome.  And, as you can see, makes for a fun surprise buffet.
Some people went all out, coming home from work early to prepare gorgeous homemade pies and salads and side dishes.  Some people picked up rolls and dips and side dishes from the store.  (Or fried chicken from Popeye's, which ended up being the hit of the night!)  Some people brought along paper plates and napkins and utensils, so that's always how we roll.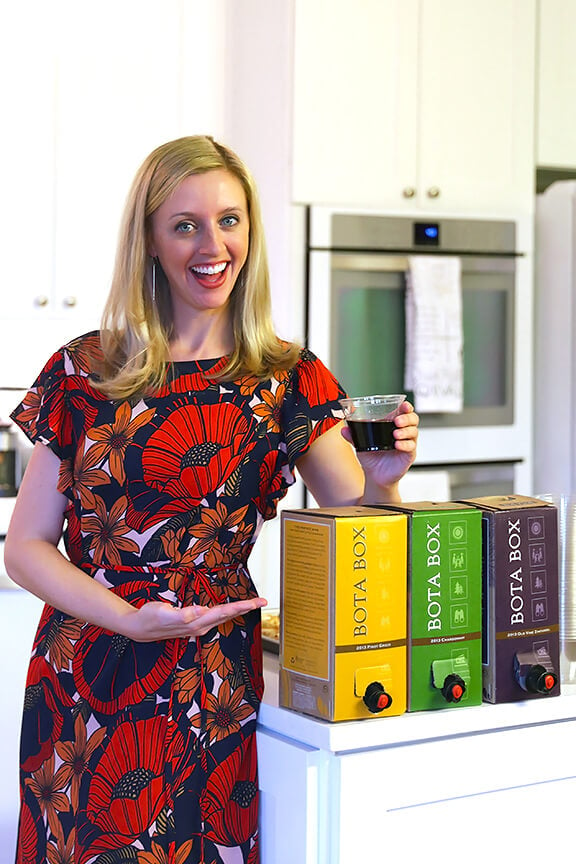 My contribution of the night?
Bota Box, baby.
It's no secret that I'm obsessed with Bota Box's line of boxed wines, which I now always keep on hand for neighbor nights.  I love how they are eco-friendly, I love how they fit in my fridge (and last for up to a month!), and I must say that I especially love their Old Vine Zinfandel.   Mmmm.  My neighbors clearly love it too, since they have developed a reputation for polishing off at least a box or two every time we gather.  ;)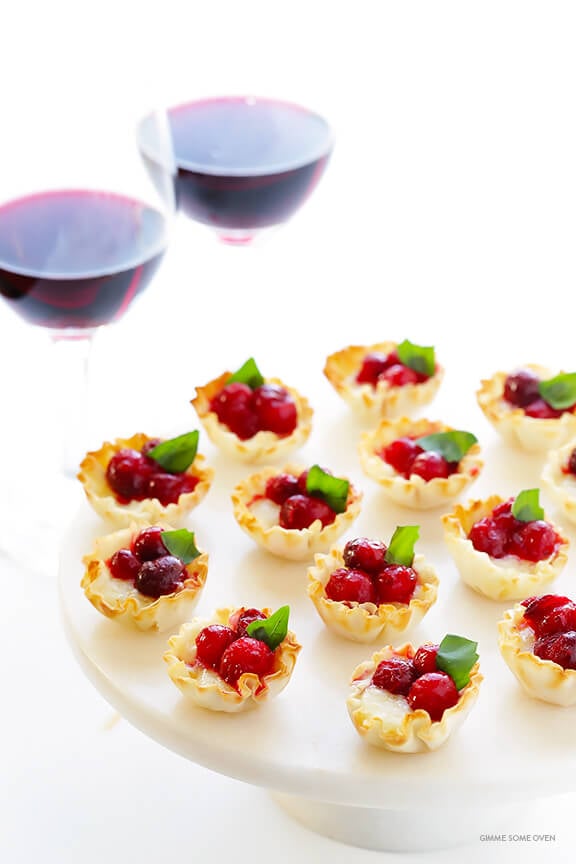 My other contribution of the night was nearly as simple — I made a batch of these (Super-Easy!) Cranberry Baked Brie Bites.
Aren't they cute?!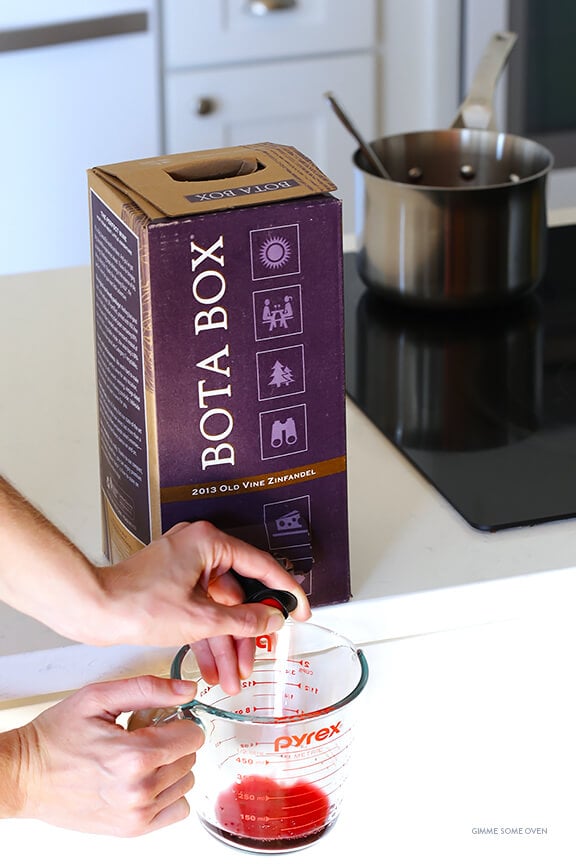 I even snuck a little Bota Box into them.  ;)
Basically, just whip up a half batch of cranberry sauce, which I made with red wine for an extra kick instead of water.  (Feel free to use leftover cranberry sauce, too, if you're making these after the holidays!)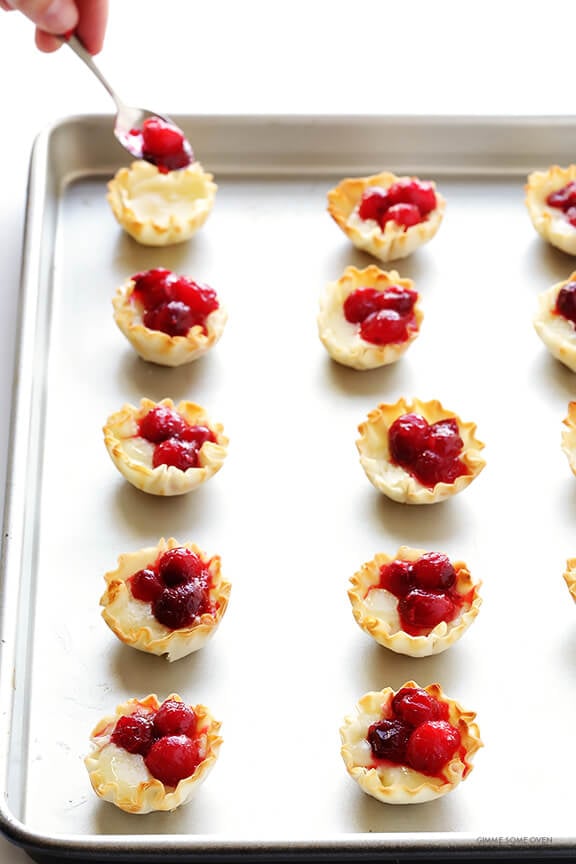 Then while the cranberry sauce is cooking, fill some mini phyllo cups (available in the freezer section of the grocery store near the pies) with small slices of brie.  Bake them for a few minutes until the brie melts.  Then fill them with a bit of the cranberry sauce…

…and if you want an extra hint of flavor and color, poke a little piece of fresh basil on top of them.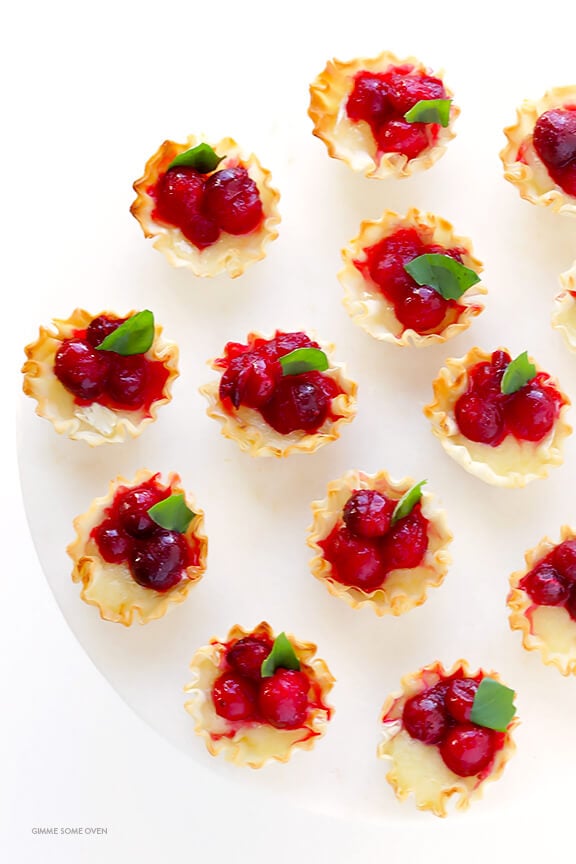 So festive and cute, right?!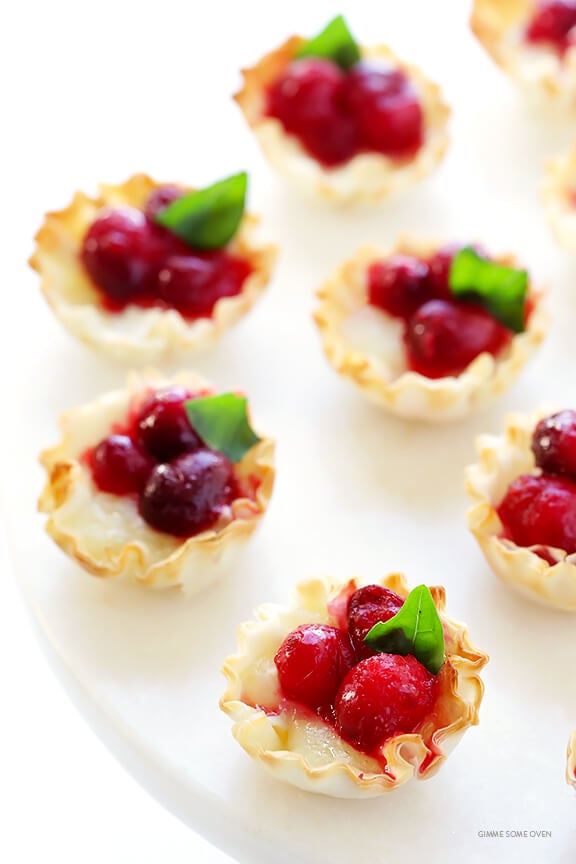 And oh my goodness, so delicious.  I made a double batch, and we ate every single one.
…and of course, Henry was waiting to snatch up the crumbs.
Such a fun and memorable and delicious night.  So cheers to stress-free entertaining, and great friends who love keeping it that way.  :)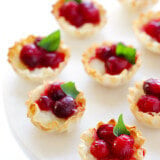 Super-Easy Cranberry Baked Brie Bites
These Super-Easy Cranberry Baked Brie Bites are simple to make, so delicious, and perfect for holiday parties!
Ingredients:
Cranberry Baked Brie Bites Ingredients:
1 (15-count) package frozen mini fillo shells
3 ounces brie, cut into 15 evenly-sized cubes
1 batch cranberry sauce (see below)
fresh basil leaves, torn into small pieces
Cranberry Sauce Ingredients:
1 1/2 cups (6 ounces) fresh cranberries
1/4 cup Bota Box red wine*
1/4 cup water
1 Tablespoon granulated sugar, or your desired type/amount of sweetener
Directions:
To Make The Cranberry Baked Brie Bites Ingredients:
Preheat oven to 400°F.
Spread out mini fillo shell evenly on a baking sheet.  Fill each with a piece of brie.  Bake for 5-7 minutes, or until the brie is completely melted.
Spoon a few teaspoons of the warm cranberry sauce into each fillo shell.  Top with a torn fresh basil leaf, if desired.
Serve immediately.
To Make The Cranberry Sauce:
Stir all ingredients together in a small saucepan.
Bring to a boil over medium-high heat, then reduce heat to medium-low.  Continue simmering, stirring occasionally, until the cranberries begin to pop**.
Remove from heat and let the mixture cool for 5 minutes to thicken slightly.
*If you would like to make these without alcohol, you can substitute in water or orange juice in place of the red wine.
**If you would like your cranberries to remain somewhat whole (instead of getting super-mushy), stir them gently and remove them from the heat once they start popping (instead of letting them simmer for too long).
All images and text ©
If you make this recipe, be sure to snap a photo and hashtag it #gimmesomeoven. I'd love to see what you cook!
This post has been sponsored by Bota Box.  I have partnered with them this year to share about some of my favorite recipes that I enjoy with their wines, and all Bota-loving opinions are 100% my own as always.  Thanks for continuing to support the brands that help make this site possible!