Sweet Potato & Zucchini Hash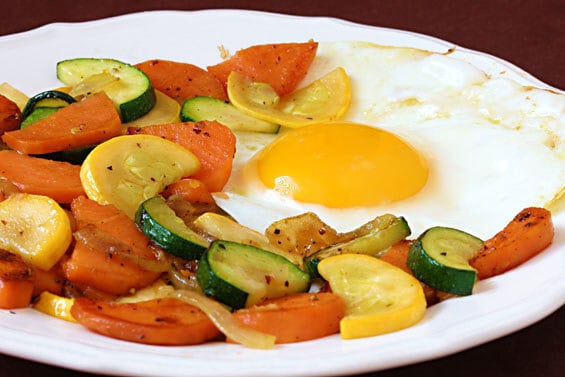 I recently saw a recipe for potato and zucchini hash and loved the idea!  (But wasn't all that crazy about cooking up two russett potatoes.)  So I tried mixing it up by adding some sweet potatoes (way healthier, plus I love the sweet/salty combo!), a little bit of onion, and zucchini and yellow squash (yay, color!)….and voila!  This is definitely one of my new favorite breakfasts!
The ingredient combo ended up being completely delicious!  And totally simple – the "hardest" part was just cutting up the veggies.  Which, I should point out that I somehow defaulted to habit and only halved instead of quartered the veggies — oops!  So my "hash" looked more like half-medallions.  :)  But of course, they tasted the same.  And even just being seasoned with salt, pepper, and cooked in some olive oil — this was completely yummy and flavorful!  All the better when paired with an egg, cooked however you'd like.
So cheers to getting your veggies for breakfast!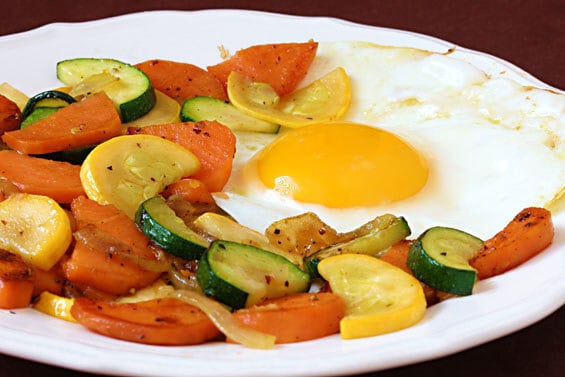 Sweet Potato & Zucchini Hash
A quick and delicious savory hash!
Ingredients:
2 large sweet potatoes, peeled, quartered lengthwise, and thinly sliced crosswise
2 Tbsp. extra-virgin olive oil
1/2 medium yellow onion, thinly sliced
Coarse salt and ground pepper
1 medium zucchini, quartered lengthwise and thinly sliced crosswise
4 eggs, cooked sunny-side-up (or however you'd like) **See tip below for "how-to"**
Directions:
Rinse potatoes well under cold running water, then drain and thoroughly pat dry. In a large nonstick skillet, heat oil over medium-high. Add onion and potatoes and season with salt and pepper. Cook, stirring frequently, until potatoes are almost cooked through and golden, about 15 minutes.

Add zucchini, reduce heat to medium, and cook, stirring, until zucchini is soft and potatoes are cooked through, 7 minutes. Season with salt and pepper; divide among four plates. To serve, top with eggs.

If you make this recipe, be sure to snap a photo and hashtag it #gimmesomeoven. I'd love to see what you cook!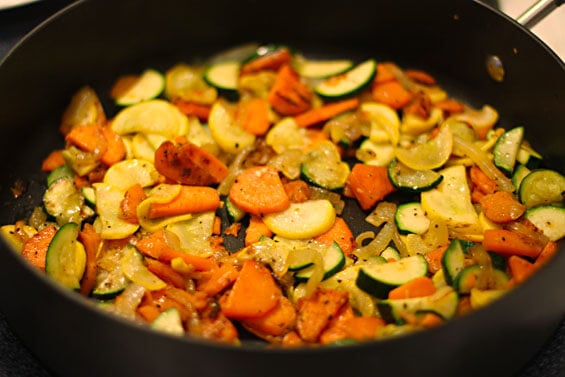 Ali's Tip:
To fry an egg sunny-side-up, melt 1 Tbsp. of butter in a skillet over medium-heat.  Once the oil is heated (if you add a drop of water in the oil, it will sizzle), crack open your egg and gently pour it into the pan.  Reduce heat to low.  Cook slowly until the whites are completely set and the yolks begin to thicken, but are not hard.