Tabbouleh
This classic homemade tabbouleh recipe is quick and easy to make, chocked full of fresh herbs, and tossed with a lemony vinaigrette that I think you're going to love!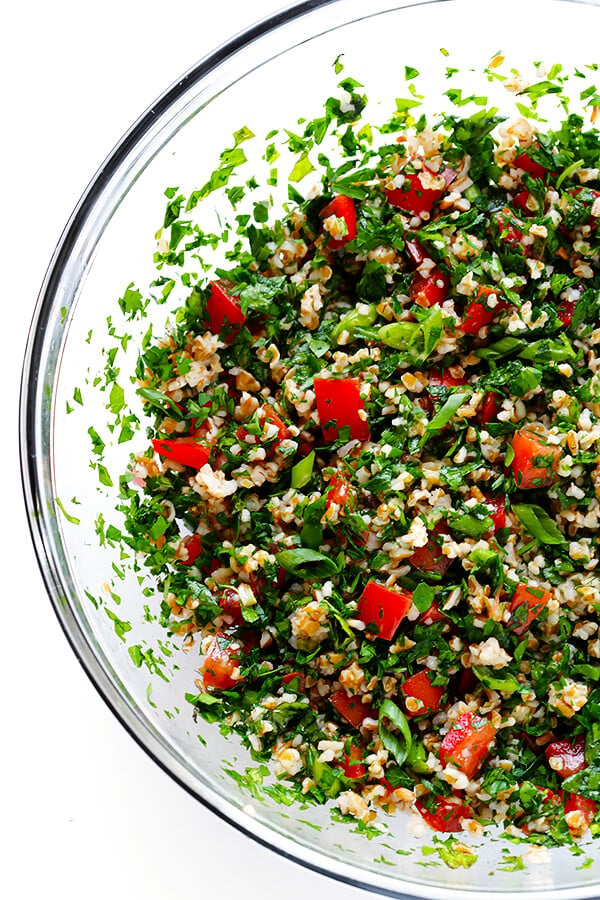 I'm still on such a high from this past weekend.  ♥
Or more accurately, I should probably say I'm still riding that easy, blissful, content, mel-"low"-ed outness from this past weekend.  Because apparently, four days tucked away at a vacation home on Lake of the Ozarks with eight of my closest girlfriends has a way of doing that.  It made this little heart of mine so happy.
Because my friend, Michelle, likes to say, the whole weekend was about "ultimate comfort".  Everyone slept in and stayed up however late we each wanted.  But then the rest of the time pretty much involved either floating out on the lake, reading books on the dock, taking naps whenever the heck we wanted, watching Wes Anderson movies, nerding out on the latest from this Enneagram class a few of us are taking, and doing what my friends do best — really catching up with each other and chatting about all things honest, hilarious, and heartfelt — all weekend long.
And of course, hours upon hours of that time were spent with all of us clustered together in the kitchen, cooking up long and leisurely meals with the multiple coolers of groceries that we brought along for the weekend "in".  We kept the meals about as simple as possible — avocado toasts and eggs for breakfasts, cheese and nuts and bread with dipping sauce for lunch, pizza and nacho nights for dinners, and an impressively stocked bar full of our favorite beers and wines and cocktails along the way.  Plus, ahem, we all brought along our fair share of junk food favorites.  Because, vacation.  (Here's lookin' at you, Pirate's Booty!)
But with the temps hovering in the triple-digits, I kept finding myself reaching for many of the fresh fruits and veggies we kept bringing out to snack on all during the day, as well as the salads that we whipped up to accompany most meals.  It reminded me why people call that stuff next to the veggies "cool" ranch dip — so refreshing!  My favorite part of the spread, though, actually ended up being a store-bought tub of tabbouleh, that I've now been craving non-stop ever since returning home.
I actually have a tried and true tabbouleh recipe here on the blog that I posted ages ago.  So once I arrived home and immediately chopped up a new batch, I snapped a few new photos and thought I'd share it with you again.
Because more tabbouleh in life is always a good thing.  ;)
I'm guessing you're all familiar with this Middle Eastern dish, spelled either tabbouleh or tabouli.  But just in case it's new to you, this simple salad is basically an herb-lover's dream come true.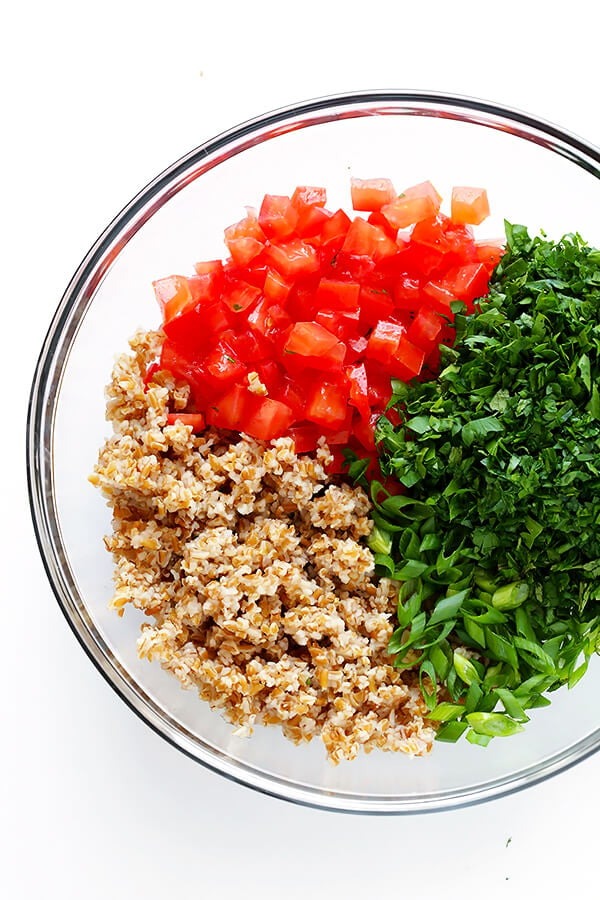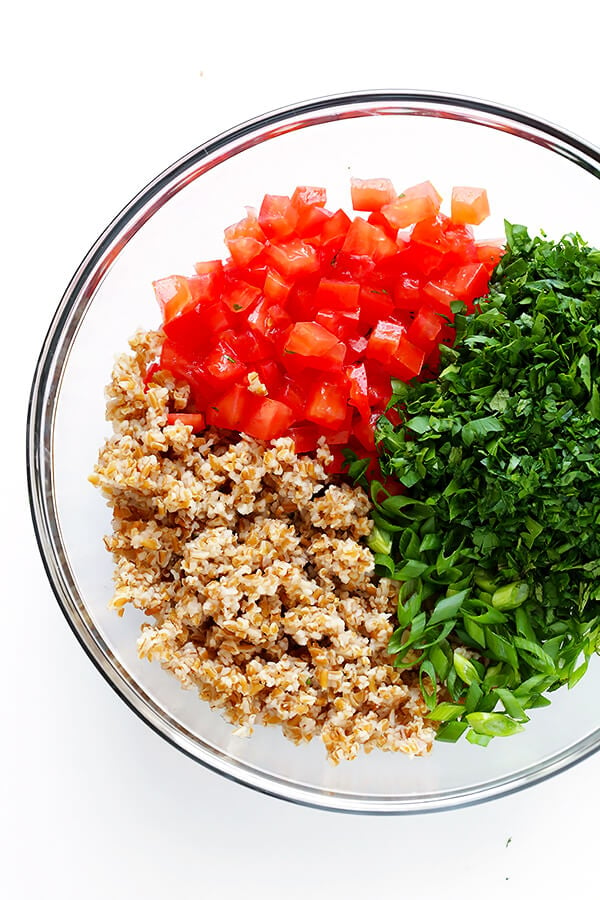 It's traditionally made with a bulgur base (although I've made it before with quinoa, farro, rice, you name it).  Then onions (I prefer green) and fresh tomatoes (so good this time of year!) and a tangy lemon vinaigrette add to its flavor.  But get your knife and chopping block ready, because the key to making really good tabbouleh is literally chocking it full of fresh parsley and mint.  So much fresh parsley and mint!!!  (Really, the more the merrier if you ask me.)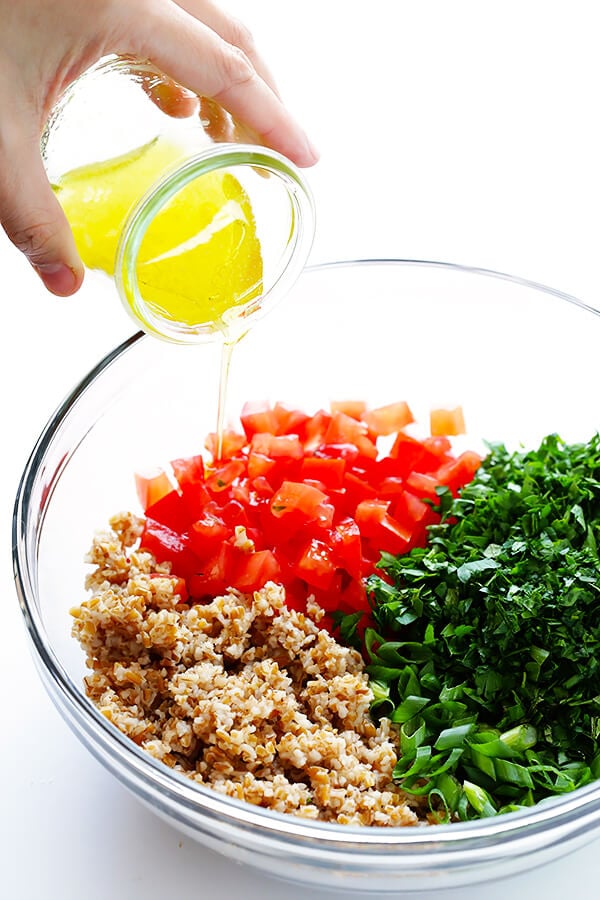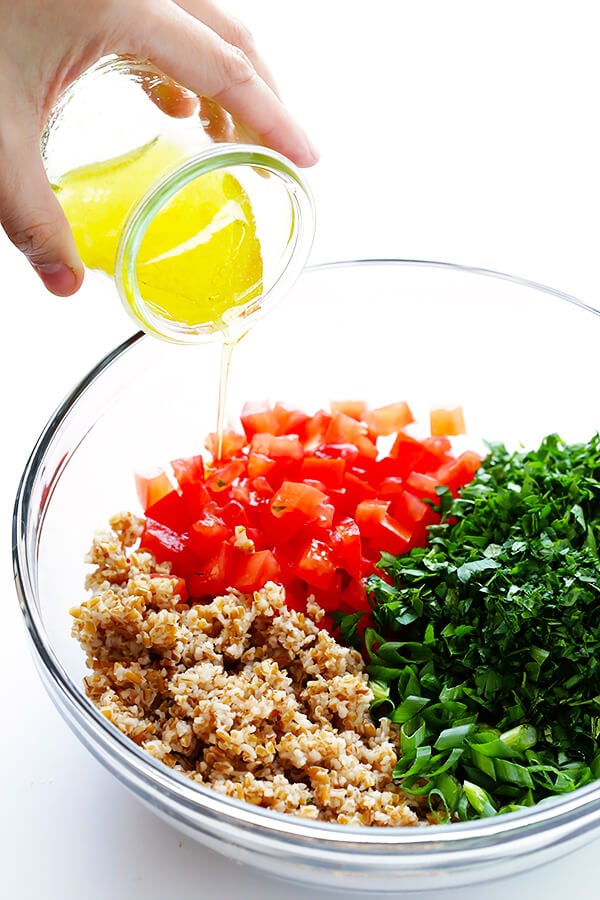 Once you toss everything together…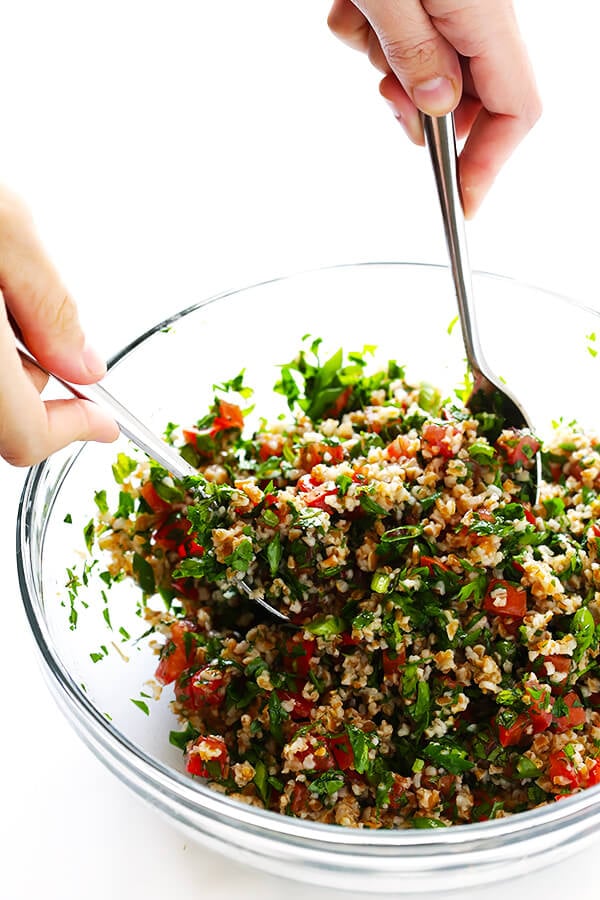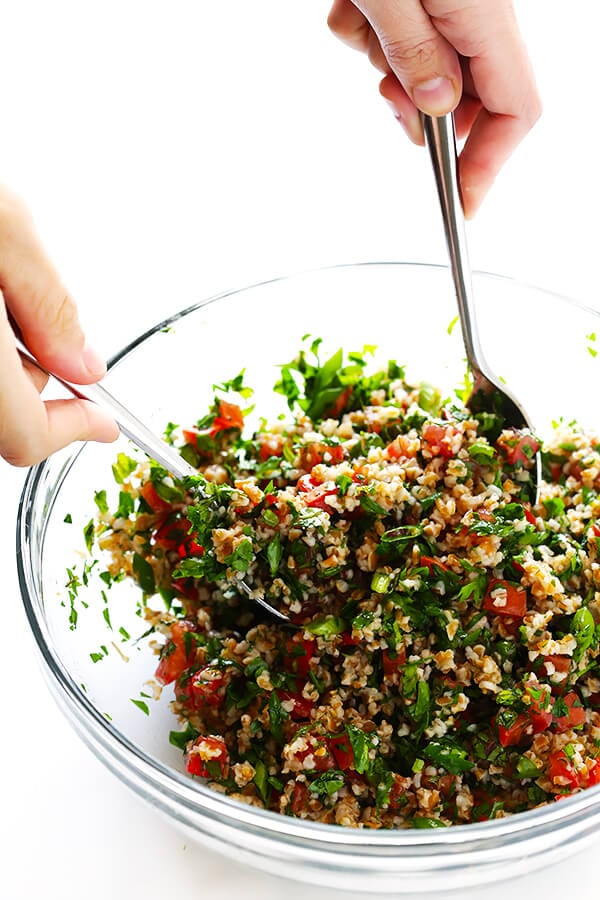 …the result is an ultra-fresh, colorful, light yet hearty, savory and citrus, oh-so-flavorful salad that I absolutely love.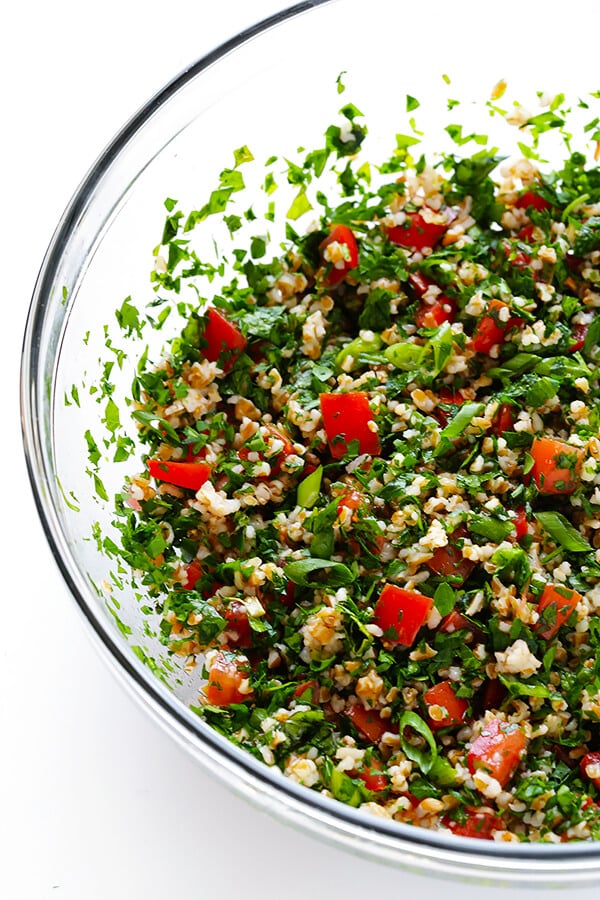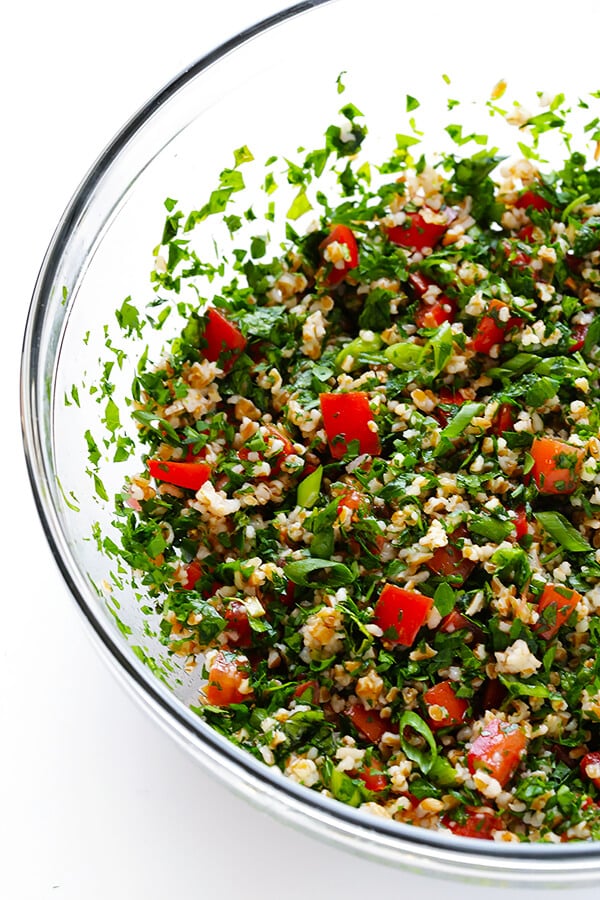 It's traditionally served as a side salad, but I can eat this salad happily as a meal in and of itself.  It's so simple, so satisfying, and so freaking scrumptious.  Perfect for enjoying on your own, but even better when shared with good friends.  And I must say, I love that every time I open up this post now, I'll be reminded of mine.  ;)
So cheers to great memories made with those you love, and I wish us all many more to come!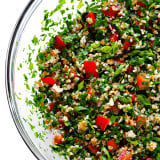 Tabbouleh
You will fall in love with this fresh, light and delicious Tabbouleh recipe! Try it today!
Ingredients:
1/2 cup uncooked bulgur
2 cups of chicken or vegetable stock
2-3 cups of chopped Italian flat-leaf parsley, loosely packed
1/2 cup of chopped mint
1/4 cup of chopped scallions
2-3 roma tomatoes, cored and chopped
2 tablespoons olive oil
2 tablespoons lemon juice
1/2 tsp salt
Directions:
In a large bowl, pour 2 cups of boiling water (or chicken stock) over the bulgur. Let it sit for 30-60 minutes until softened, and then strain the bulgur through a fine-mesh strainer.

Then combine the prepared bulgur, parsley, mint, scallions, and tomatoes in a large bowl. Add oil and lemon juice, and stir until well mixed. Add salt to taste.

Serve immediately or refrigerate for up to one day.

All images and text ©

If you make this recipe, be sure to snap a photo and hashtag it #gimmesomeoven. I'd love to see what you cook!