The Best Vegan Enchiladas
This vegan enchiladas recipe is easy to make, and made with fresh and delicious everyday ingredients that vegans and non-vegans alike will love.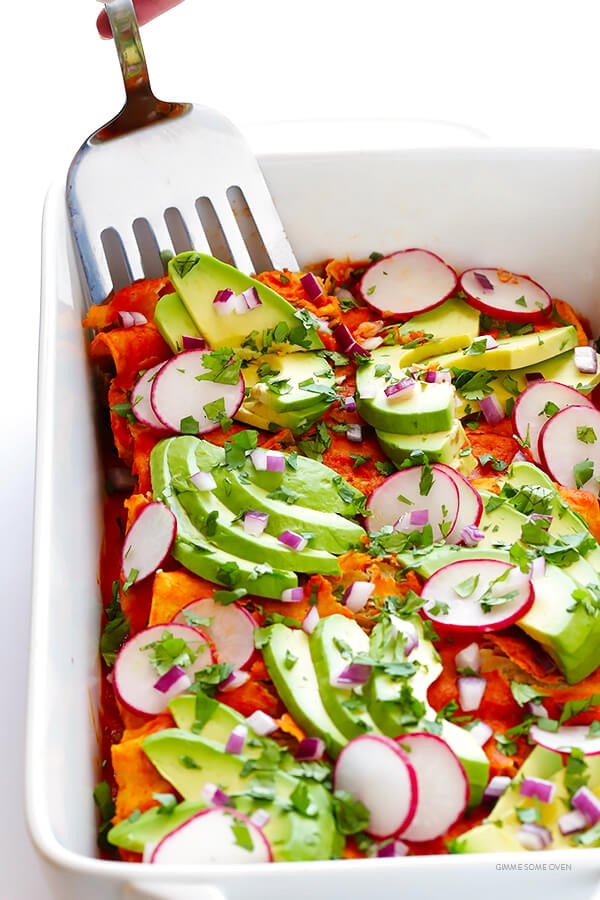 My coffee table is currently filled to the brim with cookbooks that have been released by some dear friends this spring, which makes me so happy and so dang proud every time I look at them!  Seriously.  I don't know how I got so lucky, but somehow I've crossed paths with some of the coolest people in life.
And two of those crazy kids are friends who used to live in KC, who are now food-blogging up a storm in their new home in Portland, and who are also today celebrating the big release of their first-ever, hold-it-in-your-hands-hard-copy, thumb-through-the-pages-and-dogear-them-galore, cook-up-your-favorites-and-let-the-sauce-splatter-the-pages, rest-easy-in-the-fact-that-everything's -plant-based-and-mostly-gluten-free, Minimalist Baker's Everyday Cooking!
Here's lookin' at you, Dana and John!
And raising a glass (maybe of your sparkling peach berry white sangria) to your beautiful new cookbook!
Actually, since Cinco de Mayo is just around the corner, how about we raise a fork instead filled with a heaping bite of Dana's favorite vegan enchiladas that I just had to try?!  Yeah, I thought you all would be on board with that too.  ♥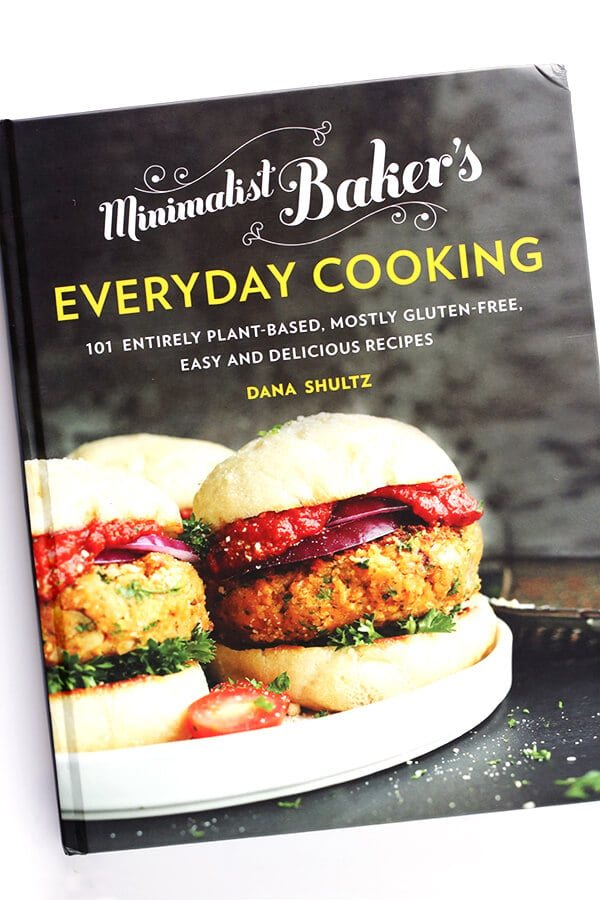 Those of you who follow John and Dana's food blog, Minimalist Baker, are probably well-aware that this cookbook has been in the works for well over a year.  (Since all of us readers have been salivating over the teaser pics she shared as she was shooting the book for well over a year!!)
But what some people might not know is that the original plan for these two was to 100% write, design, and self-publish the book themselves (which is soooooo much work).  And they basically did just that!  Except that once they began taking orders for the book, they ran into some hurdles trying to distribute the book to their raving fans worldwide.  So after doing all of the hard part of the writing/designing process themselves, they finally decided to sign a deal with a publisher to help with distribution and all of those fun details, which was really cool to see happen that way, since most cookbook authors I know do things in reverse.
Anyway, the result is a beautiful book that is definitely 100% their style through and through.  From Dana's signature simple vegan (and mostly plant-based) recipes, to the colorful photography her readers all know and love, to their quippy notes and tips, this book is definitely one I'd recommend to anyone looking to incorporate more plant-based recipes into everyday meal planning.
And her enchilada recipe is definitely one of them!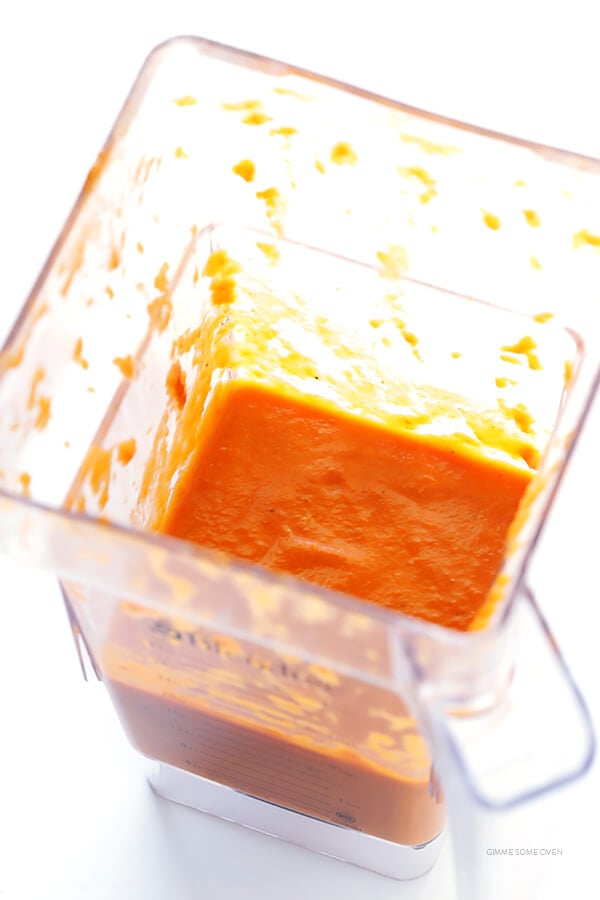 I'll admit, I'm usually loyal to my favorite traditional red enchilada sauce.   But I'm always up for anything with chipotles in adobo, so I was curious to blend up Dana's enchilada sauce to give it a try.  The result was a seriously vibrant (like, this sauce was bright red-orange!) and a seriously delicious smoky tomato sauce.  Muy delicioso!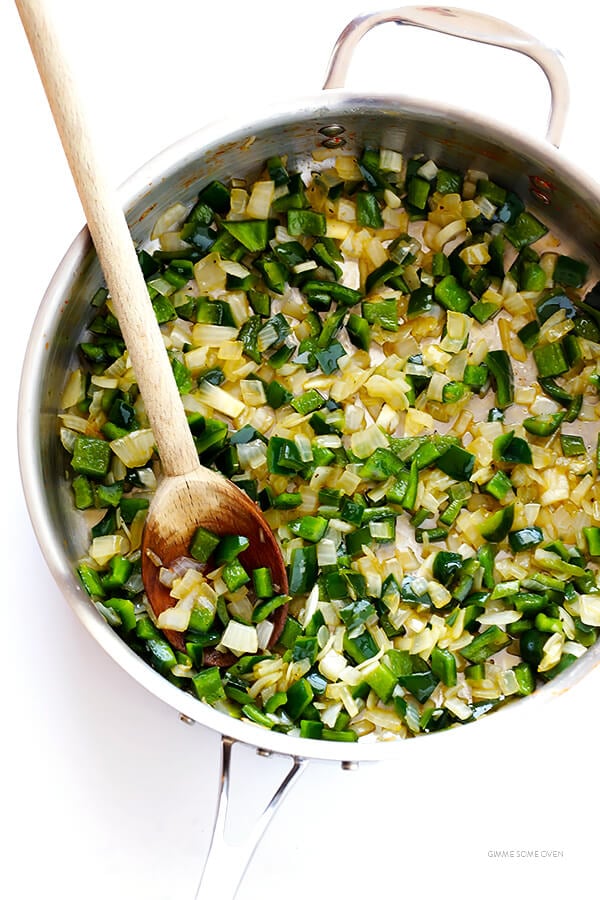 Then once it was mixed with this easy poblano, onion and garlic filling mixture, layered into soft corn tortillas with refried beans, baked up to crispy perfection…
…and then topped with even more vibrant toppings?!
I mean, wowza, these almost looked too gorgeous to eat.  But that's never stopped me.  ;)
My friend, Rachel, and I dove into these guys after work one day, and enjoyed every colorful bite.  As she said, the toppings are definitely a "must" for these enchiladas, which definitely add some good varieties of flavor and texture to the minimalist filling.  (And if you weren't making these vegan, I — I mean, you — could also add in a little extra cheese if you'd like.)  But these are definitely a wonderfully flavorful, hearty, and awesome vegan meal all on their own.  Oh, and they also happen to be naturally gluten-free — bonus!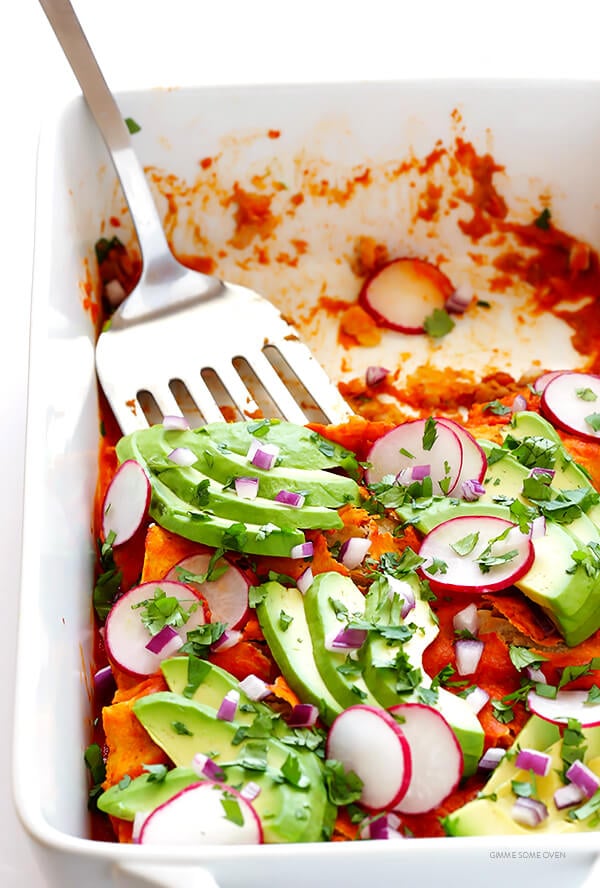 So if you're looking for some more plant-based recipes that are sure to inspire you, be sure to check out Minimalist Baker's Everyday Cooking.  It's hot off the press today, and I'm sure, certain to be a big hit.
So well done, Dana and John!  Also, you two need to get back to KC stat for a visit so that we can go out for a "blobber" brunch (<– as John so fondly called our old meet-ups) so that we celebrate for realz.  ;)
The Best Vegan Enchiladas
Ingredients:
Enchilada Sauce Ingredients:
1 tablespoon (15 ml) grapeseed oil (or olive oil, or vegetable oil)
1/2 large white onion (75 g), diced
3 cloves garlic (1 1/2 tablespoons), minced
1 (15-ounce) can tomato sauce
1 chipotle pepper in adobo (canned), chopped, plus 1 teaspoon adobo sauce
1/2 cup (120 ml) water or vegetable broth
1 tablespoons maple syrup, plus more to taste if needed
sea salt and black pepper, to taste
Enchilada Filling Ingredients:
1 tablespoon (15 ml) grapeseed oil (or olive oil, or vegetable oil)
1/2 large white onion (75 g), diced
1 poblano pepper (17 g), seeds removed, diced
sea sat and black pepper, to taste
1 (15-ounce) can vegetarian refried beans or pinto beans, well-drained
8 white or yellow corn tortillas
optional toppings: lime juice, diced red onion, sliced avocado, chopped fresh cilantro
Directions:
To Make The Enchilada Sauce:
Heat a large skillet over medium heat.  Once hot, add the oil, onion, and garlic.  Cook, stirring frequently, until soft and translucent, 4-5 minutes.
Add the tomato sauce, chipotle pepper, adobo sauce, maple syrup, and water.  Reduce the heat to low and simmer for 5 minutes, covered (to prevent splattering).
Transfer the sauce to the bowl of a blender (optional) and blend well.  Taste and adjust the seasonings as needed, adding more adobo sauce for heat, salt for savoriness, and/or maple syrup for sweetness if needed.  Set aside.
To Make The Enchilada Filling:
Rinse the skillet slightly and place over medium heat to prepare the filling.  Also preheat the oven to 350°F (176°C).
Once the skillet is hot, add the oil, onion and poblano pepper.  Season with a pinch each of salt and pepper.  Cook until the onion is translucent and the pepper has a bit of color, about 3-4 minutes.
Add the refried beans and stir/mash to combine.  Add 1/3 cup (~90 ml) of the enchilada sauce for extra flavor.  Taste and adjust the seasonings as needed.  Remove from the heat and set aside.
Wrap the tortillas in a damp paper or cloth towel and microwave to warm for 30 seconds.  (Alternatively, place the tortillas directly on the oven rack for 1 minute to heat through.)
Pour a bit of sauce into the bottom of a 9 x 13-inch (3-quart) baking dish.  Spread to coat.  Take one corn tortilla and lay it down in the dish.  Fill with a modest amount of filling (keeping in mind there needs to be enough for 8-10 tortillas), then roll up the tortilla.  Place the seam-side down at one end of the dish.  Continue until all of the tortillas are filled and wrapped, adding more sauce as needed.
Pour the remaining sauce over the top of the enchiladas in a stripe down the middle.  Brush/spray the edges with oil for crisp edges (optional).
Bake at 350°F (176°C) for 15-20 minutes, or until warmed through.  Top with desired toppings and serve.
Dana highly recommends lime juice, red onion, avocado and cilantro, but these enchiladas are delicious on their own.  Leftovers keep, covered, in the refrigerator for up to 3 days, though best when fresh.  Reheat in a 350°F (176°C) oven for 15-20 minutes, or until warmed through.
Recipe minimally adapted with permission from Everyday Cooking by Dana Shultz.
All images and text ©
If you make this recipe, be sure to snap a photo and hashtag it #gimmesomeoven. I'd love to see what you cook!