the coffee maker gift set giveaway
This post may contain affiliate links. Please read my disclosure policy.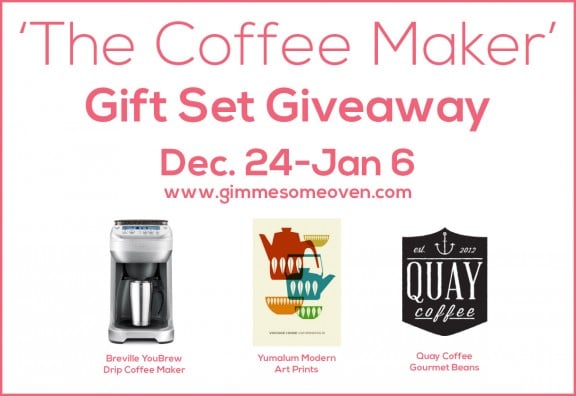 On this Merry Christmas Eve, we are kicking off the 4th of our Gimme Some Oven December gift set giveaways — The Coffee Maker! Our previous giveaways have been devoted to The Cook, The Baker, and The Griller (which is still open for entries). But today we are celebrating all of you coffee lovers out there with an amazing gift set to make your cup of joe all the merrier.
From a stunningly high-tech coffee brewer, to some terrific coffee-themed art prints, to my favorite locally-roasted coffee beans from my absoute favorite coffee shop, this gift set seriously makes me smile. And crave a cup of coffee. Right about…now.
So for all of you who love your coffee, especially when made and enjoyed at home, this giveaway is for you! Three lucky winners will bring home some coffee goodness, so be sure to enter soon. Don't forget to check back next week for our final giveaway of the month, and then also visit the other four Gimme Some blogs (Film, Life, Reads, Style) for the many other giveaways happening right now. So much giveaway fun!
How To Enter "The Coffee Maker" Gift Set Giveaway:
a Rafflecopter giveaway

(Follow the Rafflecopter instructions to enter.)
Items Included In "The Coffee Maker" Gift Set Giveaway: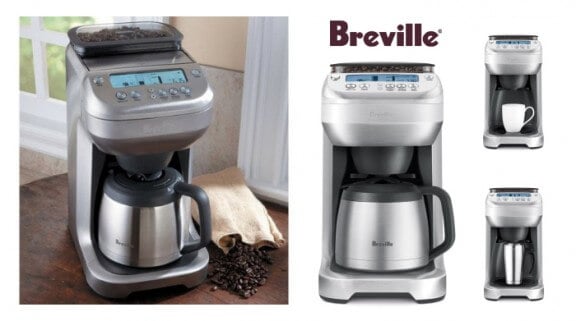 1 Breville YouBrew Drip Coffee Maker ($279.99 value)
All of you coffee lovers get ready, because we are giving away a ridiculously cool coffee maker to one lucky winner — a YouBrew Drip Coffee Maker from Breville! As you can see from the photos above, this is not your typical coffee maker. Here are a few reasons why:
You can choose how much to brew: The unique BrewIQ® System ensures the right amount of coffee is dosed with the right amount of water while heating the water to the optimum temperature; then gives you the flexibility to brew directly into your favorite cup, travel mug or the included thermal carafe for weekend entertaining.
You can customize your brew strength: There are 7 settings that increase the amount of ground coffee, as well as your flavor profile with 5 settings that vary the steeping time of the coffee and water.
It includes a state-of-the-art grinder: The integrated burr grinder then grinds your choice of beans to the optimal size just prior to brewing for maximum freshness, flavor and aroma.
Basically, this coffee maker is brilliant! So if you are looking for a new way to brew in the new year, I highly recommend checking it out, along with all of the other amazing Breville products out there. You can learn more about Breville on their website, Facebook, Twitter, and YouTube.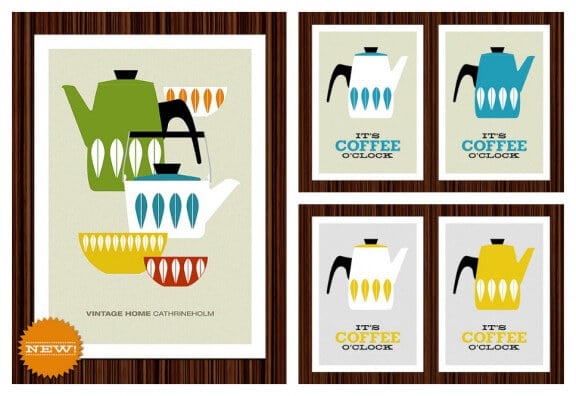 2 Yumalum Modern Art Prints ($58 value)
I am really excited to be featuring another great Etsy shop for this week's giveaway – Yumalum! In addition to all sorts of other amazing modern art prints in their shop (including this awesome 2013 calendar), they have great prints for all of you coffee and tea lovers out there. So I'm stoked that we are giving away two of my favorites to one lucky winner — The Catherineholm Vintage Home (pictured above on the left) and It's Coffee O'Clock. I completely love the simple modern design on these. And you will even get to choose your own colors (offered on Etsy)! Such a great addition to your decor for anyone who loves to enjoy a warm cup of coffee.
Yumalum also has tons of other great prints for any room in your house, so be sure to check out their great Etsy shop. Then also follow Yumalum on their blog, Twitter, Pinterest and Instagram.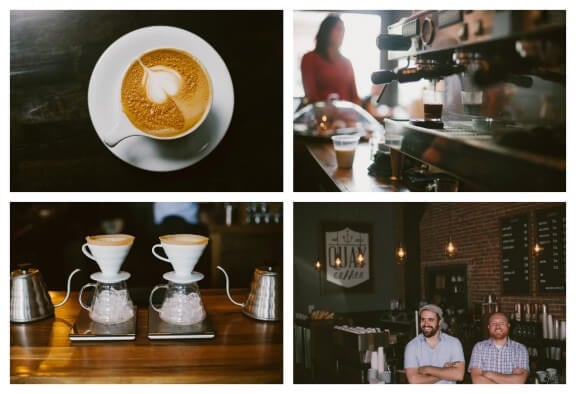 1 Coffee Bean Gift Set from Quay Coffee ($30 value)
Any of my Instagram followers know that my second home is our neighborhood coffee shop, Quay Coffee. It is serene and beautiful, it is where some of the best people I know love to hang out, and they make a mean cup of coffee.
Before I was introduced to Quay and their delicious pour-over coffee, I was always "that coffee drinker" who added lots of cream, sugar and all sorts of random other things to my coffee. But I have heard many people also say that at Quay, you go straight black, because they coffee is that good.  I love it iced, I love it hot, I just flat-out love it.
So since we were doing a giveaway devoted to coffee lovers, the very first thing that came to mind was giving one of you lucky readers a chance to brew some Quay of your own! Whether you live in Kansas City or beyond, Quay is sponsoring two 12-ounce bags of their finest whole beans — an Ecuador Blend (Lucas Vera Vilcambaba – juicy, sweet, citrus up front with caramel tones in the finish) and a Guatemala Blend (Atitlan – apple crisp citrus that stays tangy as it finishes). Believe me, your coffee drinking experience will never be quite the same.
If you're ever in KC, be sure to stop by Quay in person (and tweet me, and I'll stop by and say hi!). But otherwise, be sure to also say hi on their website, Facebook, Twitter or Instagram.
Be sure to also enter these other Gimme Some giveaways this week:
In Case You Missed It:
To enter the giveaway, follow the instructions in the Rafflcopter widget above just below the pagebreak.
Disclaimer: All giveaways have been provided by the brands listed. I was in no way compensated to host these giveaways, and all opinions are my own as always.