'tis the season!
This post may contain affiliate links. Please read my disclosure policy.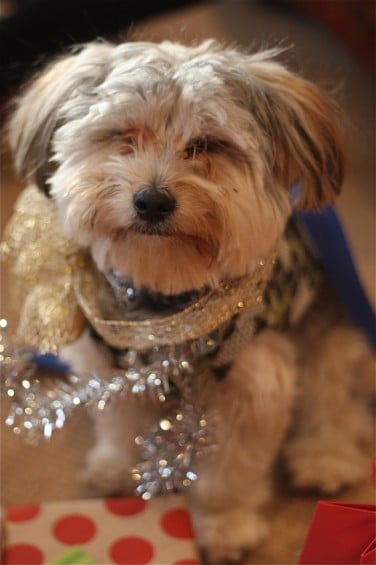 ….for what?
Overcrowded shopping malls? Endless holiday parties? Wayyyy too many sugary treats calling your name? Presents…upon presents…upon presents…to buy? Adorning your puppy with bows and ribbons that have even him wanting to bark, "Bah Humbug???"
Or could this holiday season be different?
I happen to have a huge passion around living out a meaningful holiday season (full of "good cheer" – horrah!). So when I was approached by Folgers and Blogher to share with you a little about my favorite ways to spend the holidays, and to hear back about all of your great traditions and memories — I jumped on the opportunity. So tune in below to catch a glimpse into my little world and what I've learned, and definitely check out the opportunity below to share your stories too. Can't wait!
~~~~~~~~~~~~~~~~~~~~~~
Here are a few of my thoughts and highlights on how I love to spend the holidays…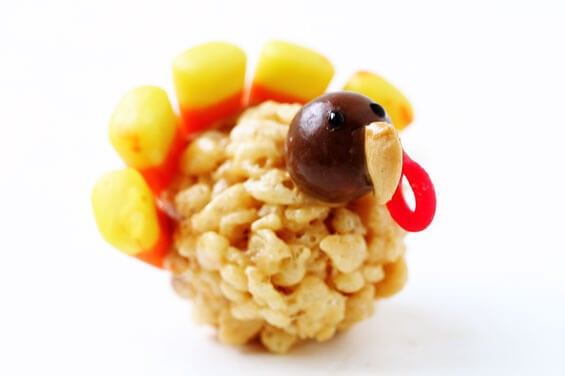 Thanksgiving – I can't think of a better way to officially begin the holiday season than a holiday focused on gratitude. Seriously — how great is it that our nation has an entire holiday (with usually at least one or two vacation days!) set aside to celebrate what we've been given, with the people we love? Pretty sweet. :)
I've been lucky enough to grow up in a family that still spends every Thanksgiving together. We all return home to Wichita, and spend the day together with all three generations catching up, laughing, watching football, and of course…making and enjoying an extraordinary meal together. I happen to have a family full of stellar cooks, so there is always delicious food in abundance — from the traditional, to the creative, to mac-and-cheese (still one of my younger cousin's favorite). The pace of the day is wonderfully slow so that we can savor each moment. I love it.
Then on Thanksgiving night, there is the favorite tradition in Kansas City of the lighting of the Plaza lights. I'm usually in Wichita for the occasion, but always can't wait to make it home to see this historic area (near my house!) arrayed with the most beautiful lights. Always gives a magical feel to the season! :)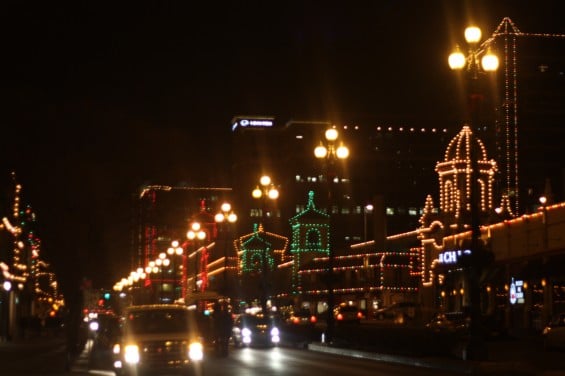 Advent – Over the past few years, my church has been a part of an event that is now amazingly sweeping the world, known as the "Advent Conspiracy". (Check out the short video that started it all here, or another video that my friend Jason made for it here.)  Love, love, love, LOVE it.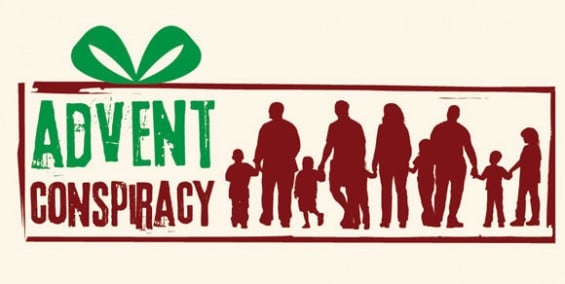 In short, it has been this movement rising up to let the Christmas season be world-changing again. So instead of all of the normal stress, busy-ness, consumerism (and often debt!) that the holiday industries may promote, my friends and I are making the effort to let our Advent seasons be defined by four things:
worship fully
spend less
give more
love all
I'll be writing more about this in the coming months, but words can hardly express how meaningful it has been to walk through this as a community. It has been more of a learning experience than we probably imagined — especially being more intentional with how we spend time, rethinking how to spend less, and how to make/give meaningful gifts to our friends and family (and the world beyond). And I've especially enjoyed digging in deeper to the Advent story, and the ways the Lord meets us in times of waiting, hope, and expectancy. Good stuff.
But as challenging as it has been at times trying to live out this story, it has also been ridiculously fun. For those of you don't know, one of my other favorite hobbies besides cooking is crafting. :)  So I'm stoked to be leading one of the gift-making workshops at church this year (something we do in advance during November to try and free up time for relaxing in December!) on repurposing Altoid tins into cool homemade magnet or lipstick holders. Fun! We also have an annual Christmas party at my house where, instead of having everyone bring tons of dishes, I provide the food and everyone brings children's books that we give to an amazing local non-prof. Always one of the best nights of my year.
But without a doubt, one of the best things about Advent Conspiracy has been watching the story unfold these last few years of the wells our church has been a part of building in western Kenya. Bringing clean water to underresourced countries was one of the initial focuses of the AC movement, and it's extraordinary what work has already been done in a few years. We have a long way to go, but seeing footage and hearing stories about fresh water gushing forth from those wells for the first time gives hope upon hope. We can be the generation to change this.
Anyway, clearly I could clearly go on and on about Advent. But it has honestly become one of the most memorable and meaningful seasons of the year for me now. Can't wait for it to begin. :)
Christmas – And then of course — what everything is leading up to — the event that changed the world (and my world) forever. Heaven breaking into earth. Emmanuel. God with us.
This is reason to celebrate. 
As a worship leader in a church, I get to do plenty of that. :)  Since we have a few zillion Christmas services (really — I think there are now at least 15), my first services actually begin on Christmas Eve Eve. And from gospel, to rock, to traditional carols, to singing "Silent Night" with thousands of candles being lit across the sanctuary, this celebration of Christ's birth is always especially meaningful. I look forward to it all year.
Then I usually make a late night drive back home to Wichita to spend Christmas Eve with my family. (Somehow I've been lucky the last few years and had Christmas Eve night actually off!)  We usually have a wonderful dinner with extended family, followed by time with gifts and coffee. And then everyone heads to the midnight Christmas Eve service at my parents' church. More candles. More carols. More reflections on the mystery and miracle of Christmas. And more old friends to hug and stories to tell.
Finally, with our stockings hung by the chimney (or…our bookcase!) with care, we all settle down for our long winters' naps. And then wake up to a few gifts and stockings from "Santa", who still mysteriously comes to visit my sister, brother-in-law, my puppy and I. This is followed by a relaxing brunch and fun afternoon with the family, usually highlighted by another football game, some yummy treats, and puzzles. Ever since we were little kids, we always do a puzzle on Christmas. :)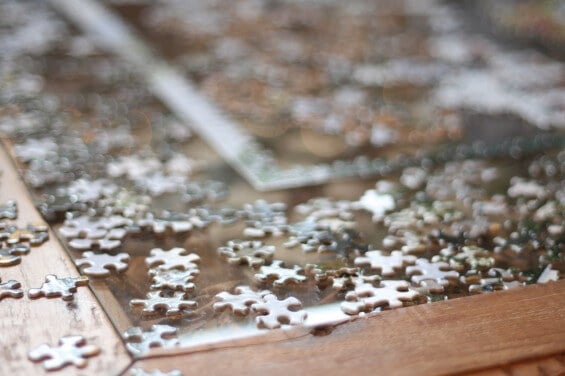 Then after a few days, I pack up my car and make the snowy drive back to Kansas City, to begin a new year hopefully changed for the better after another holiday season.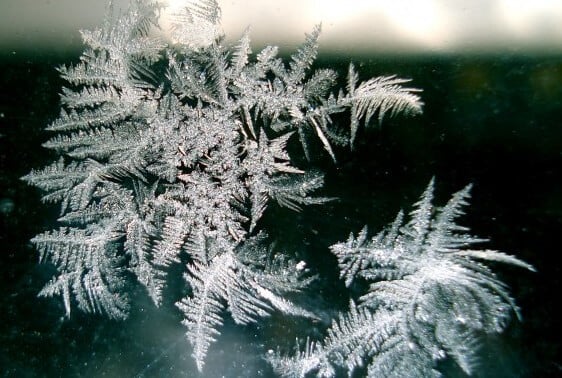 ~~~~~~~~~~~~~~~~~~~~~~~~~
So what are your favorite parts of the holiday season? Would especially love to hear your thoughts on what you have done in the past (or what you hope to do this year!) to make the holidays full of meaning and "good cheer". :)  Comment away!
Or if you'd like to go a step further, would encourage all of you to enter into Folger's "Best Part Of Wakin' Up At Home For The Holidays" essay contest. This great contest — which is open for entries until November 30 — invites everyone to share about "What's the best part of wakin' up at home for the holidays with Folgers Coffee?" 5 lucky winners will then win a trip home to see their family this Christmas! Details are here. Also be sure to check out the 9 other BlogHer bloggers who are joining me in sharing their stories here.
Thanks for reading along! Look forward to sharing another holiday season (and bunch of yummy new recipes!) together here at Gimme Some Oven.