Tortellini Minestrone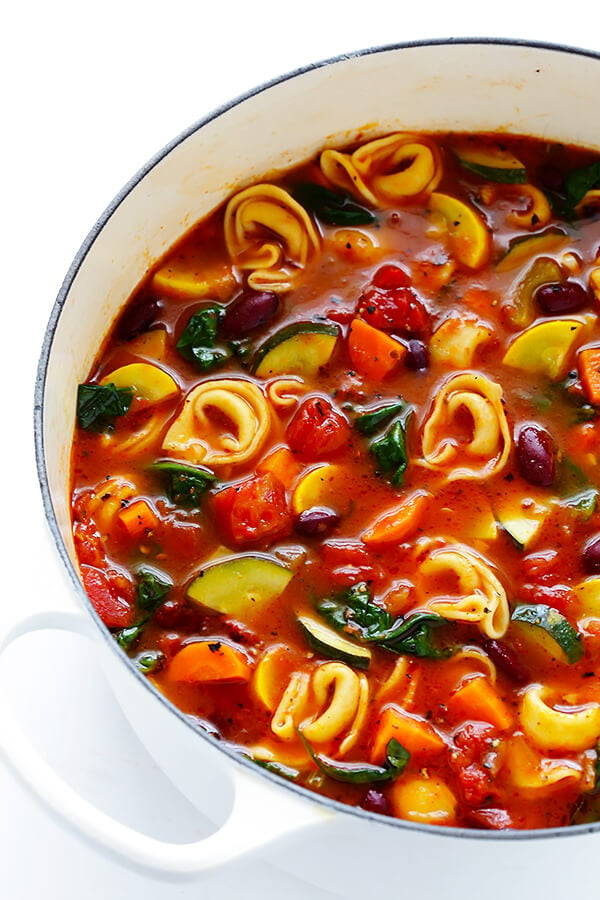 Every year I look forward to this moment when two of my favorite seasons — the end of summer vegetable season + the beginning of autumn soup season — deliciously collide.  That means it's time for all of my favorite veggie soups!
And of course, minestrone is a must.  ♥
This soup has been one of my comfort foods ever since I was a young pup.  It was always served as an appetizer at the neighborhood Italian restaurant my family used to frequent.  And even back in my ultra-picky-eating days when I was that girl who ordered a piping hot bowl of plain spaghetti (<– like, until high school), I strangely used to love the little bowl of vegetable minstrone that everyone was served as an appetizer.  Sure, I occasionally picked out a green bean or two.  But my mom was always amazed when the rest of that bowl — chock full of veggies, in a seasoned Italian broth — would disappear in a few minutes.  Maybe it all just felt like eating soup, less than eating my veggies.  But whatever the reason, mom loved it, and I sure loved it.  And still do!
So this past weekend as I was surveying the fridge that was overflowing with tons of fresh veggies from my summer CSA, and as a cooler breeze was blowing in through the windows for the Labor Day weekend ahead, I knew in an instant what I wanted to make.  Although instead of adding in a handful of regular pasta to the soup, I decided to toss in a bag of cheesy tortellini and see how that tasted.  And I'm so glad I did.
This tortellini minestrone absolutely hit the spot.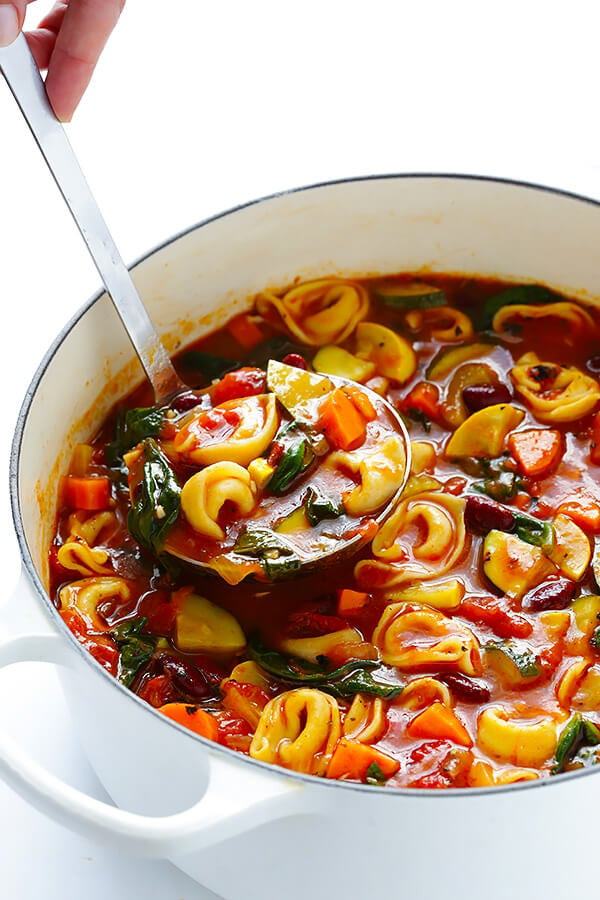 If you've never made homemade minestrone before, it's really quite simple.
Just saute some basic onions, carrots, celery and garlic together until soft.  Then add in a bunch of tomatoes (I love fire-roasted) and tomato paste and stock to make a basic tomato broth.  And then add in whatever other fresh veggies and beans sound good to you!  I happened to have a ridiculous amount of summer squash in the fridge, so I went with that, along with a can of kidney beans (the classic choice I associate with minestrone!).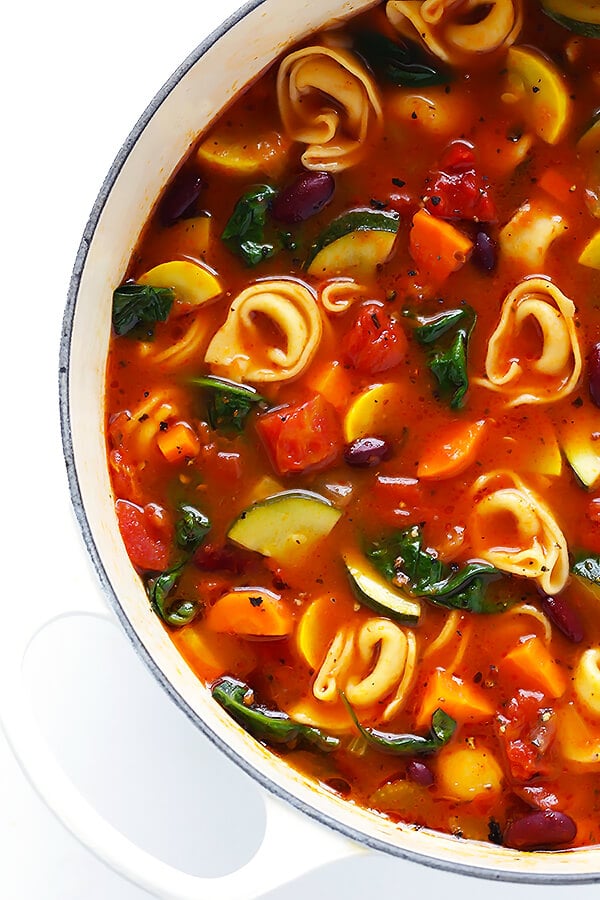 Then, in lieu of tossing in some macaroni at the end of the recipe, I decided to add in a few handfuls of spinach and a fresh bag of cheesy tortellini that I had in the fridge.  You can use any kind of tortellini you'd like here, but I would wholeheartedly recommend going that route so that you get that nice, warm, soft, cheesy goodness added to your soup.  (Did I mention this is comfort food?!)  ;)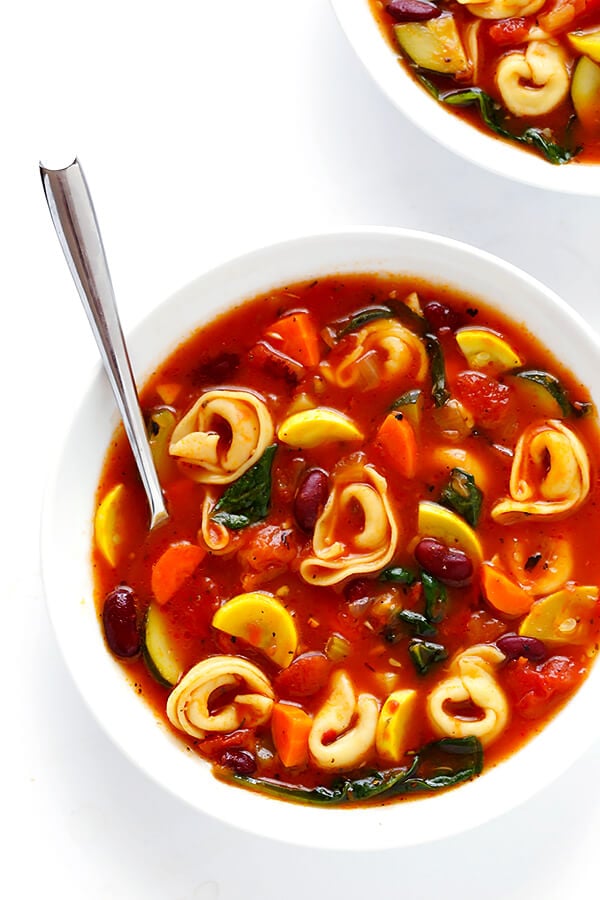 Then just serve it up, and sprinkle on some Parmesan or something as a garnish if you'd like (<– I happened to be out that day!).  And this delicious, hearty, warm, comforting bowl of soup will be yours to enjoy.
I love this season!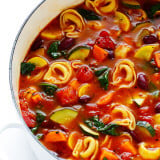 Tortellini Minestrone
This Tortellini Minestrone recipe is overflowing with delicious veggies, and made extra-delicious with the addition of some cheesy tortellini.
Ingredients:
2 tablespoons olive oil
1 medium white onion, peeled and diced
3 cloves of garlic, peeled and minced
2 carrots, peeled and diced
2 stalks celery, diced
4 cups of chicken or vegetable stock
1/4 cup tomato paste
2 (14.5 ounce) cans fire-roasted diced tomatoes
1 (15 ounce) can dark red kidney beans
1 zucchini, diced
1 yellow squash, diced
1 teaspoon Italian seasoning
2 handfuls fresh baby spinach
1 (10 ounce) package of refrigerated cheese tortellini
salt and pepper, to taste
Directions:
Heat oil in a large stockpot over medium-high heat.  Add onion and sauté for 3 minutes, stirring occasionally.  Add garlic, carrots, and celery, and continue sautéing for 5 more minutes, stirring occasionally.
Add the stock, tomato paste, tomatoes, kidney beans, zucchini, yellow squash, and Italian seasoning, and stir until combined.  Bring the mixture to a simmer.  Then reduce heat to medium-low, cover, and simmer for 10 minutes to let all of those good flavors meld together.
Stir in the spinach and cheese tortellini, and cook according to package instructions until al dente (usually about 5-6 minutes).
Taste, and season the soup with salt and pepper.
Serve immediately.
All images and text ©
If you make this recipe, be sure to snap a photo and hashtag it #gimmesomeoven. I'd love to see what you cook!