Vegan Gluten-Free Carrot Cake
This past Friday night was meant for celebrating.
The weather was sit-out-on-the-deck-in-the-cool-evening-breeze perfection.  Friends gathered from all around the city with chips and salsa and salads and popcorn and laughter and stories to share.  The fire pit was aflame.  The candles were lit on this (gluten free and vegan) carrot cake.
And a very special birthday girl turned the big 3-0.
Friends, meet Stacey.
I have no idea how I got so lucky in life to cross paths with someone as cool as this birthday girl, but somehow it happened.  And I am totally grateful to know her.  And even more grateful to be able to call her a friend.
Because Stacey's just great.
Can I tell you why?
Well, she's clearly beautiful.  She is warm and friendly and goes out of her way to make people feel included.  She's super smart and perceptive, and pays thoughtful attention to the world and people around her.  She's an incredible single mom to the most charming, spunky, creative 5-year-old daughter.  She has one of my favorite Instagram feeds ever (with some of the best moments captured of said daughter).  She's strong and brave and stands up for things and people she believes in.  She has an incredible heart for service and selflessly gives to so many around her. And quite simply, she's one of those friends who quite simply has a way of bringing out the best in those around her.
Like I said, pretty great.
Oh.  And you see that heart banner in the background?  It's worth noting that Stacey also just had last-minute minor heart surgery a few days before her 30th b-day (um, whoa), but she was still game to gear up the energy to spend an evening surrounded by friends.  And of course, leave them all feeling extra loved and inspired and awesome in the process.  Per usual.
Anyway, I feel like I don't tell my friends often enough how amazing they are.  So today on the world wide webosphere, I thought it would be fun to raise a glass to to this friendship and people like Stacey who make this world a more meaningful, awesome place.
Actually, I should raise a slice of this cake I brought for the party that was rumored (and then confirmed) to be her favorite — carrot cake!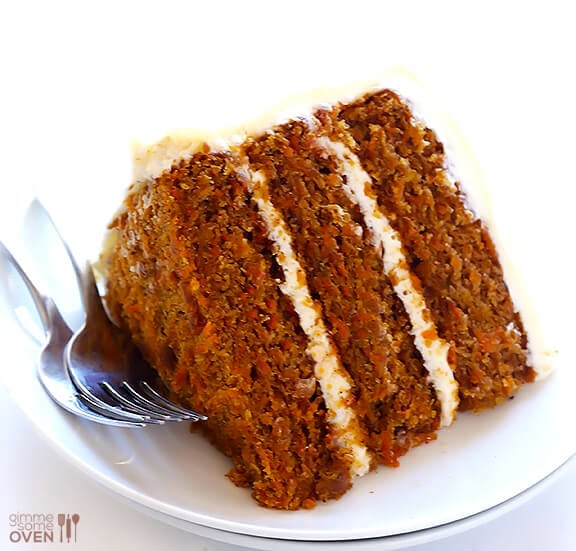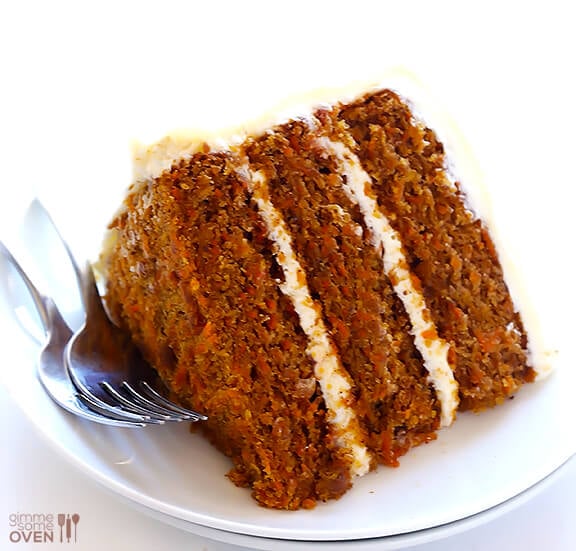 Yes, yes, I know I just posted a carrot cake recipe on the blog last month that looks strikingly similar to this one.  But Stacey and a few friends at the party are all gluten-free, and another friend is vegan.  So I attempted my first vegan and gluten-free cake for the party.
Thankfully, it turned out to be a mega success!
I actually based the recipe off of a new cookbook that was recommended by a friend — The How Can It Be Gluten-Free Cookbook published by America's Test Kitchen.
I have long been a fan of ATK, and have given away probably 50 copies of The New Best Recipe as wedding presents over the years.  (It is my top recommendation for friends who want to learn how to cook!)  So when I heard that there was a new version explaining their process creating and testing out all sorts of gluten-free techniques, I immediately picked up a copy.  And sure enough, it's great!  I have experimented with my fair share of GF cooking over the past few years — more for friends, than here on the blog — but I feel like this cookbook is finally giving some concrete answers to some of the science behind the ingredient combos.  Especially about how different flours work together with different main ingredients.
So anyway, if you're looking for a basic gluten-free cookbook to check out, I highly recommend picking up a copy.  (This is not a paid endorsement — just my recommendation!)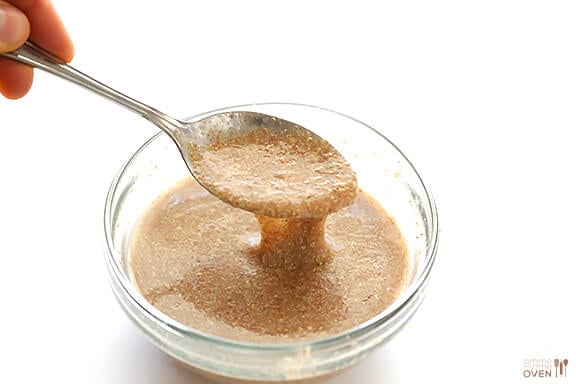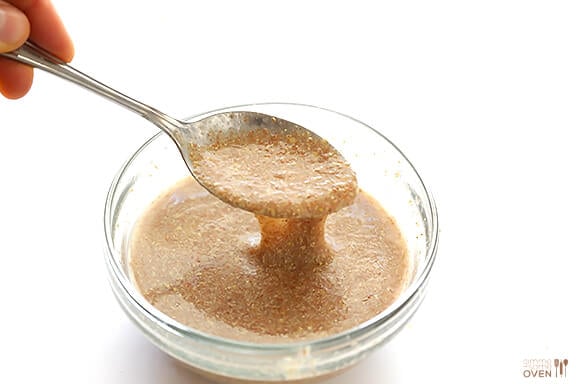 I made a few tweaks to the recipe to adjust the spices and salt to the levels I prefer for carrot cake.  But then to make it vegan, I also substituted flax eggs for traditional eggs (although chia eggs work too and are more flavor-less).
If you've never done this before, it's a super easy substitution.  Just whisk together 1 tablespoon of (ideally) freshly-ground flax seeds with 3 tablespoons of water until combined.  Then pop them in the fridge for at least 15 minutes.  And once you pull them back out, the mixture should be thick and sticky, which will help bind your batter together just like regular eggs.
(This recipe called for 4 eggs, so I used 1/4 cup ground flaxseeds and 3/4 cup water.)
I also whipped up a vegan "cream cheese" frosting — minus the cream cheese.  (No, not even that fake soy vegan cream cheese stuff.)  I just made a simple vegan buttercream, and added in a little apple cider vinegar and lemon juice.  And voila.  I don't know how, but somehow it tastes just like cream cheese.  My friends agreed.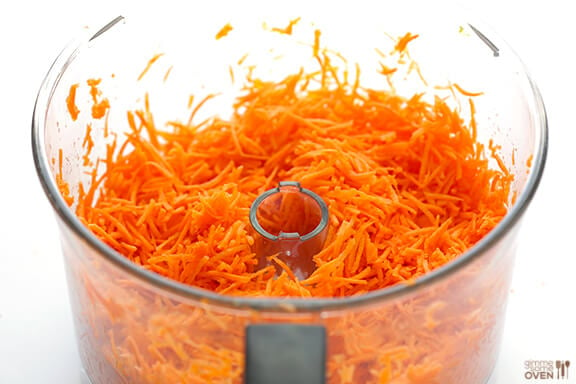 The other main ingredient that's a non-negotiable in my carrot cakes is fresh carrots.  Yes, the recipe calls for an entire pound of carrots, which you can grate by hand.  Or, if you have a food processor, I highly recommend trying out the grating attachment and letting that little motor do all of the work.  Seriously, mine grated this whole batch in less than 20 seconds.  Brrrrrrrilliant.
I was in a hurry making this cake and forgot to take step-by-step process photos.  But I did make a few little carrot toppers for decor.
Well, I should admit the cake started out simply…
…and then got a little out of control with this carrot patch.  ;)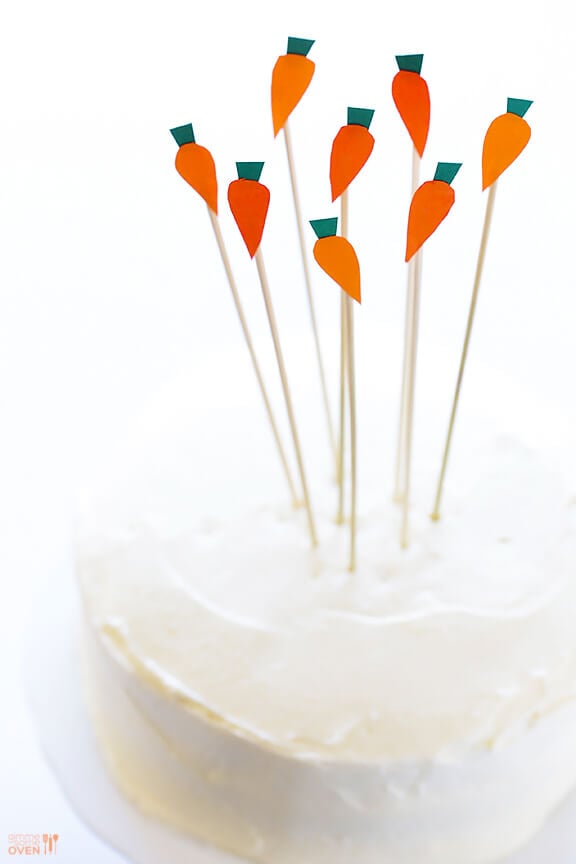 (I apparently love cake toppers, what can I say?)
As pretty as it was on the outside, though, it tasted 100x better on the inside.
I have to admit, I was a little apprehensive about how the gluten-free substitutions would work, especially since the ATK recipe called for half the usual amount of oil for a carrot cake.  But friends, the cake turned out so moist.  And flavorful.  And oh my goodness, that cream cheese knockoff was the perfect icing on the cake.
Thankfully, the birthday girl loved it, which in turn made me extra happy since cooking for friends is kind of my favorite things ever.  Especially when they're amazing friends like Stacey.  :)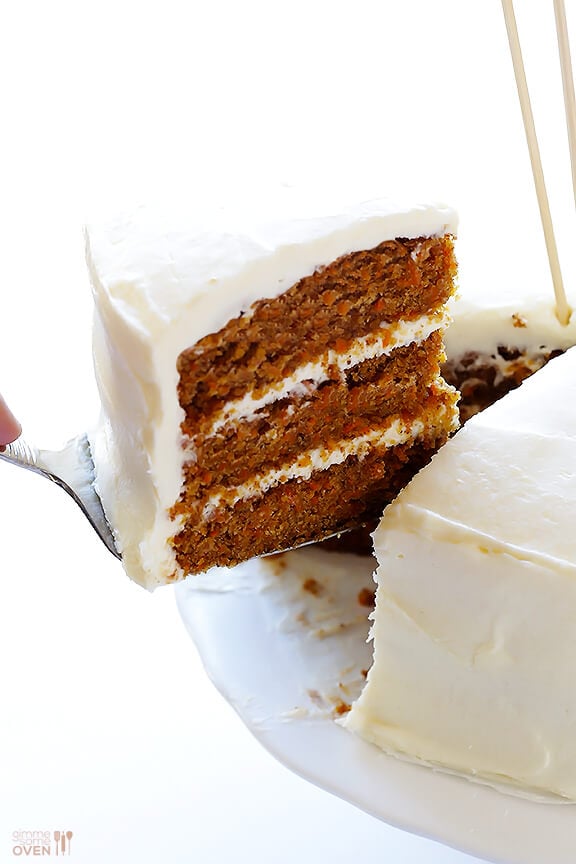 So now I pass on the recipe to you.  I hope you enjoy it just as much as we did.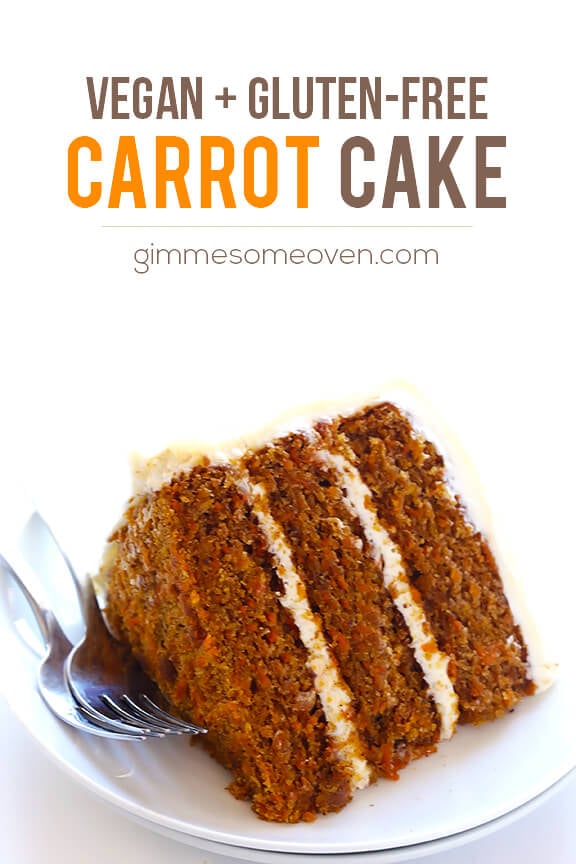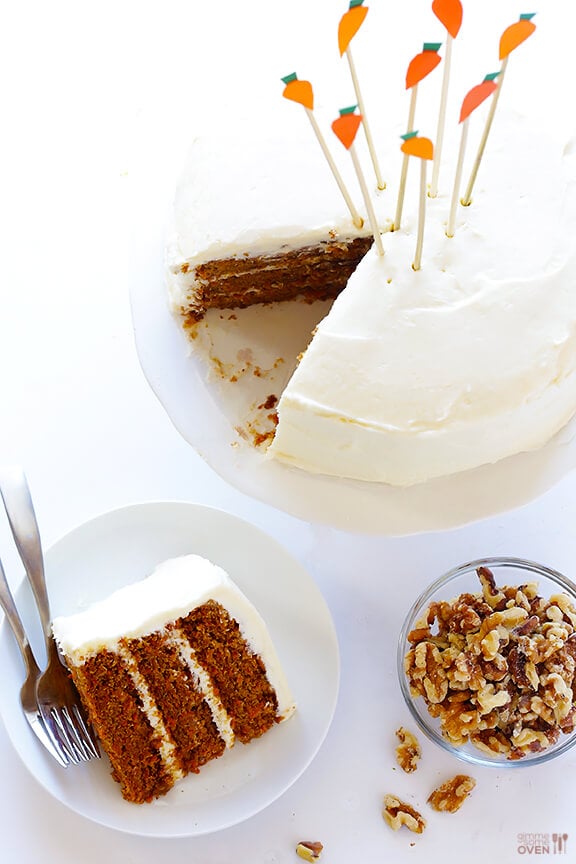 Vegan Gluten-Free Carrot Cake
This vegan and gluten-free carrot cake recipe is moist, flavorful, and tastes just like the real deal! Plus it's topped with a soy-free "cream cheese" vegan frosting that is incredible.
Ingredients:
Vegan Gluten-Free Carrot Cake Ingredients:
2.5 cups (12.5 ounces) gluten-free all-purpose flour blend (I used Bob's Red Mill GF All-Purpose Baking Flour), plus extra for dusting the pans
1 Tablespoon ground cinnamon
1 1/4 teaspoon baking powder
1 1/4 teaspoon baking soda
1 teaspoon salt
1/2 teaspoon ground nutmeg
pinch of ground cloves
pinch of ground ginger
1 pound carrots, peeled
1 cup granulated sugar
1 cup light brown sugar, packed
4 flax eggs (*1/4 cup ground flaxmeal and 3/4 cup water, see instructions below*)
3/4 cup vegetable oil
(optional: 1 cup chopped pecans or walnuts)
Vegan Gluten-Free "Cream Cheese" Frosting Ingredients:
8 cups gluten-free powdered sugar
1 1/2 cups (3 sticks) vegan butter or margarine
3 Tablespoons non-dairy milk (I used unsweetened almond milk)
1 Tablespoon apple cider vinegar
2 teaspoons vanilla extract
1 teaspoon lemon juice
pinch of salt
Directions:
How To Make Vegan Gluten-Free Carrot Cake:
Adjust oven rack to the middle position, and preheat to 350 degrees F. Use cooking spray or butter to thoroughly grease the inside of either:
-1 13×19-inch baking pan, or
-2 9-inch round cake pans, or
-3 8-inch round cake pans
Then dust the inside of each pan with gluten-free flour until the grease is completely covered and no spots of the pan are visible.
In a separate bowl, whisk together the gluten-free flour blend, baking powder, baking soda, cinnamon, nutmeg, salt, cloves and ginger together until combined.
In a food processor fitted with the large shredding disk, shred carrots. Then transfer them to the mixing bowl with the flour. Wipe clean the food processor bowl, and fit with the metal blade (in place of the shredding disk). Add the granulated sugar, brown sugar and flax eggs and process until frothy and throughly combined, about 20 seconds. With processor running, add oil in a steady stream. Process until egg mixture is light in color and well emulsified, about 20 more seconds.
Transfer egg mixture to the large bowl with the carrots and flour. Using a rubber spatula, stir the mixture until thoroughly combined. If using nuts, stir them in until combined.
Pour batter evenly into the prepared pan(s). Bake until a toothpick inserted into the center of the cake comes out clean, about:
-30-35 minutes for the 9×13-inch baking pan
-25-30 minutes for the two 9-inch round cake pans, or
-18-23 minutes for the three 8-inch round cake pans
Let cake cool completely in the pan(s) on a wire rack, about 1 hour. Run a knife around the edge of the cake to loosen. Remove cake, if transferring to a different serving platter, and frost as desired.
How To Make Vegan Gluten-Free "Cream Cheese" Frosting:
Combine all ingredients in the bowl of a stand mixer or food processor, and mix until smooth and combined. If the frosting is too thick, add in some extra milk to thin. If the frosting is too thin, add in more powdered sugar to thicken.
**To make the flax eggs, simply stir together 1 Tbsp. flaxmeal (freshly-ground) and 3 Tbsp. of water until combined PER EGG.
(This recipe called for 4 eggs, so you would times those amounts by 4.)
Then refrigerate the mixture for at least 15 minutes, remove and whisk again, and the mixture should be thick and sticky.
*Cake recipe adapted from America's Test Kitchen.
All images and text ©
If you make this recipe, be sure to snap a photo and hashtag it #gimmesomeoven. I'd love to see what you cook!
Be sure to also check out these other carrot cake recipes on the blog: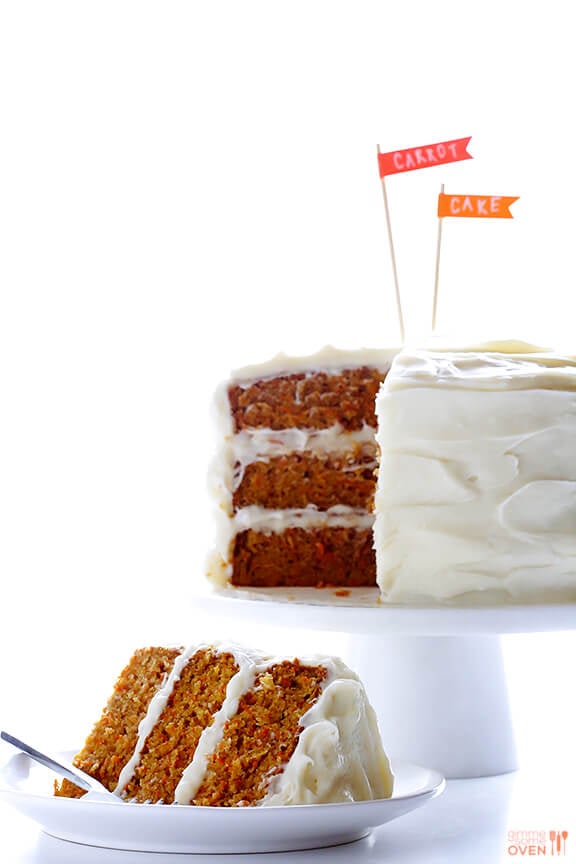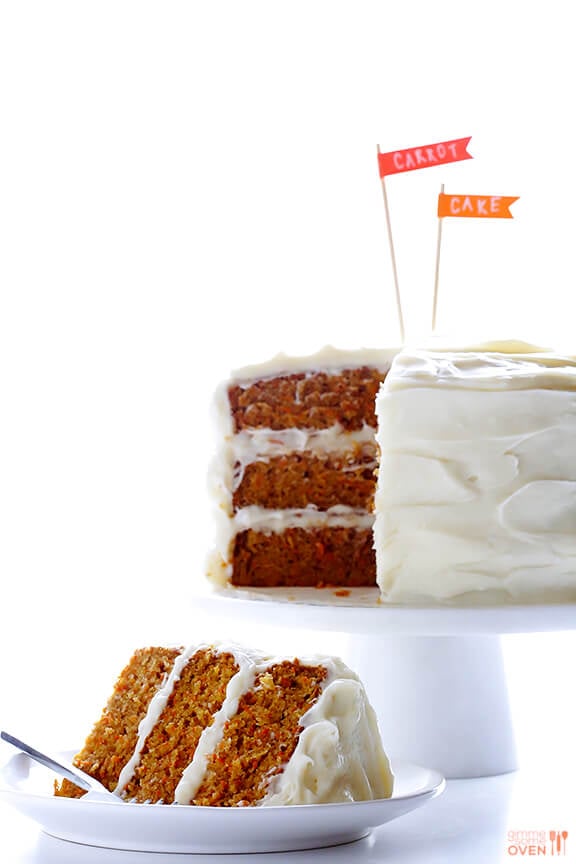 Traditional Carrot Cake with a Cream Cheese Frosting