Vegetarian Gumbo
This Vegetarian Gumbo recipe is easy to make, loaded up with tons of savory veggies, and tastes SO rich and delicious.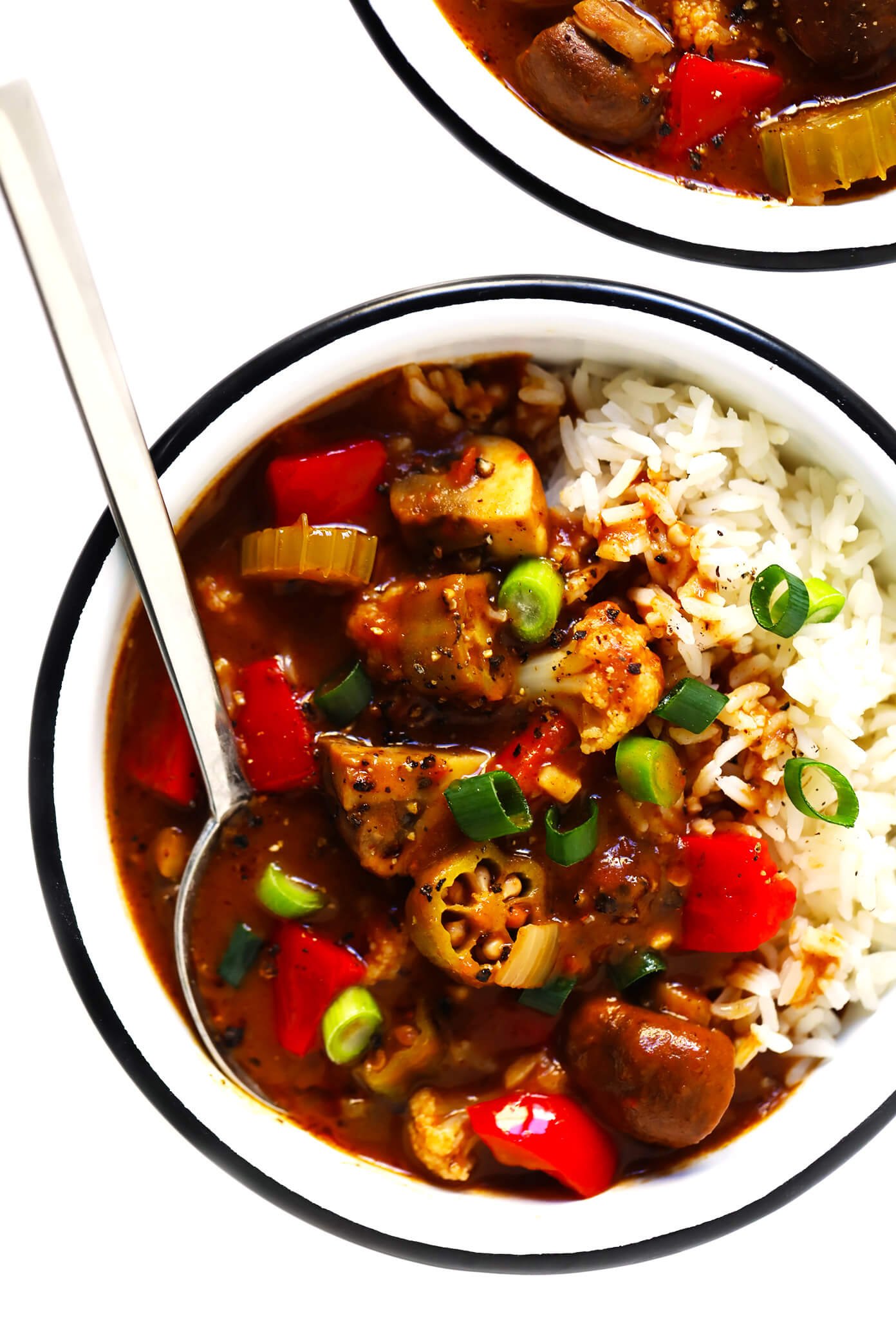 Mardi Gras is just around the corner, which means…
…it's gumbo time, friends. ♡
I know that I'm the girl who's usually all about easy, breezy, speedy soup recipes.  But this time of year, I'm always happy to make an exception to spend some quality time by the stove, stirring and stirring and patiently stirring a roux some more until it reaches that perfectly dark, toasty, magical hue.  Because when it comes to a killer pot of gumbo, there are no shortcuts.  (And you don't want them.)  Gimme the real deal gumbo…with seconds, please!
Well speaking of the real deal, up until this year, I have always traditionally stuck to my favorite classic gumbo recipe each Mardi Gras, made with lots of zesty Andouille sausage and chicken.  But with a vegetarian husband in the house now, I decided to go out on a limb this year and try making a plant-based version instead, swapping out the meat in favor of lots of extra veggies.  I was a little nervous that gumbo would lose a bit of its magic without the Andouille.  But much to our delicious surprise, it turned out to be fantastic!
I mean, let's be real, that famous Creole-seasoned broth with its signature dark roux has always been the star of the show here.  And when mixed with loads of hearty veggies, kicked up a notch with however much cayenne you can take, served over your choice of rice or quinoa with a generous sprinkle of crisp green onions — I'm telling you — this vegetarian gumbo recipe is a total winner.  It does require some extra time to chop all of those veggies (or you can save a step and buy some frozen pre-chopped veggies) plus an 20 extra minutes to make the roux (don't be intimidated, I'll walk you through each step of the way).  But recipe itself is super-easy to make, easy to customize with whatever veggies you have on hand, and also easy to make vegan if you prefer.  Then before you know it, the most delicious pot of vegetarian gumbo will be simmering on the stove and ready to serve for Mardi Gras in no time.
Let's make some gumbo!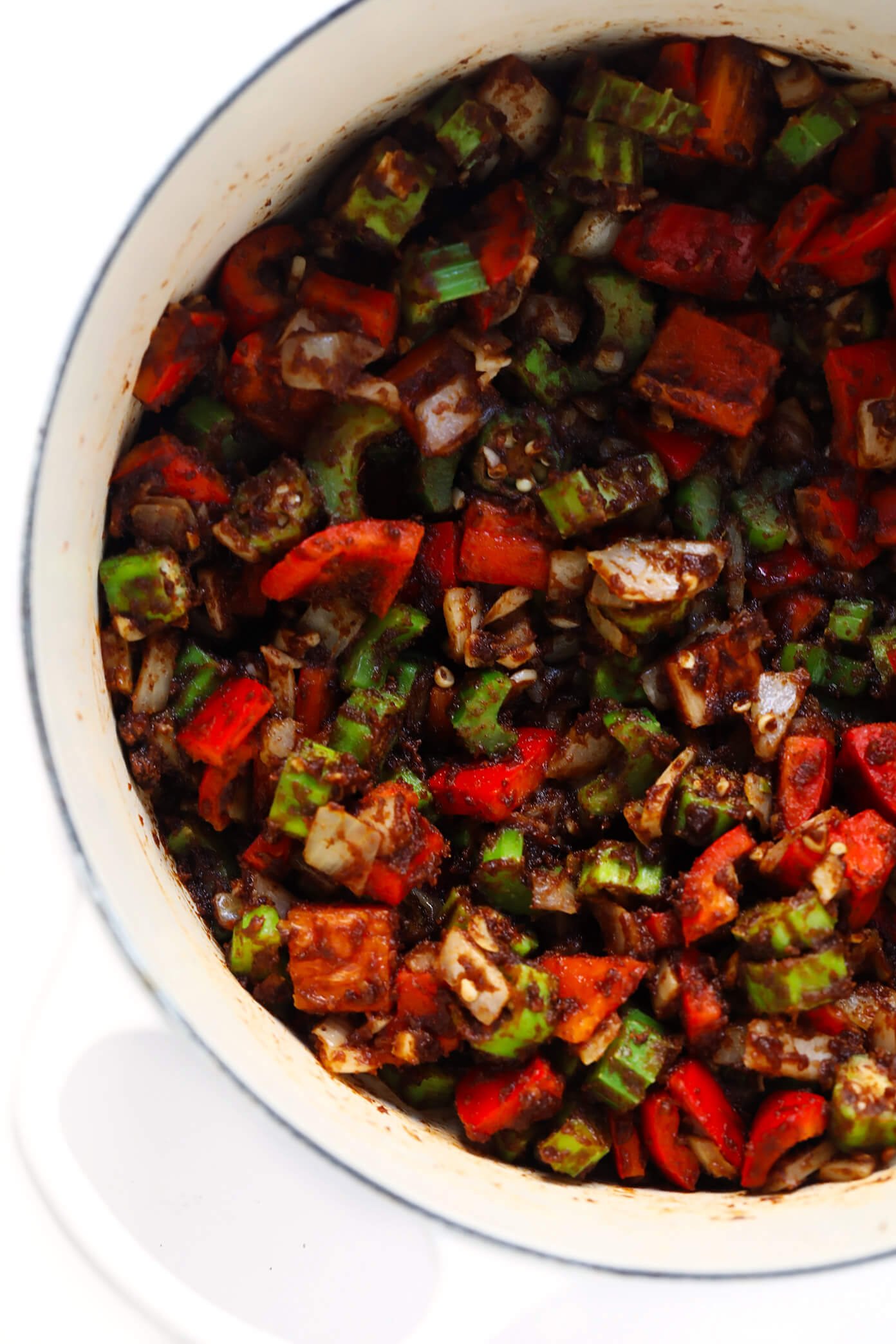 Vegetarian Gumbo Ingredients:
Alright, shopping list time.  To make this vegetarian gumbo recipe, you will need the following gumbo ingredients:
Butter and flour: I really love the flavor of the butter in a gumbo roux.  But if would like to make this recipe vegan, you're welcome to substitute any neutral-flavored oil in place of the butter.
"The Holy Trinity": Which, in Cajun cooking, consists of bell peppers, celery and onions.
Okra: Fresh or frozen will both work.  Or if you really don't like okra, you're welcome to leave it out.  (But I strongly recommend it!)
Garlic: And lots of it.
Vegetable stock: This will be the base of our broth.
Extra veggies: I added in lots of cauliflower florets and diced mushrooms, but feel free to add in whatever sounds good.
Diced tomatoes: I recommend purchasing a can of fire-roasted tomatoes for extra flavor, but a can of regular diced tomatoes will also do.
Seasoning: Creole

or

Cajun seasoning, dried thyme, cayenne, bay leaf, salt and pepper.  Feel free to add extra of any of these seasonings to taste.  Or as always, if you are sensitive to heat, I would recommend starting with half of the suggested Cajun/Creole seasoning and cayenne (the two spicier seasonings), and then you can always add more afterwards if you would like.
Green onions: Fresh, crisp green onions are my favorite garnish for a hot bowl of gumbo!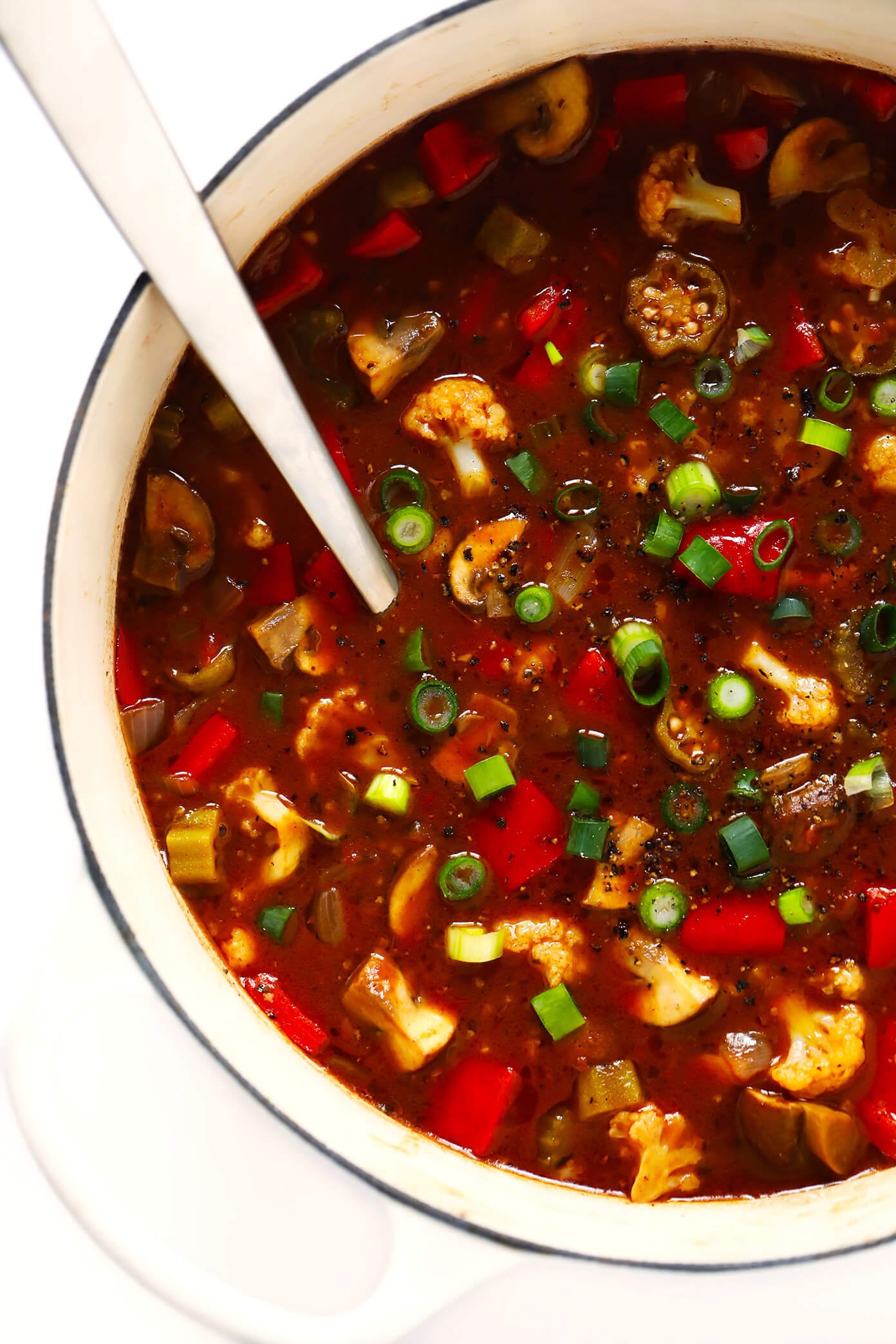 How To Make A Roux:
Before we get into the rest of the recipe, let's talk about the most ingredient first step — how to make a roux.
A roux (pronounced "roo") is simply a paste made of flour and fat that is cooked together and used to thicken a broth.  For Cajun and Creole food — especially gumbo — it's traditional to cook the roux until it darkens and darkens and eventually reaches a dark, rich, chocolatey hue.  Which takes some extra time, but it is so worth it.  A dark roux adds the best deep, nutty, toasty flavor to the soup.  And it also helps to give it that nice, silky, thick texture as well.
It's not at all difficult to make, but it does require your full attention and time.  So avoid the temptation to multitask (trust me!), and be sure that all of your ingredients are chopped and set out ahead of time.  Then make that roux:
Melt the butter (or heat the oil): In a large heavy-bottomed pot, heat the butter over medium-high heat until it is melted.
Stir in the flour: Then add the flour and use a wooden spoon (or preferably one with a flat edge) to stir the mixture together until combined.
Continue cooking: Continue cooking the roux, stirring constantly, as it progressively darkens.  It will begin as a light (or "blonde") roux, then will darken to the shade of peanut butter, then to the shade of a copper penny, and finally to our goal — a milk-chocolate shade of roux.
Immediately add the next ingredients: Then as soon as the roux reaches your desired shade, we will add in all of those chopped veggies, which will prevent the roux from continuing to darken.  Read on below for the following steps.
But first, a few quick roux tips!
Wooden spoons/spatulas: I really like to use this wooden spatula for making a roux, because the flat edge makes it easy to stir the bottom of the pan well.  But any large wooden or silicone spoon will work well.
What I mean by "stir constantly": It's easy to accidentally burn the roux if it is not being stirred enough, especially in the later/darker stages.  In the earlier stages, I will stir the roux every 15-30 seconds.  But by the end, I'm slowly stirring the entire time.
Let your eyes and nose guide you: If you see or smell anything that looks like the roux is starting to burn, lower the heat right away.  Sometimes near the end of cooking a roux, I will turn the heat down to medium to slow things down a bit.
If it burns, start over: If you follow the tips above, this shouldn't happen.  But just in case your roux does accidentally burn, there's unfortunately no salvaging it.  You'll need to start over.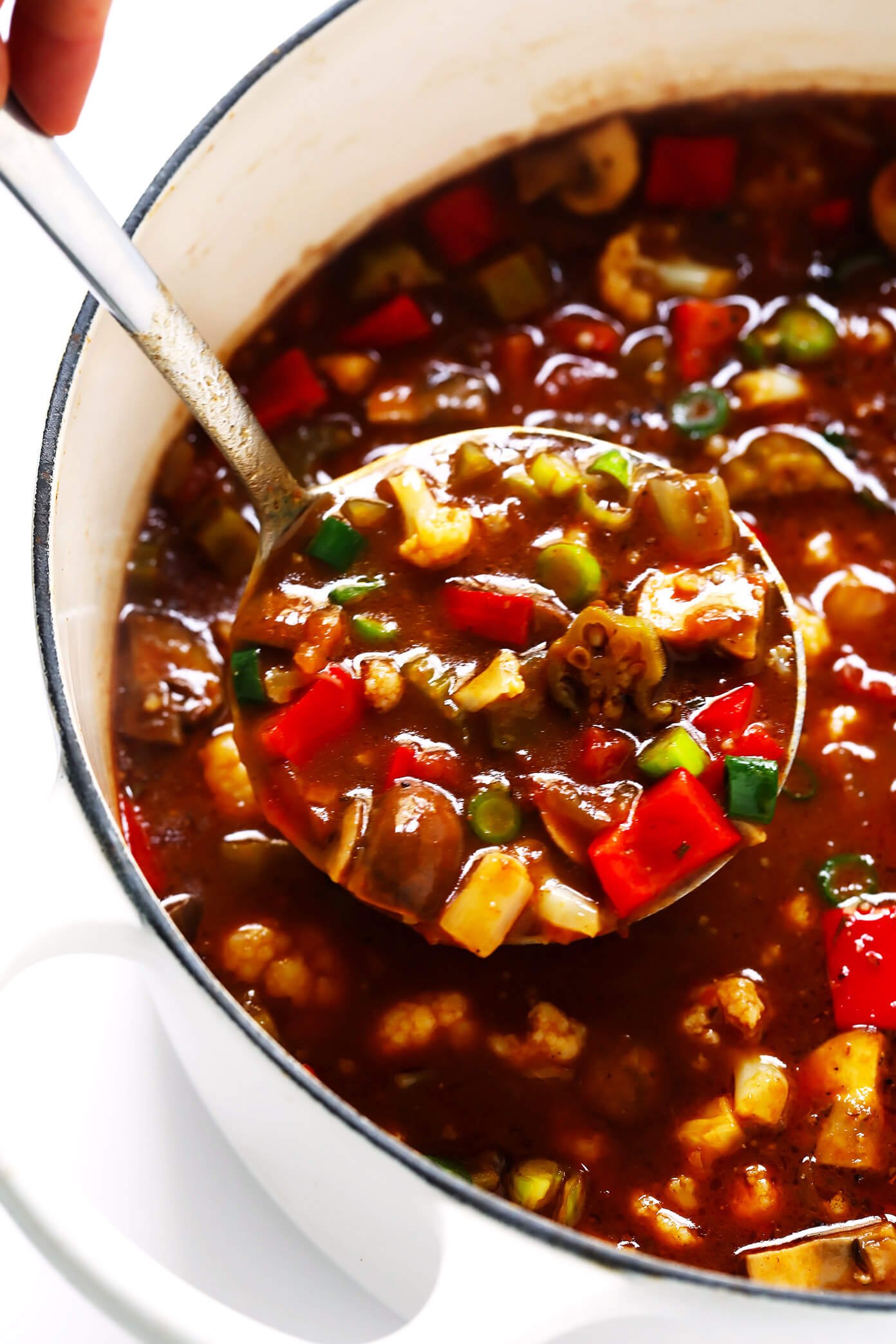 How To Make Gumbo:
Ok, here is the full scoop on how to make gumbo.  Simply…
Make a dark roux: As directed above.
Mix in some of the veggies: As soon as the roux reaches your desired hue, stir in the Holy Trinity, okra and garlic.  Continue to cook, stirring occasionally, until the veggies have softened.
Add in the stock: Then gradually add in the stock, about 1 cup or so at a time, stirring until the broth is combined and smooth.
Add in the remaining ingredients: Stir in the rest of the veggies, tomatoes and seasonings.
Simmer: Continue cooking the soup until it reaches a simmer.  Then reduce the heat a bit to maintain the simmer, and continue cooking until the veggies reach your desired level of tenderness, about 5-10 more minutes.
Taste and season: Add salt and pepper to taste, plus any extra Cajun seasoning and/or cayenne as needed.
Serve warm: Over rice, quinoa, noodles, or whatever you prefer.  Garnish with lots of green onions….and enjoy!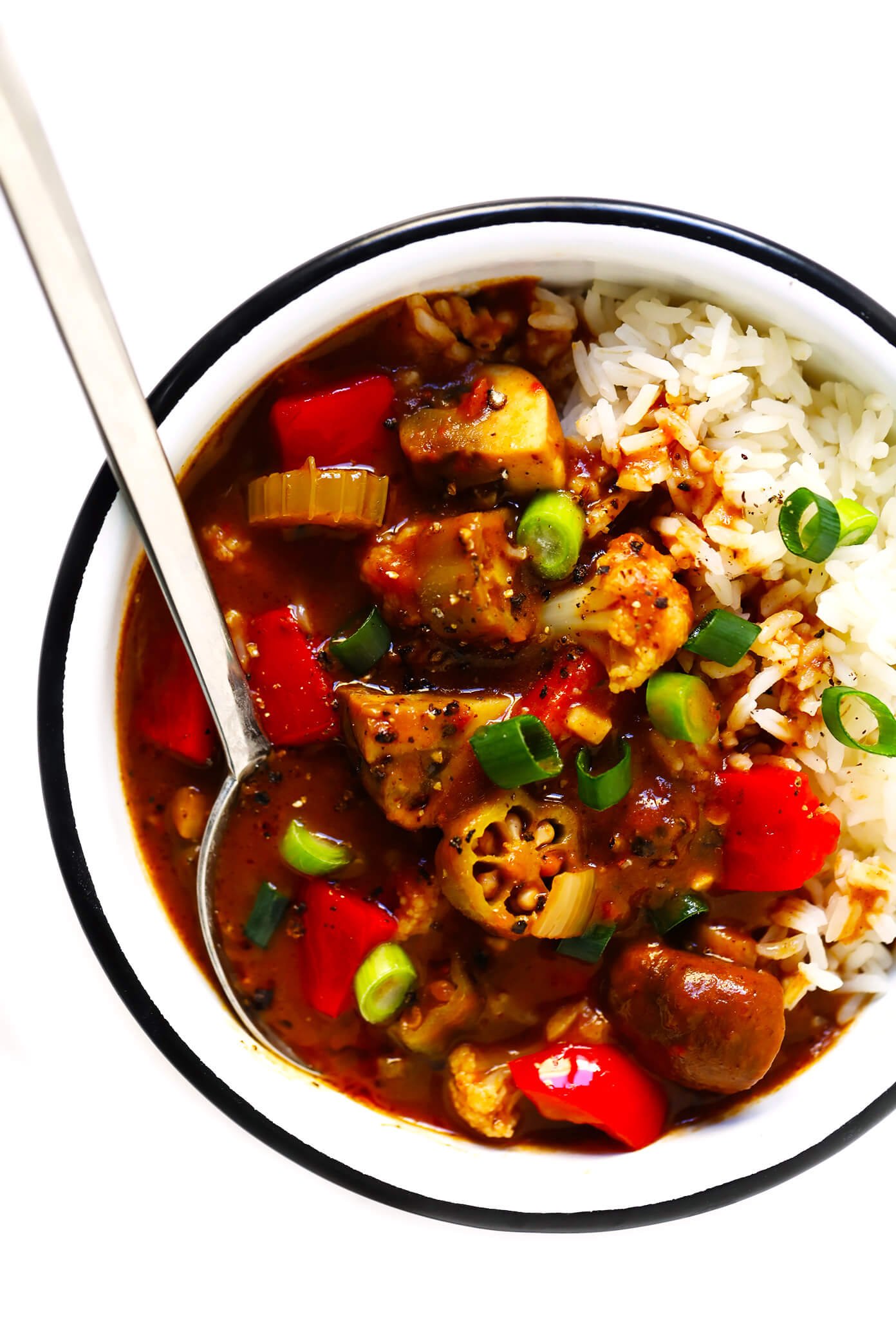 Possible Variations:
Feel free to customize this gumbo recipe however you would like!  A few ideas would be to:
Make it vegan: Just use any mild-flavored oil in place of the butter.
Use different veggies: As mentioned above, feel free to add in any other veggies or greens that you happen to have on hand.
Add seafood: If you happen to eat seafood, this gumbo would be extra delicious made with seafood (instead of veggie) stock and shrimp (or whatever shellfish you love best).
Nix the okra: If you don't like okra, feel free to leave it out.
How To Store Gumbo:
To store this gumbo recipe, transfer it to a sealed container (or multiple containers).  Then you can either store it in the:
Refrigerator: For up to 3 days
Freezer: For up to 3 months
Side Dish Ideas:
A few dishes I would recommend to go with gumbo could include:
A nice green salad: Such as my Everyday Salad.
Corn on the cob: I always have a tradition of serving this with gumbo!
Bread: Cornbread, French bread, or any good loaf of crusty bread.
Enjoy, everyone!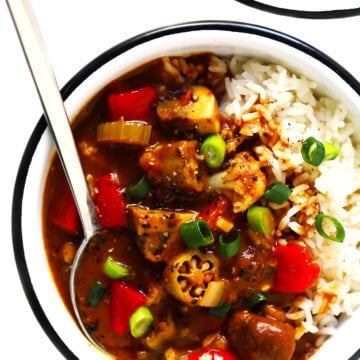 Vegetarian Gumbo
This Vegetarian Gumbo recipe is easy to make, loaded up with tons of savory veggies, and tastes SO rich and delicious.  I recommend prepping all of your ingredients before you begin to cook the gumbo, so that you can give your full attention to that delicious roux. ;)
Ingredients:
1/2 cup butter (or oil)
2/3 cup all-purpose flour
2 medium red bell peppers, cored and diced
2 celery stalks, diced
1 small white onion, peeled and diced
1 cup fresh or frozen chopped okra
5 cloves garlic, minced
3 cups vegetable stock
1 small head of cauliflower, cored and chopped into florets
1 pound (16 ounces) baby bella or button mushrooms, diced
1 (14 ounce) can fire-roasted tomatoes
2 teaspoons Creole or Cajun seasoning
1/2 teaspoon dried thyme
1/2 teaspoon cayenne, or more/less to taste
1 bay leaf
fine sea salt and freshly-cracked black pepper, to taste
optional topping: thinly-sliced green onions
Directions:
Heat butter in a large heavy-bottomed pot (I used a Dutch oven) over medium-high heat until melted.  Whisk in flour until combined.  Continue to cook, stirring constantly, for about 20 minutes, or until the roux mixture reaches a dark amber-brown color.  Keep a very close eye on the roux at all times, turning the heat down a bit if it seems to be cooking too quickly or starts to faintly smell burnt.
Once the roux is ready, immediately stir in the bell peppers, celery, onion, okra and garlic until combined.  Continue to cook, stirring every 10-15 seconds, until the vegetables have softened, about 5 minutes.
Stir in the vegetable stock gradually until the broth is smooth.  Then add in the cauliflower, mushrooms, tomatoes, seasoning, thyme, cayenne and bay leaf.  Stir until combined, and continue cooking until the soup reaches a simmer.
Reduce heat to medium-low and let the gumbo continue to simmer for 5-10 minutes minutes, or until the vegetables are tender.  Taste, and season with extra salt, pepper and/or cayenne if needed.
Serve warm over rice, garnished with lots of green onions.  Or transfer to a sealed container and refrigerate for up to 3 days or freeze for up to 3 months.
*If you would like your broth to be extra rich and creamy, feel free to stir an extra tablespoon or two of butter into the broth just before serving.  So good!
All images and text ©
If you make this recipe, be sure to snap a photo and hashtag it #gimmesomeoven. I'd love to see what you cook!
This post contains affiliate links.