Vietnamese Pho Soup
One of the items on my cooking bucket list for years has been to learn how to make pho soup.  A big bowl of comforting, warm, aromatic, fresh, piled-high-with-garnishes, awkward-to-pronounce-but-awesome-to-taste Vietnamese pho.
Pho is one of my most comforting of comfort foods.  I love it on snowy winter days and in the blazing heat of summer.  I love it at my favorite hole-in-the-wall restaurant in Kansas City, and I love finding new Vietnamese restaurants when I travel.  I love it when I'm feeling great, and it is definitely my preferred noodle soup of choice (sayonarra, chicken noodle!) when I'm sick.  Totally not kidding — when I caught a cold in Barcelona this past winter, I skipped tapas for a night and tracked down the one Vietnamese restaurant in the neighborhood for a steaming hot bowl of pho.  It hit the spot — as did the glass of sangria that came with it.  When in Spain… :)
Still, as much as I love discovering and frequenting good Vietnamese restaurants, I've always wanted to learn how to make pho at home.  So this week, I finally made it happen.  And now I have zero idea why I waited so long — it is so easy!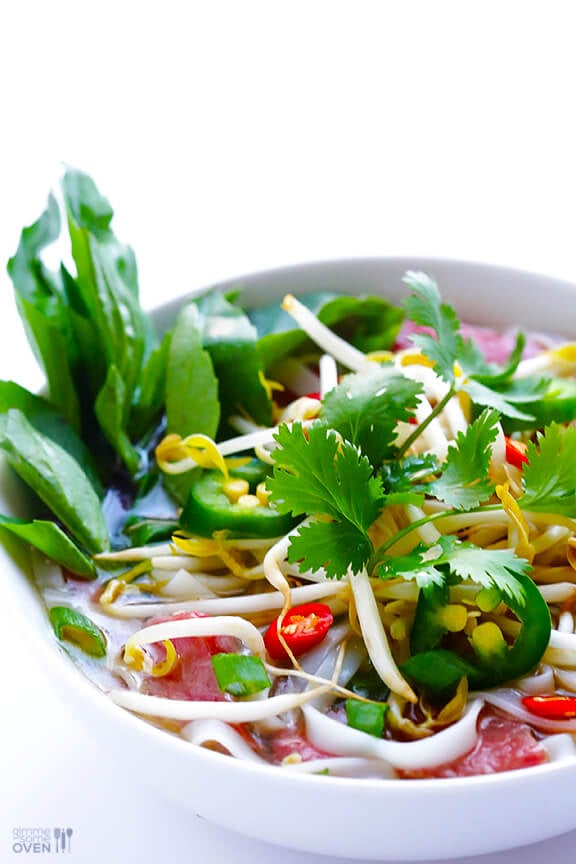 I always tend to judge a pho soup by its broth, which I prefer to be full of strong flavor with a hint of star anise.  This is, of course, best when made from scratch.  But for those looking to make this more of a 30-minute meal, I've included a little shortcut for just simmering some key seasonings in pre-made beef broth, which turned out to be surprisingly good.
You can also add in all sorts of different proteins to your pho (beef, chicken, pork, shrimp, etc.), or just go with the veggies and noodles.  Just be sure to slice all of these raw meats about as thin as they can go, and then drop them in the steaming hot broth to cook.  I happened to have some leftover thin-cut steak, so used it to make beef pho for these photos.  (Note: I would typically slice the beef much more thinly than in the photos, but even the 1/4-inch thickness turned out to be just fine.)
Also, if you don't have access to an Asian market with rice noodles (I choose the package labeled "pho"), feel free to use fettuccine noodles.
Everyone loves their pho a slightly different way, so feel free to personalize this recipe with the toppings and ingredients you love.  But if you love pho, I hope you'll give it a try!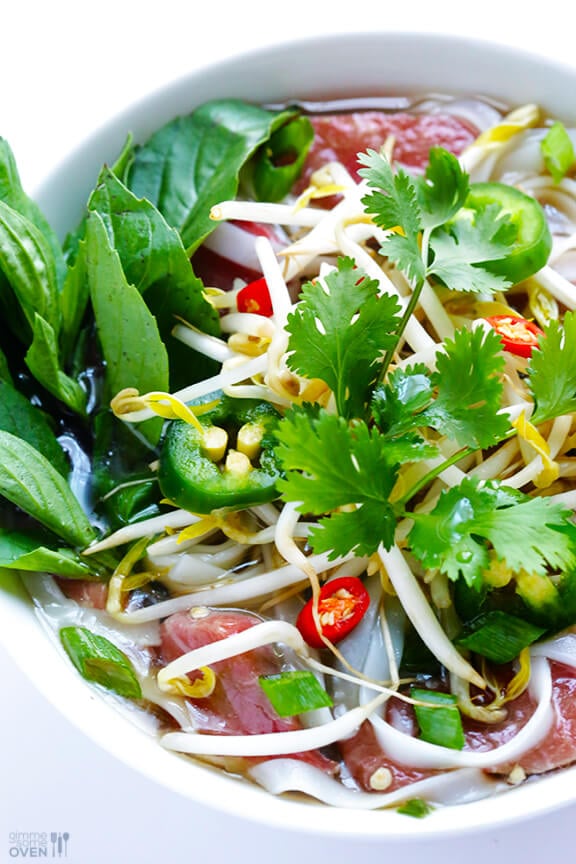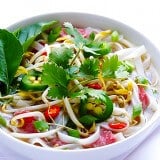 Vietnamese Pho Soup
If you love Vietnamese Pho Soup, you should try making it homemade! It's so simple!
Ingredients:
8 cups beef broth
4 cups water
1 medium yellow onion, quartered
4 cloves of garlic, roughly minced
3 whole star anise (optional if you don't like the flavor)
3 whole cloves (talking about the spice, "cloves")
1 (3-inch) knob of ginger, sliced into coins
1 cinnamon stick
(optional: 2 Tbsp. fish sauce)
salt and black pepper
1 package pho rice noodles (look for the word "pho" on the package)
12 ounces steak, very thinly sliced against the grain (I used flank steak)
Garnishes: bean sprouts, fresh cilantro, fresh ginger slices, lime wedges, thinly-chopped green onions, thinly-sliced jalapenos, Thai basil
Directions:
Stir together beef broth, water, onion, garlic, star anise, cloves, ginger, cinnamon stick (and fish sauce, if using) in a large stockpot, and bring to a boil over high heat. Cover, reduce heat to medium-low, and let simmer for at least 20 minutes.
Meanwhile, cook the noodles according to package instructions. (If your package of noodles — like mine — did not have instructions, simply bring a large pot of water to a boil. Then cook the noodles until al dente, about 3 minutes.) Immediately drain the noodles, and rinse with cold water to stop the cooking. Drain and set aside.
When you are ready to serve the soup, fill the serving bowls about halfway full with noodles. Then cover with the hot broth, and immediately stir in the steak so that it cooks. Top with your desired garnishes.
(*Most people stir the cilantro, ginger, lime, jalapenos and Thai basil into the broth to give it extra flavoring, but you don't necessarily need to actually eat those ingredients whole.)
All images and text ©
If you make this recipe, be sure to snap a photo and hashtag it #gimmesomeoven. I'd love to see what you cook!