Wasabi Smashed Potatoes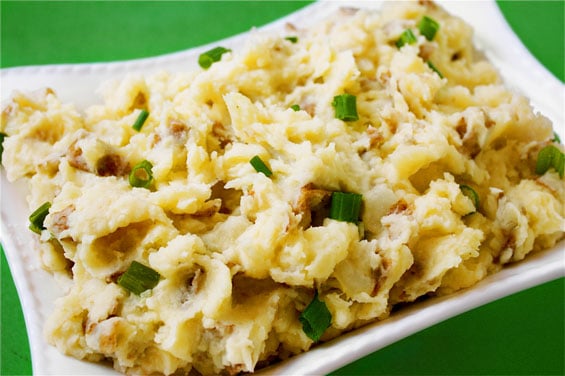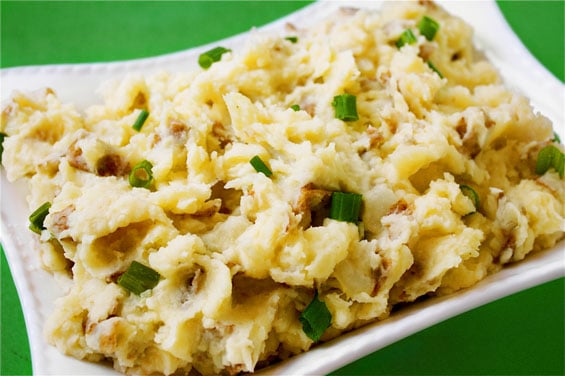 What can you buy with $0.88 nowadays?  A candy bar?  An apple?  A can of beans??
Well, at my grocery store last week, that small handful of change could buy you a 5 lb. bag of Russet potatoes!!  True story.  While I generally try to steer towards slightly more healthy potatoes if I'm doing the starch thing, who could pass up that deal?  So get ready – we may have a few potato posts this month.  :)
For my first recipe, I decided to revisit an old favorite I've loved for years — wasabi mashed potatoes.  Surprising combination?  Possibly.  Surprisingly delicious?  Absolutely.
This mashed potatoes are as simple to make as their classic counterparts, but offer (in my opinion!) much more exciting flavor and a little heat.  And by keeping the potato skins on, you get the added bonus of some extra nutrients and flavor.  And best of all, you get to break out the fun green wasabi paste at home – fun!!  Really, though, as wild as the combination sounds, these potatoes really are delightful.  :)
So the next time you're looking for a delicious side to accompany an Asian dish (or any grilled meats, or stir-fry, etc.), bypass the rice and give these spuds a try!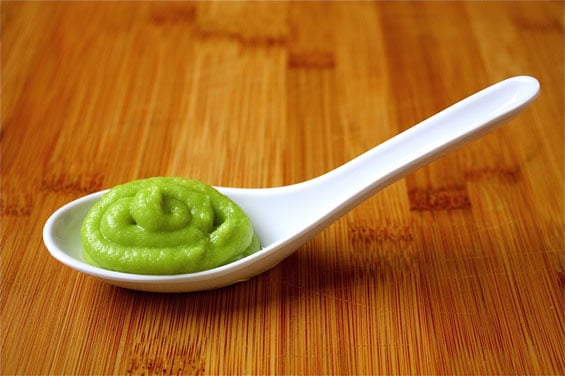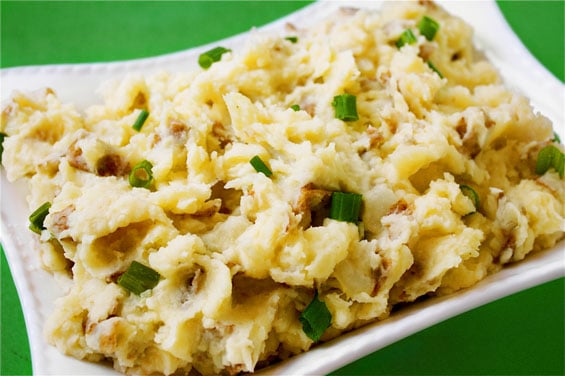 Wasabi Smashed Potatoes
You'll love the flavorful twist this Wasabi Smashed Potatoes Recipe adds to your favorite American classic!
Ingredients:
3 lbs. Yukon Gold or Russet potatoes, cut into large chunks
4 cloves garlic
6 Tbsp. butter (I used SmartBalance)
1/2 cup warmed milk
1 Tbsp. wasabi paste (add more/less to taste!)
2 Tbsp. soy sauce
4 scallions, diced, and root end trimmed
salt + pepper
Directions:
Place potatoes, garlic and salt in large saucepan, and cover with cold water. Bring to a boil. Reduce heat, cover and simmer for 20-25 minutes or until the potatoes are done (when a fork can easily be inserted into them). Drain well.
Add the butter, milk, wasabi paste, and soy sauce. Use a potato masher to mash well and combine. Then with a wooden spoon, mix in scallions and continue mixing to your desired consistency. Add salt and pepper to taste.
Ali's Tip:
For those of you who've never bought wasabi paste before, it's available at almost every local grocery store in the Asian foods section.  It generally comes in a narrow little box that holds the (toothpaste-looking) tube of wasabi paste.  It's a fantastic ingredient to have on hand to use in dressings, sauces, marinades, and dips…as well as sushi and spuds!
If you make this recipe, be sure to snap a photo and hashtag it #gimmesomeoven. I'd love to see what you cook!