Wholesome Carrot Muffins
This weekend, I boxed up all of my heavy winter coats and sweaters and scarves and shoes and moved them into my new little corner in Barclay's basement…and I couldn't be happier about it.
Spring seems to finally be here to stay!
And I'm starting to slowly start moving my things into Barclay's house!
Well, I should say some of my things.  I won't be making the full move into his — soon to be our ? — house until we get married in June.  Which should also be about the time that our little kitchen remodel at the house is finished.  (Fingers crossed!)  But, his roommate just recently moved out, which freed up space in the extra bedroom and basement.  So we've decided that pretty much anytime one of us drives over to his house, we might as well toss a few boxes of my things in the back seat to make the eventual move over a little easier.  And it's making everything start to feel so real.  I love it!
Now that my little apartment also feels de-winterized, I'm officially transitioning to full-on spring mode.  I've had my windows open literally all week, pulled out my favorite spring candles, brought home a fresh bouquet of tulips (my favorite), cozied up in my favorite white t-shirt, buckled on these new leather sandals I can't stop wearing out each evening (surprisingly comfortable), and — more than anything — I've just been so blissfully happy that longer, brighter, warmer days are finally here to stay.  ?
Of course, I'm also loving the fresh spring produce that's starting to show up in our local markets, and baking up all of my favorite spring carrot-cake-y recipes galore.  Many of you have tried my favorite classic and gluten-free carrot cakes before.  But my new favorite recipe of the year is this simple recipe for healthier carrot muffins.  I actually made my first batch of these a few months ago (which many of you caught on Instagram), and have been testing and tweaking them ever since and think that I've finally nailed them.  They're perfectly fluffy and moist, sweetened with my favorite organic and fair-trade honey, and — my goodness — are they delicious.
If you love carrot cake, trust me — you seriously must give them a try.
Wholesome Carrot Muffins Recipe | 1-Minute Video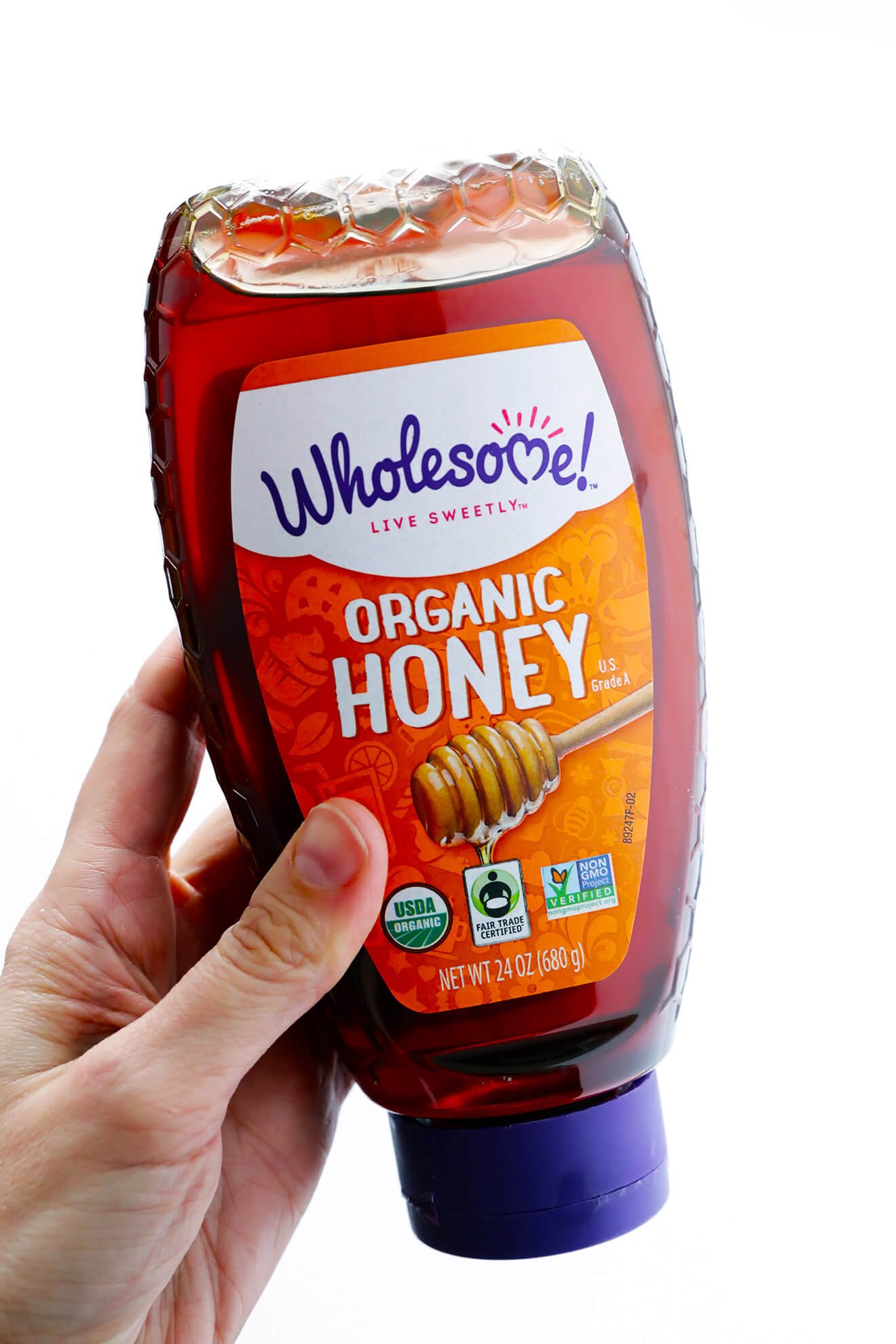 As I mentioned, one of the reasons I love this recipe so much is because the muffins themselves are sweetened only with fresh shredded carrots and honey.  That's it — so simple!
I actually used my favorite Wholesome Organic Honey for this recipe — which is widely available in stores around the country now (I buy mine at Target or Amazon) — which I love because it's organic, non-GMO, fair-trade, made on family farms, and absolutely delicious.  And then as you'll see below, I also used Wholesome Organic Powdered Sugar in the glaze (and now use their Cane Sugar pretty much all of the time in place of traditional granulated white sugar).  I'm obsessed with their line of sweeteners!  (And bonus, here's a coupon if you'd like to try them yourself!)
I also made these muffins a touch healthier by using white whole wheat flour, although you're welcome to sub in traditional all-purpose flour if that's what you have on hand.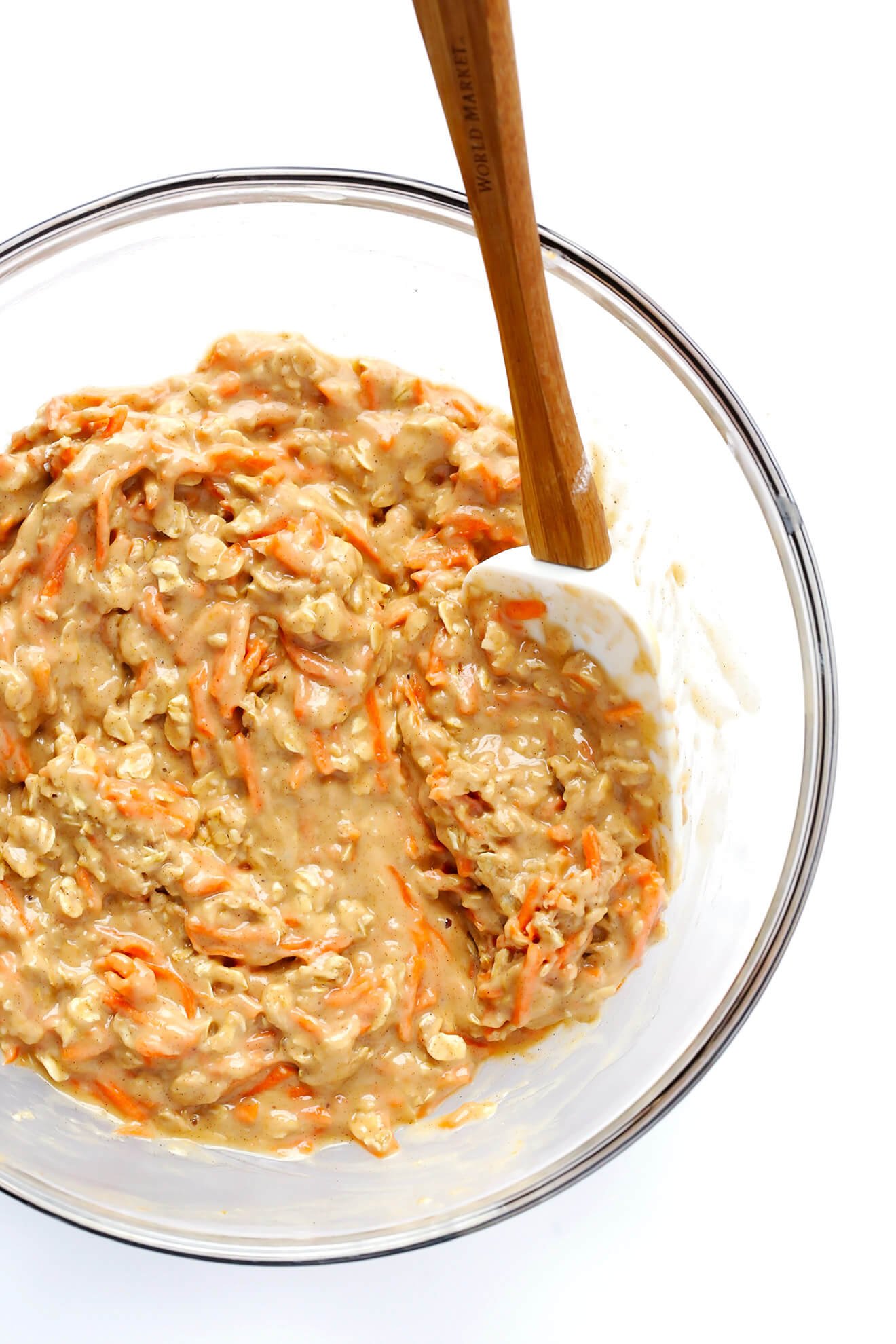 To make the muffins, simply shred all of your carrots (I do this in a food processor, or you can use a box grater by hand), and fold them into a simple batter.  Then bake them up in the oven until they're perfectly fluffy and just cooked through.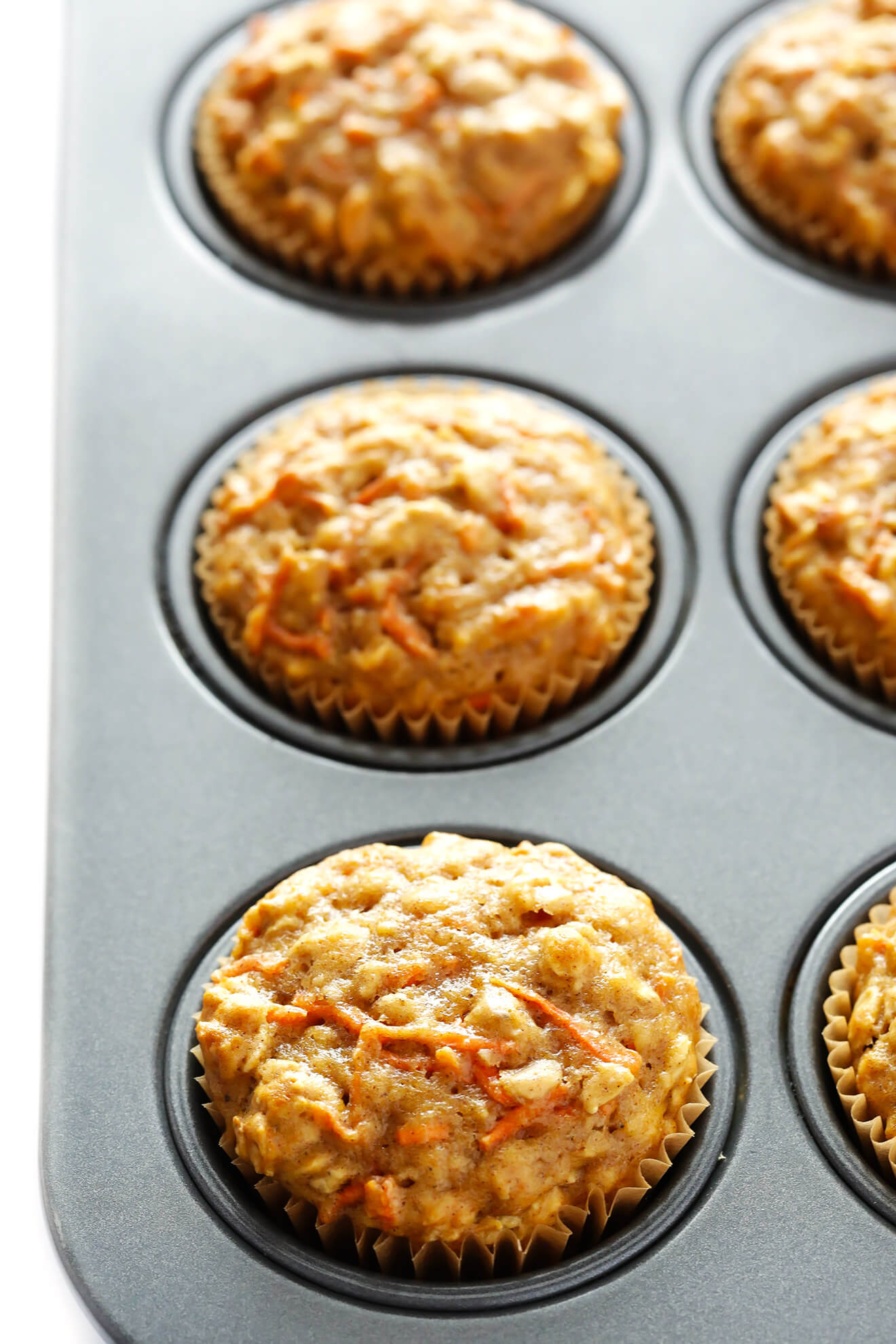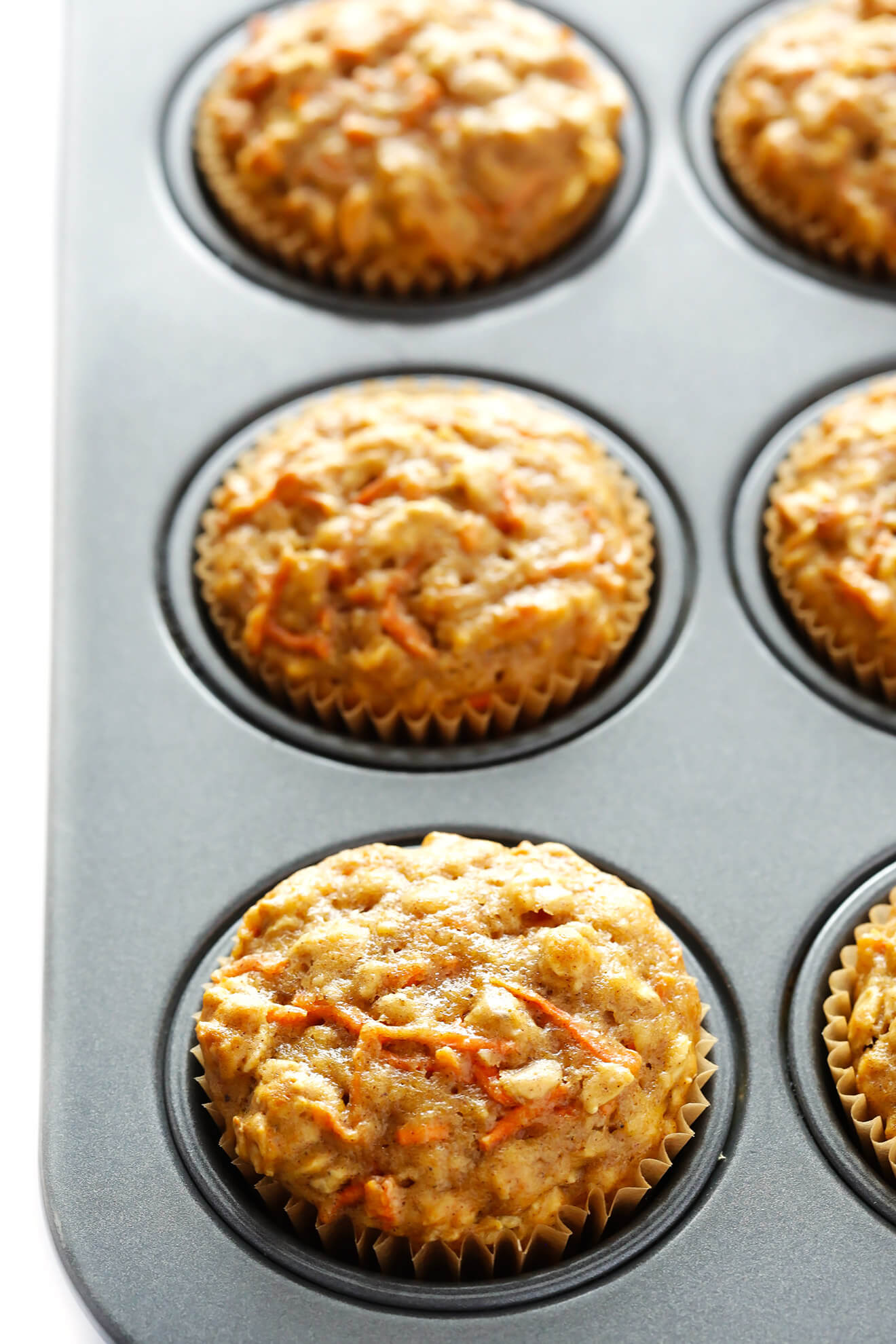 Then if you'd like to get all fancy and drizzly, try whipping up this simple glaze while the muffins are cooking!  I just combined Wholesome Organic Powdered Sugar, Organic Honey and a wee bit of milk, and whisked them together until they reached the right consistency.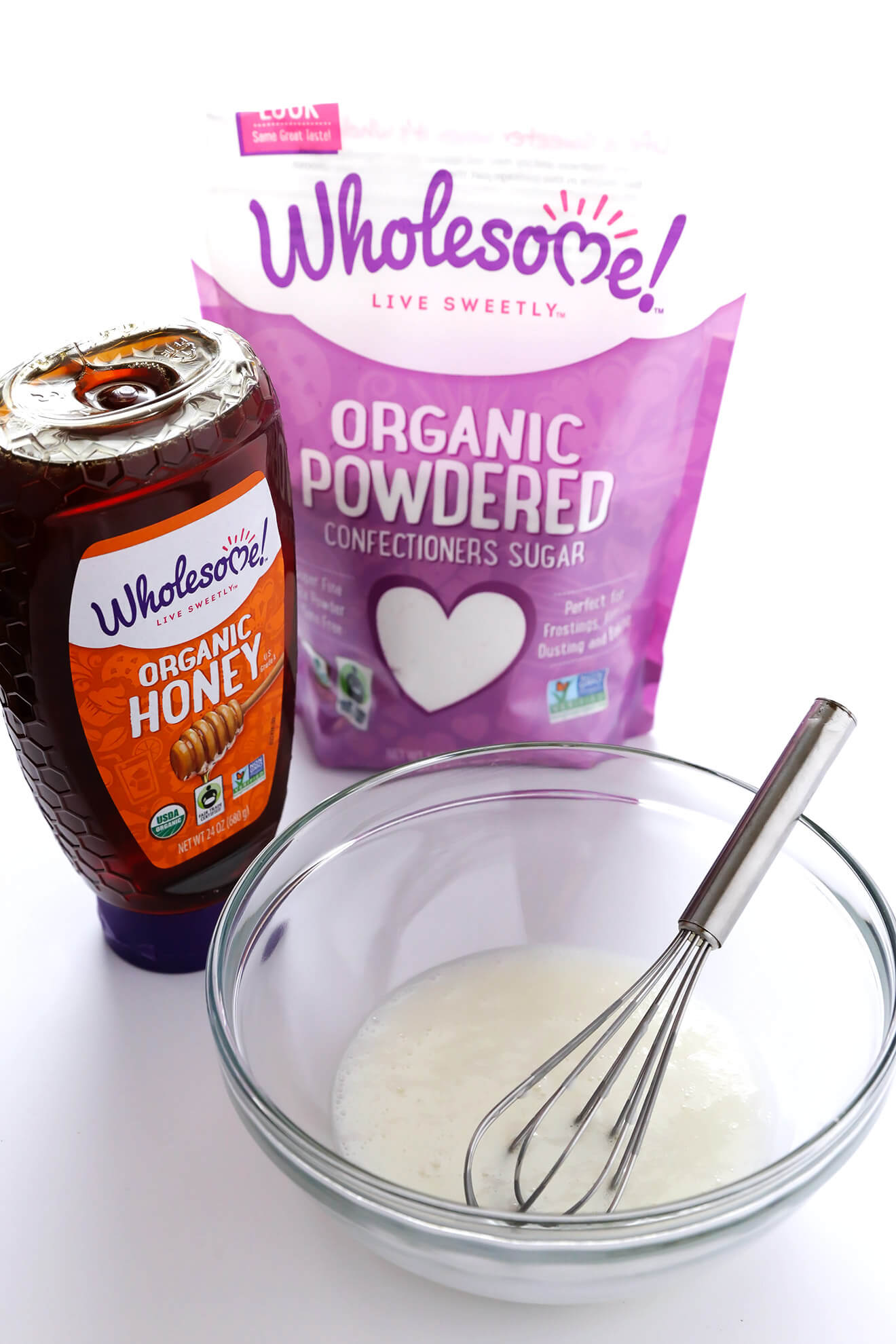 And then…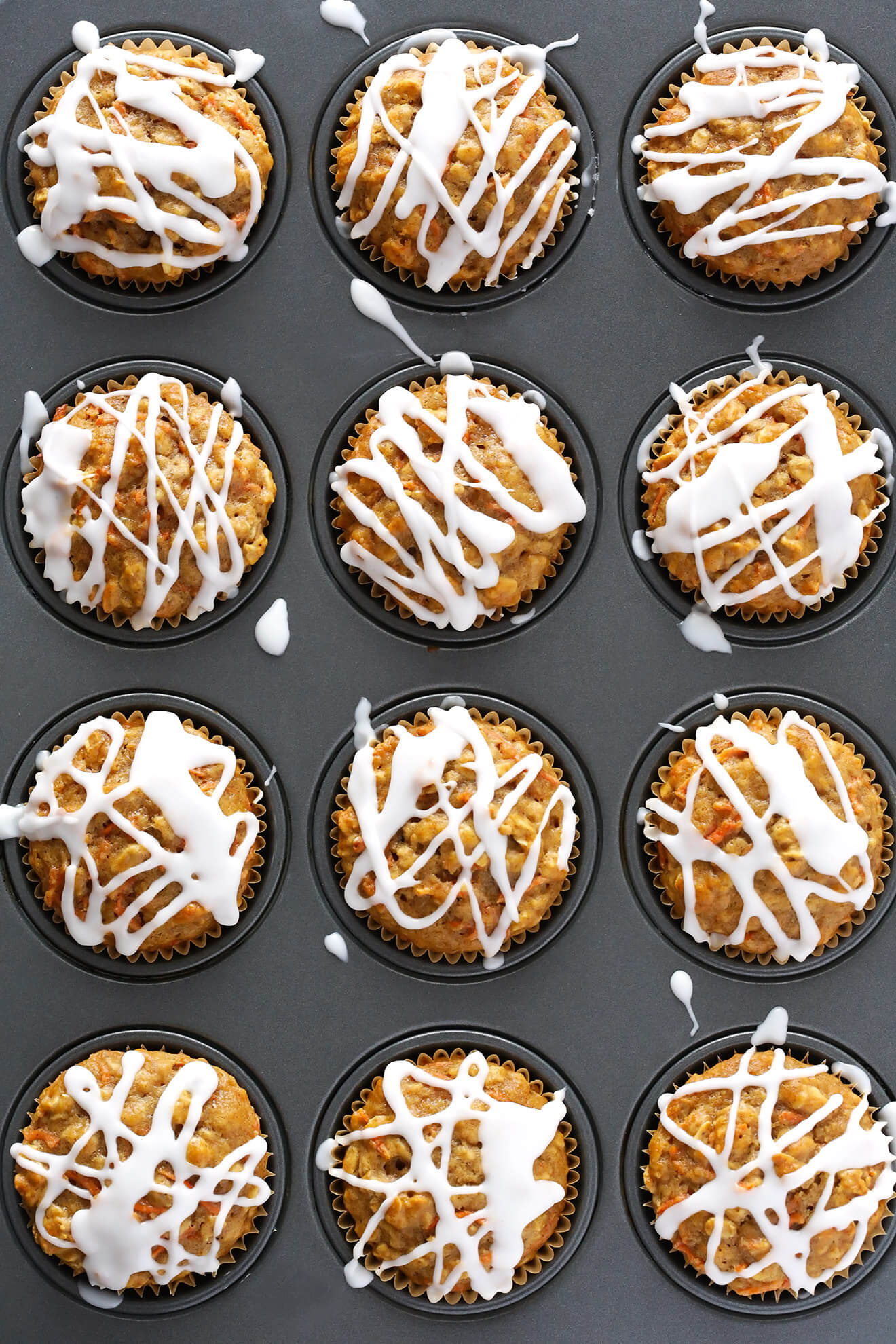 …voila!  These beautiful, delicious muffins will be yours to enjoy.  Feel free to serve them immediately, or they also store well in the freezer if you'd like to keep them for later.
Perfect for spring, and really, any day that you'd like to get your morning off to a delicious start.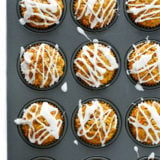 Wholesome Carrot Muffins
These wholesome carrot muffins are made with healthier ingredients, perfectly moist and fluffy, and full of the best spiced carrot flavors!
Ingredients:
Muffin Ingredients:
1 1/4 cups white whole wheat flour (or all-purpose flour)
1 cup old-fashioned oats
1 1/2 teaspoon baking powder
1 teaspoon ground cinnamon
1/2 teaspoon baking soda
1/4 tsp each ground nutmeg, ground ginger, salt
2 large eggs
1/2 cup plain Greek yogurt
1/2 cup Wholesome Organic Honey
1/4 cup avocado or olive oil
2 teaspoons vanilla extract, homemade or store-bought
1 1/2 cup grated carrot
optional 1/2 cup raisins
(Optional) Icing Ingredients:
1 tablespoon Wholesome Organic Honey
1-2 tablespoons milk (of any kind)
Directions:
To Make The Muffins:
Heat oven to 350°F.  Line 12 baking cups with paper liners, or mist with cooking spray.  Set aside.
Combine flour, oats, baking powder, baking soda, cinnamon, nutmeg, ginger, and salt together in a large mixing bowl.  Whisk until combined.  Set aside.
In a separate bowl, combine the eggs, Greek yogurt, honey, oil, vanilla, carrots and raisins (if using).  Stir until combined.
Add the wet ingredients to the dry ingredients, and stir until just combined.  (Try not to overmix.)
Portion the batter evenly between 12 baking cups.Bake for 18-20 minutes, or until a toothpick inserted in the center of the muffin comes out clean.  Transfer pan to a cooling rack, then drizzle with icing once the muffins reach room temperature.  Serve immediately.  Or let cool to room temperature, then store in a sealed container for up to 2 days, or freeze.
To Make The Icing:
Whisk all ingredients together until combined.
All images and text ©
If you make this recipe, be sure to snap a photo and hashtag it #gimmesomeoven. I'd love to see what you cook!
This is a sponsored conversation written by me on behalf of Wholesome Sugar. This post has been sponsored by Wholesome, whose organic sweeteners I love and use regularly in my kitchen.  Thank you for supporting the brands who help make this site possible! The opinions and text are all mine.