Easy Italian Chicken Skillet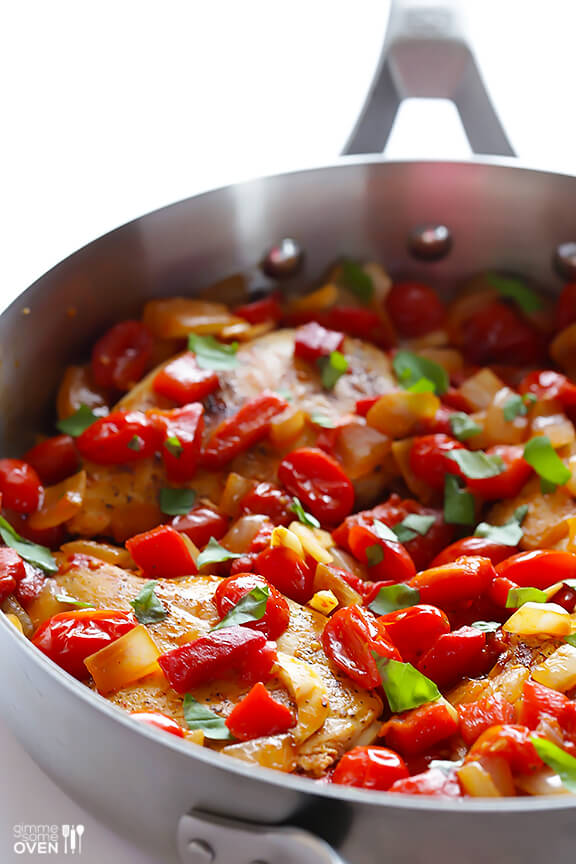 Whenever I used to go grocery shopping with my mom as a kid, I always wanted to spend my extra allowance money on candy.  Candy, candy, candy.
In college, it was ice cream, ice cream, ice cream.
Today?  Produce, produce, produce.
I know, there could be worse vices.  But seriously, I walked into the grocery store a few weekends ago with a simple grocery list for milk and spices and such — knowing full well that I had a fridge full of CSA goodies at home — and I walked out with an extra $25 worth of produce!  I'm telling you, that section needs no flashy advertising.  One glance at the abundance of colors and fresh flavors lining the aisle and I'm sold.
One of the impulse buys of the weekend was a carton of vibrantly red, ripe, tiny cherry tomatoes.  We're still a few weeks away from tomato season here in Kansas City, and it's like those little guys were calling my name.  So I decided to try turning them into a deconstructed marinara sauce, sauted up with some chicken.  And oh boy, any buyers' remorse I had about my little produce splurge was instantly justified.  The dish turned out gorgeous.  And SO good.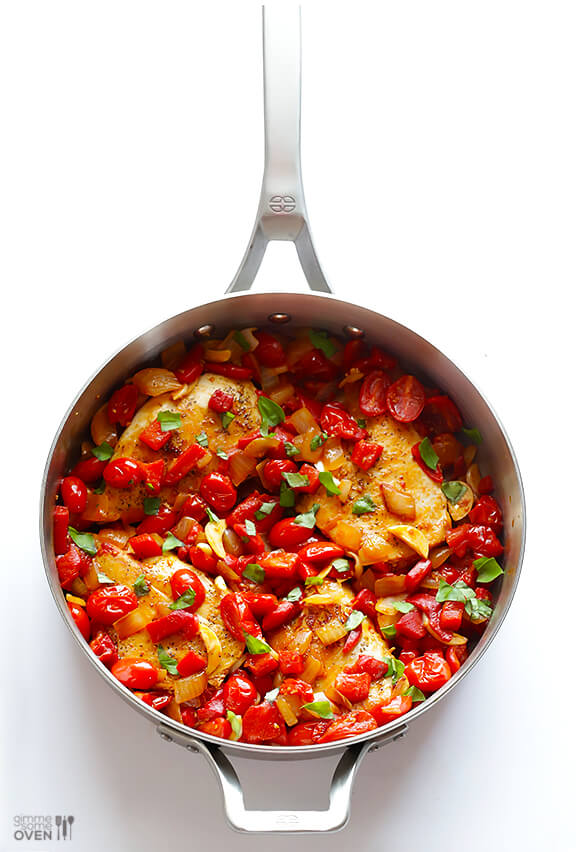 I mean, just look at it.  It's basically summer in a skillet.
We have fresh tomatoes, fresh onions, lots of fresh garlic, fresh basil — and can you spot the other red ingredient?  If you look closely, you'll see some chopped roasted red peppers in there too, which you can either make homemade or buy in the jar.  But what you can't see is how ridiculously delicious they all taste together.  So you're just gonna have to trust me there.  :)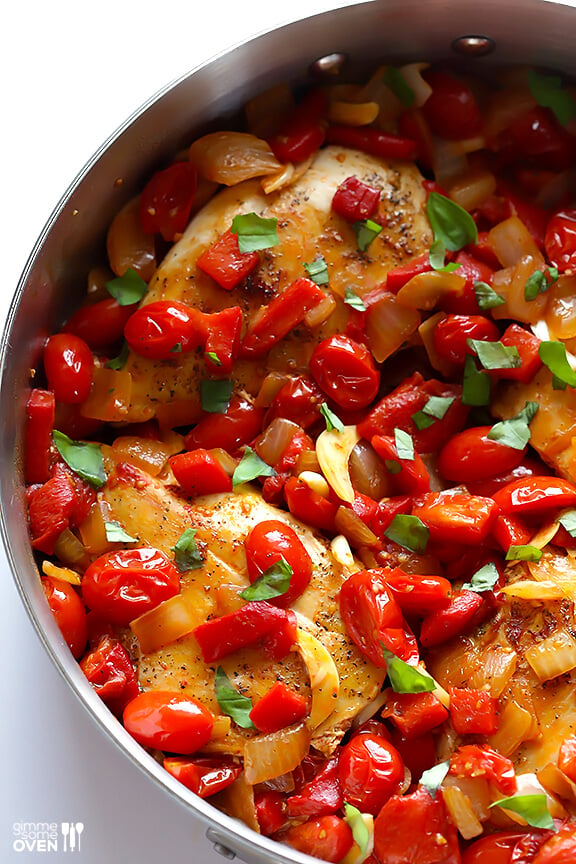 For some strange reason, I seem to be on a chicken kick lately.  So that was the protein of choice for this version of the meal.  But this would also be great with shrimp, or chicken sausage, or tofu, or even just served on its own to top a big bowl of pasta.
However you make it, it's quick, easy, fresh, and b-e-a-utiful.  Here's how to make it: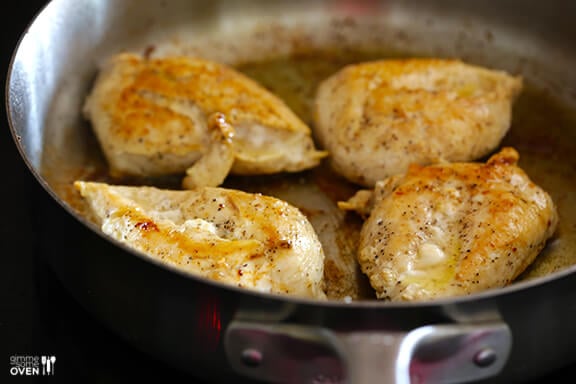 Start by sauteing up your protein in some olive oil, sprinkled with a few generous pinches of salt and pepper on both sides.  Once the chicken is ready, transfer it to a separate plate.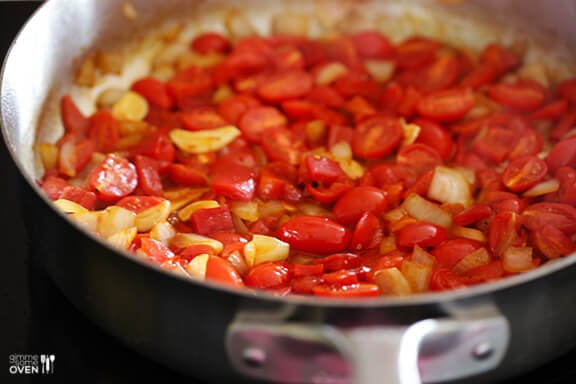 Then add your veggies to the skillet.  (There should still be oil remaining.)  Saute up your onions, then add garlic and tomatoes, then roasted reds, and half of your basil…
…and then add in your chicken and garnish it all with the rest of your fresh basil.
And ladies and gentlemen, dinner is served.  :)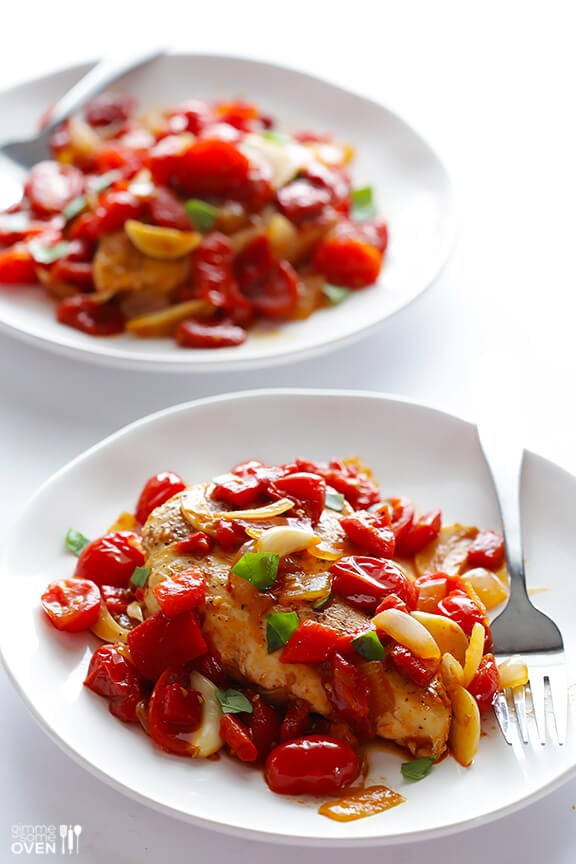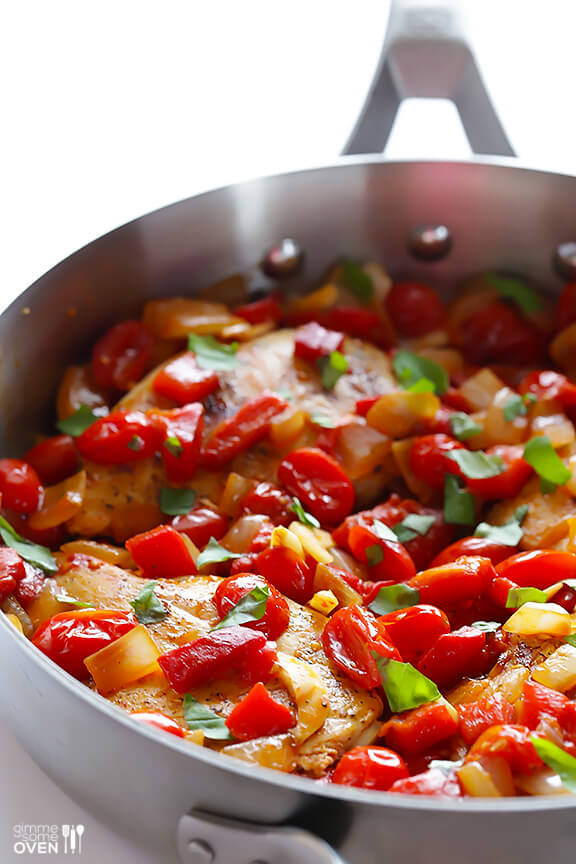 Easy Italian Chicken Skillet
This Easy Italian Chicken Skillet is full of amazing fresh flavors, and is ready to go in less than 30 minutes!
Ingredients:
4 boneless, skinless chicken breasts
salt and pepper
2 tablespoons olive oil
1 small white onion, peeled and diced
5 cloves garlic, peeled and thinly sliced
2 cups (about 10 ounces) cherry or grape tomatoes, halved
1 jar (about 1 cup) roasted red peppers, drained and diced
1/2 cup roughly chopped fresh basil leaves, loosely packed
optional topping: grated Parmesan cheese
Directions:
Season chicken breasts with a generous pinch of salt and pepper on each side.
Heat oil in a large saute pan (skillet) over medium-high heat. Add chicken breasts in a single layer, and cook for 4-5 minutes on one side. Then flip and cook on the second side for an additional 4-5 minutes, or until the chicken is cooked through and no longer pink on the inside. Transfer chicken breasts to a separate plate and set aside.
Add the onions to the pan with the remaining oil, and saute for 3 minutes or until mostly cooked. Add the garlic and tomatoes to the pan, and saute for 4-5 minutes, or until the tomatoes begin to break down. Add the roasted red peppers and half of the fresh basil, and saute for an additional minute. Then add the chicken breasts back into the pan, and sprinkle with the remaining fresh basil.
Remove from heat and serve warm, topped with fresh parmesan cheese if desired.
All images and text ©
If you make this recipe, be sure to snap a photo and hashtag it #gimmesomeoven. I'd love to see what you cook!