Chicken Tostadas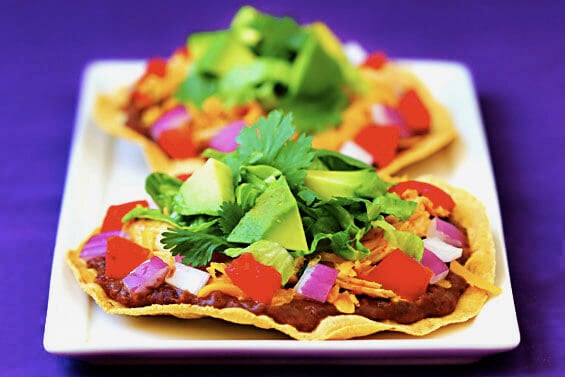 My crazy-busy season of the year has officially hit.  From conferences and launching new programs at work, to teaching my first-ever cooking class last night at church (SO fun!), to taking my choir on the road to sing in a national gospel choir competition in St. Louis (believe it!), to our fitness challenge at work, to weddings and concerts and times out with friends galore…somehow I haven't had a night at home to myself now in weeks.  Nor, apparently, has there been much time to blog.  Or cook.  Eeks.  (I'm working to remedy this!)
But as you've read on here before, one of my favorite defaults when pressed for time is to bring home the most deliciously-smelling item at the grocery store — a rotisserie chicken.  I'm telling you — they are little miracles.  So delicious, easy, and versatile.  I usually just cook for one or two, so I generally can stretch mine into at least three recipes.  Love it!
This week, I ended up going with a classic Mexican favorite – chicken tostadas.  (Also quite delicious, easy and versatile!)  Decided to take the extra few minutes to make my own refried black beans, but you can also buy them canned at the store.  Then loaded the tostadas up with some favorite veggies, cheese, cilantro, and of course — that delightful chicken.  So flavorful, and so good.
Until I'm back here again (sorry – may be a little while this season), ENJOY!  :-)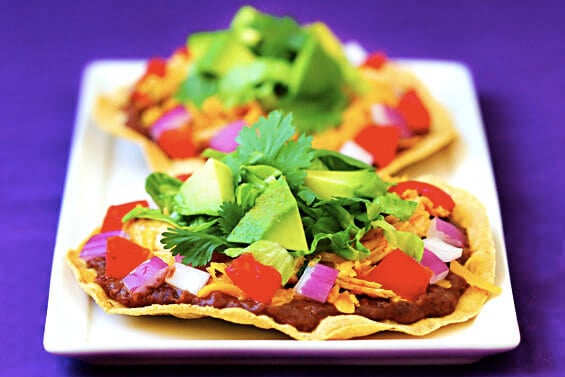 Chicken Tostadas
Delicious, easy and versatile… you will LOVE this Chicken Tostadas recipe!
Ingredients:
4 (6-inch) corn tortillas
3 tsp. olive oil
1 cup refried beans, canned or homemade (see recipe below)
1 small red onion, diced
1/2 tsp. chili powder
2 cups shredded (cooked) Rotisserie chicken
juice from 1 lime
grated cheddar (or Monterrey Jack) cheese
shredded lettuce
tomato (seeded and diced)
avocado (halved, pitted, peeled, and diced small)
fresh cilantro (stems removed and chopped)
Directions:
Preheat oven to 400 degrees. Lightly brush both sides of tortillas with 2 teaspoons oil and place on a rimmed baking sheet. Bake until golden and crisp, 10 minutes. Remove, and top each tortilla with 1/4 cup refried beans, and then sprinkle with some shredded cheese. Return to oven. Bake until cheese is bubbling, about 3 minutes. Remove from oven and set aside.

In a large skillet, heat 1 teaspoon oil over medium-high. Add half of the diced red onion and cook 3-5 minutes or until softened. Add chicken, chili powder and lime juice. Season to taste with salt and pepper. Cook until chicken is warmed through (about 2 minutes).

Then divide chicken among the tortillas and place on top of the melted cheese. Continue to layer on the lettuce, diced tomato, avocado, remaining onion, and cilantro. Serve warm.

If you make this recipe, be sure to snap a photo and hashtag it #gimmesomeoven. I'd love to see what you cook!
Ali's Tip:
There are more complex refried bean recipes out there (with more spices), but here was the quick version I threw together:
1 Tbsp. olive oil
half of a small onion, finely diced
1 can black beans (save the juice – don't drain!)
1/2 tsp. chili powder
1/4 tsp. cumin
1/4 tsp. cayenne
pinch of dried oregano
Heat oil in a saucepan over medium-high heat.  Add the onion and saute until onion is cooked and translucent.  Add in the remaining ingredients and stir until beans are heated through.
Then either use a potato masher to mash up all of the ingredients.  Or add them to a food processor and pulse until combined.  (I like smooth refried beans, so I usually go for the food processor!)